A customized print-friendly version of this recipe is available by clicking the "Print Recipe" button on this page.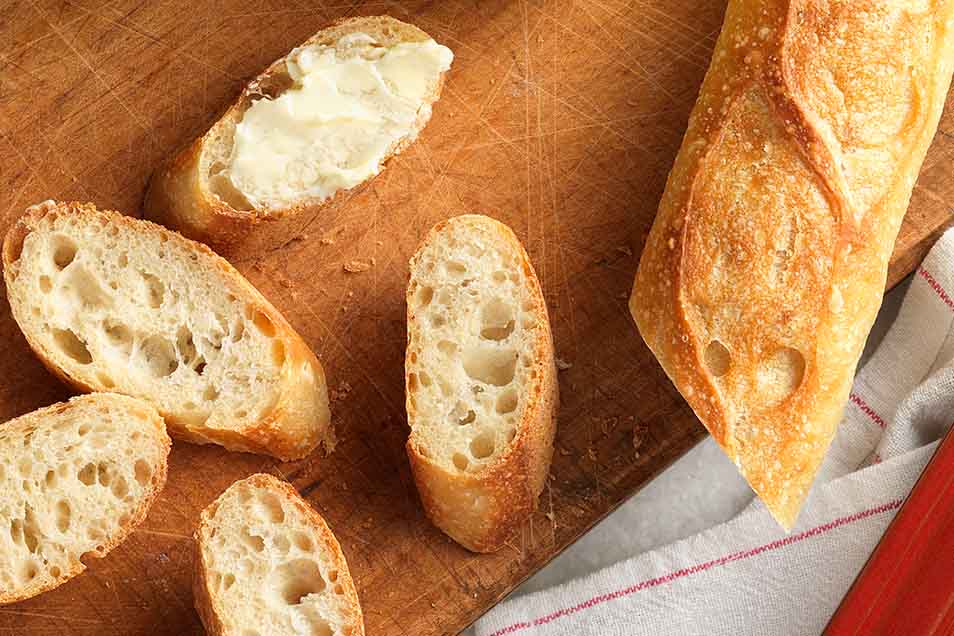 If you're as much a fan of crisp-crusted baguettes as we are, try our stoneware baguette baker from Emile Henry. Using the baker with this recipe guarantees loaves with a soft, chewy interior and crunchy exterior. Don't have a mold? Use a perforated metal baguette baker; or try one of our other tasty baguette recipes.
Ingredients
Instructions
Stir together all of the ingredients in a large bowl. Gently knead everything together for 1 to 2 minutes to make a slightly sticky, rough dough.

Place the dough in a lightly greased bowl, cover, and let rest for 2 hours, folding the dough over on itself several times after the first hour, and then after the second hour; this will deflate the dough, redistributing the yeast and oxygen.

Cover the bowl, and refrigerate the dough overnight.

Transfer the dough to a lightly greased surface, divide it into three pieces, and shape each piece into a 10" x 4" oval.

Fold each oval in half lengthwise, and seal the edges with the heel of your hand. Flatten slightly, then fold and seal from the opposite side. Gently roll each piece of dough, seam-side down, into a 13" log.

Generously grease the wells of an Emile Henry stoneware baguette baker, and sprinkle them with cornmeal or semolina, for best release. Place the logs, seam-side down, into the prepared baker.

Cover the baker with the lid, and let the baguettes rise until very puffy, about 90 minutes.

Preheat the oven to 450°F. Just before baking, remove the lid of the baker, slash the tops of the baguettes several times, and spritz with water. Return the lid to the baker.

Bake the baguettes for 20 minutes. Remove the lid of the baker, and bake for an additional 5 to 10 minutes, until deep golden brown.

Turn the baguettes out onto a rack to cool.

Yield: three 14" baguettes.
Nutrition Information
Serving Size

1 slice (17g)

Servings Per Batch

36
Amount Per Serving:
Calories

35

Calories from Fat

0

Total Fat

0g

Saturated Fat

0g

Trans Fat

0g

Cholesterol

0mg
Sodium

65mg

Total Carbohydrate

8g

Dietary Fiber

0g

Sugars

0g

Protein

1g
* The nutrition information provided for this recipe is determined by the ESHA Genesis R&D software program. Substituting any ingredients may change the posted nutrition information.
Reviews
Easy bread but not very flavorful. Could use more yeast and some sugar.
This recipe results in about 62% hydration, which is insufficient. I suggest that you need to add 25 grams of water, which brings the hydration to nearly 70%.

It's true that this recipe has a higher hydration than classic baguettes, but this version is designed to make a more workable dough for beginner bakers. If you're looking for more of a traditional baguette recipe with a higher hydration, consider making our French-Style Baguettes recipe (which will have a 77% hydration percentage if the higher threshold of water is used). Kye@KAF
hello, may I know more about the first stage when making the rough dough, does the sticky rough dough means that there's no need for the windowpane test? and I do not need to knead it till it forms a smooth and elastic dough?

Jean, there won't be enough gluten developed after the first stage of mixing to perform a window pane test. The gluten will develop from the subsequent folding as well as the overnight rest. This dough will not look smooth after kneading for 1 to 2 minutes; that's OK. The dough will start to come together, look smoother, and become easier to handle after the overnight rest. Give it some time and have faith that it will look better in the morning. Kye@KAF
I tried this recipe for the first time yesterday. Delicious and really pretty to look at, too. I didn't have a baguette pan so I just put them on a cookie sheet and they were fine. I brushed them with a little olive oil when they came out of the oven and they were crusty and shiny and oh, so tasty. Definitely a keeper. Thanks, KAF.
Don't hesitate to make this bread- even if you don't have a baguette baker! I am continually amazed at how easy to make, how little yeast, and how fabulous the end result. More often than not, I've forgotten one of the initial folds in the first rise. My shaping technique isn't particularly professional. I don't have a baguette baker, so I place the loaves on a parchment lined sheet pan, roll some kitchen towels in between the loaves, and cover with another towel. They've never really "puffed" or gotten any larger in this rise. I remove the towels, slash and put in the oven along with some ice. Oh, and I'm at 6000 feet, too. And yet.....every time they have been well risen, crisp, slightly chewy,well shaped(if a little "rustic"), and completely devoured by my family! (If I immediately put aside a loaf they make great sandwiches, too). I purchased two bags of Artisan flour recently just for this recipe because I make it so often. Thanks for the great products and recipes!
Too dry

We'd love to help you improve the texture of your baguettes, as there are a few things that can make the loaves dry including using too much flour or over-baking. Please feel free to call our friendly bakers on the hotline for tips and troubleshooting advice: 855-371-BAKE(2253). Kindly, Kye@KAF
The bread did not have the light airy inside that I prefer in French bread, I bought the Emile Henry baker and it works ok but the bread does not get brown on the bottom.

Thanks for giving this recipe a try, Susan. The light and airy texture in baguettes comes in large part from the hydration of the dough and how it's handled. We'd love the chance to chat with you about how to improve your baguette baking experience and hope you'll give our free Baker's Hotline a call at 855-371-BAKE. Mollie@KAF
I am on my third batch of baguettes made in the Emile Henry Baguette baker. For the first batch, I used the Emile Henry recipe, weighing the ingredients. They were pretty good, but not that flavorful since they didn't have an overnight rise. Plus, they stuck slightly to the pan. The crumb was ok, but not as open as I'd like. For the second batch, I used the KF Easy Crusty Baguette recipe, again weighing the ingredients. I generously sprayed the baker with shortening and floured it, no sticking. In search of a more open crumb, I unfortunately, over proofed the dough and it collapsed when I scored it. Just before baking, I wet the dough carefully so the water didn't run down the sides and contribute to the sticking. 20 minutes with the lid on and 10 minutes lid off were perfect for my oven. The baguettes were perfectly browned with a crispy crust. Flavor was great, but the crumb was still too close for my taste. Hoping that third time is the charm. Proofing now. I slashed them while still cold, hoping to avoid collapse. (Forgot to mention that I added 1/2 tsp of KF Diastatic Malt Powder to each of the doughs for flavor and to give the yeast a boost. Also preheated my oven for an hour with my pizza stone inside to retain an even heat.) Stay tuned!
Boy, oh boy, so easy and so tasty! Since I don't have the ceramic baker, I had to rig up an alternate method. I use a perforated metal baguette pan placed on a larger baking sheet. Instead of spraying the loaves, I cover the pan with a giant-size tin foil lasagna pan to trap steam, and bake them for 10 minutes. After removing the lid, they bake another 20 minutes. Also good with 300g water and even as a low-salt version for my neighbor. Thank you for a great addition to the recipe files.