A customized print-friendly version of this recipe is available by clicking the "Print Recipe" button on this page.
Easy Gluten-Free Shortcakes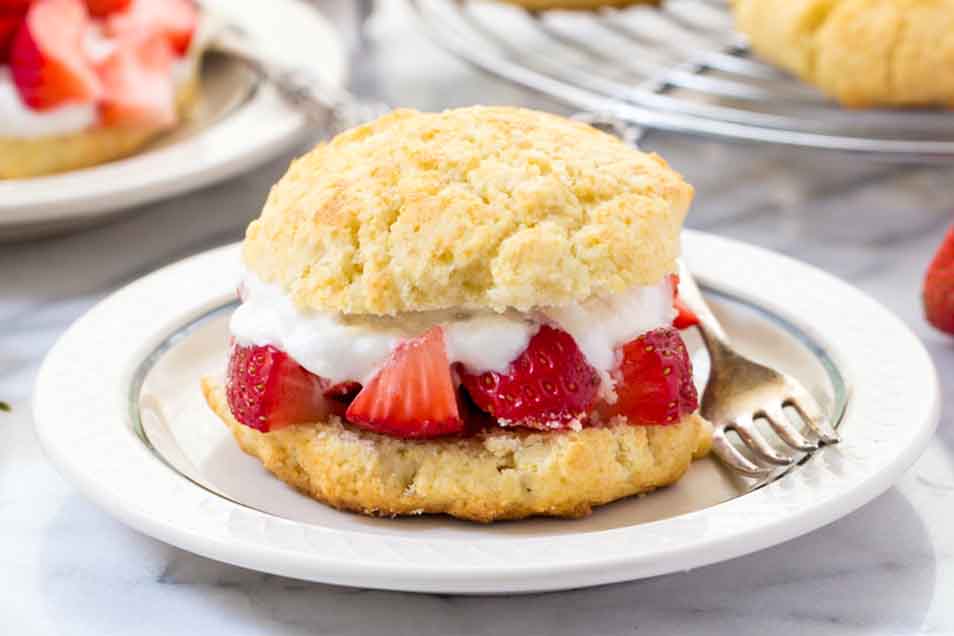 These lightly sweetened biscuit-type shortcakes are the perfect base for any type of fresh summer fruit, from strawberries (of course!) to peaches to blueberries. The fact that they're gluten-free makes them ideal for any crowd.
Ingredients
1 1/2 cups King Arthur Gluten-Free Multi-Purpose Flour
2 3/4 teaspoons baking powder
1/4 teaspoon salt
2 tablespoons sugar
3/4 cup heavy or whipping cream
1 large egg
Instructions
Preheat the oven to 450°F. Line a baking sheet with parchment paper and set it aside.

Mix the flour, baking powder, salt, and sugar together in a large bowl.

In a separate bowl, beat together the cream and egg. Pour the wet ingredients into the dry ingredients and mix to form a cohesive dough.

Scoop the dough in 1 1/2-ounce balls onto the baking sheet (a jumbo cookie scoop works well here); use the palm of your hand to gently flatten each to about 2" to 2 1/2" diameter.

Brush the tops of the shortcakes with cream, and sprinkle with coarse white sparkling sugar.

Bake the shortcakes for 10 to 12 minutes, until they're risen and baked all the way through; break one open to make sure.

Remove the shortcakes from the oven, split, and top with berries and whipped cream. Store, well-wrapped, at room temperature for several days; freeze for longer storage.
Reviews
This is a perfect recipe. I added 1/2 cup unsweetened applesauce and that really helps any dryness. Remember the gf flour you use makes a difference. King Arthur is great, but some others I've tried are terrible.
Classic dense gluten free item. I will not be making this again.

We're sorry to hear that this recipe didn't give you the finished texture you'd been hoping for Jill. We'd love the chance to talk through the recipe with you, so we encourage you to reach out to our free and friendly Baker's Hotline staff to help troubleshoot at 855-371-BAKE (2253). Kindly, Annabelle@KAF
I am not gluten-free, but I have friends and family members who are, so I am always on the lookout for good recipes I can use when they're over. Bready dishes are the hardest things to come out right without gluten. These turned out great! And as someone who loves gluten, personally, I enjoyed the taste of these very much. I am so excited to have these in my GF repertoire.
Can this recipe be used with the gluten free king Arthur Flour measure for measure flour?

Great question, Allison. Since Gluten-Free Measure for Measure Flour has been specifically formulated as a replacement for wheat flour, you may experience less than optimal results using it to replace the gluten-free flour in designed-to-be gluten-free recipes. This recipe has already been adjusted to account for the difference between wheat and most gluten-free flours, and your baked goods may be drier or crumblier as a result of using the Measure for Measure Flour. For dedicated gluten-free recipes, we suggest sticking with our standard Gluten-Free Flour. I hope this helps! Annabelle@KAF
Wonderful recipe, but it would be even better if it listed more liquid in the ingredients. I started out making it exactly as written and could not get all of the flour combined, it was so dry. I added 1/4 cup unsweetened applesauce and it made these shortcakes delicious and just moist enough. No one would ever know these were gluten free. Will definitely make these again!

Congrats on your gluten-free success, Mandy! A dry dough that doesn't pull together well is most often the result of a heavier than intended cup of flour. We find that it can be easy to get as much as 20% variation in the weight of one cup of flour when measuring by volume, depending on how compacted the flour is in the cup. Our recipes assume a relatively light cup of GF Flour (5.5 oz or 156 grams), which is best achieved by using a scale or fluffing the flour up in its container, sprinkling it into the measuring cup, and leveling it off. Measuring this way should help reduce the risk of excess flour in your dough, and thus over-worked dough or a dry, crumbly product. Mollie@KAF
Made it exactly as printed and it was great. So quick!
I substituted applesauce for 1/2 of the cream and that improved the dryness:)
These looked pretty--loved the sparkling sugar on top! However, they were pretty dry. I appreciated the ease of making this recipe but will try other gf shortcake recipes on your site!
Quick and simple to make. Delicious, tender! I consider these more as scones with the cream, egg, and sugar. I substituted 1/2 c. of GF oat flour for the same amount of the GF all-purpose flour, used raw instead of white sugar, and reduced the amount to 1 T. This was perfect to my taste. The oat flour added a bit of flavor without making the final product heavy.