A customized print-friendly version of this recipe is available by clicking the "Print Recipe" button on this page.
Easy Microwave Lemon Curd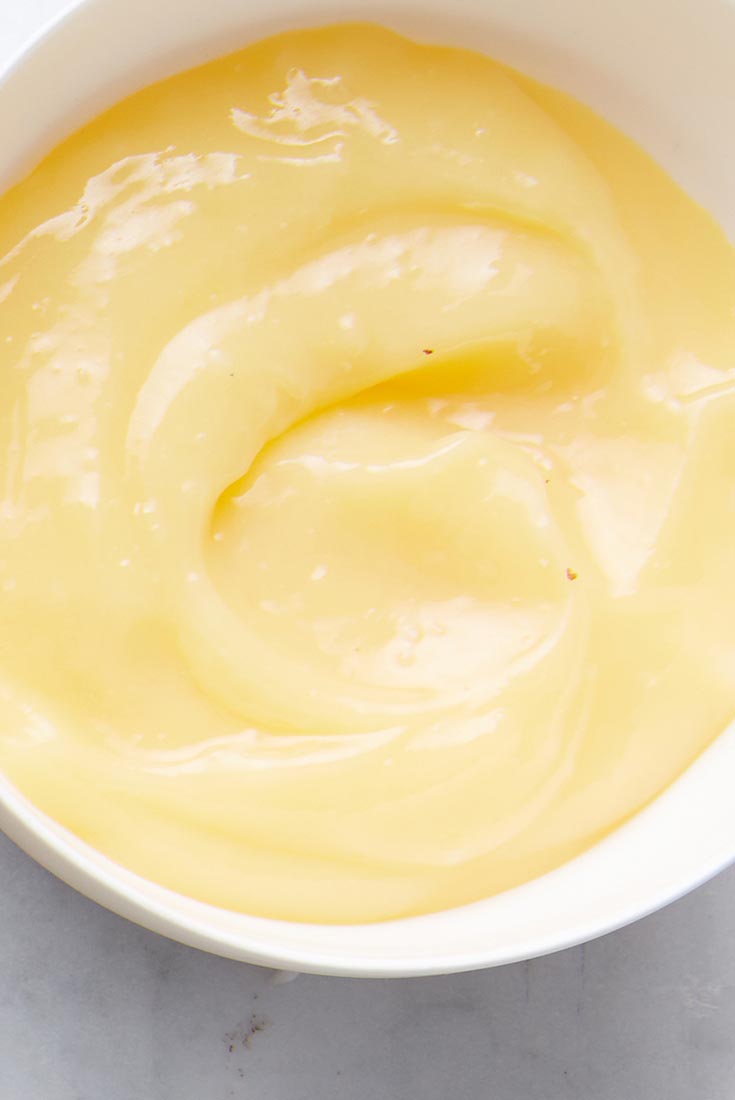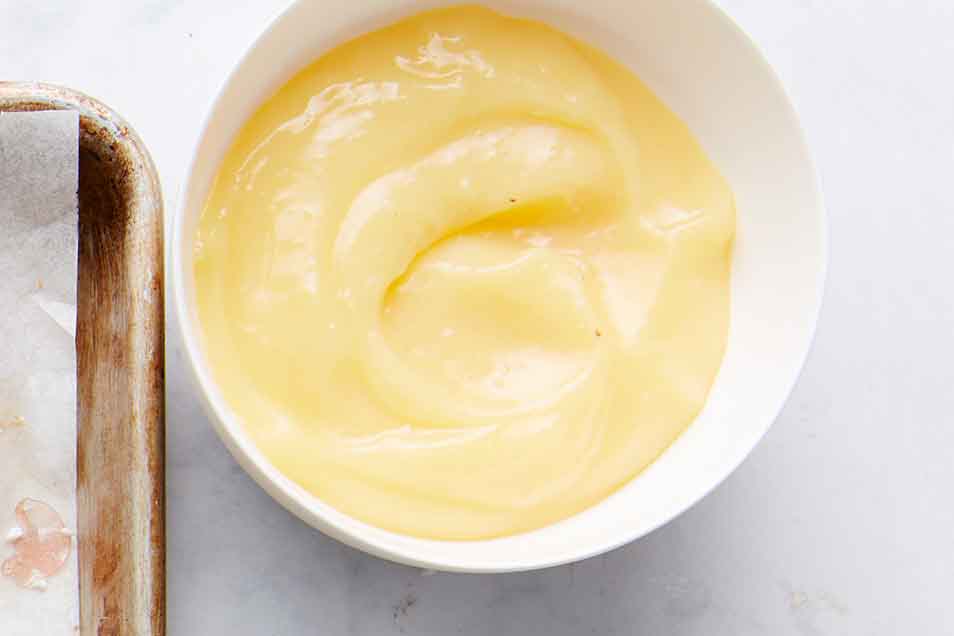 Ah, lemon curd - creamy, tangy, wonderful spread on scones and toast and muffins, superb used as doughnut and pie filling, delicious mixed with whipped cream and served with cookies... So who knew it was this easy to make lemon curd? No standing over the stove stirring a pot... Just about 8 minutes in the microwave does it. Enjoy!
Ingredients
1 cup freshly squeezed lemon juice
1 cup sugar
1/2 cup (8 tablespoons) butter, melted
2 large eggs
Instructions
Combine all of the ingredients in a large microwave-safe bowl. To avoid bubble-overs, the contents should fill no more than 1/4 of the bowl; an 8-cup measure works well here.

Microwave the ingredients in 1-minute increments, removing from the oven and stirring to combine after each minute.

When curd starts to thicken; coats the back of a spoon; and starts to mound a bit as you stir, it's done. This will take anywhere from 4 to 10 minutes, depending on the strength/power of your microwave. The curd's temperature should have reached at least 185°F.

Stir the curd one more time, spoon it into a storage container, and refrigerate until firm.

Keep curd refrigerated for up to 3 weeks; freeze for longer storage.
Nutrition Information
Serving Size

40g

Servings Per Batch

16
Amount Per Serving:
Calories

110

Calories from Fat

60

Total Fat

6g

Saturated Fat

4g

Trans Fat

0g

Cholesterol

40mg
Sodium

10mg

Total Carbohydrate

13g

Dietary Fiber

0g

Sugars

13g

Protein

1g
* The nutrition information provided for this recipe is determined by the ESHA Genesis R&D software program. Substituting any ingredients may change the posted nutrition information.
Tips from our bakers
Four large, juicy lemons should be enough to yield 1 cup of juice.
For more intense flavor in your curd, grate the rind of 2 to 4 of the lemons, combine it with the sugar in a food processor, and process until rind is finely ground. Proceed with the recipe as directed.
Make a passion fruit version by using passion fruit puree or concentrate in place of the lemon juice.
Reviews
So I am very familiar making curds over the stove, using a double boiler method. This was definitely easier, in that it created less dishes! I found by stirring the curd not only after minute intervals, but sometimes in 30 sec intervals worked well. I also strained my curd which I was glad as I had a few egg white pieces (but honestly none more then if I used the stove). I would recommend this recipe if you are not comfortable using the stove top, but I wouldn't say it saves time. I think it was about the same amount of time actually. A quick tip- I found my curd to be really thin when it was done, if you don't need it for a few hours, pour it on a sheet tray to cool down faster, if you do need it sooner, I placed the bowl over an ice bath and stirred every few minutes. It thickened up beautifully.
I'm kind of old-fashion so I did wonder about making the lemon curd in the microwave, but I tried it anyway. The lemon curd turned out perfect and delicious! It was easy to make with no problems. I made it for some cupcake frosting I'm making later today, but I can see there will be lemon curd leftover so I am going to make your lemon bread braid and use the curd there. I've made the lemon bread braid before and it was spectacular.
BRILLIANT!!!! this recipe is fabulous! I couldn't find lemon curd in the grocery store so I bought a can (yuck). I decided to search for a recipe and found this one and VOILA! The. Best. Lemon. Curd. Ever. Don't be afraid to give it a try.
I halved the recipe exactly and proceeded to follow the directions. After the first minute, the egg whites were cooking into little pieces. After every minute, I had to fish out pieces of egg white. Each time, I was afraid the mixture would cool down and not thicken, but it did thicken and mound a bit, so I stopped. Apparently, most people find this works perfectly. Any tips to prevent the egg whites from cooking?

Halving this recipe gets tricky because with a smaller volume of curd, it's bound to heat up faster and subsequently cook the egg. Next time, try making a full batch and also explore the settings on your microwave. You might want to try running the machine at 75% power to see if it gives you a more gentle, even cook (and as a result a more evenly cooked curd). Good luck! Kye@KAF
I whisked in 2 tbsp of butter after it was done cooking and put it through a sieve and it turned out super smooth and delicious! So easy to make!
I will definitely make this again. A friend gave me some beautiful Bearss limes from her garden, and I followed the recipe as written, substituting lime juice. Because I cooked it a little too long and thinned it out, I salvaged my batch with cornstarch. Tastes delicious and set up nicely (with that tiny little bit of cornstarchy grit). Would have set up perfectly without the cornstarch if I hadn't pushed it a minute past the pillowy point.
Okay, I used clementines instead of lemons, because I had dozens on hand. Knowing that, I followed the recipe exactly. I thought I was almost there, not quite coating the spoon and definitely no mounding, but close. Then it seemed to regress to what it had been 2 or 3 minutes earlier. I was using a whisk rather than spoon. Would this be enough to cause a failure? Never did set, ended up with a bowl of clementine liquid flecked with cooked egg whites. I'll try with lemons next time just to be sure and only use a spoon. If a whisk is a no-no, saying so would be helpful in the recipe.

Dan, using a whisk to stir your curd is just fine. It sounds like your curd simply got too hot and cooked the eggs, causing the whites to solidify and making the rest of the mixture quite runny. Next time try heating the curd at a lower power setting or for shorter intervals. As soon as you see a semi-thick consistency, stop heating the mixture and let it cool. (It will thicken slightly as it cools.) We also think you'll have better luck using lemon juice rather than clementines. We hope your next batch sets perfectly. Kye@KAF
Easy recipe. Big hit. The lemon curd is delightful. I use a traditional Swiss meringue made with pasteurized egg whites instead of the recipe version. A little more work but stable, safe and so pillowy soft.
I've made this twice now. Once using the recipe exactly as written, and again just now with a few modifications. I used 3/4 cup key lime juice and 1/4 cup lemon juice, and closer to a 1/4 cup of of butter (it's all I had). I was afraid it might not turn out well, but it's perfect! Fantastic flavor, just like the first time. I might just use regular limes next time. Juicing that many tiny key limes was a bit of a chore. :)
How important is the UNsalted butter? In the blog it says unsalted but the recipe I printed says "butter".

Rachel, all of our recipes are developed using unsalted butter. There's no industry standard for the amount of salt that gets added to butter, so in order to have full control over what goes into your recipe, we recommend using unsalted and then adding the salt that the recipe calls for. Sometimes in a pinch, it's okay to use salted butter and reduce the salt by about 1/4 teaspoon per stick. Since there's no added salt in this recipe, you might notice the taste if you use salted butter. If you know you're a salt lover, that won't be a bad thing. Otherwise, stick with unsalted. Kye@KAF