A customized print-friendly version of this recipe is available by clicking the "Print Recipe" button on this page.
Flaky Buttery Crescent Rolls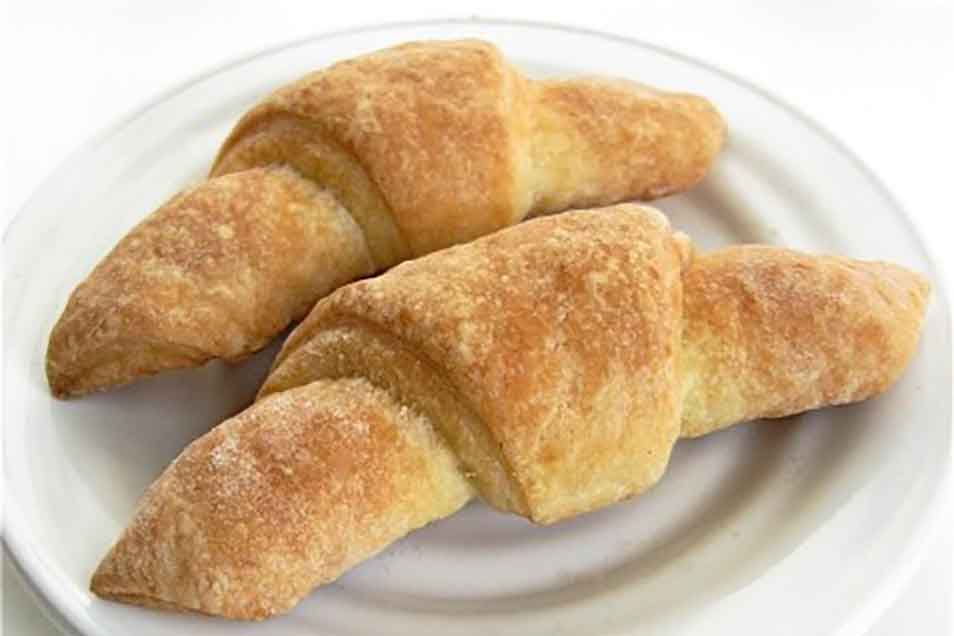 Admit it — you've always had a secret fondness for those crescent rolls in a can. You know, the ones that are just SO buttery and flaky... Well, how about making your own? They aren't the quickest rolls to make, but homemade crescents are wonderfully buttery, flaky, tender, and totally tasty.
Ingredients
1 1/4 teaspoons salt
1 teaspoon baking powder
2 teaspoons instant yeast
1 1/4 cups (20 tablespoons) cold unsalted butter*
1 1/2 cups ricotta cheese, full-fat or part-skim
*If you use salted butter, reduce the salt in the recipe to 3/4 teaspoon.
2 teaspoons sugar
Instructions
Whisk together the flour, salt, baking powder, and yeast.

Cut the cold butter into pats (or pound it flat with a rolling pin), and work it into the flour mixture until it's unevenly crumbly, with larger bits of butter remaining intact.

Stir in the ricotta cheese. The dough will be craggy, but cohesive.

Turn the dough out onto a well-floured surface, and bring it together, if necessary, with a few quick kneads.

Divide the dough in half. Working with one half at a time, pat the dough into a rough square, then roll it into an 8" x 10" rectangle.

Starting with one of the shorter (8") ends, fold the dough in thirds like a business letter, flip it over (so the open flap is on the bottom), and turn it 90°.

Roll the dough into an 8" x 10" rectangle again. Fold it in thirds, wrap in plastic, and place in the refrigerator to chill for at least 30 minutes (or overnight) before using. Repeat with the remaining piece of dough. If desired, freeze the dough for up to 1 month before using.

When you're ready to shape the crescent rolls, remove the dough from the refrigerator. Allow it to warm and soften for about 10 minutes at room temperature; this will make it easier to work with. Working with one piece of dough at a time, cut it in half. Round the corners, and roll the dough into a 9" circle.

Cut the circle into 6 wedges. To shape a crescent roll, begin at the base of a wedge; and roll towards the point at the top.

Place the roll on a lightly greased or parchment-lined baking sheet, with the tip underneath. Gently bend the roll into a crescent shape. Repeat with the other half of the first piece of dough; then with the remaining dough. You will have rolled and cut four pieces of dough, to make a total of 24 rolls.

Cover the pans, and let the rolls rest for 3 to 4 hours. They won't rise noticeably; that's OK. Towards the end of the rest period, preheat the oven to 375°F.

Uncover the rolls, and bake them for 20 to 25 minutes, until they're golden brown. Remove them from the oven, and serve warm, or at room temperature.

Store any leftovers tightly wrapped at room temperature. To reheat, place the rolls on a pan, tent lightly with aluminum foil, and bake in a preheated 350°F oven for 7 to 10 minutes, until the rolls are hot.

Yield: 2 dozen crescent rolls.
Tips from our bakers
Don't want to use ricotta cheese? Substitute 1 cup sour cream for the 1 1/2 cups ricotta. Be aware sour cream will lend your rolls a tangy, sourdough-like flavor different than that of a classic crescent roll.
To make rolls with more layers, roll each piece of dough into a 7" x 9" rectangle, rather than a 9" circle. Cut the rectangle into 3 rectangles, each 3" x 7"; then cut each rectangle in half diagonally, to make 7" long triangles, with a 3" base. Starting with the short base, roll towards the tip, and proceed as directed in the recipe.
Can you make these with whole wheat flour? Well, maybe a bit; say, 1/2 cup to 2/3 cup whole wheat substituted for the same amount of all-purpose flour. Any more than that, we fear the rolls would lose their wonderful texture. But experiment with a higher percentage of whole wheat, if you like; taste is always personal.
The dough for these rolls freezes well for up to 1 month. You may also choose to shape the rolls, and immediately wrap and freeze them. When you're ready to bake, let the dough or rolls thaw in the refrigerator overnight, covered, before using. Then let them warm to room temperature before baking.
Reviews
I made this using whole fat yogurt instead of the ricotta cheese/sour cream, used all freshly milled whole wheat pastry flour (no white flour or vital gluten). So far I only made two rolls (because I have used the rest as a crust for a cabbage Reuben bake) to test out making these for my husband's family's Thanksgiving get together and
Very disappointing recipe. Followed step by step instructions. Read and re-read 4 times or more before attempting. Baked product looked similar to photo in blog. Taste of the rolls-- very bland. Researched other recipes and all had sugar in their list of ingredients. Was the exclusion of sugar an error?

We're sorry to hear that these crescent rolls didn't have the punch of flavor you'd been hoping for, Pamela. Sugar was left out intentionally, but if you'd like to experiment, you could always add a tablespoon or so and see if you enjoy the results. You could also try using salted butter and/or increasing the added salt by another 1/2 teaspoon. If you have any other questions, our free and friendly Baker's Hotline is available at 855-371-BAKE (2253). Kindly, Annabelle@KAF
Very good buttery roll recipe. I used some of the dough to make a homemade 'hot pocket' and it was way too rich for that. This is not a judgement of the recipe quality, its a great recipe!
This was delicious! I made this recipe last night to use for antipasto sandwiches, as I don't like store-bought crescent roll dough (it has a funny taste). This recipe was delicious & easy! I did not have ricotta cheese on hand, so I used the sour cream method - I did find I had to use a full 1.5 cups of sour cream to get the dough to hold together in order to roll it out. I will definitely make these again!
Excellent flavor and fun to make. Followed the recipe exactly. Everyone loved them at Christmas dinner.
I made these twice. The dough is very easy to work and had a blast making and playing with them. They were really tender and flakey. The first time I used a different recipe and they just didn't turn out KA's recipe was spot on.
Used what I had in my fridge, about half a cup of ricotta and enough sour cream to make about a cup and a quarter total liquid. Also had to cut the "rest" time to around ninety minutes instead of the three to four hours. The rolls came out very good, looked like those in your video and pleased our guests. Good substitute for real French croissants.
These were everything I'd hoped for! They were buttery, flaky and absolutely delicious. I followed the tip about making the dough ahead of time. I shaped the rolls and froze them the week before Christmas. A few of them were set aside and sprinkled with bittersweet chocolate chips for breakfast! I thawed in the frig overnight and let sit at room temperature for about 5 hours. They baked up picture perfect and tasted wonderful. I noticed that no one reached for the butter at the table - the rolls were so buttery and yummy hot from the oven that it wasn't needed. Thanks for yet another great recipe!