A customized print-friendly version of this recipe is available by clicking the "Print Recipe" button on this page.
Food Processor French-Style Bread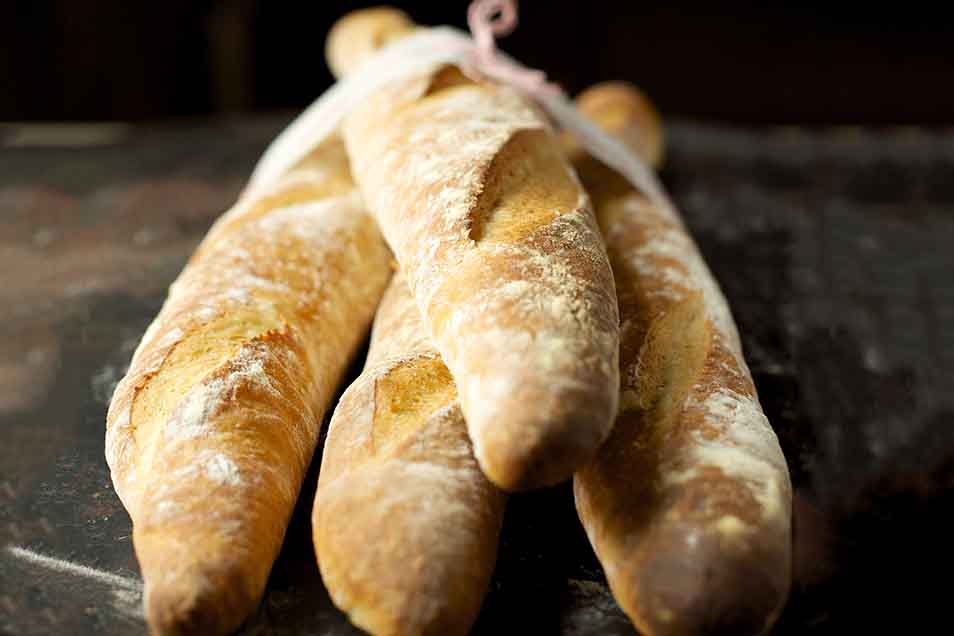 When the weather is hot, no one wants to stay in the kitchen long. However, those of us who truly enjoy baking bread want our own creations all year long. We soon learn that we must work faster during the summer months, leaving the rest of the year for the more involved recipes with longer, slower rising times.

This French-style bread is made in the food processor for speed, but can be made by hand. It's shaped into baguettes, which bake much faster than regular loaves of bread. It's a basic loaf which lends itself to variations. Use your imagination; if an idea sounds good, try it! We've listed some ideas in our "tips" section below.
Ingredients
1 1/2 tablespoons active dry yeast or instant yeast
1/2 cup lukewarm water (110°F to 115°F)
1 teaspoon sugar
2 teaspoons salt
2 cups 90°F water
1 large egg beaten with 1 tablespoon cold water, for glaze
Note: Make sure your food processor will accommodate the amount of flour in the recipe. If it doesn't, cut the recipe in half.
Instructions
Combine the yeast, 1/2 cup warm water, and sugar in a measuring cup. Let it sit for 5 minutes, until bubbles appear.

Put all of the flour and salt into the work bowl of a food processor. Using the plastic (dough) blade, pulse four times to lighten and mix.

With the machine running, add the yeast mixture, then 90°F water as fast as the flour will absorb it. Stop the machine as soon as all the liquid has been added.

Check the dough by pulsing it 7 or 8 times. It should pull together to form a ball. Watch the processor bowl where the side meets the bottom; if there are still bits of unincorporated flour, the dough is too dry. Pulse in water 1 tablespoon at a time, until the dough pulls together to form a ball. If the dough clings to the sides of the bowl, it's too wet; gradually add more flour while pulsing.

The formation of the ball marks the beginning of the kneading process. Turn the machine on and let "knead" for 60 seconds — don't let it knead any longer! If you have to use a metal blade, only "knead" 45 seconds and finish kneading by hand for 3 to 4 minutes.

Place the dough in an oiled bowl, turning to grease the top of the dough. Cover the bowl with plastic wrap and let rise until puffy, about 1 hour.

Divide the dough into four pieces. Roll each piece into an oval about 15" x 8". Starting on the long side, roll the dough into a 15" cylinder. Pinch the edges to the body of dough, tapering the ends evenly.

Place the dough seam-side down into well-greased baguette pans or onto parchment-lined or lightly greased baking sheets, leaving about 4" between the loaves. Cover the loaves with a piece of greased plastic wrap, and let rise until puffy, about 45 minutes.

While the bread is rising, preheat the oven to 425°F. Place a shallow metal pan on the bottom shelf of the oven.

Just before baking, slash the loaves diagonally with a sharp blade, about 1/4" deep. Brush lightly with egg glaze.

Place the loaves into the oven, and add 1 cup of ice cubes to the pan on the bottom. Close the door quickly to preserve the steam.

Bake the bread for 20 minutes, or until its internal temperature reaches 190°F. The loaves should be golden brown all around, smell fragrant, and feel lighter when picked up.

Remove the loaves from the oven, and transfer them to a rack to cool.

Store the bread at room temperature for 2 days in plastic; or wrap and freeze for up to 3 months.
Nutrition Information
Serving Size

28g

Servings Per Batch

32
Amount Per Serving:
Calories

90

Calories from Fat

5

Total Fat

0g

Saturated Fat

0g

Trans Fat

0g

Cholesterol

5mg
Sodium

150mg

Total Carbohydrate

18g

Dietary Fiber

1g

Sugars

0g

Protein

3g
* The nutrition information provided for this recipe is determined by the ESHA Genesis R&D software program. Substituting any ingredients may change the posted nutrition information.
Tips from our bakers
You might try adding 3 tablespoons of chopped fresh herbs, or chopped sun-dried tomatoes and olives (either green or black or a combination of both for interesting color), or 1 cup of shredded Parmesan. Add any of these with the flour. You can also substitute 2 cups of another type of flour for an equal amount of the unbleached flour — whole wheat or rye are great. Understand the loaves will be denser and heavier than those made with 100% all-purpose flour.
You can omit the egg wash if you'd prefer the rustic, floury look in the photo. After the loaves are shaped, gently roll them in flour, then then let them rise and bake as directed.
Reviews
I'm confused about the shallow pan in bottom of stove. Can someone help?

Hi Carol, thanks for reaching out! The pan in the bottom of the oven (we like a cast-iron skillet for this, but feel free to use any oven-safe metal pan) is to hold water and create steam to give your crust that wonderful, crispy texture. Often, this is done by pouring a cup or so of boiling water into that pan, then closing the oven as quickly as possible to trap most of it inside the oven with your loaf. This does have its hazards, though. If you're not careful, the sudden burst of steam can lead to burns on your hands or forearms as you pour. Filling the pan with ice cubes delays the release of steam a little bit to make the process safer. Hope that helps!
what a great outcome....simple recipe, easy because can be done in a food processor ... yet produce a very scrumptious baguette. Thank you very much....this is definitely a keeper.
I made this as a half batch in my stand mixer and it turned out great. Quick and easy. Next time I'm going to try adding some fresh herbs.
Oh! These are really the best that my husband and I have tasted, ever... you would swear they come from a bakery. They are soft, but the crust is light, and perfect. These are so good that my husband chose this bread for bteakfast over his favorite multigrains bread. These are unreal... we had some last night with garlic butter, heaven! I made half the recipe. They are so good that we ate this bread for last supper, breakfast, lunch et supper tonight... tomorrow, I must make another recipe. I love it Thank you KAF! One question : could I prebake them, and then freeze them... and finish cooking them when we need them? They would be similar to those you can buy prebaked in a box (18 breads), but of course, they would be so much better... and I use to like them... until I tasted these. So if I can do this, how long would you suggest I cook them first? 15 min? Then freeze then back in the oven for 5 min? Would you recommend it?

Partially baking and freezing these is a great idea, Danielle! We'd recommend baking them until they're done rising, they've set, but they haven't really browned yet — somewhere between 10 and 15 minutes. Then let them cool completely, wrap them well, and you can freeze them for up to three months. Let them thaw before baking them when you're ready to serve. Annabelle@KAF
A delicious French baguette! Made by precise directions with my food processor and will make again as a staple and for gifts at Easter and thanksgiving! Delicious. Tender for snide. Crispy crust.
I made this recipe with my stand mixer. I subbed 1/5th whole wheat flour, which I did as a preferment (soaking whole wheat flour softens the bran and as long as it is soaking, might as well ad 1/4 teaspoon of yeast.) I divided the dough into 8 small loaves for sub sandwiches. The crust is very nice and chewy. I did not get very much oven rise, but that could have been on me for proofing for too long. Will try again.
This is a nice easy recipe to that comes or great. I like it because I always have what's needed on hand.the only downfall is it is a little lacking in salt, I always add a pinch or two. I have made substitutions twice and they both came out great. First I replaced one cup white flour with wheat and added an extra quarter cup of water. It came out nice worth a little heartier texture. Second and best is I replaced 3/4 cup white flour with semolina bread for and it tastes like peasant bread I used to make in a bakery.
This made the nicest dough that I have made in, well, ever. I used SAF yeast, and for the final rise I used the proofing function on my Cuisinart steam oven for 25 minutes. I also baked it using the bread function on the same oven (which injects steam at the beginning of the bake). I skipped the egg wash and dusted it with flour. The bread was beautiful, but the outer texture and flavor would have benefited from the egg wash. The overall flavor wasn't as complex as I prefer, but it was an extremely simple, fast recipe that I was able to start fairly late in the afternoon and have ready for dinner.
So easy and delicious! I made three larger loafs out of it. Would this bread work well for your French toast recipe? Thanks KAF, I will definitely be making this recipe again!

I think it would make a lovely French toast! Bryanna@KAF
I made this in a stand up KitchenAid not a processor and did not have a bread machine either. Had to modify slightly but overall the basic recipe worked and made 5 loafs. I thought I'd play with the sizes a bit and was pleasantly surprised to get the same great results with the thinner loafs as the larger(even when baking at the same time). I also found that brushing with the egg mix towards the end, thus making two in total resulted in a deeper golden color and more crunch plus flavor. This recipe is a keeper for sure!