A customized print-friendly version of this recipe is available by clicking the "Print Recipe" button on this page.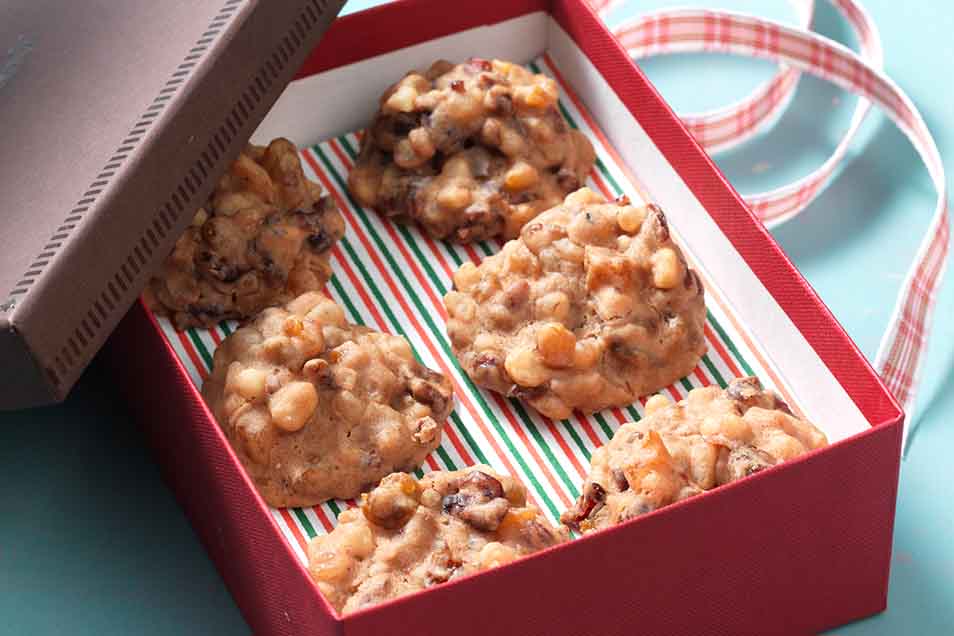 Didn't feel like making fruitcake this year, did you? Or maybe you forgot to start it on time, and it's just not the same if you don't let it rest for weeks and weeks, brushing it with brandy every few days or so? Or maybe your best friend has just now revealed, for the very first time, her obsession with fruitcake?

Whatever, if you now find yourself in the position of wishing you'd made fruitcake, here's an easy out: fruitcake cookies, moist little nuggets of fruit bound with the merest bit of spice-scented batter and baked to chewy perfection.
Ingredients
1/2 cup (8 tablespoons) butter
1 cup light brown sugar, packed
1 teaspoon salt
1/4 teaspoon baking powder
2 large eggs
1/4 cup bourbon, rum, brandy, or apple juice
1/4 cup boiled cider, apple juice concentrate, or cherry concentrate
1/2 teaspoon ground cinnamon
1/2 teaspoon ground ginger
1/2 teaspoon ground nutmeg
1 teaspoon espresso powder, optional
1 3/4 cups King Arthur Unbleached All-Purpose Flour
9 cups chopped dried fruit
*Use your favorite combination of dried and/or candied fruits. We like to use 1/2 to 3/4 pound candied cherries, snipped into pieces; and for the remainder, our Fruitcake Fruit Blend.
Instructions
Preheat the oven to 325°F. Lightly grease (or better yet, line with parchment) a couple of baking sheets.

In a large bowl, mix together the butter, sugar, salt, and baking powder until smooth.

Add the eggs, and beat until smooth and creamy.

Add the liquor and boiled cider/juice/concentrate and mix, scraping the sides of the bowl. The batter will appear curdled; that's OK.

Add the spices; the espresso powder and the flour. Mix until smooth.

Stir in the fruit. The batter will be heavy and sticky; this is best done in a stand mixer, or using a heavy spoon and lots of muscle power.

Using a tablespoon cookie scoop, or a spoon, scoop out balls of dough about the size of a ping pong ball. Space them on the baking sheets, leaving about 1" to 1 1/2" between them; they won't spread much.

Bake the cookies for 20 to 22 minutes. They'll appear fairly set, but may still be very slightly shiny/wet looking when you remove them from the oven. The bottoms will be lightly browned.

Let the cookies cool, then loosen them from the parchment or pan using a spatula.

Store at room temperature up to several weeks, in an airtight canister in layers, with parchment or waxed paper between the layers to keep the cookies from sticking to one another. For longer storage, freeze.
Nutrition Information
Serving Size

2 cookies

Servings Per Batch

30
Amount Per Serving:
Calories

230

Calories from Fat

35

Total Fat

3.5g

Saturated Fat

2g

Trans Fat

0g

Cholesterol

20mg
Sodium

100mg

Total Carbohydrate

50g

Dietary Fiber

2g

Sugars

37g

Protein

2g
* The nutrition information provided for this recipe is determined by the ESHA Genesis R&D software program. Substituting any ingredients may change the posted nutrition information.
Tips from our bakers
Want to make smaller cookies? Use a teaspoon cookie scoop to make 1" balls. Bake for 18 to 20 minutes. Yield: about 11 dozen 1 1/2" cookies.
This recipe is an easy one to cut in half, should you want fewer cookies.
Reviews
Received a gift of dried fruits so decided to try these cookies to give as gifts. Used this recipe as a guide. Dried plums, dates, figs, peaches, apricots, coconut, gokden raisins, cranberries, almonds & walnuts. Only had orange juice & sour cherry beer. Upped the spices & lowered the sugar like others suggested. And a few grinds of black pepper. Drizzled some with a lemon/orange sugar glaze. These were a hit!
Gluten-free possible - YES! We made this recipe with a couple of minor adaptations: We used King Arthur Gluten-Free All Purpose Baking Mix instead of the flour and then omitted the baking powder. We prepared the fruit the night before and tossed it with a little brandy to soak the night before mixing things up. (this seemed to give that 'soaked for weeks' flavor, but fresher at the same time) Our teenager drank the apple juice so we doubled the brandy, knowing it would cook off. We did not add coffee powder since we did not have it. These were amazing!!! We will never go back to regular fruitcake! We will make these anytime, they would be amazing on a hike!
I baked these cookies today and they are delicious! My husband and I love fruitcake, but we now like these cookies much better . They are so easy to make. I used rum and orange juice concentrate, becauuse it's what I had on hand. I will be making these often. Thank you King Arthur Flour.
These are AWESOME! I used spiced pear juice for the cider (b/c that's what I had) and I also used the rum. I omitted the espresso n/c I didn't have any. For the 9 c. of dried fruit, I used 2 1/2c of walnuts/pecans, 4c of the candied fruit for fruit cakes and 3 1/2 c of raisins. They are simple to make, have a slight crunch on the edges and a nice chewiness to the middle. Oh. My. Goodness! I will definitely be making these again.
I converted the recipe to grams, used gluten-free all purpose flour without xanthum gum. It turned out really well. Also grinded nutmeg, cloves, and all-spice for more flavour.
For her birthday my sister asked for a hearty and on-the-go breakfast thing and fruitcake is one of her favorites. So I made these, using 6 cups of my own fruitcake mix and 3 cups toasted pecans, added some protein powder (reducing the flour by about half the volume of powder), then used my tablespoon scoop on parchment - easy and delicious. My sister's only complaint - she only got a few because her husband and daughter ate the rest before she had a chance.
This is a very simple recipe. If you like fruitcake, or want to gift anyone who might like fruitcake, this is the recipe for you. Excellent recipe that I will make again.
EASY TO MAKE, KEEPS WELL, VERY TASTY
These are wonderful. I've made these twice now and use a mixture of approximately five cups chopped dried fruit (figs, dates, cranberries, raisins, apricots, etc.), two cups chopped candied fruit, and two cups of chopped nuts, which seems to me to be the best balance of sweetness and crunchiness. I also double the spices and use dark brown sugar instead of light brown sugar. The last time I made them I soaked the dried fruit for a few days in a cup of mixed spiced rum and prune juice, then used brewed espresso coffee instead of the rum and fruit juice when preparing the batter (I had run out of espresso powder). The cookies are best after aging at least a week--they keep getting better and better as time goes by.
Great recipe! I used apricots, candied ginger, glacé cherries, walnuts, and a few golden walnuts. I decreased the sugar by a third. I increased the cinnamon and added a half teaspoon of cloves. I did that with 2/3 of the dough. For my father, I mixed in dates and raisins for the other 1/3 dough.