A customized print-friendly version of this recipe is available by clicking the "Print Recipe" button on this page.
Gluten-Free Blueberry Hand Pies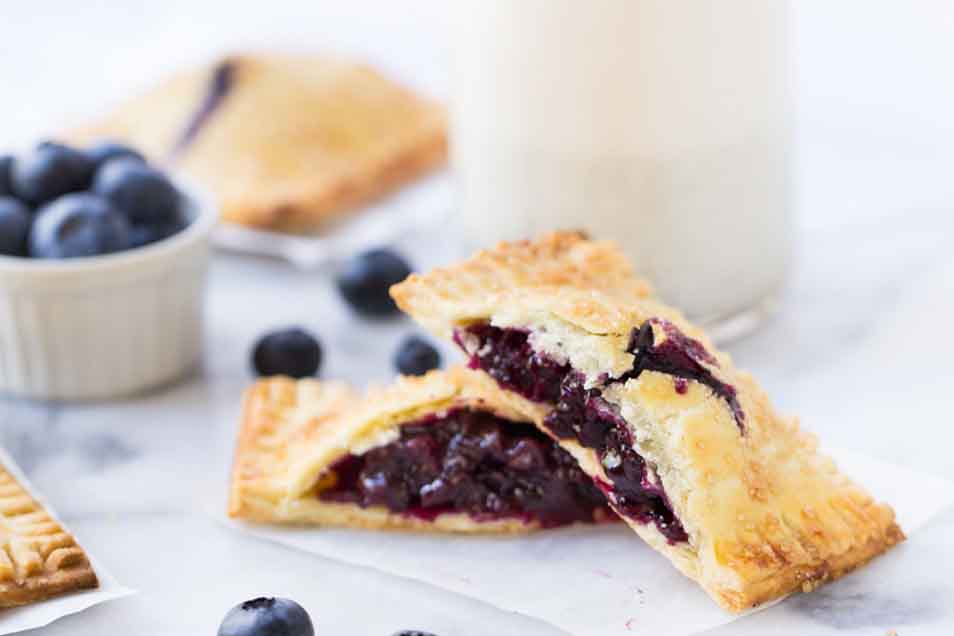 Perfect for a summer picnic, these hand pies — a.k.a. turnovers — are wonderfully portable and absolutely delicious.
Ingredients
Crust
2 1/2 cups King Arthur Gluten-Free Flour or brown rice flour blend*
2 tablespoons sugar
1 tablespoon + 1 teaspoon Instant ClearJel (optional; not packed in a gluten-free facility)
1 teaspoon xanthan gum
1 teaspoon salt
12 tablespoons (3/4 cup) cold butter
2 large eggs
1 tablespoon + 1 teaspoon lemon juice or vinegar
*See recipe for this blend in "tips," below.
Filling
2 1/2 cups blueberries, fresh or frozen
1/2 cup sugar
2 1/2 tablespoons King Arthur Gluten-Free Flour or 2 tablespoons Instant ClearJel
pinch of salt
4 teaspoons lemon juice
Instructions
Whisk together the flour or flour blend, sugar, ClearJel, xanthan gum, and salt.

Cut the cold butter into pats, then work the pats into the flour mixture until it's crumbly, with some larger, pea-sized chunks of butter remaining.

Whisk the eggs and vinegar or lemon juice together till very foamy. Mix into the dry ingredients. Stir until the mixture holds together, adding additional cold water if necessary.

Divide in half, shape each half into a flattened rectangle, wrap well, and chill for an hour, or up to overnight.

Allow the dough to rest at room temperature for 10 to 15 minutes before rolling.

To make the filling: If you're using fresh berries, rinse and drain them. Place the fresh (or frozen) blueberries in a saucepan. Whisk together the sugar, flour or ClearJel, and salt, and add to the berries along with the lemon juice, stirring to combine. Set the pan over medium heat. Cook until the mixture starts to thicken, about 5 minutes. Transfer the cooked berries to a bowl and let cool to room temperature.

Preheat the oven to 425°F; place a rack on the middle shelf. Line a baking sheet with parchment paper.

To assemble the pies: Roll each piece of dough into a 7" x 17 1/2" rectangle. With a straight edge and pastry wheel, cut out ten 3 1/2" squares from each piece.

Divide the filling among 10 of the squares, using about a heaping tablespoon for each. Brush some of the beaten egg along the edges of each filled square.

Cut a vent into the each of the remaining 10 squares, using a decorative cutter, if desired.

Top each filled square with a vented square, and press along the edges with the tines of a fork or a pie crust crimper to seal.

Brush the top of each pie with some of the remaining beaten egg, and sprinkle with sparkling sugar. Transfer the pies to the prepared baking sheet.

Bake the pies for 18 to 20 minutes. Remove them from the oven, and let cool for 20 minutes before serving.
Tips from our bakers
*Make your own blend
Many of our gluten-free recipes use our King Arthur Gluten-Free Multi-Purpose Flour, which includes ingredients that reduce the grittiness sometimes found in gluten-free baked goods. Our flour also increases the shelf life of your treats, keeping them fresh longer.

The following make-at-home blend, featuring stabilized brown rice flour, works pretty well when substituted; and it tastes better than a blend using regular brown rice flour.

Whisk together 6 cups (28 1/2 ounces) King Arthur stabilized brown rice flour; 2 cups (10 3/4 ounces) potato starch; and 1 cup (4 ounces) tapioca flour or tapioca starch. Store airtight at room temperature. Note: You can substitute white rice flour for the brown rice flour if you like; it'll make your baked goods grittier (unless you manage to find a finely ground version).
Why no listed weight for the blueberries? Berries can vary quite a bit in weight, and we found that measuring by volume is best in this case.
Reviews
I have made the regular blueberry hand pies with King Arthur flour and love them. I plan to make the gluten free version with King Arthur gluten free flour for Thanksgiving. Question, will these freeze after they are made but before they are baked? And , if so, for how long will they freeze and remain flakey. I want to get as much done beforehand as possible. Thanks

Hi Cheryl, while we haven't tried freezing this gluten-free version long term, we'd suspect that they may dry out a little more quickly than the gluten-full version. Be sure to wrap them up well and store them in the freezer for no more than a month. Mollie@KAF
Loved this recipe! Been baking the Blueberry Hand Pie recipe for a couple of years to rave reviews. So happy to be able to try these for my 2 children who are gluten free. They were delicious! Easy to make and and equally satisfying treat for anyone who is gluten free!!
This was my first attempt at pastry, let alone a gluten-free pastry. It came out fantastic! I did have xanthum gum in the house, but not the gel mentioned so used the flour. Delicious! I chilled the dough overnight and it was easy to roll-out to 17 inches after being out some 10 minutes..never even stuck to the rolling pin. Altho we have a Miele convection oven (and I did reduce the temp some because of the convection bake), the pies did not brown evenly---I had two baking trays with six each..probably should have rotated them back to front and switched them around half way through. Such a shame I had to eat the one heavily browned pie to hide the problem LOL ! This will be a big surprise for my wife with coeliac disease.
I am so in love with these hand pies. I wasn't able to differentiate these from the ones made with gluten. Fabulous!
We made the crust for a different filling, and it turned out beautifully. Light, flaky, and tender. It baked up crisp on the bottom, but not dry. It made fantastic hand pies. I've been GF for 6 years, and this is the best crust I've yet made for a pie.
These were delicious!!!! Even adding in the fact that I had to make mine without eggs, they were a huge hit at our fourth of July party. Thanks for the wonderful recipe. We made blueberry ones and raspberry. Both were well worth the time making and no one would have guessed they were gluten free!
We had a guest come for the weekend who has Celiac so she can't have any gluten. I have never made a gluten-free pastry before, so I was a bit nervous. I have a lot of experience with the turnover recipe on this site and it is a family favorite, so I decided to give this recipe a try. It came out FANTASTIC. I was so impressed. I followed the instructions very carefully and used the King Arthur Gluten Free flour and it worked really well. The dough rolled out easier than I anticipated and the both the texture of the pastry and the flavor were the best gluten-free I have ever tasted. (I find many gluten free products are a bit gritty or have an odd aftertaste... neither of these were true of this recipe). Thank you King Arthur for another great recipe. My friend was so happy. She hadn't had pastry like this for 15 years.
Downright disgusting. Don't waste your time.

We're sorry to hear that this recipe didn't meet your expectations and appreciate the honest feedback. It would help us to know more specifically what didn't work, so please feel encouraged to give us a call at 855-371-BAKE or send us an email to let us know. Mollie@KAF