A customized print-friendly version of this recipe is available by clicking the "Print Recipe" button on this page.
Gluten-Free Lemon Squares with an Almond Flour Crust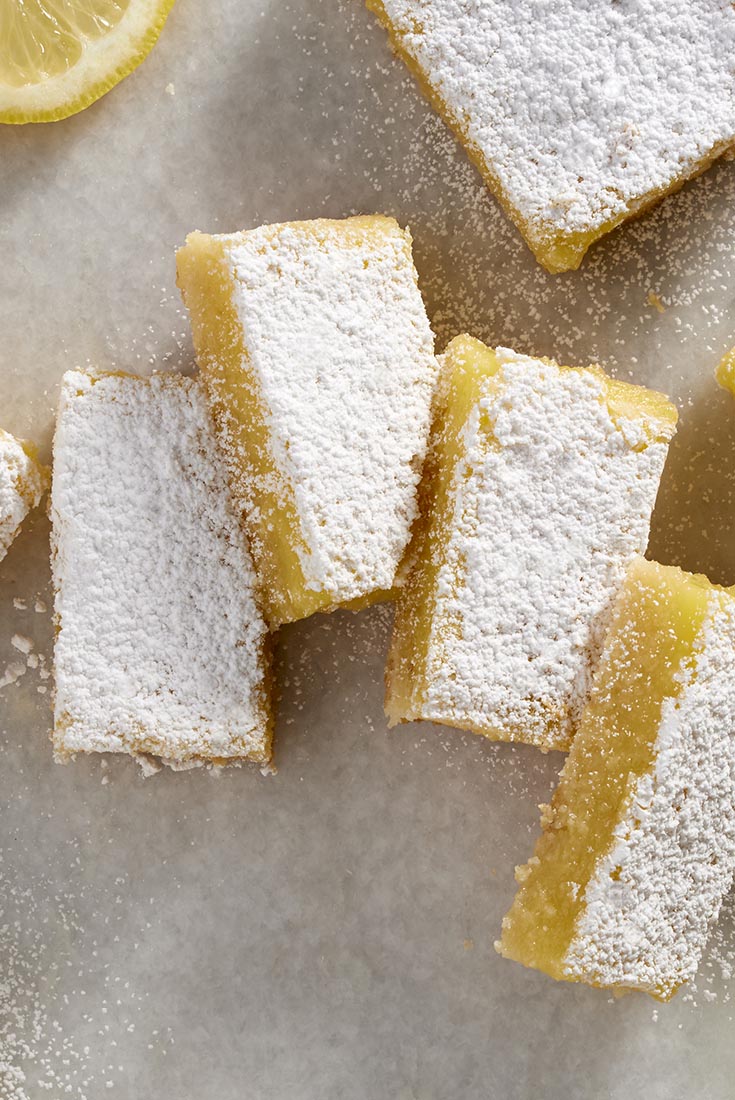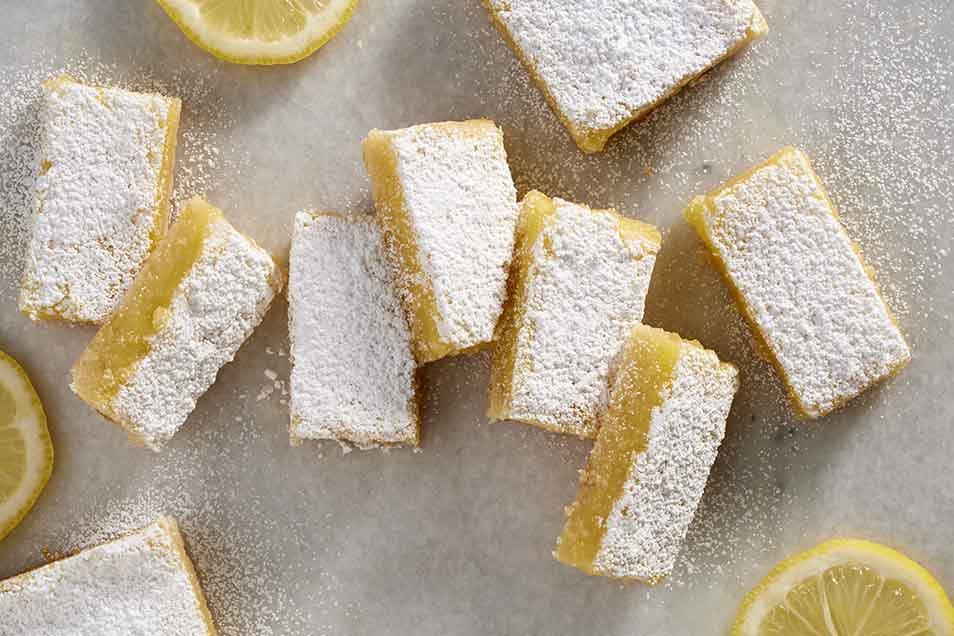 These tangy/sweet squares offer the perfect balance between a slightly nutty, buttery shortbread crust, and bright lemony filling.
Ingredients
Crust
2 cups almond flour
6 tablespoons sugar
3 tablespoons cornstarch
1/4 teaspoon salt
6 tablespoons cold butter, diced
Filling
2 large eggs
1 cup granulated sugar
1/3 cup lemon juice
2 tablespoons gluten-free cornstarch
pinch of salt
Instructions
Preheat the oven to 350°F. Lightly grease an 8" square pan or 9" round pan.

To make the crust: Combine the dry ingredients in a small bowl, whisking to blend. Add the cold butter, working it in with your fingers or a pastry blender until the mixture is evenly combined and crumbly.

Dump the mixture into the prepared pan, shake to distribute, and press the crust into the bottom and about 1/2" up the sides of the pan.

Bake the crust until it's light golden brown, about 8 to 10 minutes.

While the crust is baking, whisk together the filling ingredients.

Remove the crust from the oven, and pour the filling over the hot crust. Return the squares to the oven and bake them for 14 to 18 minutes, until the filling appears set.

Remove the squares from the oven, and allow them to cool in the pan before cutting into 2" pieces. Cover the squares, and refrigerate until ready to serve.

Yield: 16 squares.
Nutrition Information
Serving Size

1 square, 48g

Servings Per Batch

16 squares
Amount Per Serving:
Calories

199

Calories from Fat

98

Total Fat

3.5g

Saturated Fat

3.5g

Trans Fat

0g

Cholesterol

35mg
Sodium

64mg

Total Carbohydrate

22g

Dietary Fiber

2g

Sugars

18g

Protein

3g
* The nutrition information provided for this recipe is determined by the ESHA Genesis R&D software program. Substituting any ingredients may change the posted nutrition information.
Reviews
Are there two types of corn starch used in this recipe? The crust contains corn starch but the filling contains gluten free corn starch

Thanks for clarifying, Ronnie. It looks like we only included the "gluten-free" specification for one of the listed ingredients, but they're referring to the same thing. If your goal is to make a gluten-free lemon square, you will want to be sure you're using a gluten-free version of cornstarch, as not all cornstarch is gluten-free. Mollie@KAF
Soooooo delicious. I like to freeze these for a snack later on.
The taste was great! I read other comments and decided I would double the filling recipe. I put the crust in a 9x13 stoneware pan but I was not ready to put filling in as soon as crust came out of the oven. The crust was still warm, but when process was complete the filling and the crust had run together and the filling never "set." We basically ate it with a spoon. Please give me feedback on what I did wrong! Thanks

At least the flavor was great, Teri! Baking in a stoneware pan could have been part of the problem, as the edges tend to bake much faster than the center. When baking in a ceramic, stoneware or glass dish, we usually recommend turning the oven temp down by 25° and extending the baking time in order to achieve a more even bake. Give this a try next time, and we think you'll be much happier with the results! Mollie@KAF
My husband, who likes things tart, declared these to be the best lemon ANYthing I've ever made! After reading through the reviews, I was concerned the crust might be too thick. I went ahead and made the full crust recipe, and used an 8" square glass baking dish. I pressed it down well, and I thought it was just right. I used a couple tablespoons coconut oil for the butter because I was running low on butter, and only used 5 Tbs. sugar. Also subbed tapioca starch for the cornstarch. For the filling, I followed another reviewers advice and used three eggs. I also used more lemon juice, a little under 2/3 cup. I cut the sugar down to just under 3/4 cup and it was plenty sweet. It is nice to have a gluten free, grain free crust option! Thank you, KAF!
Fantastic lemon bars. They didn't quite capture the lemon bars of my childhood but delicious just the same. I might play with the recipe to make the crust a bit thinner and have more lemon filling. If I can find that balance, they'll be a perfect 5 star recipe.
Love this recipe as it's one of the easier recipes I've found for low carb lemon bars. I did, however, substitute sugar for truvia and butter for coconut oil. The bars come out very dense and sweet and kills my sugar cravings for most of the day :) I prefer to eat these lemon bars refrigerated. I highly recommend trying the Truvia/ stevia and coconut oil substitutions!
Fantastic. Texture and flavor was awesome-- so many compliments on these that I'm making a second batch the very next day! The only question I have is-- does anyone have any recommendations on baking the crust without butter? Is it possible to sub coconut oil or some such thing to make this recipe both Gluten-free and Dairy-free? Thanks in advance! Anyway, highly-recommend this recipe. :)

Hello Steph- we've used vegan buttery sticks in this crust with good luck. You can also use coconut oil but reduce it by 2 tablespoons per cup. Coconut oil tends to be a bit heavier and greasier since it doesn't contain any water as the buttery sticks do. Happy baking! Laurie@KAF
Delicious lemon bars! I was wondering can I substitute for the lemon filling, energy egg replacer instead of the eggs eggs. Family member is allergic to eggs . Please advise and thanks!

We're glad you so enjoyed these treats! While Energ and other egg replacers can work well in some rapplications, we don't recommend using them in custard-based fillings like this. You may have luck searching the web for a vegan lemon square filling, but we haven't tried any ourselves that we can recommend. Best of luck! Mollie@KAF
I took the advice of a couple of reviews and adjusted the recipe to cut down on sugar. I only used 5 T of sugar in the crust, very sweet, will further cut down next time. 2/3 Meyer lemon juice, 3 eggs and 1/2 cup sugar was perfectly sweet for the lemon filling. The next time I will also add lemon zest or lime to make it a bit more tart. Overall, I liked the receipe so I'm going to try it again using less sugar in the crust. I wonder if anyone has tried Stevia? I'm not a fan, but my father is diabetic.
I don't really know how to rate this recipe. It tastes amazing, but it was a disaster in all other sorts of ways. Because of my schedule this week I made the crust on Monday and put it in the pan and tucked it in the fridge. I didn't have time to bake the bars and didn't need them until Thursday. Wednesday night I pulled the pan out of the fridge and popped it into the oven. The crust never really set. After nearly 20 min in the oven, I decided to go ahead with the filling. However, the ratio of filling to crust was WAY out of whack. I had to double the filling just to get a decently thick layer of lemon on the bars. When I cut into the bars this morning after baking them long and letting cool overnight the entire center section of the crust had detached/fallen apart and floated into the lemon curd in the middle. Only the edge crust stayed intact. I've backed dozens of KAF recipes and they never fail me. I have ZERO idea what happened with this one!

We're glad to know that you usually have success with our recipes, Kat, and we're sorry to hear this one didn't work for you. Leaving the crust in the fridge for so long before baking would dry it out, making it more crumbly and likely to fall apart. Baking the crust straight from the fridge would also naturally lead to a longer baking time. We're less sure why the ratio of filling to crust would feel so off, but that could be more a matter of personal preference. If you'd like to talk this over anymore, we hope you'll give our Baker's Hotline a call at 855-371-BAKE--we'd love to help you have a more successful second go at this recipe. Mollie@KAF