A customized print-friendly version of this recipe is available by clicking the "Print Recipe" button on this page.
Gluten-Free Lemon Squares with an Almond Flour Crust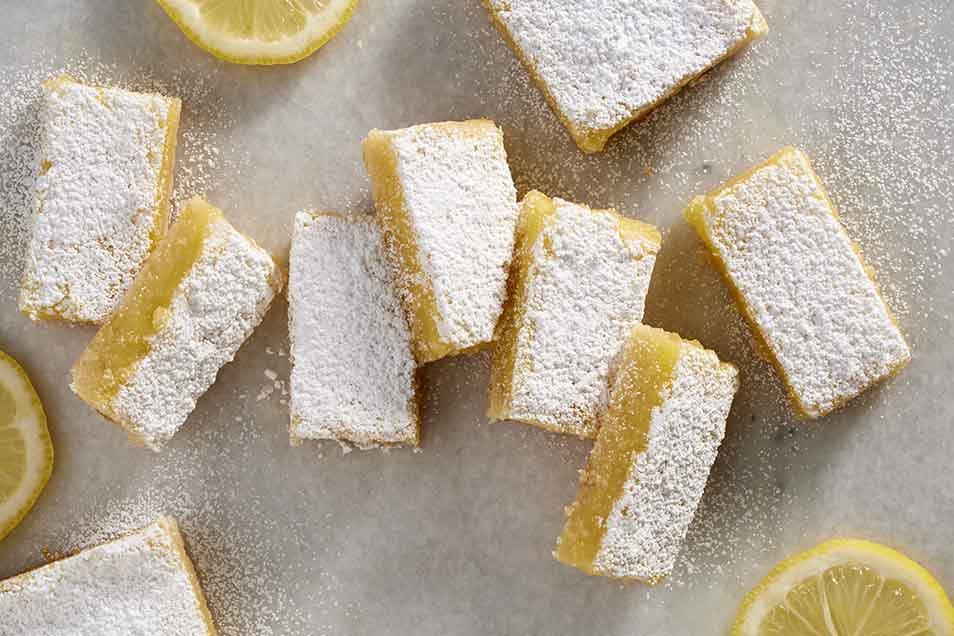 These tangy/sweet squares offer the perfect balance between a slightly nutty, buttery shortbread crust, and bright lemony filling.
Ingredients
Crust
2 cups almond flour
6 tablespoons sugar
3 tablespoons cornstarch
1/4 teaspoon salt
6 tablespoons cold butter, diced
Filling
2 large eggs
1 cup granulated sugar
1/3 cup lemon juice
2 tablespoons gluten-free cornstarch
pinch of salt
Instructions
Preheat the oven to 350°F. Lightly grease an 8" square pan or 9" round pan.

To make the crust: Combine the dry ingredients in a small bowl, whisking to blend. Add the cold butter, working it in with your fingers or a pastry blender until the mixture is evenly combined and crumbly.

Dump the mixture into the prepared pan, shake to distribute, and press the crust into the bottom and about 1/2" up the sides of the pan.

Bake the crust until it's light golden brown, about 8 to 10 minutes.

While the crust is baking, whisk together the filling ingredients.

Remove the crust from the oven, and pour the filling over the hot crust. Return the squares to the oven and bake them for 14 to 18 minutes, until the filling appears set.

Remove the squares from the oven, and allow them to cool in the pan before cutting into 2" pieces. Cover the squares, and refrigerate until ready to serve.

Yield: 16 squares.
Nutrition Information
Serving Size

1 square, 48g

Servings Per Batch

16 squares
Amount Per Serving:
Calories

199

Calories from Fat

98

Total Fat

3.5g

Saturated Fat

3.5g

Trans Fat

0g

Cholesterol

35mg
Sodium

64mg

Total Carbohydrate

22g

Dietary Fiber

2g

Sugars

18g

Protein

3g
* The nutrition information provided for this recipe is determined by the ESHA Genesis R&D software program. Substituting any ingredients may change the posted nutrition information.
Reviews
So yummy! I wanted to find a gluten free lemon bar recipe but with low sugar. I used this recipe and used Truvia in place of the sugar (went by the conversion rates on the package). You definitely couldn't tell it wasn't all real sugar, tasted and set up perfect! Will definitely make these again. My only criticism was that next time I make this I won't pack the crust up on the sides. Doing this makes the bars on the edges have mostly crust and hardly any of the lemon part. I think if the crust is just packed on the bottom all bars will have the perfect amount of crust and lemon. So good.
Update: i thought i messed up after the way the crust reacted when i poured in the filling but this recipe is AMAZING especially after refrigerating
RIP i didn't bring the crust up to the edge of the pan (i just left it at the bottom) This made it kinda thick (needed way more time than the recipe called for to brown) When i poured the filling in it bubbled up and mixed together :-( im hoping it turns out good anyway LOL
It seems like the filling layer is too thin, but somehow it sinks a little ways into the crust and looks thicker after baking. I do think the crust needs baking several minutes longer. Looking at the reviews I also experimented with a 9 inch pan and double filling. The double filling started to brown before it was done and I needed to cover it with foil. It also took much longer. (Not sure exactly but double the time at least.) I may try increasing the filling by 50 percent just to use up more lemon but nothing is wrong with the recipe as written except for maybe needing to cook the crust longer.
This is not a review, but more of a question. I would like to make a gluten free lemon square. Why is there such a big difference in the filling/topping ingredients compared to the 'regular' lemon square recipe. That calls for 4 eggs and 1 egg yolk and 2/3 cup lemon juice. The gluten free recipe has only 2 eggs and 1/3 cup lemon juice. I understand there is some difference because the regular version has the cup of flour, but don't understand why there would be less lemon juice? And fewer eggs? Thanks!

Hi Jane! These bars are made with an almond flour crust, which doesn't provide as much support as a regular shortbread crust does so the lemon layer in these bars is a bit thinner. If you would like to use the lemon filling from the Lemon Squares recipe you sure can, just swap out the 1/4 cup of All-Purpose Flour for our Gluten-Free Measure for Measure Flour. Keep in mind though that with the thicker layer of filling, folks will probably need a plate and fork to eat them, as the crust might crumble when they take a bite. We hope this helps. Happy GF baking! Morgan@KAF
To make a 9x13 I made 1 1/2 crust recipe and baked it until it was darker than light brown which was a few minutes more...maybe 4 minutes (I have a convection oven if that makes a difference). I doubled the filling but kept out a couple of tablespoons of the lemon juice for an icing drizzle w/powdered sugar after it cooled. I baked it again a few minutes more than suggested so it wouldn't be too soft in the center...maybe 5 minutes. This was delish! My gluten crazy and suspicious family were pleased to have something they liked that wasn't weirdly gummy or unrecognizable like many GF recipes end up. Btw, I used the two passion fruits my vine produced this year as part of the juice (strained, no seeds) and it is heavenly! The color is more orange than yellow so it's pretty too
This was an awesome recipe. I made it exactly as the recipe said, in a 8" Spring form pan. Even though I had a hard time sharing it, I took much of it to my church 's Fellowship and it went quickly, I'm making it again for a family Christmas gathering. Not sure why anyone would not be pleased with these Lemon Bars unless they didn't follow the recipe correctly. It's perfect!
This recipe is disappointing. An 8x8 requires you to double the filling. Crust takes way longer to bake than cited and is way too thick. Filling did not cook properly at temp and time. Recipe should have suggested parchment paper lining in pan. Incomplete. What a waste.

We're sorry to hear that this well-loved recipe didn't gave you some frustration, fellow baker. If we can help pick out a recipe that better fits your tastes or help troubleshoot this one, please give our Baker's Hotline a call at 855-371-BAKE (2253). Kindly, Annabelle@KAF
Great recipe but with important tips. Crust: 8-10 minutes is not enough to bake an almond flour crust. It must be lightly brown and that takes 16-18 minutes. If not, it will be soggy. Most recipes greatly undercook an almond flour crust. I do not recommend coconut oil as that will usually lead to a soggy crust. The amount of the crust I think is perfect in this recipe and gives a great crust texture. I used a circle springform pan. Filling: bakes perfectly in 18 minutes WITH double filling recipe. If is is not doubled, it is about a quarter of an inch thick and very thin lemon bars (not as pictured). Using double the filling will give you what is pictured. Baking 'until set' means not jiggly and if you lightly touch it, it does not leave a fingerprint.
Hi Fellow bakers, I was looking for a better GF shortbread crust. This one was better. I have noticed people saying that crust was 'soft'. So---may I suggest (even though the recipe does NOT suggest it) go ahead and mix the lemon custard up as instructed. Whisk it good to eliminate the flour lumps. Then---cook it for about 8 minutes or until slightly thickened on medium heat---FIRST. Whisking constantly. Give that tasty goodness a bit of 'curdy' thickness and then gently spread onto the crust and bake. I also think the amount of flour and other ingredients for the crust (sorry King Arthur People, though I do love you) is---too much for an 8 x 8 or even a 9 x 9 pan. That's just too thick for me as well as not enough baking time for that thickness. Try baking the crust in a 13 x 9 at 15-18 minutes. I also held back 1/2 cup of the dough because I (again) do not like too thick a crust. Just my little 3 cents.