A customized print-friendly version of this recipe is available by clicking the "Print Recipe" button on this page.
Gluten-Free Whole Grain Banana Muffins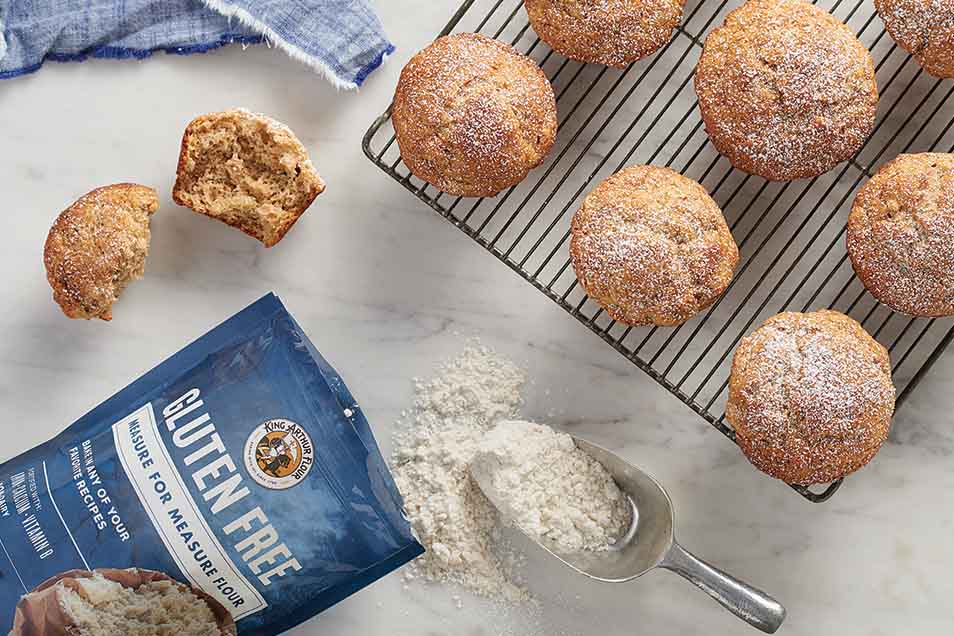 Moist and tender, with just the right amount of banana flavor, these muffins feature our whole-grain gluten-free Measure for Measure Flour. They exemplify just how quick and easy it is to use this flour and to incorporate flavorful, whole-grain goodness into a tasty gluten-free breakfast.
Ingredients
1 3/4 cups King Arthur Measure for Measure Gluten-Free Flour
2 teaspoons baking powder
1/4 teaspoon baking soda
1/2 teaspoon salt
1/2 teaspoon cinnamon
3/4 cup sugar
1/2 cup chopped walnuts or pecans, optional
1/2 cup vegetable oil
2 large eggs
1 teaspoon vanilla extract
1 1/2 cups mashed ripe bananas (about 3 medium or 2 large bananas)
Instructions
Preheat the oven to 375°F. Grease a 12-cup muffin pan, or line it with papers.

Whisk together the flour, baking powder, baking soda, salt, cinnamon, sugar, and nuts. Set aside.

Stir together the oil, eggs, vanilla, and mashed bananas.

Combine the dry and wet ingredients, stirring until well combined.

Divide the batter evenly among the muffin cups.

Bake the muffins for 20 to 24 minutes, until the middle of a center muffin springs back when lightly touched.

Remove the pan from the oven, and let the muffins rest for 5 minutes before removing them from the pan.

Serve muffins warm or at room temperature. Wrap any leftovers airtight, and store at room temperature for several days; freeze for longer storage.
Tips from our bakers
For pumpkin muffins: Use one 15-ounce can pumpkin in place of mashed banana. Add 1 teaspoon pumpkin pie spice along with the dry ingredients. Mix and bake as directed above.
Reviews
This is a good recipe! It has a fabulous rise and texture. I modified this recipe by doubling the cinnamon, adding ground clove, and I baked it in a regular loaf pan at 350 for about 50 minutes. I also used Earth Balance, and it worked well! I get great results with this flour so far!
These are amazing! This was the first recipe I tried using this GF flour, and they came out so delicious. I've made them multiple times now, and they always come out perfect. My child who is not on a GF diet loves them as well.
This is the new go-to banana muffin recipe for our family though only one member is gluten intolerant. I make these and take them everywhere and share the recipe with everyone I know who has gluten issues. I make them exactly as the recipe states but add a handful of chocolate chips. Another member of the family needs chocolate encouragement to try new things. I did try using this recipe with regular flour but the Measure for Measure was far better. Delicious!
Made with avocado oil, substituted maple syrup for the sugar. They were excellent and browned beautifully. These were for a friend with an inflammatory disease and he was so happy to have a tasty baked treat.
I can't find KA GF flour in my stores. what can I mix to make something comparable?

Hi Denise. We're sorry to hear that stores in your area have decided not to carry our gluten-free flours, but we're happy to tell you we have a recipe on our website. Our recipe for Gluten-Free Brown Rice Flour Blend can replace our Gluten Free All-Purpose Flour in recipes that are designed to be gluten-free. Happy GF baking! Annabelle@KAF
I used the flax gel substitue for the egg, and applesauce instead of banana for great apple cinnamon muffins!
Just baked these scrumptious muffins in my newly purchased KAF mini muffin pans. Wow smaller muffins are even more tastier. Cannot eat just one for sure!
Please furnish nutritional value of finished muffin. They are wonderful!!!

Due to the extensive size of our recipe library, we're currently unable to research and provide nutritional information for all of our past recipes, including this one. We can understand your interest in those details, and extend our sincere apologies for any inconvenience. A resource you might consider exploring is free nutrition analysis calculators, which are made available online for general, non-medical use. Two such calculators we like are one from Spark Recipes and one from Verywell, both of which can be found by searching a general search engine by name. We hope this helps, and happy GF baking! Kye@KAF
This recipe is a keeper! I used coconut oil, pecans and added a touch of nutmeg. Moist and delicious.
These muffins were delicious! I made some changes( personal preferences) 1/2 c sugar, 1/4 c oil, 1/4 c unsweetened applesauce, omitted salt, and added 1/4 c dark chocolate chips. It made 14 muffins in all. Thanks for another great recipe!!!!