A customized print-friendly version of this recipe is available by clicking the "Print Recipe" button on this page.
Gluten-Free Whole Grain Banana Muffins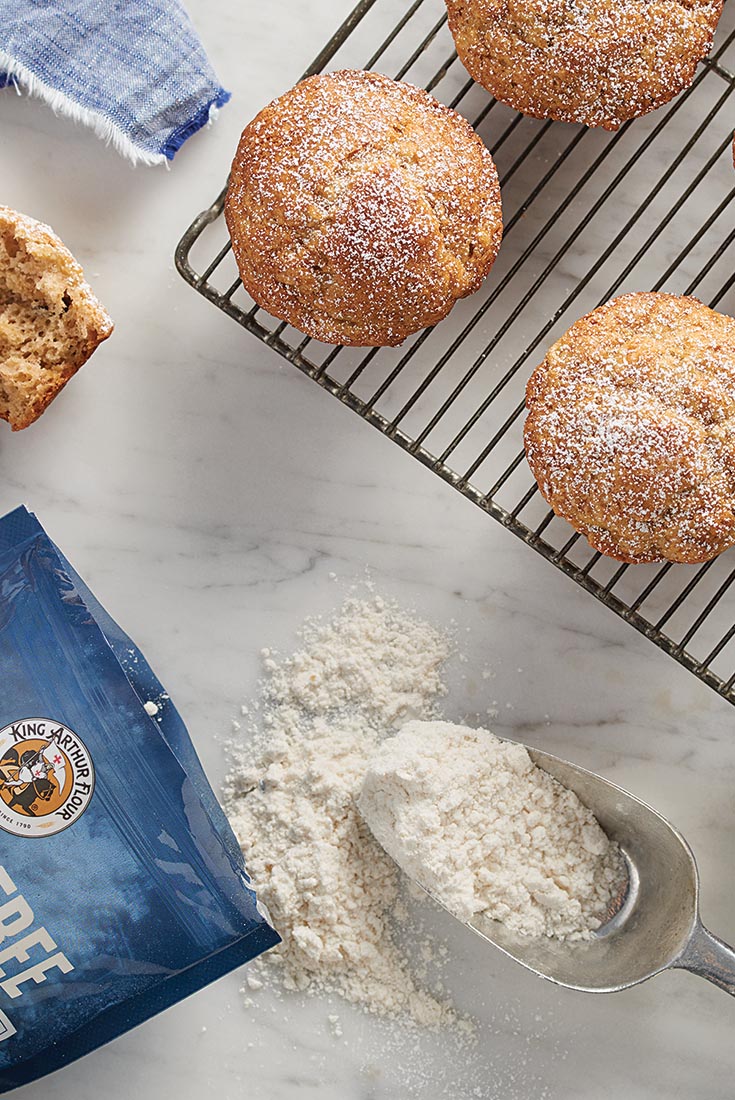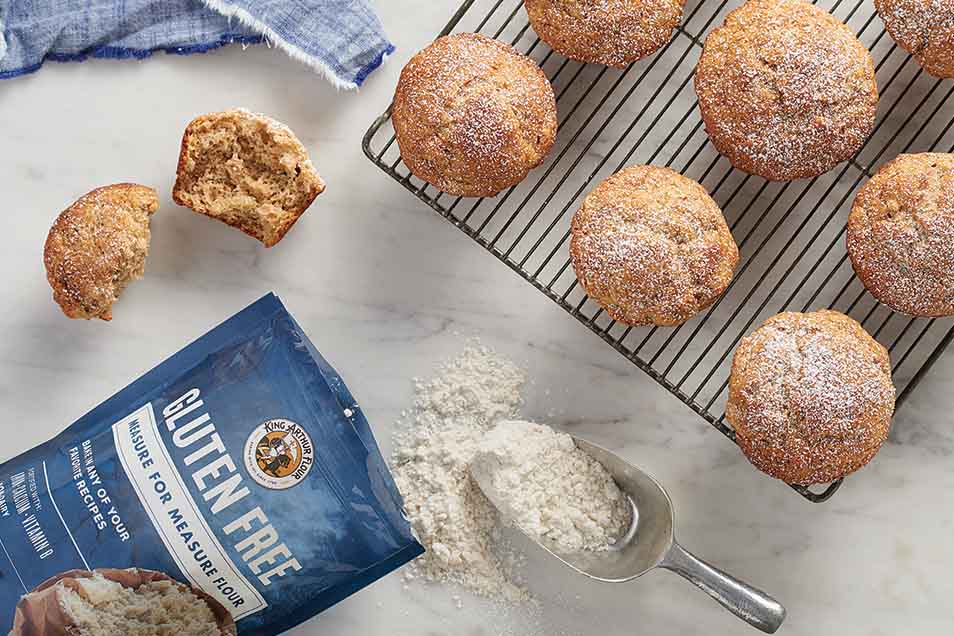 Moist and tender, with just the right amount of banana flavor, these muffins feature our whole-grain gluten-free Measure for Measure Flour. They exemplify just how quick and easy it is to use this flour and to incorporate flavorful, whole-grain goodness into a tasty gluten-free breakfast.
Ingredients
1 3/4 cups King Arthur Measure for Measure Gluten-Free Flour
2 teaspoons baking powder
1/4 teaspoon baking soda
1/2 teaspoon salt
1/2 teaspoon cinnamon
3/4 cup sugar
1/2 cup chopped walnuts or pecans, optional
1/2 cup vegetable oil
2 large eggs
1 teaspoon vanilla extract
1 1/2 cups mashed ripe bananas (about 3 medium or 2 large bananas)
Instructions
Preheat the oven to 375°F. Grease a 12-cup muffin pan, or line it with papers.

Whisk together the flour, baking powder, baking soda, salt, cinnamon, sugar, and nuts. Set aside.

Stir together the oil, eggs, vanilla, and mashed bananas.

Combine the dry and wet ingredients, stirring until well combined.

Divide the batter evenly among the muffin cups.

Bake the muffins for 20 to 24 minutes, until the middle of a center muffin springs back when lightly touched.

Remove the pan from the oven, and let the muffins rest for 5 minutes before removing them from the pan.

Serve muffins warm or at room temperature. Wrap any leftovers airtight, and store at room temperature for several days; freeze for longer storage.
Reviews
I used the flax gel substitue for the egg, and applesauce instead of banana for great apple cinnamon muffins!
Just baked these scrumptious muffins in my newly purchased KAF mini muffin pans. Wow smaller muffins are even more tastier. Cannot eat just one for sure!
Please furnish nutritional value of finished muffin. They are wonderful!!!

Due to the extensive size of our recipe library, we're currently unable to research and provide nutritional information for all of our past recipes, including this one. We can understand your interest in those details, and extend our sincere apologies for any inconvenience. A resource you might consider exploring is free nutrition analysis calculators, which are made available online for general, non-medical use. Two such calculators we like are one from Spark Recipes and one from Verywell, both of which can be found by searching a general search engine by name. We hope this helps, and happy GF baking! Kye@KAF
This recipe is a keeper! I used coconut oil, pecans and added a touch of nutmeg. Moist and delicious.
These muffins were delicious! I made some changes( personal preferences) 1/2 c sugar, 1/4 c oil, 1/4 c unsweetened applesauce, omitted salt, and added 1/4 c dark chocolate chips. It made 14 muffins in all. Thanks for another great recipe!!!!
Delicious! Moist and flavorful. I will add less sugar next time, as the bananas are sweet.
A friend's mom can't eat gluten. She's visiting, and I wanted to try my hand at baking something GF. This is the recipe from the bag of GF flour I bought. These could not have been easier or tastier! Very moist with a nice texture. My husband loved them. The gluten was not missed! I'm anxious to try out other GF recipes.
Froze these muffins to take to a camping trip. They taste very good and we had them for breakfast and snack.
Wonderful! These taste like banana cupcakes. Soft and banana-y, easy to make. I made half the batch using one large ripe banana and I used walnuts. They actually made more than 6 even though I filled the muffin tins to the top. (I poured the rest of the batter into a tart tin and made a mini-banana cake). I am certain if gluten-eaters tried these they would not know they were gluten-free. In fact, if I hadn't baked them myself, I wouldn't have known. They are a Goldilocks type of muffin--just the right amount of spice, just the right amount of moistness, just the right amount of sweetness, just the right amount of banana flavor. Really, nothing to improve. The use of oil makes the even easier to make, since it blends so easily with the other ingredients. Another great recipe, KAF. This one is a going to be a heritage recipe in my repertoire. Thanks.