A customized print-friendly version of this recipe is available by clicking the "Print Recipe" button on this page.
Golden Chocolate Chip Muffins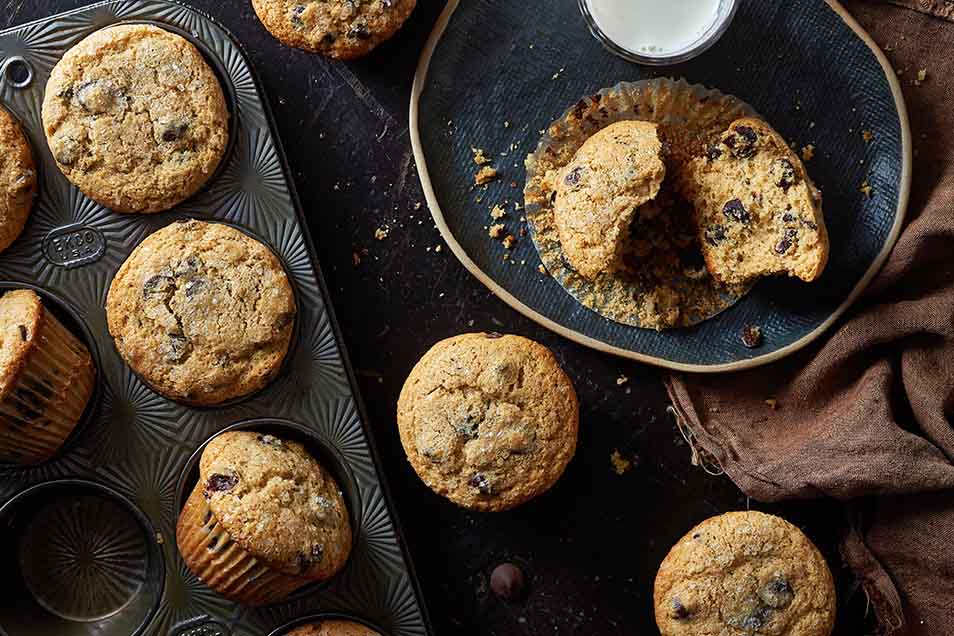 White whole flour adds a nutty sweetness to these luscious chocolate chip muffins.
Ingredients
1/2 cup (8 tablespoons) butter, softened
1 cup granulated sugar
2 teaspoons baking powder
1/2 teaspoon salt
1 teaspoon vanilla extract
1/8 to 1/2 teaspoon extra-strong flavor, optional*
2 large eggs
1/2 cup milk
2 cups chocolate chips
sparkling white sugar, for topping
*Add a little extra zing to your muffins with a complementary flavor: cinnamon and coconut extra-strong flavors are both good choices. Start with 1/8 teaspoon, adding more to taste.
Instructions
Preheat the oven to 350°F. Lightly grease (or line with muffin cups, and grease the muffin cups) a 12-well muffin pan.

Beat together the butter, sugar, baking powder, salt, vanilla, and flavor (if you're using it) until fluffy.

Beat in the eggs, then stir in the milk.

Mix in the flour, then the chocolate chips.

Spoon the batter into the muffin cups; they'll be quite full. Sprinkle each muffin with a little sparkling sugar.

Bake the muffins for 30 minutes, or until a cake tester inserted into the center of one comes out without crumbs clinging to it (a little chocolate is OK!).

Store, well-wrapped, for 3 days at room temperature, or freeze for up to a month.
Reviews
The white whole wheat flour is the secret ingredient to the best chocolate chip muffins I've ever had. My only complaint is that the muffins were very dense. I used the fluff and sprinkle method to measure the flour, but I added a LOT of milk to the second batch and they turned out better that way.

Hi there, Mary! We're glad to hear that you enjoy these muffins! One of the most common reasons why baked goods turn out a bit dense is because too much flour is used. To ensure you're using the right amount, we recommend checking out the "Recipe Success Guide," link next to the ingredients header above. You'll see that either measuring your flour by weight using a scale, or fluffing and sprinkling the flour into your measuring cup are the best ways to ensure your recipe turns out perfectly. We hope this helps and happy baking! Morgan@KAF
This is a great recipe. It went together easily and produced muffins that didn't fall apart coming out of the tin. Stable when cool, good for lunch box or commuter. I made a half batch, with a little less than the recommended amount of chocolate chips with what I had on hand, which were plenty enough.
i always make your blueberry muffins and decided to try these. i used almond milk. would that change the recipe? they were good but not outstanding like the blueberry muffins. i added 1/8 t cin. where did i go wrong? beleive me they are edible but i feel they are missing something. thanks!! love your recipes.

Thanks for making this recipe, Anna! Using almond milk might result in a less tender muffin, but it shouldn't affect the flavor. Because it enhances the flavor of chocolate, adding some espresso powder or even using cold coffee in place of half of the milk could amp up the overall flavor of the muffins. You could also try using our Sprouted Wheat Flour in place of the whole wheat, as it has a really nutty, delicious flavor. Annabelle@KAF
I baked this recipe exactly as written, using 1/2 teaspoon cinnamon. The flavor was great and they were moist. However, they turned out rather flat and as much as I like chocolate, if I baked them again I would reduce the amount of chocolate chips by 2-4 oz.
Hey, this is really yummy tried it several times. Can you tell me how to go about the same recipe if I have to bake a square shaped cake with all the same ingredients
I recently made the Department Store Blueberry muffins and they were fabulous. Everyone liked how moist they were, so given this recipe is so similar I assumed I would have similar results. The only difference is the type of flour, and unfortunately it was problematic. No complaints on the taste, and I like the healthy aspect of white whole wheat, but the texture was very dry. I even baked them 5 minutes less. Not sure where it may have gone astray, but next time I think I will use 1/2 white whole wheat, and 1/2 AP flour-- maybe add in a tablespoon of a mild olive oil? Thoughts?

Thanks for your feedback, Lori. Using a combination of White Whole Wheat and All-Purpose is a great idea to increase the moisture. Adding a bit of additional liquid, whether it be olive oil or milk would result in a more tender muffin as well as moister. We hope the next batch is has as nice a texture as it does flavor! Annabelle@KAF
These muffins are amazing! I followed the recipe exactly and now plan to bake these often as a substitute for the bakery muffins that my husband loves. The original recipe bakes up wonderfully, is super easy, and I could easily see adapting the base recipe for fruits, nuts, and even subbing out some of the oil to slowly but surely give him a palatable and healthy breakfast option.
Baked these last night. I subbed buttermilk for half the regular milk, as I had some to use up. Added a teaspoon of coconut extract along with the vanilla. Used mini chocolate chips as that is what I had on hand. They came out delicious and not at all dry. My very picky teenage son even liked them, lol. My only complaint is that they baked up small and rather flat. Wonder if it was the buttermilk or the lack of baking powder in the recipe?

It sounds like perhaps the 2 teaspoons of baking powder called for in this recipe was overlooked--oops! This leavener is the ingredient that will give the muffins the lift they need to rise high. If you use all buttermilk, you might consider using 1 teaspoon of baking powder and 1/2 teaspoon of baking soda instead (to account for the acidity of the buttermilk). Kye@KAF
I just ordered the white whole wheat flour, but I was wondering if it doesn't come in time (I am baking for a party this weekend) what can I use as a substitute? Thanks!

Hi Andrea, we'd recommend using 1 cup of all-purpose flour and 1 cup of traditional whole wheat flour if you have both of those options on hand. You can also use 2 cups of either flour, noting that the whole wheat version will taste like a whole grain muffin and may be slightly denser and heavier than the all-purpose version. If you use only all-purpose flour, you can hold back about a tablespoon of the milk as this flour isn't quite as absorbent. Happy baking! Kye@KAF