A customized print-friendly version of this recipe is available by clicking the "Print Recipe" button on this page.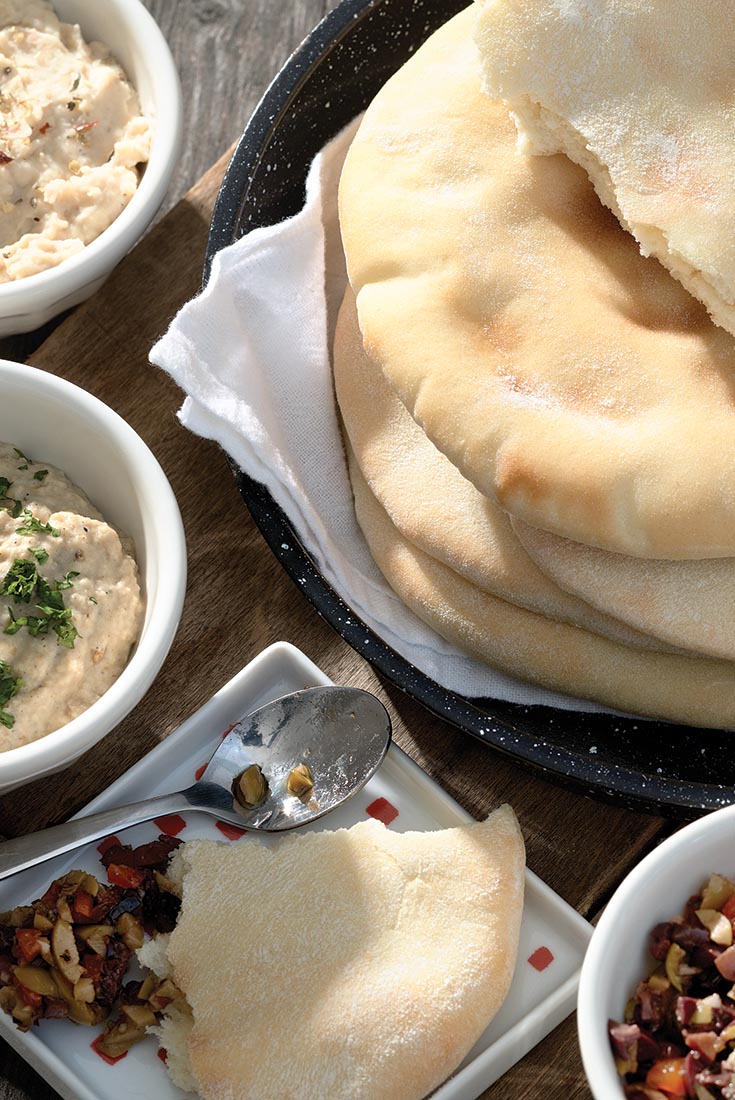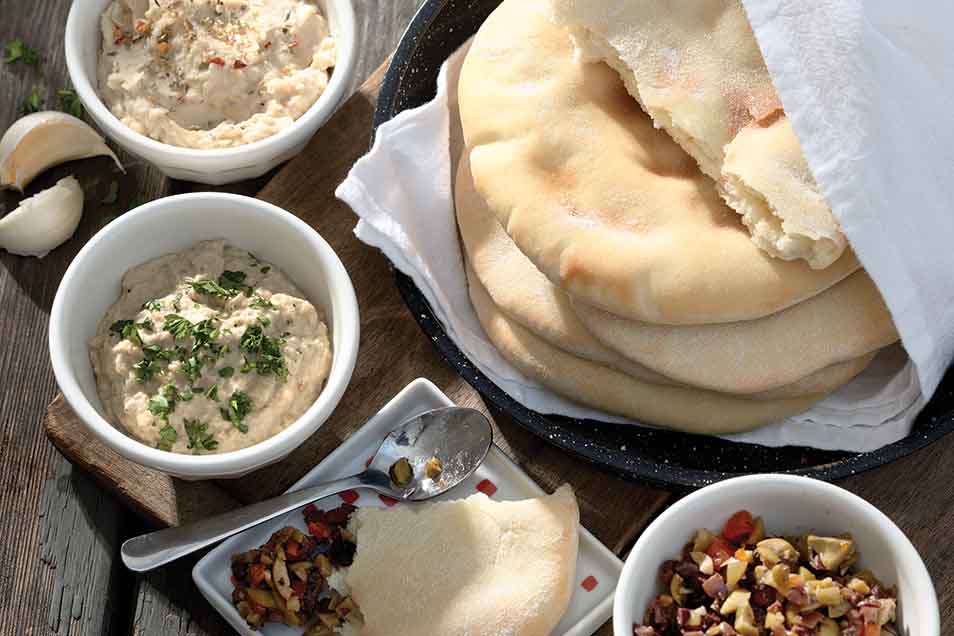 Pita bread is one of those things (like English muffins, like soft pretzels) that most people simply don't think of making. "It's too hard. It won't work. They won't puff up." Not true! This is just a simple white bread recipe cooked in an unusual way. They will puff up; honest. And fresh, golden pita bread, hot from the oven, is a revelation; it makes those packaged pitas pale (literally) by comparison. Plus, pita bread is a key element in Fattoush, a delicious Lebanese salad — give it a try sometime.
Ingredients
2 teaspoons instant yeast
*2 teaspoons King Arthur Easy-Roll Dough Improver
2 teaspoons sugar
1 1/2 teaspoons salt
1 cup water
2 tablespoons vegetable oil
*Optional, but it relaxes the dough, allowing you to roll it into pita shapes much more easily. Also, the bit of baking powder in the Relaxer helps puff up the pitas.
Instructions
Combine all of the ingredients, mixing to form a shaggy/rough dough.

Knead the dough, by hand (10 minutes) or by mixer (5 minutes) or by bread machine (set on the dough cycle) until it's smooth.

Place the dough in a lightly greased bowl, and allow it to rest for 1 hour; it'll become quite puffy, though it may not double in bulk. If you've used a bread machine, simply let the machine complete its cycle.

Turn the dough onto a lightly oiled work surface and divide it into 8 pieces.

Roll two to four of the pieces into 6" circles (the number of pieces depends on how many rolled-out pieces at a time can fit on your baking sheet).

Place the circles on a lightly greased baking sheet and allow them to rest, uncovered, for 15 minutes, while you preheat your oven to 500°F. (Keep the unrolled pieces of dough covered. Roll out the next batch while the first batch bakes.)

Place the baking sheet on the lowest rack in your oven, and bake the pitas for 5 minutes; they should puff up. (If they haven't puffed up, wait a minute or so longer. If they still haven't puffed, your oven isn't hot enough; raise the heat for the next batch.)

Transfer the baking sheet to your oven's middle-to-top rack and bake for an additional 2 minutes, or until the pitas have browned.

Remove the pitas from the oven, wrap them in a clean dishtowel (this keeps them soft), and repeat with the remaining dough.

Store cooled pitas in an airtight container or plastic bag.
Nutrition Information
Serving Size

82g

Servings Per Batch

8
Amount Per Serving:
Calories

200

Calories from Fat

35

Total Fat

4g

Saturated Fat

0g

Trans Fat

0g

Cholesterol

0mg
Sodium

450mg

Total Carbohydrate

36g

Dietary Fiber

2g

Sugars

1g

Protein

6g
* The nutrition information provided for this recipe is determined by the ESHA Genesis R&D software program. Substituting any ingredients may change the posted nutrition information.
Tips from our bakers
Pita bread can be a bit temperamental; it doesn't always puff. And when it doesn't, don't despair. It's still soft and delicious.
For sandwiches, simply wrap a pita around the filling, rather than splitting and filling.
Reviews
Thanks for a great recipe! I am making pita for the second time today by family request. Since I didn't have Dough Improver, I added a quarter tsp. baking powder as recommended. A bit more water was added since it is bitterly cold and dry today. The dough was easy to work with and I used a scale to portion it out and a tortilla press to speed the process. Baked as directed, every piece puffed. I have to admit to cheering as they puffed. I will never buy pita again. Serving gyros today with homemade hummus and baba ganoush.
i enjoyed baking with Kings Arthur flour for the first time a couple of weeks ago i did the recipe as described then in a second bake i thought i could mix a little bit of kings arthur bread flour and some whole wheat with the all purpose i think it gave me a little bit more to make the pita bread pocket bigger without riping the dough
This recipe was very easy to do. The pitas came out of the oven looking like a textbook pita - just beautiful. I didn't use the relaxer but I had no problem with rolling or rising. The only complaint I have is that there isn't even a hint of a pocket. I'll definitely try again, but could use a little advice on the pocket.

The pocket can be a bit of a challenge, Linda, and the most important factor in getting your pita to puff is a HOT oven. Most home ovens measure temperature near the edges of the oven, though the middle takes longer to heat up. This often means that the oven recognizes that it is preheated before it really is, which is especially true when aiming for such a high temp. For best results, try allowing your oven to preheat for at least 30 minutes and checking the temperature with an independent thermometer before beginning to bake. Hope this helps! Mollie@KAF
This was thte best pita recipe I've ever tried. It was a tad sticky even after 10 minutes of vigorous kneading (by hand). I used 2 pinches of flour to remove the excess dough from my hands then spent a couple minutes incorporating it into the mass. After an hour, the mass actually did double. I portioned into 78 gram balls and rolled them out immediately. In the oven, they puffed and browned beautifully. The first batch took about 8 minutes total and one of the loaves did not puff. The second pan was done after 5 minutes. Preheating is crucial.
I didn't have the dough improver so put a dash of baking powder in. They rose beautifully (not too much, not too little) and turned golden brown but they were not very soft, kind of crispy. Not sure if I didn't grease the sheets well or my oven was too hot so that I should have baked it for less time? If less time, then which to decrease? The low rung bake to puffy time or the middle rung bake to golden brown time?

A hot oven is key to the puff, Binh, but it may help to shorten the second bake time (on the middle rack). A soft dough is also key to the success of this recipe, as a drier dough will have a hard time separating evenly. Hope this helps! Mollie@KAF
Delicious! Easy to make. Can't wait to make again.
I made these using 100% starter instead of yeast and added 1/2 tsp baking powder to help with puffing. It being over 100 degrees outside I didn't want to turn on my oven, so I made these on the stove top. I used a regular nonstick skillet and cooked them like flour tortillas, medium high heat, 30 seconds flip, about a minute flip, then it should puff. Most of mine puffed. The ones that didn't puff or only puffed halfway, I put straight into the microwave for 30 seconds and they immediately puffed. I used olive oil instead of vegetable and added garlic powder and oregano to the dough. My husband thought they were store bought, which is positive.
I made the dough in my bread machine and tried two different ways to bake the pitas. I did try to do four on the stove top, two different pans, but couldn't get them to cook in the middle, so I turned to the oven method. The first two turned out perfectly. The last two, unfortunately did not. I had a squirrel moment, and came back to find the last two pitas handsomely puffed up in the middle, but blackened beyond repair. I will still use this recipe, next time, armed with my timer. The two that did work out, tasted absolutely fabulous!! btw....rather than oil, I used home-rendered lard....YUM!
Found the dough pretty quick and easy but didn't really want to deal with the v. hot oven. I tried someone's suggestion of baking the loaves in a cast iron skillet and it worked very easily with a couple of changes. First, the skillet does not need to be very hot. The hot skillet singed the pitas. I found a bit below medium worked very well. Also, keeping the circular shape was next to impossible when lifting them to put into the skillet; they wound up more rectangular. Instead, I did the final shaping on a baking sheet well greased with non-stick vegetable spray so that I could slide them off into the skillet. While not perfectly round, they were pretty close. Big hit with the family for serving chicken shawarma. Even my son who said it was "pretty good" had seconds. I did find an interesting phenomena on the last batch that might be worth pursuing. I got distracted and let the do over rise to tripled in bulk. It was pretty sticky but managed to get it onto my greased work surface and deflate it, followed by final forming on the baking sheet. It may have been my imagination, but the pitas seemed even fluffier than normal.
I generally have a lot of faith in KAF recipes, but this did not work at all. The pita did not puff except in a couple, isolated spots, even though my oven was definitely hot enough (probe put it at around 525). Also the long baking time (the other pita recipe I've used, with more success, has you bake for two minutes on one side then one minute on the other) resulted in pita that was generally more crispy than soft. It was basically a slightly crunchy, quite brown flatbread.

We like to think that pita that doesn't puff is still delicious, but we understand how disappointing it can be when this happens. We hope you'll consider giving our free Baker's Hotline a call at 855-371-BAKE so we can troubleshoot together. Mollie@KAF