A customized print-friendly version of this recipe is available by clicking the "Print Recipe" button on this page.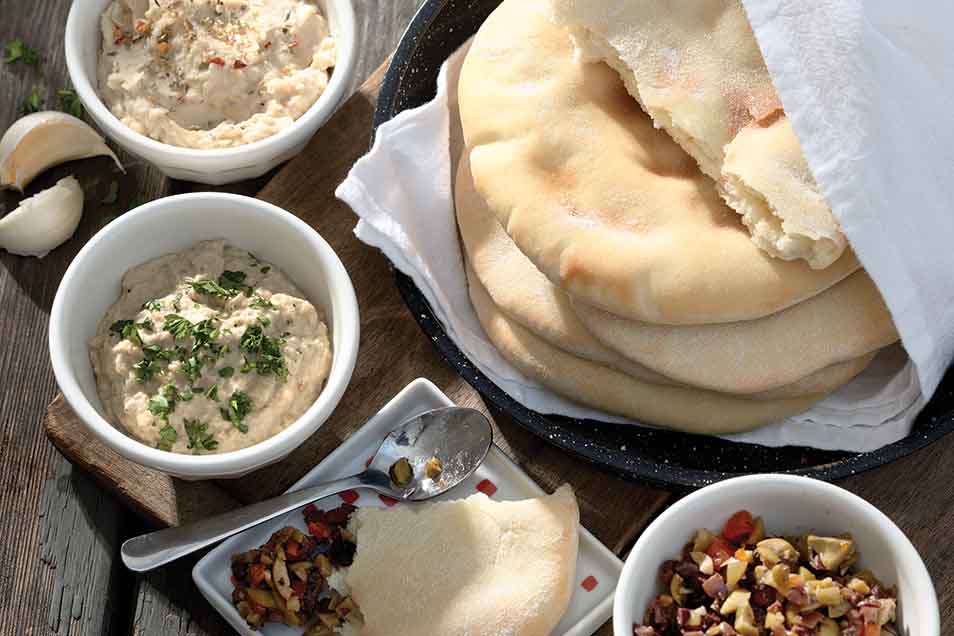 Pita bread is one of those things (like English muffins, like soft pretzels) that most people simply don't think of making. "It's too hard. It won't work. They won't puff up." Not true! This is just a simple white bread recipe cooked in an unusual way. They will puff up; honest. And fresh, golden pita bread, hot from the oven, is a revelation; it makes those packaged pitas pale (literally) by comparison. Plus, pita bread is a key element in Fattoush, a delicious Lebanese salad — give it a try sometime.
Ingredients
2 teaspoons instant yeast
*2 teaspoons King Arthur Easy-Roll Dough Improver
2 teaspoons sugar
1 1/2 teaspoons salt
1 cup water
2 tablespoons vegetable oil
*Optional, but it relaxes the dough, allowing you to roll it into pita shapes much more easily. Also, the bit of baking powder in the Relaxer helps puff up the pitas.
Instructions
Combine all of the ingredients, mixing to form a shaggy/rough dough.

Knead the dough, by hand (10 minutes) or by mixer (5 minutes) or by bread machine (set on the dough cycle) until it's smooth.

Place the dough in a lightly greased bowl, and allow it to rest for 1 hour; it'll become quite puffy, though it may not double in bulk. If you've used a bread machine, simply let the machine complete its cycle.

Turn the dough onto a lightly oiled work surface and divide it into 8 pieces.

Roll two to four of the pieces into 6" circles (the number of pieces depends on how many rolled-out pieces at a time can fit on your baking sheet).

Place the circles on a lightly greased baking sheet and allow them to rest, uncovered, for 15 minutes, while you preheat your oven to 500°F. (Keep the unrolled pieces of dough covered. Roll out the next batch while the first batch bakes.)

Place the baking sheet on the lowest rack in your oven, and bake the pitas for 5 minutes; they should puff up. (If they haven't puffed up, wait a minute or so longer. If they still haven't puffed, your oven isn't hot enough; raise the heat for the next batch.)

Transfer the baking sheet to your oven's middle-to-top rack and bake for an additional 2 minutes, or until the pitas have browned.

Remove the pitas from the oven, wrap them in a clean dishtowel (this keeps them soft), and repeat with the remaining dough.

Store cooled pitas in an airtight container or plastic bag.
Nutrition Information
Serving Size

82g

Servings Per Batch

8
Amount Per Serving:
Calories

200

Calories from Fat

35

Total Fat

4g

Saturated Fat

0g

Trans Fat

0g

Cholesterol

0mg
Sodium

450mg

Total Carbohydrate

36g

Dietary Fiber

2g

Sugars

1g

Protein

6g
* The nutrition information provided for this recipe is determined by the ESHA Genesis R&D software program. Substituting any ingredients may change the posted nutrition information.
Tips from our bakers
Pita bread can be a bit temperamental; it doesn't always puff. And when it doesn't, don't despair. It's still soft and delicious.
For sandwiches, simply wrap a pita around the filling, rather than splitting and filling.
Reviews
I made these, and they turned out fabulous! My husband raved about them, and ate them with dinner without any butter or anything! I didn't have the dough enhancer, so I added 1/2 teaspoon of baking powder, and I used the dough cycle on my bread machine. The dough was very dry, I had to add more water. I think I mush have mis measured something, because I use the fluff and sprinkle into the measuring cup method, and usually whatever dough I make is a bit wet to handle for my liking. I baked them on a baking stone, which I left in the oven as it preheated (turned it very dark, but it's fine). My oven is a convection, so the first 5 minutes on the bottom shelf was plenty. I reduced the next batch to 4 minutes, but then my husband said he liked the dark spots on the crispy bottoms for the first ones! They puffed up very large, and I was thrilled at the pocket when I cut them in half! The hot oven is the key. I baked another recipe 2 weeks ago, which called for a 450 oven. They were good, but hardly any puff. I baked these 2 at a time, and the last ones took a minute of so longer than the first, what with opening the oven door to move and pull out the previous batch. I always had a hot stone, as I used 2, one on the top shelf heating while I baked on the bottom shelf. I will definitely make these again.
Worked as the recipe described ,I have an order for 100 on Saturday!
I did not have the easy dough roller ingredient and instead added 1/2 teaspoon of baking powder. They all puffed beautifully and were full of flavor.
I was looking for a softer pita recipe and am thrilled with this one, thank you! I used white whole wheat flour, subbed 1/2 tsp of baking powder for improver and used whole milk in place of water. Kneaded for about 7 minutes. Rolled them all out before baking. Used a pizza peel to slide 2 at a time onto a baking steel preheated for 30 minutes at 500. No flipping. Kept an eye on them and took out when just beginning to develop a little gold. Perfect!
I made w/o dough improver. Substituted the vegetable oil out w/leaf lard from my butcher. I pre-heated my oven for a FULL HOUR at 500 degrees w/baking stone, and put the baking sheets directly on the stone for (5) minutes. Serious oven spring and pockets. The edges are dimpled from the dough stretching upward so high. Finished on the top rack for (3) minutes to develop golden color. I've made this recipe more than once - it is a keeper.
Gas grill, covered, turned all the way up. 4 minutes, then flip. Gotta watch them. Wonderful puffy pitas! SUMMERTIME!!!
My outside gas grill gets up to 700 degrees,oven was just not hot enough.Do you think my outside bbq grill would work? Has anyone tried this?

We haven't tried it, Shortie but don't see why it isn't worth experimenting with! Keep an eye on things as they'll bake faster for sure. Best of luck! Annabelle@KAF
I very rarely review anything, but I felt like I needed to put my 2 cents worth on this recipe. I have been baking for over 50 years now and this is the first time I tackled pita bread. This turned out absolutely delicious. I didn't have the dough enhancer, so I threw in roughly a 1/2 tsp. of baking powder. I may put in a little less the next time. I made the dough in my bread machine. I then hand patted the circles on a heated pizza stone. I was able to fit two pitas at a time. I also preheated my oven to 500 degrees during the last half hour of my dough cycle on my bread machine. I adjusted the second raise time after the first batch of pitas from 15 minutes to 10 minutes. The other adjustment I made was I baked these in my upper oven that only has one rack in it. So I baked them for a total of 7 minutes without moving the stone, and they baked just fine. They were soft and puffy. My husband loved them and folded his like a taco. I will for sure make this recipe again and have it bookmarked on my tablet so I don't lose it.
These are awesome. I don't have dough relaxer so I made it without. I was worried when my dough didn't double in bulk but it still puffed up nicely. The dough feels great too. It was super easy to form it and divide it up. I was able to get my oven to 500 and I have a baking stone. My first batch was my best, I think my oven cooled down between batches so next time I might give it a few minutes to heat back up. I was hoping the baking stone would compensate for any heat loss. Anyway, I had one fully puff, about 3 half puffed and the rest didn't puff at all. Still delicious though. I'll definately make this again.
With a little advice from the Baker's Hotline this morning (thank you!) I baked these on a pizza stone, and they are amazing! The heat of the stone made them puff beautifully! I feel like a baking rockstar, as these came out picture-perfect! These are so easy, and so delicious!