A customized print-friendly version of this recipe is available by clicking the "Print Recipe" button on this page.
Golden Raisin Biscuit Cookies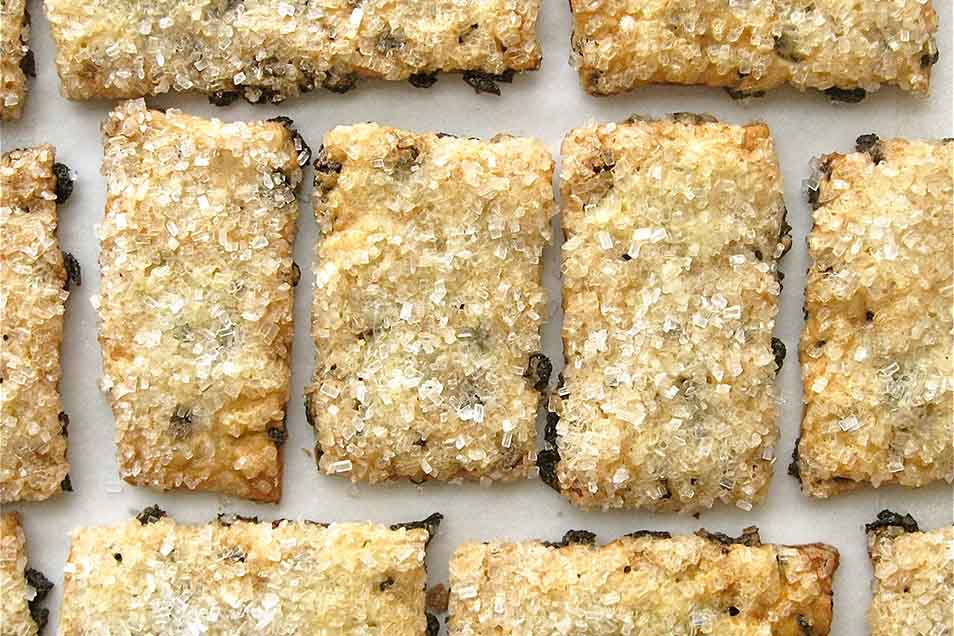 These raisin cookies mimic the late lamented Golden Raisin Biscuits, formerly sold under the Sunshine brand name, and later by Keebler. These flat, not overly sweet, raisin-filled cookies came in perforated strips that you'd break apart into rectangles. Keebler purchased Sunshine in 1996, and unfortunately dropped Golden Raisin Biscuits from their lineup; many of us have missed them ever since. Thus this recipe. More evocation than clone, these cookies are sweeter and more crisp than the original, but a tasty reminder of a classic cookie of years gone by.
Ingredients
Dough
1 cup King Arthur White Whole Wheat Flour or Unbleached All-Purpose Flour*
2 tablespoons confectioners' sugar
1 teaspoon baking powder
1/4 teaspoon salt
6 tablespoons cold butter
3 to 4 tablespoons ice water*
*If you use white whole wheat flour, substitute 1 tablespoon orange juice for 1 tablespoon of the ice water, for best flavor.
Filling
1 large egg, lightly beaten
1 1/2 cups currants, or chopped raisins
Instructions
Lightly grease a couple of baking sheets, or line them with parchment.

Whisk together the flour, sugar, baking powder, and salt. Cut the butter into small cubes, and work it into the dry ingredients using your fingers, a mixer, or a fork, mixing until the dough is unevenly crumbly.

Drizzle in the ice water (or orange juice and water, if you're using whole wheat flour), mixing until the dough is cohesive. Grab a handful; if it holds together willingly and doesn't seem at all dry or crumbly, you've added enough liquid.

Divide the dough in half, and shape each half into a rough rectangle. Press each of the four sides against your work surface to smooth any ragged edges.

Wrap the dough, and refrigerate it for 30 minutes. Towards the end of the refrigeration time, preheat the oven to 350°F.

Take one piece of the dough, and place it on a lightly floured work surface. Roll it into a rectangle that's about 10" x 14", about 1/8" thick. Don't worry about ragged edges; life is imperfect.

Brush the surface of the dough lightly with some of the beaten egg, then spread half the surface (one of the "long" halves — a swatch about 5" x 14") with 3/4 cup of the currants, pressing them in gently.

Fold the other half of the dough over the currants, and roll again, until you have a piece of dough about 6" x 15". Some of the currants may pop through; that's OK.

Brush the dough lightly with some of the beaten egg, and sprinkle with 1/4 cup of the coarse sugar. (If you don't have coarse sugar, use a couple of tablespoons of regular granulated sugar. The cookies won't look as nice, but will taste fine.)

Now, trim the ragged edges; these will be the "cook's cookies," the ones you spirit away and eat yourself because you don't care what they look like.

Use a baker's bench knife or a rolling pizza wheel, carefully cut the rectangle of dough into three strips, lengthwise. Then cut each lengthwise strip into five crosswise pieces; you'll have a total of 15 rectangular cookies. Note: Be very careful if you've rolled the dough on a silicone rolling mat; you don't want to cut the mat when you cut the cookies.

Transfer the cookies to one of the prepared baking sheets, spacing them close together; they won't expand much.

Repeat the entire process with the remaining piece of dough.

Bake the cookies for 14 to 18 minutes, until they're a light golden brown. Remove them from the oven, and transfer them to a rack to cool.

Yield: 30 cookies, plus additional scrap cookies for the cook.
Reviews
These biscuits cookies were delicious,very close to the ones I use buy. Will make them again......
So happy to find this recipe! I grew up eating "Galribaldi biscuits" but sadly had given up the store-bought version because they contain palm oil. Make these over the weekend, followed the recipe exactly (used currents) and they came out quite nice.
awesome, I live remote and only get groceries once a month, in New Zealand we can buy these and they are my favourite, I will have a go at making some now, it has to be cheaper to make them than to buy at $NZ 4.00 a packet!
Thank you so much for these wonderful cookies! I also missed the Sunshine cookies...but not anymore! I've made them a few times and have noticed improvement with each batch. I was having trouble with the dough sticking to my pastry mat, but this last time I rolled it on a sheet of parchment (which made it easy to fold), then scored dough into squares, and transferred the actual parchment I rolled them on right to the baking sheet without separating the cookies. I found that they baked very well and break apart easily, like the Sunshine version. Thanks again...and Happy 2017!
I first saw this recipe more than 20 years ago, in a post WWII English cook book for professional bakers, (Pastries Present and Future, by "Nirvana") and have been watching for a "household size" recipe intermittently. The book calls them Garabaldi Biscuits. Wow, that little bit of dough is supposed to roll out 10x14? They're in the oven now and look like they will be worth the effort.

Meg, we think you'll be delighted with the result once they come out of the oven. The dough is supposed to be rolled quite thinly to 10" by 14" in order to be the right thickness once the dough is folded over onto itself. Happy baking! Kye@KAF
I grew up on Sunshine Raisin Biscuits and I miss them dearly. I made these and was amazed how close they were. Mine came out golden crispy, not too sweet. The egg wash on the top gives them that shine that Sunshine's had. I will make these regularly. Just a few recipe notes: I rolled my dough out on plastic wrap, it made it very easy to manage, use plenty of dusting flour. Also I did not come close to the recipe's yield. I would use half again the ingredients to get that yield if you need it. If not then the recipe is fine. Good job KAF!
Wonderful! I used to go searching for my mother's stash of Sunshine Raisin Cookies, they were my favorite and my mom's too. Just finished baking a batch of these for Christmas for mom. At 75 there isn't much I can buy her, but these will be a huge hit guaranteed. Will be making more when I return home from the holiday. They are a perfect low sugar cookie. Thank you KAF, you've done it again! Love your site, your flour and your commitment to your community.
Taste very much as I remember the "Sunshine " version did. I made these just like the recipe (twice), rolling the top layer onto the bottom, however the top layer of dough comes right off every time. Not staying intact as the originals did. Also, not quite as chewy as I remember. Will definitely try this recipe again, but would like any input you could give. I used fresh,moist raisins, but was wondering why they won't stay together and aren't so chewy as I would like. Though, they sure bring back the memories.

Before you brush on the egg wash, dust all the flour off. The combination doesn't adhere well together. Then use a thin layer of egg wash- a thick one can make the layers slip and slide. Happy baking! Laurie@KAF
great recipe where you can vary the fillings and flavors. delicious biscuits!
This is a WOW! I can't stop eating these cookies. I stumbled accross this recipe on the internet a few years back when my husband said he wished he could get the old rasin bar cookies he enjoyed as a kid. I saw the photo of what they were to look like and thought this looks good and it was far better than I could have imagined. Not real sweet, a perfect cookie to have with your tea or coffee. They ship well too! No breakage.