A customized print-friendly version of this recipe is available by clicking the "Print Recipe" button on this page.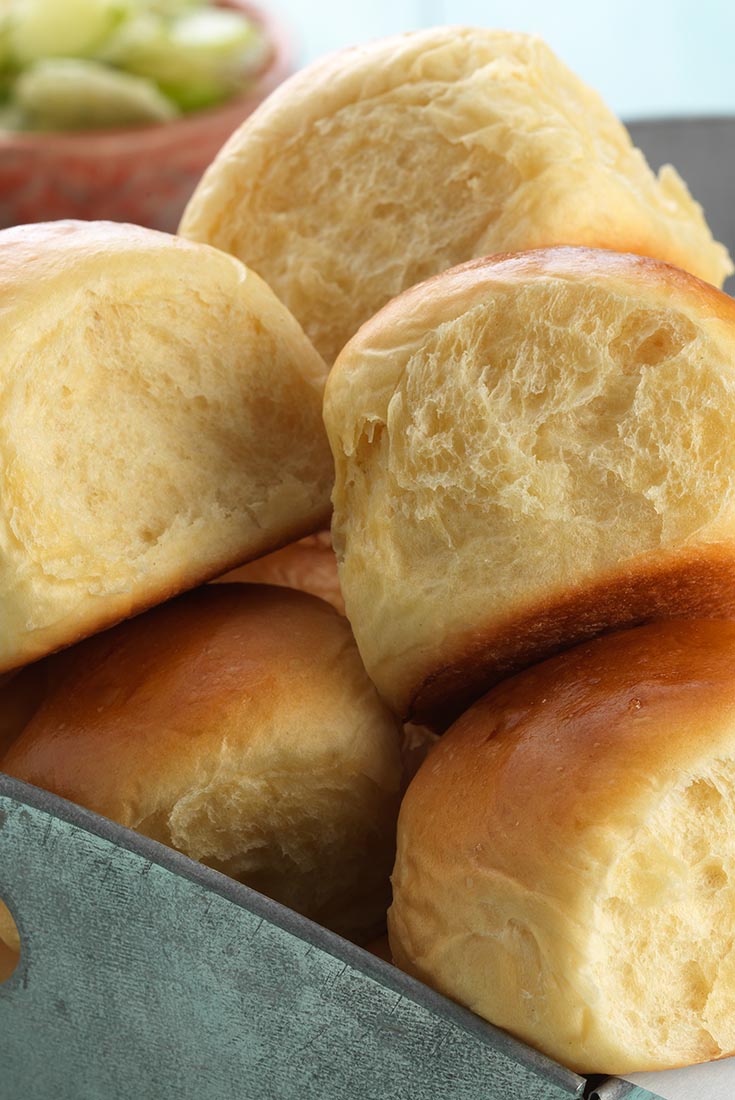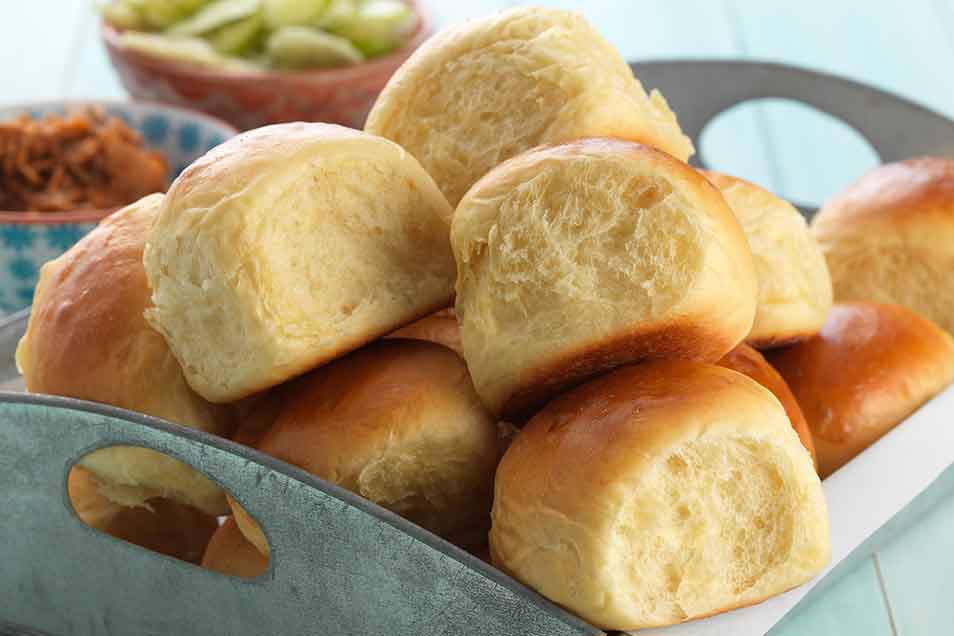 These pillowy soft dinner rolls are lightly, irresistibly sweet thanks to pineapple juice and brown sugar. The pineapple flavor is subtle, but it'll have you going back for bite after bite. Sweet dough rises slower than those without sugar, and these are no exception. Power through the long rises; though; these addictive buns are so worth it.

By the way, this dough makes absolutely delicious hamburger buns; see the tips at the bottom of the recipe for complete instructions.
Instructions
For the sponge: In the bowl of your stand mixer or the bucket of your bread machine, combine the sponge ingredients. Allow the sponge to rest for 15 minutes.

Add the pineapple juice, butter, brown sugar, eggs and yolk, and vanilla, mixing until well combined.

Whisk together the remaining flour, potato flour, and salt before adding to the liquid ingredients.

Mix and knead until the dough is cohesive and smooth; it'll be very sticky at first. If you're using a stand mixer, beat with the flat beater for about 3 minutes at medium-high speed; then scrape the dough into the center of the bowl, switch to the dough hook, and knead for about 5 minutes at medium speed. It may have formed a very soft ball, but will probably still be sticking to the bottom of the bowl. If you're using a bread machine, simply let it go through its entire cycle. If you find the dough isn't coming together, add a tablespoon or two of flour.

Lightly grease the mixing bowl or a large (8-cup) measure; round the dough into a ball, and place it in the bowl or measure. Cover, and let rise until very puffy, about 1 1/2 to 2 hours. If you're using a bread machine and the dough hasn't doubled in size when the cycle is complete, simply let it rest in the machine for another 30 to 60 minutes.

Lightly grease a 9" x 13" pan.

Gently deflate the dough. Divide it into 16 equal pieces, by dividing in half, then in halves again, etc. Round each piece into a smooth ball. Space the buns in the pan.

Tent the dough gently with lightly greased plastic wrap. Let the dough rise in the pan for 1 hour, until it's nicely puffy. Toward the end of the rising time, preheat the oven to 350°F.

Mix the reserved egg white with 1 tablespoon cold water, and brush some onto the surface of the rolls; this will give them a satiny crust.

Bake the rolls for 20 to 25 minutes, or until the internal temperature reads 190°F on a digital thermometer.

Remove the rolls from the oven, and after a few minutes, turn them out onto a cooling rack.

Serve warm. Store leftovers, well wrapped, at room temperature for several days; freeze for longer storage.

Yield: 16 buns
Nutrition Information
Serving Size

1 bun, 49g

Servings Per Batch

16 servings
Amount Per Serving:
Calories

149

Calories from Fat

36

Total Fat

4g

Saturated Fat

2g

Trans Fat

0g

Cholesterol

42mg
Sodium

195mg

Total Carbohydrate

24g

Dietary Fiber

1g

Sugars

5g

Protein

4g
* The nutrition information provided for this recipe is determined by the ESHA Genesis R&D software program. Substituting any ingredients may change the posted nutrition information.
Tips from our bakers
Sweet breads can be agonizingly slow risers. Why? Because sugar attracts water, and when it's in bread dough, it pulls water away from yeast — leaving the yeast thirsty and unable to grow. If you're using regular yeast not formulated for sweet dough, you may find the rising time for these rolls will be longer by 30 minutes or more for each rise.
This is a very wet dough, and can be tricky to handle. If you're having difficulty, we suggest lightly oiling your hands and counter before attempting to roll out the buns.
If you want to use fresh pineapple juice: microwave the juice for 2 minutes until it reaches 200°F and allow to cool to lukewarm before using. The process of heating will kill any enzymes in the juice, which would otherwise destroy the gluten.
To make hamburger-sized buns, prepare the dough according to the recipe instructions, and after the rise divide it into six equal pieces. Round each piece into a smooth ball, and place them into the lightly-greased wells of a hamburger bun pan, flattening them gently. Let the buns rise for an hour, until they fill the wells and are nicely puffy, then brush the rolls with the egg wash, and bake them for 20 to 25 minutes until they're a deep golden brown.
Reviews
I just made these. Literally. They're still cooling on the counter; I have no doubt that their taste will equal or exceed their appearance and alluring aroma. The recipe looks complicated, but it's really not. The rise times can test one's patience, but that's the nature of the bread. The only problem I had was one of geometry. I followed the ingredient weights explicitly, weighed the dough when I was ready to shape it and divided by sixteen, and then weighed each segment. But I could not figure out how to fit 16 buns into a 9 1/2 - 13 inch pan! I could only fit 15, and one poor little bun was left out in the cold. I'd like to use this recipe to make my next babka; I was wondering if switching out the pineapple juice with apple juice would affect the crumb or crust. This certainly is easier than brioche, and faster, even with the rise times. Highly recommended. Make it every week!

Joel, we like arranging the buns in a 4 x 4 pattern, which will make them slightly rectangle in shape, which is traditional for these buns. As for your question about using apple juice, we haven't experimented with this variation in the test kitchen, but we think it's worth trying. You might find that the final buns are a bit sweeter, and you may need to adjust the rise times. Be sure to watch the dough closely as it rises and give it the time it needs to become puffy. Happy baking! Kye@KAF
I was kind of worried about how this recipe was going to turn out after I made the sponge because it was so dry (I couldn't get the flour completely combined since there was more dry than wet). However, the final product turned out really well, and these rolls were great with our Easter dinner. A little more dense than I was hoping for, but they were soft and flavorful. I would probably make these again!
I really love these rolls! This is my go to recipe for Hawaiian rolls. I do mine in the bread machine but I don't always do the sponge step though. I usually just add the 2 tablespoons of water for the sponge step to the other liquids in my bread machine first, then the amount of flour for the sponge step gets added to the rest of the dry ingredients second, and then the yeast last. I have made this recipe several times and they always turn out perfectly soft, fluffy, and delicious.
Excellent rolls! Great directions, too!
OMG ! This is very fluffy and soft bread ever ! Even I don't have Pineapple today. I just using Peach can instead ! It came out same as using Pineapple .
Mine ended up a little over cooked and burnt on the bottom despite using an oven thermometer and cooking for the minimum 20 minutes. I did sub corn starch for the potato flour after a little research but that should only affect texture. They still taste pretty good so I may try again with a different pan.
I have to say that the idea was good, but seriously someone skip the exact amount for the sponge. Yeast needs water, and the sponge in this case need to be able to bubble, and it was pretty dry.

Alex, if you check out the photos in the blog that's linked in the upper right hand portion of the page, you'll see that the sponge should indeed be doughy rather than liquidy. (It doesn't resemble batter but rather a sticky dough.) The yeast will start to activate given the amount of water in the sponge, even within the stiff starter. We've found that the sponge gives the yeast a head start and ensures nicely risen buns. Kye@KAF
Another successful King Arthur recipe! I substituted a little unseasoned mashed potato - and they came out perfectly. A carefully written recipe that includes helpful tips for guidance
Good stuff! I'm not sure what I did wrong, but the layering effect was not quite as pronounced as I thought it would be. Other than that, they were amazing. I had no problem at all with the rise, but thanks for the warning about how long it would take. I also really dislike oiling my hands to work with dough, so I resisted the urge to add those 2 tablespoons of flour when I was kneading (I used a stand mixer). That way I didn't feel guilty slapping a little flour on the pieces when I was shaping them. And yes, the honey butter was the perfect touch. I might add a little pineapple juice to the honey butter next time, just for kicks. And...I don't want to be mean, but I got a real kick out of all the people writing reviews who did all kinds of substitutions, and then were surprised they got something different. Come on, folks!

Chris, we'd love to hear more about what you're looking for in a "layering effect," within the rolls. It sounds like you're looking for more of a cake-like crumb. Be sure you're using a highly active yeast, and consider adding 2-3 tablespoons of Cake Enhancer (or 1-2 tablespoons of cornstarch) to the dough to help keep things soft and tender. Kye@KAF
I made these rolls a couple months back for a Hawaiian themed dinner and they were amazing! So soft & fluffy and lightly sweet. We enjoyed these so much that I want to make them for my Thanksgiving dinner instead of my normal parker house rolls. Any make ahead suggestions? Can you freeze the dough prior to baking? Thanks for your help

We're glad these rolls were such a success the first time around! If you'd like to freeze the unbaked rolls, make the sponge and let it rest for 15 minutes and then mix and knead the dough. Go right to shaping the rolls without letting the dough rise first. Freeze immediately (ideally in the pan you'd like to bake in). When you're ready to bake, let the dough thaw in the fridge overnight and then rest at room temperature the next day while the oven preheats. (The buns should become puffy.) Bake as directed in the recipe and enjoy! Kye@KAF