A customized print-friendly version of this recipe is available by clicking the "Print Recipe" button on this page.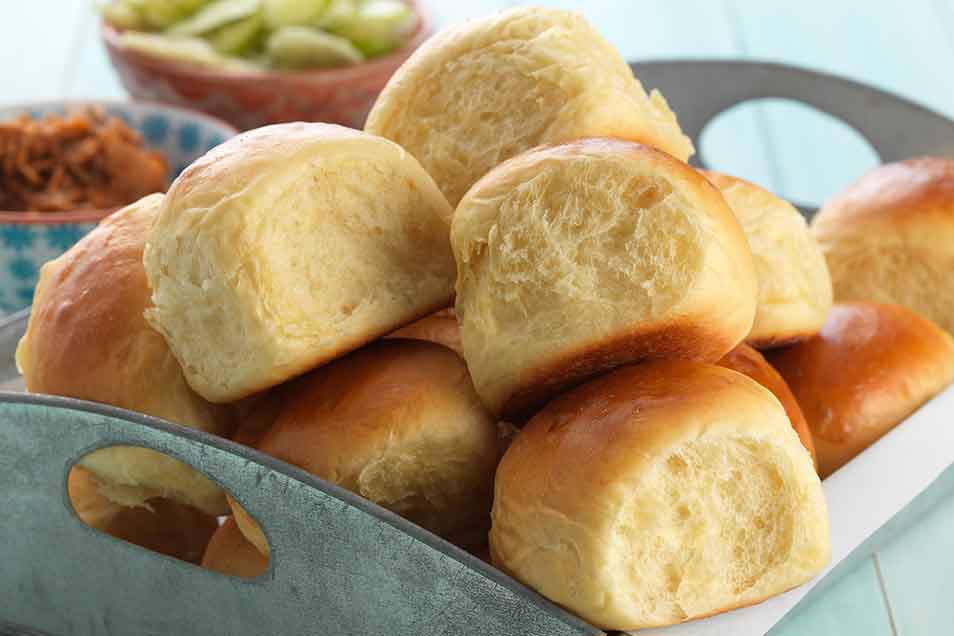 King's Hawaiian rolls, born at a bakery on the Big Island in the 1950s, have since made their way to supermarkets nationwide. Our version of these popular rolls are pillowy-soft and lightly sweet thanks to pineapple juice and brown sugar. The pineapple flavor is subtle, but it'll have you going back for bite after bite. Sweet dough rises slower than those without sugar, and these are no exception. Power through the long rises; though; these addictive buns are so worth it.

By the way, this dough makes absolutely delicious hamburger buns; see the tips at the bottom of the recipe for complete instructions.
Instructions
For the sponge: In the bowl of your stand mixer or the bucket of your bread machine, combine the sponge ingredients. Allow the sponge to rest for 15 minutes.

Add the pineapple juice, butter, brown sugar, eggs and yolk, and vanilla, mixing until well combined.

Whisk together the remaining flour, potato flour, and salt before adding to the liquid ingredients.

Mix and knead until the dough is cohesive and smooth; it'll be very sticky at first. If you're using a stand mixer, beat with the flat beater for about 3 minutes at medium-high speed; then scrape the dough into the center of the bowl, switch to the dough hook, and knead for about 5 minutes at medium speed. It may have formed a very soft ball, but will probably still be sticking to the bottom of the bowl. If you're using a bread machine, simply let it go through its entire cycle. If you find the dough isn't coming together, add a tablespoon or two of flour.

Lightly grease the mixing bowl or a large (8-cup) measure; round the dough into a ball, and place it in the bowl or measure. Cover, and let rise until very puffy, about 1 1/2 to 2 hours. If you're using a bread machine and the dough hasn't doubled in size when the cycle is complete, simply let it rest in the machine for another 30 to 60 minutes.

Lightly grease a 9" x 13" pan.

Gently deflate the dough. Divide it into 16 equal pieces, by dividing in half, then in halves again, etc. Round each piece into a smooth ball. Space the buns in the pan.

Tent the dough gently with lightly greased plastic wrap. Let the dough rise in the pan for 1 hour, until it's nicely puffy. Toward the end of the rising time, preheat the oven to 350°F.

Mix the reserved egg white with 1 tablespoon cold water, and brush some onto the surface of the rolls; this will give them a satiny crust.

Bake the rolls for 20 to 25 minutes, or until the internal temperature reads 190°F on a digital thermometer.

Remove the rolls from the oven, and after a few minutes, turn them out onto a cooling rack.

Serve warm. Store leftovers, well wrapped, at room temperature for several days; freeze for longer storage.

Yield: 16 buns
Nutrition Information
Serving Size

1 bun, 49g

Servings Per Batch

16 servings
Amount Per Serving:
Calories

149

Calories from Fat

36

Total Fat

4g

Saturated Fat

2g

Trans Fat

0g

Cholesterol

42mg
Sodium

195mg

Total Carbohydrate

24g

Dietary Fiber

1g

Sugars

5g

Protein

4g
* The nutrition information provided for this recipe is determined by the ESHA Genesis R&D software program. Substituting any ingredients may change the posted nutrition information.
Tips from our bakers
Sweet breads can be agonizingly slow risers. Why? Because sugar attracts water, and when it's in bread dough, it pulls water away from yeast — leaving the yeast thirsty and unable to grow. If you're using regular yeast not formulated for sweet dough, you may find the rising time for these rolls will be longer by 30 minutes or more for each rise.
This is a very wet dough, and can be tricky to handle. If you're having difficulty, we suggest lightly oiling your hands and counter before attempting to roll out the buns.
If you want to use fresh pineapple juice: microwave the juice for 2 minutes until it reaches 200°F and allow to cool to lukewarm before using. The process of heating will kill any enzymes in the juice, which would otherwise destroy the gluten.
To make hamburger-sized buns, prepare the dough according to the recipe instructions, and after the rise divide it into six equal pieces. Round each piece into a smooth ball, and place them into the lightly-greased wells of a hamburger bun pan, flattening them gently. Let the buns rise for an hour, until they fill the wells and are nicely puffy, then brush the rolls with the egg wash, and bake them for 20 to 25 minutes until they're a deep golden brown.
Reviews
I just made these Hawaiian Buns and they turned out great! I used sprouted spelt flour instead of the all-purpose flour because I have a wheat allergy. Therefore they didn't taste exactly like "King's Hawaiian" rolls, but you wouldn't expect them to because of the difference in wheat flour and spelt flour. As suggested by one of the King Arthur bakers, I added 2 tablespoons of cornstarch to help lighten the texture of the rolls. They tasted great and had a wonderful fluffy texture. Another great King Arthur recipe that I would highly recommend!
Hello, the buns came out great (texture, fluffiness, flavor, etc.) . They were a little less sweet than I expected but I think it is because the pineapple juice I used didn't have any additional sugars added. If I added more sugar would that mess with the texture any?

Hi there, Juan! We're glad to hear that you enjoyed this recipe! If you'd like to make your buns a little bit sweeter, we'd suggest adding an extra tablespoon or two of brown sugar. This shouldn't affect the texture of your dough, but it may make your dough rise faster than outlined here in the recipe so you'll want to keep a close eye on it. Happy baking! Morgan@KAF
I was looking for a Hawaiian roll recipe and so happy that I found this one from KAF. I made it exactly per recipe and was a little concerned when my dough didn't seem so sticky as described in recipe. However, the end product was excellent, sweet (not too sweet), soft and yummy. My husband really liked them. Thank you for another great recipe.
These rolls were better than the packaged kind by far - amazing! On my first try I didn't read well enough and used fresh pineapple juice. While the bread maker was kneading I found reviews saying that fresh causes issues and sure enough, when I checked on the machine, I had a cake batter consistency. On my second try I used mango juice from a can (all I had) and added two large spoonfuls of honey to make up for lost sweetness without the pineapple juice. The dough is sticky so I lightly dusted a surface with flour to shape the rolls. Well buttered the 9x13 and these were done in 21 min in my oven. The entire family loved these and we will be making again soon! Thank you for the great recipe!
Five stars is not enough for this recipe. I made 16 buns for family dinner and placed them next to a batch of store bought. The home made disappear and the family was asking for more of the home made.This is definitely a must keeper.
I made hamburger rolls using this recipe in my bread machine and they turned out perfectly. I simply added all the wet ingredients, then the dry, before creating a well for the yeast. I had to let the dough rise for about another hour after the dough cycle before forming into 8 perfectly sized buns. I let the buns rise for another hour before the egg wash and baking (3.5hr total). I will definitely make this recipe again. I may eventually try it for a full loaf in the bread machine, but haven't yet. It is not a quick recipe, but well worth the wait!
Can this recipe be made for gluten free people?

Vincent, that's a tough one! While this particular recipe wouldn't work well gluten-free, we think we can get you pretty close using another recipe! Follow our Gluten-Free Dinner Roll recipe (which you can find by searching our site). Replace the 1/2 cup of milk with pineapple juice, and brush the top of the baked buns with honey butter to give them that delicious Hawaiian flavor. Happy baking! Kat@KAF
Another great recipe from King Arthur Flour. The stickiness of the dough makes this one a little more challenging- you may be tempted to add more flour but Dont! I followed the recipe exactly and these turned out great. I used my stand mixer which makes the dough come together nicely. If you want an easier dinner roll recipe, I recommend the Amish dinner roll recipe. My tip for proofing the dough - wet a dish towel and heat it up in the microwave. Place your covered dough bowl on top of the warm wet towel and close the door. The warm humid environment of the microwave helps the dough rise beautifully - just be sure the microwave is off!
I agree with Gary about flavor. It seemed a little flat. We are full time RV'ers and don't have a micro-wave so would boiling the pineapple concentrate work? The texture was great but just needed something more. I did read where someone talked about using crushed pineapple, but not too sure how that would affect the liquid amount.

Hi there, Kathi! You sure could heat the pineapple concentrate on the stovetop, just be sure that it reaches 200°F to kill off the enzymes. If you'd like to try using crushed pineapple, we'd recommend draining off as much liquid as you can and starting out with just a 1/3 cup of pineapple juice, adding the remainder slowly if needed. We hope these tips help to get you closer to the flavor you're looking for! Happy baking! Morgan@KAF
Very easy. The instructions are right about an extended rise if you use a standard instant yeast. Next time, I think I'll use pineapple juice concentrate, as was suggested. I've also seen some recipes with ginger, and that strikes me as a good addition too. Absolutely delicious.