A customized print-friendly version of this recipe is available by clicking the "Print Recipe" button on this page.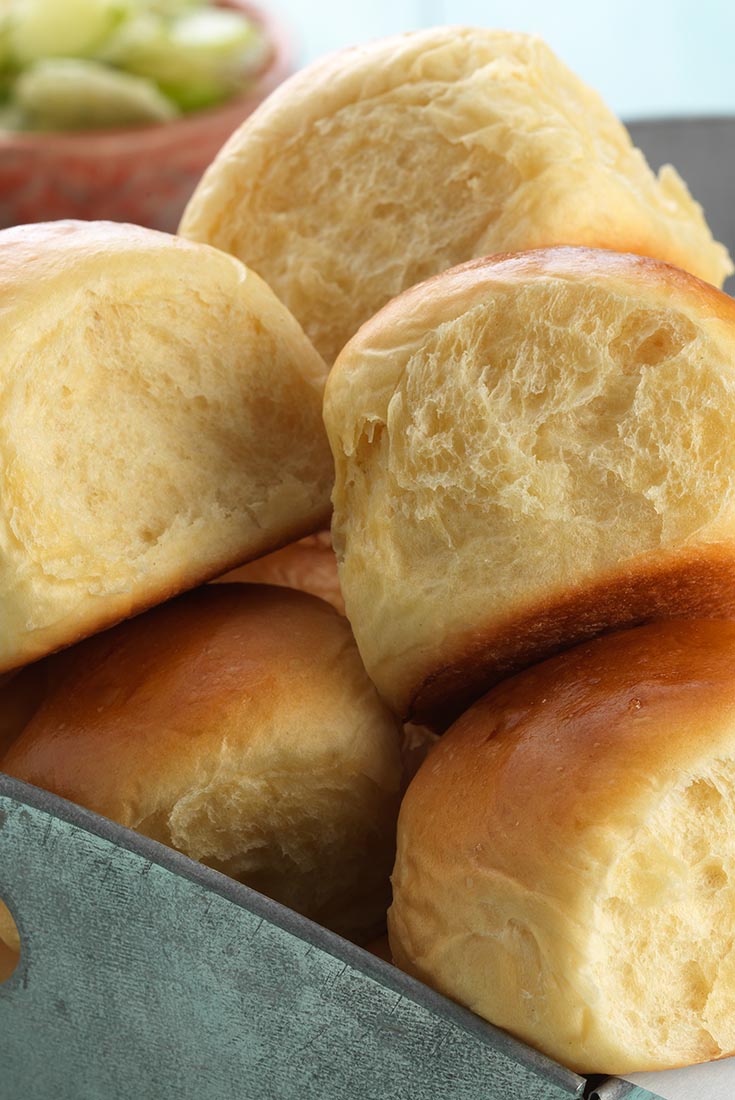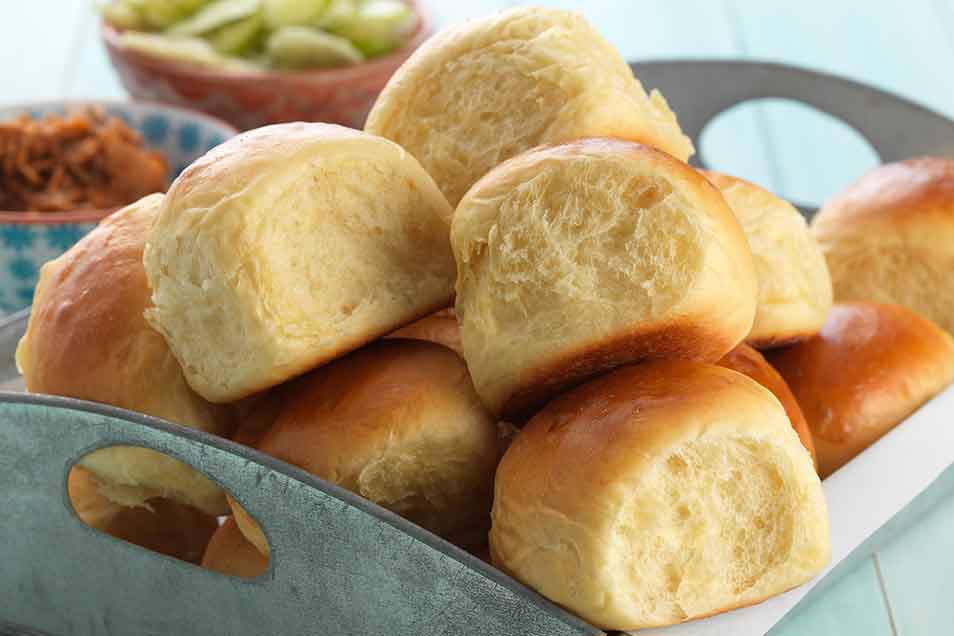 These pillowy soft dinner rolls are lightly, irresistibly sweet thanks to pineapple juice and brown sugar. The pineapple flavor is subtle, but it'll have you going back for bite after bite. Sweet dough rises slower than those without sugar, and these are no exception. Power through the long rises; though; these addictive buns are so worth it.

By the way, this dough makes absolutely delicious hamburger buns; see the tips at the bottom of the recipe for complete instructions.
Instructions
For the sponge: In the bowl of your stand mixer or the bucket of your bread machine, combine the sponge ingredients. Allow the sponge to rest for 15 minutes.

Add the pineapple juice, butter, brown sugar, eggs and yolk, and vanilla, mixing until well combined.

Whisk together the remaining flour, potato flour, and salt before adding to the liquid ingredients.

Mix and knead until the dough is cohesive and smooth; it'll be very sticky at first. If you're using a stand mixer, beat with the flat beater for about 3 minutes at medium-high speed; then scrape the dough into the center of the bowl, switch to the dough hook, and knead for about 5 minutes at medium speed. It may have formed a very soft ball, but will probably still be sticking to the bottom of the bowl. If you're using a bread machine, simply let it go through its entire cycle. If you find the dough isn't coming together, add a tablespoon or two of flour.

Lightly grease the mixing bowl or a large (8-cup) measure; round the dough into a ball, and place it in the bowl or measure. Cover, and let rise until very puffy, about 1 1/2 to 2 hours. If you're using a bread machine and the dough hasn't doubled in size when the cycle is complete, simply let it rest in the machine for another 30 to 60 minutes.

Lightly grease a 9" x 13" pan.

Gently deflate the dough. Divide it into 16 equal pieces, by dividing in half, then in halves again, etc. Round each piece into a smooth ball. Space the buns in the pan.

Tent the dough gently with lightly greased plastic wrap. Let the dough rise in the pan for 1 hour, until it's nicely puffy. Toward the end of the rising time, preheat the oven to 350°F.

Mix the reserved egg white with 1 tablespoon cold water, and brush some onto the surface of the rolls; this will give them a satiny crust.

Bake the rolls for 20 to 25 minutes, or until the internal temperature reads 190°F on a digital thermometer.

Remove the rolls from the oven, and after a few minutes, turn them out onto a cooling rack.

Serve warm. Store leftovers, well wrapped, at room temperature for several days; freeze for longer storage.

Yield: 16 buns
Nutrition Information
Serving Size

1 bun, 49g

Servings Per Batch

16 servings
Amount Per Serving:
Calories

149

Calories from Fat

36

Total Fat

4g

Saturated Fat

2g

Trans Fat

0g

Cholesterol

42mg
Sodium

195mg

Total Carbohydrate

24g

Dietary Fiber

1g

Sugars

5g

Protein

4g
* The nutrition information provided for this recipe is determined by the ESHA Genesis R&D software program. Substituting any ingredients may change the posted nutrition information.
Tips from our bakers
Sweet breads can be agonizingly slow risers. Why? Because sugar attracts water, and when it's in bread dough, it pulls water away from yeast — leaving the yeast thirsty and unable to grow. If you're using regular yeast not formulated for sweet dough, you may find the rising time for these rolls will be longer by 30 minutes or more for each rise.
This is a very wet dough, and can be tricky to handle. If you're having difficulty, we suggest lightly oiling your hands and counter before attempting to roll out the buns.
If you want to use fresh pineapple juice: microwave the juice for 2 minutes until it reaches 200°F and allow to cool to lukewarm before using. The process of heating will kill any enzymes in the juice, which would otherwise destroy the gluten.
To make hamburger-sized buns, prepare the dough according to the recipe instructions, and after the rise divide it into six equal pieces. Round each piece into a smooth ball, and place them into the lightly-greased wells of a hamburger bun pan, flattening them gently. Let the buns rise for an hour, until they fill the wells and are nicely puffy, then brush the rolls with the egg wash, and bake them for 20 to 25 minutes until they're a deep golden brown.
Reviews
Since small cans of pineapple juice where I shop are 6 oz., I increased the recipe to 1.5x. Produced 9 gorgeous burger buns around 5 inches each across! As someone else mentioned, the sponge is too dry. I just added enough additional water to properly moisten. 30 min. later, nice & bubbly. 2 hrs first rise, 40 min. 2nd rise. Link to an online picture (if this works). photos.app.goo.gl/33DF2YsiNExbwfwEA
I've made these a few times already, but today realized it is such a forgiving recipe. I had to leave the dough during the first rise - ended up rising in the bowl for over 3 hours. Also realized I didn't add the vanilla. No matter - the rolls formed and rose perfectly. And they taste as great as ever! This is honestly one of my favorite recipes!
Made and baked this recipe a few days ago. Followed the recipe precisely. Pleased with the results. Experienced one problem, which was due to my error, greased my 9"x13" pan too lightly. The buns did not release easily. Overall I was happy with the final product and will try this again.
I baked these buns yesterday. Pleased with the result. Only one problem, which was entirely my error. I did not grease the 9x13 pan sufficiently. The buns did stick to the pan. Overall, this is an extremely good recipe.
What can I replace with potato flour? Can I replace cornstarch and what is the quantity or the same amount of starch?

You can use an equal amount of cornstarch in place of the potato flour in the recipe (use 2 tablespoons or 14 grams). The rolls might have a slightly different texture/flavor, but the final result should still be delicious. Happy baking! Kye@KAF
i use real pineapple juice , so dumb! i ended up with cake mixture texture! i was so sad gonna give this a try one more time!!!

We're so sorry to hear about your disappointing results, fellow baker. But there is good news! The solution is simple: using canned pineapple juice will produce a tender, moist, (potentially slightly sticky) dough. You can also try microwaving fresh pineapple juice to deactivate some of the enzymes. (Microwave the juice for 2 minutes until it reaches 200°F and allow to cool to lukewarm before using.) We hope your next batch of Hawaiian Buns is perfect! Kye@KAF
Super easy, unbelievably lightweight and so rich and delicious. The flavor of pineapple is spot on. Make it 100 times already and selling it in my little bake shop. Customers are crazy about this product. Thank you
I made this recipe into hamburger buns and they are AWESOME! I think they would be great with ham and a little pineapple also. Could the recipe be baked into a loaf? Would the oven temp change? What would the baking time be?

Give it a go, Joann! Bake it at 375°F for 25 to 30 minutes, or until the internal temperature reads 195°F to 200°F on an instant-read thermometer. Happy baking! Annabelle@KAF
I just made these again but since I'm vegan now, I made the following changes: 2 eggs worth of egg replacer and a tablespoon of vegan mayo to sub the yolk 4 Tbls earth balance butter Organic brown sugar (in the US most sugar is filtered through animal bones unless it's organic) They came out great! Not as fluffy but I'll keep fine tuning it. The dough was also not sticky at all. Maybe I'll try something other than egg replacer. Applesauce, maybe? Obviously I skipped the wash too. Anyway, just wanted to share. Thanks guys!

Lisa, we've found that golden flax meal blended with water (3 tablespoons of flax + 1 tablespoon of water = 1 egg) produces impressive results in yeast dough. We also like the way applesauce works in tender baked goods like these Hawaiian Buns. You can try using 1/4 cup (about 60 grams) of applesauce to replace each egg. Adjust the amount of flour and water that's added to the dough as necessary to make a smooth, slightly tacky dough. Happy baking! Kye@KAF
The pineapple juice is a nice touch! I like it so much that I used frozen pineapple juice concentrate (to pack more pineapple powder without messing up the amount of liquid too much) and cut the sugar by half. As someone mentioned earlier that the texture can be crumbly/biscuit-y, I also modify the recipe to use Tongzhong instead of a sponge. Made a roux with 4 tablespoons of AP flour, 4 tablespoons of water and 8 tablespoons of milk. Used bread flour and added 2 tablespoons of milk powder in the dough. I am giving the recipe 4 stars because I think all the tweaks made the final result better (albeit quite a bit more work). Shared the rolls with two different families from Hawaii and everyone said they are much better than the store bought ones. Did not have SAF Gold, just use the same amount of SAF Red and it was just fine. In this case the altitude probably worked in my advantage.