A customized print-friendly version of this recipe is available by clicking the "Print Recipe" button on this page.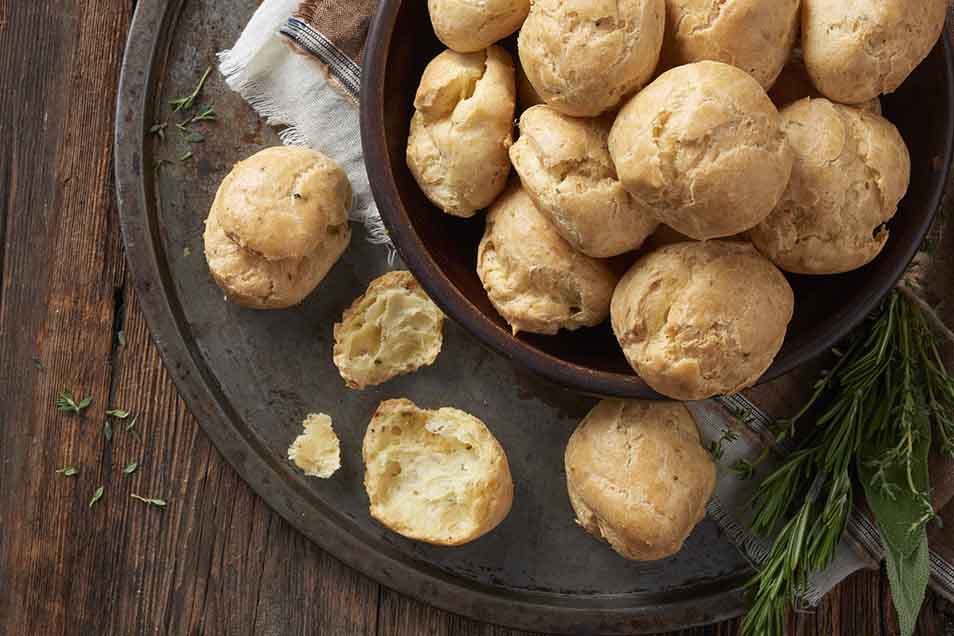 These little puffs are light and airy, and wonderful as an hors d'oeuvre, or as an accompaniment to a soup, stew, or salad.
Instructions
Preheat the oven to 400°F. Grease a baking sheet, or line with parchment.

Bring the water and butter to a boil in a saucepan set over medium-high heat. Add the flour, salt, and seasoning all at once, and stir until a ball of dough forms.

Remove from the heat, and scrape the dough into the bowl of an electric mixer. Beat for 1 minute, to cool slightly.

Add the eggs one at a time, beating each egg in completely before adding the next one.

Mix in the grated Parmesan just until incorporated.

Using a piping bag fitted with a 1/2" tip (or a spoon), dollop the thick batter into 1 1/2" mounds spaced 1" apart on the baking sheet; a tablespoon cookie scoop works well here.

Bake the puffs for 20 minutes, reduce the oven heat to 350°F, and bake for another 20 to 25 minutes, or until an instant-read thermometer inserted into one of the puffs reads 205°F.

Turn the oven off and leave puffs in the cooling oven for 20 minutes — this permits them to dry out a bit on the inside. If you prefer a moister interior, you can take them out right away. Serve warm, or at room temperature.

Yield: 22 to 25 puffs.
Reviews
I made these yesterday and it was my first time working with choux pastry. I loved it! It was really fun to see the dough form on the stove and then watch it change as you add the eggs in the mixer. Even better is watching it puff up in the oven! I added Italian seasoning and parmesan cheese. They came out perfectly. I did cut a small slit in the side of each puff to allow steam to escap before returning them to the oven to dry out for the final 20 minutes. I froze half and intend to serve them stuffed with chicken salad. Great recipe and it made me want to try my hand at eclairs!
Question please... Planning to make these for a Christmas party. Can I make them ahead and reheat in oven? How long can I store them to stay fresh and what's the best way to store them?

Eileen, you can make these puffs about one month in advance following the recipe. Be sure to turn the oven off and let them cool for 20 minutes to help them dry out (as described in step 8) if making in advance. (You can even make small slits in the bottoms with a knife to let some of the steam escape.) Once they're fully cooled, put them in a ziplock bag for up to one month. Thaw at room temperature for a few hours and then refresh them in a 300°F oven for 5-10 minutes until crisp and nicely browned before serving. Happy baking! Kye@KAF
I made these as written and they turned out well. I agree that these are better with fillings, making them into mini sandwiches. I will also try making them with a pudding or mousse type of filling and maybe some nutmeg and cinnamon in the batter, with a light dusting of powdered sugar.
Love these! I like to split them and fill with a ham sandwich spread or tuna salad. Great appetizer!
I forgot to add that we made these without cheese and spices, filled them with pudding. They tasted exactly like a creamy, pudding, pastry puff from the bakery!
A friend of mine printed this recipe for me because she made these absolutely, amazing cheese puffs and my family and I loved them! I make these all the time now. I sometimes use the parmesan cheese, or omit for a different taste. I have used shredded cheddar cheese and still good! I use different herbs, but I hav e to say, our favorite is the Italian seasoning! This recipe should have a 10 star rating! It's a keeper for our family and a snap to make too!
So far I've just rated it on looks alone, because I haven't made it yet, but I have a question. In the recipe it states to turn the oven off after the baking time and leave them in the cooling oven for 20 minutes. Do you open the door a crack or leave it closed?
You may leave the oven door closed for the 20 minutes. ~Amy