A customized print-friendly version of this recipe is available by clicking the "Print Recipe" button on this page.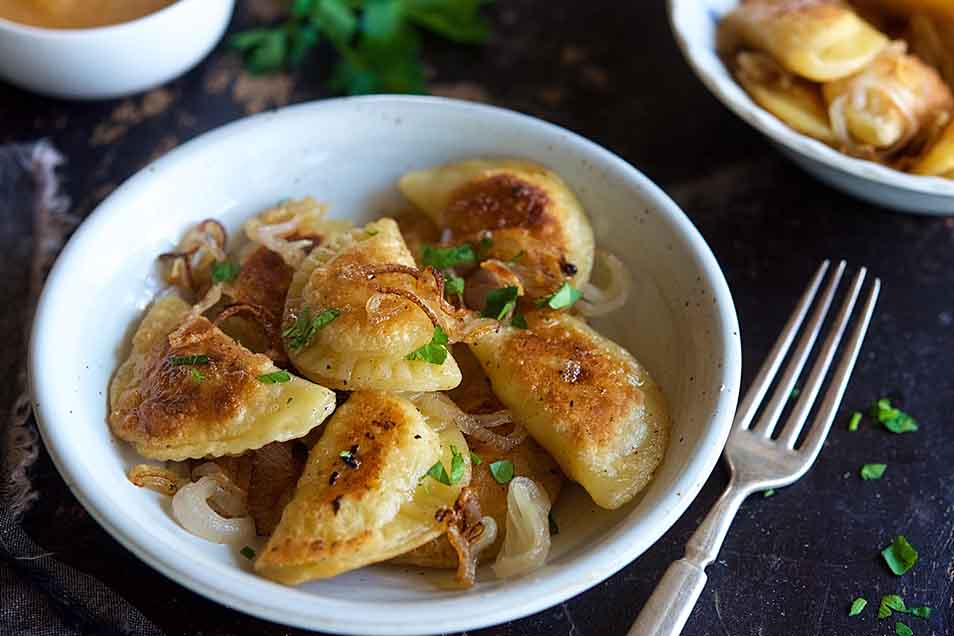 Pierogi, or boiled filled dumplings, were originally Polish peasant food. But these savory dumplings eventually overcame class boundaries and became popular among those in all walks of life. They're served at many festivals; and family gatherings just have to have pierogi to be complete. At the 2007 Pierogi Festival in Kraków, 30,000 pierogi were consumed daily.

Homemade pierogi are also an important part of Christmas Eve celebrations in many homes, but aren't limited to the holidays; many enjoy them all year long. Pierogi are very flexible and can be stuffed with a number of savory or sweet fillings, including potato and cheese (below); sauerkraut, cabbage, spiced meats, and even fruits and berries. Because pierogi freeze well, they make quick, satisfying last-minute meals.
Ingredients
Dough
1/2 teaspoon salt
1 large egg
1/2 cup sour cream
1/4 cup (4 tablespoons) butter, room temperature
Filling
1 cup warm mashed potatoes
1 cup sharp cheddar cheese, shredded
To finish
1/4 cup (4 tablespoons) butter
2 large shallots, diced; OR one medium onion, thinly sliced
Instructions
To make the dough: Mix together the flour and salt. Add the egg to the flour and combine. The dough will be quite clumpy at this stage.

Work in the sour cream and soft butter until the dough comes together in a slightly rough, slightly sticky ball.

Using just your fingertips, knead and fold the dough without adding additional flour until the dough becomes less sticky but still quite moist.

Wrap the dough well in plastic wrap and refrigerate for 30 to 60 minutes, or up to 48 hours.

To make the filling: Combine the warm mashed potato and cheese. Stir and mash until the cheese is melted and the filling is cool to the touch. Taste and adjust the seasonings with salt and pepper.

To fill the pierogi: Roll half the dough 1/8" thick. Use a 2" round cutter to cut circles of dough. Repeat with the other half of the dough. Save the scraps; these can be snipped into small pieces and added to simmering soups.

Place 1 1/2 teaspoons of filling on each round of dough. Gently fold the dough over, forming a pocket around the filling. Pinch the edges of the pierogi to seal, then seal again with the tines of a fork.

At this point the pierogi can be frozen for up to 4 weeks, or refrigerated overnight, or cooked in a large stockpot of boiling salted water. Only cook about 10 pierogi at a time, so that they have room to float without sticking. When the pierogi float, they're done. The time will vary depending of if they are fresh or frozen.

Sauté the shallots or onion in the butter in a large skillet until the onion begins to brown. Add the drained pierogi and cook until browned and crisped. Serve hot with additional sour cream, applesauce, or other condiments.
Nutrition Information
Serving Size

varies

Servings Per Batch

12
Amount Per Serving:
Calories

220

Calories from Fat

120

Total Fat

13g

Saturated Fat

8g

Trans Fat

0g

Cholesterol

35mg
Sodium

220mg

Total Carbohydrate

21g

Dietary Fiber

1g

Sugars

2g

Protein

6g
* The nutrition information provided for this recipe is determined by the ESHA Genesis R&D software program. Substituting any ingredients may change the posted nutrition information.
Tips from our bakers
If your filling is a bit watery due to the potatoes, add a tablespoon of flour to help thicken it up.
Reviews
Absolutely delicious recipe - they actually looked as good as the picture! I didn't roll the dough quite thin enough so it only made ~25 but it was still incredible. I'll be sure to roll it appropriately thin next time!
Just awesome. I used a large coffee cup to cut the rounds (3" maybe more?) and it worked perfectly.
This pierogi recipe was fantastic. I feel the the dough was much easier to work with when left over night for a longer chill. I tried using a pint glass for the rounds but found another container with a wider mouth that was much easier to work with. Seal edges with water and after each round is stamped out I re-rolled it making it slightly larger and easier to fill. I pressed the edges with a large serving fork and this created a perfect seal. So in short, make the dough letting it sit for longer than 1 hour, use a larger round for each disk, reflatten before filling, wet edges and seal with fork tines for a pretty finish. I did a cheddar cheese and fresh chive potato filling. And after boiling them sauteed with onions, serving with sour cream. I wish I could post a photo!!
I'm surprised I was able to pull it off! I was certain the recipe would be great, I just was unsure about me making it! I didn't flavor the mash/cheese with anything. I thought perhaps the cheese would give it enough flavor. Should have added salt and pepper. Or next time, make it with garlic mashed potatoes! Regardless, my family loved it! I will definitely make these again!
Very easy and fool proof. I had difficulty rolling it thin enough, because I had to run to the store midway through and forgot to cover my dough, so it was a little extra doughy and I only made twenty. But it was so easy I'm going make more dough to use up my filling! I also added a little green onion to the filling. Sooo good.
I always like to make a new recipe exactly as written as was the case with this pierogi recipe. They were absolutely perfect. I froze most of them after cooking up several for lunch. I made them a second time. This time around I made a filling of mashed potatoes, cheese, and sauerkraut. Equal amounts of each. I also decided to pinch off walnut sized pieces of dough and roll each one separately until they were a bit thinner than the original instructions that I followed the first time. I liked this method. Although it took a bit longer, I didn't end up with any excess dough that is left when cutting rolled out dough. The finished product was great. Once again I froze most of them. I recommend that you freeze them on a platter and then vacuum seal them if you have one of the vacuum sealer appliances.
First time making pierogi after many years of wanting to try. This recipe made it seem much more attainable than others I'd seen and it really was!! I followed the recipe exactly as written and turned out about 44 of the cutest little pierogi you ever did see. And -more importantly- they were delicious!! At first I thought the dough was much drier than it should have been but after completing the kneading, it was all good. Then I thought the dough circles were too small for the specified amount of filling, but it too was perfect. One thing I figured out after making a few: the dough is both sturdier and more elastic than you think. I started out trying to delicately fold the pierogi shut over the blob of potato filling. That's what had me convinced that there was no way that much potato would fit into a 2" round. I realized quickly that the dough was easily up to being picked up and stretched a bit. Filling was a breeze from that point on. Thanks for a great recipe that I know I'll use again!!!!
These turned out beautifully, and my wife and little ones liked them a lot. I put all three of them to work on forming them. I plan on having more fun creating different versions. Thank you KAF! You inspired me again.
First time attempting to make pierogi and what a hit. Was always concerned they would open in the boiling water. This receipe was perfect. We couldn't eat them fast enough. So delicious. Can't wait to make them again.
I used a bit too much flour when I was making the circles so it tasted a tiny bit flour-y and didn't have a rolling pin so I had to punch my way through the dough , my polish friend said she remembers her gma doing that so I wasn't too far off. But in the end IT WAS SO DELICIOUS OH MY GOD I put the green onion inside the potato filling instead of using it for garnish : result was everybody freaking out over them. Also an Awesome snack when you are on the go .