A customized print-friendly version of this recipe is available by clicking the "Print Recipe" button on this page.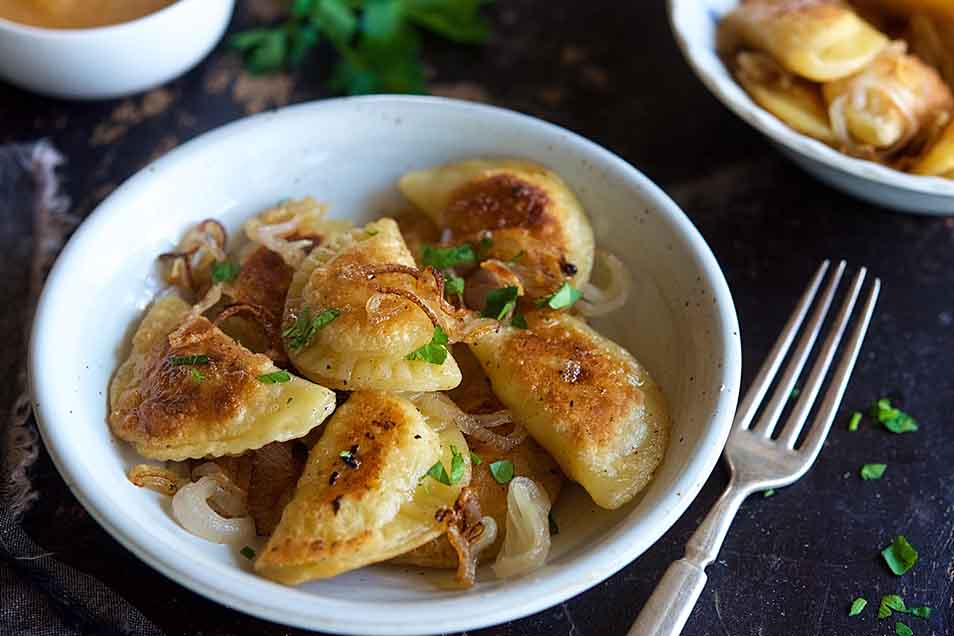 Pierogi (boiled filled dumplings) were originally peasant fare native to Central and Eastern Europe; we find mention of pierogi in Polish documents as early as the 17th century. But these savory dumplings have overcome class boundaries and become popular among those in all walks of life. They're served at many festivals; and family gatherings just have to have pierogi to be complete. At the 2007 Pierogi Festival in Kraków, Poland, 30,000 pierogi were consumed daily. Homemade pierogi are also an important part of Christmas Eve celebrations in many homes, but aren't limited to the holidays; many enjoy them all year long.

Pierogi are very flexible and can be stuffed with a number of savory or sweet fillings, including potato and cheese (below); sauerkraut, cabbage, spiced meats, and even fruits and berries. Because pierogi freeze well, they make quick, satisfying last-minute meals. There are as many versions of pierogi as there are cooks who love them, and our take on this traditional treat mirrors many American pierogi recipes.
Ingredients
Dough
1/2 teaspoon salt
1 large egg
1/2 cup sour cream
1/4 cup (4 tablespoons) butter, room temperature
Filling
1 cup warm mashed potatoes
1 cup sharp cheddar cheese, shredded
To finish
1/4 cup (4 tablespoons) butter
2 large shallots, diced; OR one medium onion, thinly sliced
Instructions
To make the dough: Mix together the flour and salt. Add the egg to the flour and combine. The dough will be quite clumpy at this stage.

Work in the sour cream and soft butter until the dough comes together in a slightly rough, slightly sticky ball.

Using just your fingertips, knead and fold the dough without adding additional flour until the dough becomes less sticky but still quite moist.

Wrap the dough well in plastic wrap and refrigerate for 30 to 60 minutes, or up to 48 hours.

To make the filling: Combine the warm mashed potato and cheese. Stir and mash until the cheese is melted and the filling is cool to the touch. Taste and adjust the seasonings with salt and pepper.

To fill the pierogi: Roll half the dough 1/8" thick. Use a 2" round cutter to cut circles of dough. Repeat with the other half of the dough. Save the scraps; these can be snipped into small pieces and added to simmering soups.

Place 1 1/2 teaspoons of filling on each round of dough. Gently fold the dough over, forming a pocket around the filling. Pinch the edges of the pierogi to seal, then seal again with the tines of a fork.

At this point the pierogi can be frozen for up to 4 weeks, or refrigerated overnight, or cooked in a large stockpot of boiling salted water. Only cook about 10 pierogi at a time, so that they have room to float without sticking. When the pierogi float, they're done. The time will vary depending of if they are fresh or frozen.

Sauté the shallots or onion in the butter in a large skillet until the onion begins to brown. Add the drained pierogi and cook until browned and crisped. Serve hot with additional sour cream, applesauce, or other condiments.
Nutrition Information
Serving Size

varies

Servings Per Batch

12
Amount Per Serving:
Calories

220

Calories from Fat

120

Total Fat

13g

Saturated Fat

8g

Trans Fat

0g

Cholesterol

35mg
Sodium

220mg

Total Carbohydrate

21g

Dietary Fiber

1g

Sugars

2g

Protein

6g
* The nutrition information provided for this recipe is determined by the ESHA Genesis R&D software program. Substituting any ingredients may change the posted nutrition information.
Tips from our bakers
If your filling is a bit watery due to the potatoes, add a tablespoon of flour to help thicken it up.
Reviews
These were perfectly awesome. So easy, I couldn't believe it. Personally, I saw no reason to mix the flour and egg first, to clumpy shaggy end. I mixed in the sour cream along with the egg and butter soon after. Worked just fine. The dough, after an hour in the fridge, was smooth as silk and lovely to roll out. Came out exaclty as one expects a pierogi to be. And my filling of sort-of mashed potato was perfect, too. Beautifully simple. Going to make a double batch today with sweet potato, russet potatoes, onions and cheese (not all to gether but as separate versions), so I can freeze some for a weekday dinner. Hungry already. Yum.
These cane out perfectly, the dough does need to rest to become pliable and soft, but if you have patience and follow the recipe it will turn out very well. I used sharp provolone in with the mashed potatoes and then topped them with a cranberry chutney, very nice. First time making them for some friends from PA that miss having them. All in all, a well thought out recipes by KA.
Delicious, easy recipe! I peeled the potatoes, chopped them quite small and microwaved them with a little water, then drained, mashed and added the cheddar. The dough wasn't overly smooth at first but got better as I rolled it. The most time consuming part was filling and sealing them with a fork. As others have said, my yield wasn't as high as the recipe stated. I used a 3.5 cutter and got 22 pierogies. I placed them on a cookie sheet and frozen them, then moved them to a ziplock bag.
My first time making pierogi, used a cheddar mashed potato recipe which came out great, 2 " cutter for the rounds. Took about a dozen before I got into a rhythm with it but once I did very easy. Can't be afraid to use the fork to seal them, about 4 mins before they floated, let dry a bit & into the pan with carmelized onions. Nice and golden with a good crisp. We devoured them, no leftovers. Next time I will double the recipe & go with a 3 or 4 inch cutter.
what did I do wrong? I had to add extra sour cream just to get the dough to even begin to be dough? I had lovely butter/sourcream/floursalt crumbles, but they never came together into anything until I added a little more sour cream, and even then, not a smooth dough despite quite some kneading!

Hi there, Justin. We're sorry to hear that this recipe gave you some trouble. One of the most common reasons why baked goods turn out dry and heavy is because too much flour is used. To ensure you're using the right amount, we recommend checking out the "Recipe Success Guide," link next to the ingredients header above. You'll see that either measuring your flour by weight using a scale, or fluffing and sprinkling the flour into your measuring cup are the best ways to ensure your recipe turns out perfectly. We hope this helps for future baking adventures. Kindly, Morgan@KAF
Great recipe! I only got about 20 (which might have to do with something I did) instead of 3 dozen. I'm going to cut them bigger next time but they tasted amazing! I also plan on trying starwberrys and cream cheese stuffing.
These were delicious. Instead of cheddar cheese, I caramelized some onions and sauteed some pancetta, which I then added to my mashed potatoes for the filling. Will be making these again soon!
These were so delicious and easy to make. The dough was really easy to work with and tasted amazing. I used a 2.5" cutter because that is what I had, and still felt they were pretty tiny. I would perhaps try a 3" cutter next time for some bigger ones. I also re-rolled the scrap dough to make a few more. The dough was a little tougher to roll out the second time around but they turned out fine. I did have a few of them bust open while boiling, so next time I will be more diligent in ensuring a good seal. Can't wait to make these again.
Awesome pierogi recipe. For some reason I thought pierogis were hard to make - they are easy and taste great. I made as per the recipe and would not change anything, they were perfect and no left overs.
I have made other pierogi recipes and this one wins hands down! My husband who generally eats 3 or 4 pierogies, had 8 (and no, they were not the main course, haha). The dough rolls out beautifully and the finished pierogi isn't too heavy. The only criticism I have is if you use a 2" cutter, they are more appetizer size; I used a 3 1/2" cuter. I also used a bit more mashed potatoes and cheddar cheese mixture, which yielded 18 pierogies. I am unsure as to why the recipe states to use the leftover dough in soups, since I simply rerolled the dough and used it all (the last one was simply free form).