A customized print-friendly version of this recipe is available by clicking the "Print Recipe" button on this page.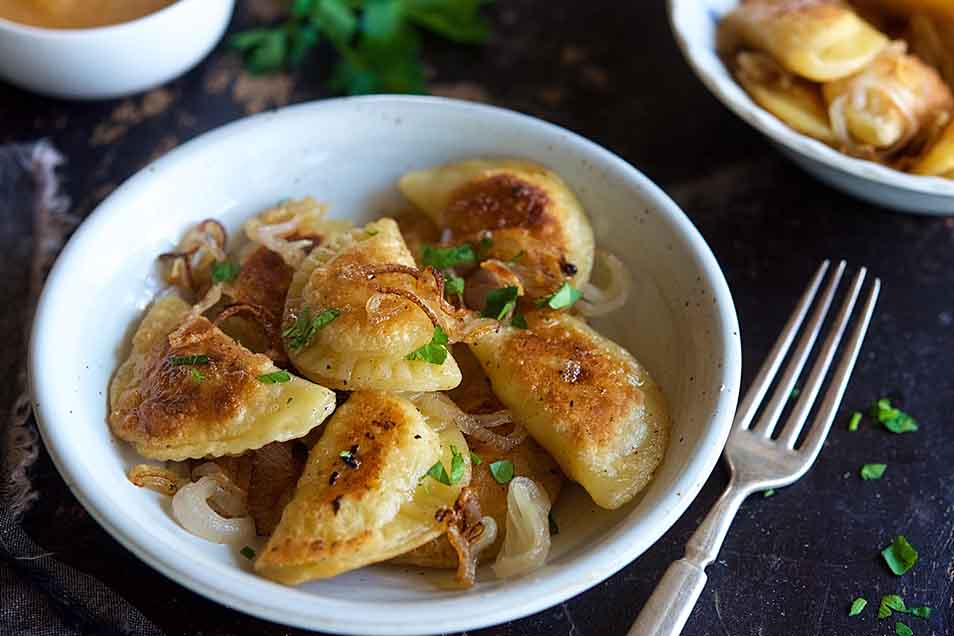 Pierogi, or boiled filled dumplings, were originally Polish peasant food. But these savory dumplings eventually overcame class boundaries and became popular among those in all walks of life. They're served at many festivals; and family gatherings just have to have pierogi to be complete. At the 2007 Pierogi Festival in Kraków, 30,000 pierogi were consumed daily.

Homemade pierogi are also an important part of Christmas Eve celebrations in many homes, but aren't limited to the holidays; many enjoy them all year long. Pierogi are very flexible and can be stuffed with a number of savory or sweet fillings, including potato and cheese (below); sauerkraut, cabbage, spiced meats, and even fruits and berries. Because pierogi freeze well, they make quick, satisfying last-minute meals.
Ingredients
Dough
1/2 teaspoon salt
1 large egg
1/2 cup sour cream
1/4 cup (4 tablespoons) butter, room temperature
Filling
1 cup warm mashed potatoes
1 cup sharp cheddar cheese, shredded
To finish
1/4 cup (4 tablespoons) butter
2 large shallots, diced; OR one medium onion, thinly sliced
Instructions
To make the dough: Mix together the flour and salt. Add the egg to the flour and combine. The dough will be quite clumpy at this stage.

Work in the sour cream and soft butter until the dough comes together in a slightly rough, slightly sticky ball.

Using just your fingertips, knead and fold the dough without adding additional flour until the dough becomes less sticky but still quite moist.

Wrap the dough well in plastic wrap and refrigerate for 30 to 60 minutes, or up to 48 hours.

To make the filling: Combine the warm mashed potato and cheese. Stir and mash until the cheese is melted and the filling is cool to the touch. Taste and adjust the seasonings with salt and pepper.

To fill the pierogi: Roll half the dough 1/8" thick. Use a 2" round cutter to cut circles of dough. Repeat with the other half of the dough. Save the scraps; these can be snipped into small pieces and added to simmering soups.

Place 1 1/2 teaspoons of filling on each round of dough. Gently fold the dough over, forming a pocket around the filling. Pinch the edges of the pierogi to seal, then seal again with the tines of a fork.

At this point the pierogi can be frozen for up to 4 weeks, or refrigerated overnight, or cooked in a large stockpot of boiling salted water. Only cook about 10 pierogi at a time, so that they have room to float without sticking. When the pierogi float, they're done. The time will vary depending of if they are fresh or frozen.

Sauté the shallots or onion in the butter in a large skillet until the onion begins to brown. Add the drained pierogi and cook until browned and crisped. Serve hot with additional sour cream, applesauce, or other condiments.
Nutrition Information
Serving Size

varies

Servings Per Batch

12
Amount Per Serving:
Calories

220

Calories from Fat

120

Total Fat

13g

Saturated Fat

8g

Trans Fat

0g

Cholesterol

35mg
Sodium

220mg

Total Carbohydrate

21g

Dietary Fiber

1g

Sugars

2g

Protein

6g
* The nutrition information provided for this recipe is determined by the ESHA Genesis R&D software program. Substituting any ingredients may change the posted nutrition information.
Tips from our bakers
If your filling is a bit watery due to the potatoes, add a tablespoon of flour to help thicken it up.
Reviews
I found the dough to be extremely dry as well...I added a few drops of cold water until I could get it come together like a pie dough. Then lightly kneaded until it was a little more homogeneous. Light flour so it wouldn't stick to the plastic bag and refrigerated. dough Recipe very good, I used spinach, bacon and mozzarella. Taste for salt and pepper before using stuffing. Slammin'
Great recipe. Made a very easy-to-work dough (and I re-rolled the scraps from the first cutting of circles). The filling is great, but you need make sure to test for salt and pepper before using. It's got to be well seasoned all the way through. I've used the dough recipe to make other pierogi like sweet potato and mushroom. The dough is awesome - use whatever you like to fill it. Do fry the pierogi - the crispy buttered outside makes the fish.
I like this recipe,but found it only makes about 18-20 perogies. No where near the 3 and a half dozen it says it makes.
I used their suggested measurements & got nothing resembling a dough. It was SO dry & I'm baffled how anyone has managed it using their clearly flawed receipe.

We're sorry to hear that this well-loved recipe didn't do the trick for you, H. If we can help figure out where things went awry or pick out a recipe that better fits your tastes, please give our Baker's Hotline a call at 855-371-BAKE. Kindly, Annabelle@KAF
This pirogies recipe is fantastic. So much better than grocery store brand pirogies; if you have the time and don't live in an area where fresh pirogies are sold (like Cleveland's West Side Market), this is the recipe you want. It was fun making them with my wife (near empty nesters). This recipe may deviate from your family's traditional recipe, but this dough is really easy to work with. Not sure what the sour cream does in the dough, but it works. I did have to make a couple of modifications: - One of my grocery stores large eggs was not enough; I add one extra egg yolk. - I ended up adding 2 tsp of water (1/2 tsp at a time) to get the dough to the right consistency. - I used a 3" round pastry cutter Some notes: I used King Arthur flour. I refrigerated dough wrapped tightly in plastic wrap for 60 minutes. I dipped my fingers in water to seal each round cut of dough and used the fork to make the crimps decorative. I boiled the pirogies as soon as I made them; then fried up a couple of "test" pirogies and refrigerated the rest for the next day on plates wrapped with plastic wrap. Each half of the dough made 13 pirogies (I re-rolled the scraps to get an extra one); I tried to roll out dough to a width for two 3" rounds and long enough for six - 3" rounds. The best thing about homemade is you get to chose the filling! Just make sure the filling is not too wet or too much; add flour, if needed, so it is dry. My first time with this recipe, not one exploded or leaked.
This dough was easy to work with just as the previous commenters have said. I knocked off a star because the filling has way too much cheese. Potatoes should be the main flavor with a cheese accent. I am thinking 8 oz potato to 1 oz cheese. Will make again in the future but with less cheese. P.S. I am a turophile, but seriously there's way too much here.
I have been wanting to make homemade pierogi for some time now, and found this recipe to be the most straight forward than any others I found while searching. It also helped that it had so many positive reviews. The dough was easy to work with, and made about 45 pierogis. I regret to say that I did not have any cheese for my mashed potatoes. I think next time, I will add some cheddar or queso fesco to my mashed potato mix for a little added flavor. That aside, after I made up the pierogis and sealed them well, I boiled and then pan fried them, and they were terrific. I would recommend having a serving plate or towel with a sprinkle of corn meal on it in order to keep the pierogi there in a "staging area" as you boil them in batches. That way, you are not adding more flour, and they will not stick to one another. I also borrowed a technique from Martha Stewart's mother (via a YouTube video), where she put the boiled pierogis on a platter with melted butter under them. This ensured that they did not stick to one another before serving. The butter in the platter coats the pierogis nicely and ensures that you don't need any more oil/butter when you pan fry them. I served mine up with stuffed cabbage rolls and it was like a mini-Polish festival for our Sunday Supper. Thank you for this very detailed and easy to put together recipe.
It was great trepidation that I, for the first time ever, attempted to make vareniki for my Russian mom, Nina, who made them all her life for us. Why didn't I learn how to make them from her when I had the opportunity? Good question for another post. Bottom line upfront: fabulous! I agree with all the others that this is an easy dough to make and work with. I under salted the mashed potatoes but that's all on me. No cheese as we didn't have them that way growing up; cheese was expensive. One tip: whence fetching the varerniki from the boiling water, put them into a bowl with butter. It will coat the vareniki added yummy flavor and keep them from sticking. Growing up, we would then eat them without frying. Nowadays, I do like a bit of browning that comes from frying. Nina would also make them with meat. What?!? Yep. Like a Chinese dumpling which was amazing in soup! Thank you for the wonderful recipe!
Just finished making this. My first time making Pierogi, easy recipe to follow, no surprises and the dough was so easy to work with!! Thank you..
These came out awesome. My first attempt at pierogi with a different recipe was a disaster but this dough was a breeze to work with and cooked up so tender, not chewy like the store bought pierogi. I took some tips from the reviews below to make it a little easier and here's what worked for me. Kitchen aid mixer with a dough hook for the dough, it will look crumbly and a little dry at first if you measure out the sour cream and flour correctly, it will all come together as you keep mixing. I simply used my microwave for the potatoes and then ran them through a ricer. I added 2 tbsp of butter to my potatoes as well as the cheddar cheese, some dried chives and a little queso fresco cheese to mimic farmers cheese. Make sure to roll your dough thin, cup out circles with a cup if you don't have a biscuit cutter. I rolled the potato filling in tsp size balls and stretch the dough over and pinch to seal and then use a fork to seal the edges again. I simply reused the scraps to reroll and make more dough and it worked fine without making the dough tough. Boil these till they float and then pan fry in a little butter, add crumbled bacon and carmelized onions and they are heaven!