A customized print-friendly version of this recipe is available by clicking the "Print Recipe" button on this page.
Just Too Easy Peach Cobbler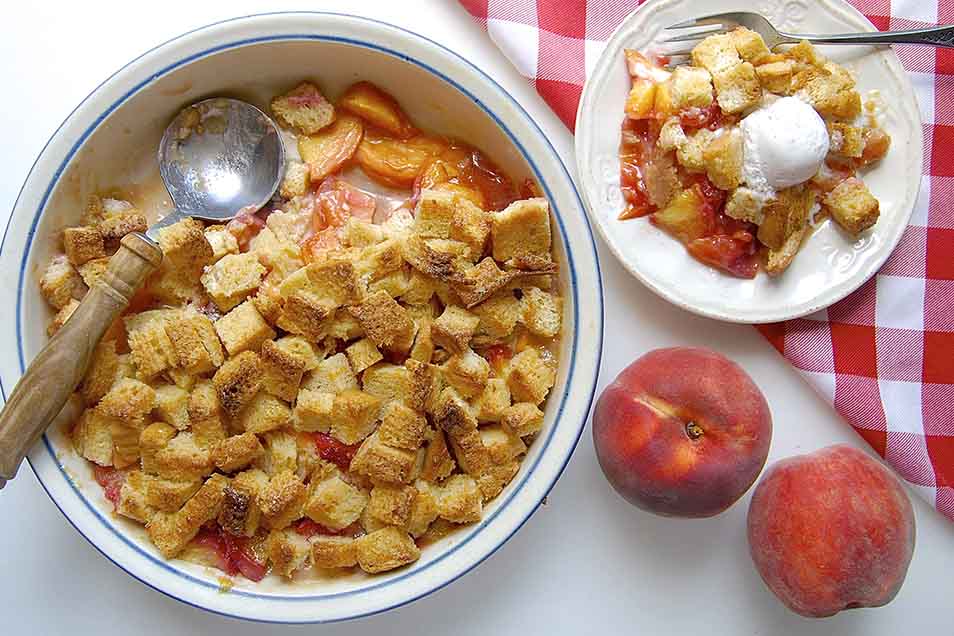 This dish couldn't be quicker, and it received a universal thumbs-up from all of our taste-testers. In fact, it disappeared so fast on the first go-around we had to make it again to satisfy those who "heard there was something really good in the test kitchen" and were disappointed at finding only an empty pan!

Joanne Sawyer of Newburgh, Indiana sent us the original inspiration for this recipe. She says, "This tasty, quick-to-make-at-the-last-minute summer dessert uses bread! Peaches are the called-for fruit, but I've made it with nectarines and apples. Now if I could only send you the peaches from our local peach orchard! They're available about July, and my mouth is already watering for them."
Ingredients
Filling
2 pounds peaches, peeled (or not) and sliced; a scant 6 cups sliced peaches
2 to 5 tablespoons cornstarch*
*See "tips," below.
Instructions
Preheat the oven to 350°F.

Toss the peaches with the cornstarch. If the slices are large, chop them up a bit. Spread them in a 9" pie pan that's at least 1 1/2" deep.

Top the peaches with the bread cubes, pressing them down gently.

In a small bowl, whisk together the sugars, flour, egg, butter, and salt.

Drizzle the syrup over the bread cubes.

Bake the cobbler for 35 to 45 minutes, until the bread is a deep, golden brown, and the filling is bubbly.

Remove the cobbler from the oven, and wait about 30 minutes before serving, for the filling to set. Cobbler is equally good served warm, or at room temperature. Ice cream or whipped cream are always welcome.
Tips from our bakers
Don't have fresh peaches? Two 16-ounce bags frozen peaches are fine; or use two large (31-ounce) cans sliced peaches, drained
Using 2 tablespoons cornstarch yields a cobbler that's swimming in juice right out of the oven then reabsorbs some of that juice as it cools, particularly if you leave it overnight. Using 5 tablespoons cornstarch makes cobbler that's nicely juicy right out of the oven, and completely absorbs any excess juice as it cools, becoming quite stiff. Choose the amount of cornstarch you use based on how juicy your peaches are; and how soft/juicy you like your resulting cobbler.
For a less-sweet, "peachier" cobbler, add 2 tablespoons lemon juice to the peaches along with the thickener; and reduce the granulated sugar in the topping to 2 tablespoons.
Reviews
This recipe is awesome; who would have thought bread cubes would make such a great topping! I grated a little nutmeg into the peaches and sprinkled Demerara sugar on top prior to baking. Wonderful. Can't wait to try it with cherries, the signature crop of northern Michigan.
This is so good! Used KAF no knife method for peeling the peaches which I wished I knew about sooner! Will keep making it with the peaches being so good this season.
Great recipe. Used canned peaches. Please verify the canned sliced peaches amount. Should it be one can? 6 fresh peaches would be about 32 oz. equal to one can of 31 oz. noted in the recipe not two cans. Thanking you in advance.

Hi there fellow baker, the reason why the canned amount of peaches is so much higher than either the fresh or frozen amount is because of the juice in the can of peaches. By the time you drain two large 31 ounce cans of peaches, you'll be left with roughly 32 ounces (2 pounds) of sliced peaches to add to your pie. (Save that yummy peach juice for another use!) We hope that helps clarify. Kye@KAF
I have made this recipe with peaches and just tried it with apples since they are in season and it is a KEEPER! It is arguably one of my favorite cobbler/crisp recipes, and I am a sucker for a good crisp. I did use a multigrain bread and sprinkled it with cinnamon and a little fresh ground nutmeg when I used this recipe with apples. I love fall spices with apples, but this recipe really allowed the flavor of the apples to shine through while still fulfilling that "apple spice" craving with the cinnamon and nutmeg added to the bread. Try this- you won't be sorry!
I was so desperate to make this when I read the recipe that I used the only bread I had in the house - Italian with sesame seeds that had been in the fridge for a few days. It was fantastic! I used perfectly ripe and juicy peaches from a local farm, and I followed another reviewer's recommendation to cut the sugar to 1/2 cup brown and 1/8 cup white. Since I loved the idea of using cinnamon bread but didn't have any, I sprinkled a heavy dose of cinnamon over my cut up (Italian seeded) bread. You guys may laugh, but it is delicious! Thanks for the great recipe.
I have to say that I was hesitant to make this because using bread in a dessert sounded ...strange. However- I was pleasantly surprised! (I guess the 1/2 cup butter can make anything taste delicious haha.) I used a whole grain bread instead of white and dusted the cubed bread with cinnamon as others suggested. I also added a shot of amaretto to the peaches. My husband loved this and said it almost tasted like French toast but much better. I highly recommend giving this a try!
This recipe was excellent! Everyone who ate it said it was a keeper. Aside from sprinkling cinnamon on the white bread (before chopping it up), I followed the recipe exactly. I LOVED the buttery taste of the crusty bread chunks. Didn't miss the traditional oat topping one bit.
After reading the reviews, I took advice from a reviewer and made the "easy cinnamon bread " for the bread cubes. What a brilliant idea! I peeled and sliced 3 huge peaches each weighing close to a pound, but pretty much followed the recipe instructions as written. It was a huge hit at an event, and I brought home a couple tablespoons which I stuck in the fridge overnight. My husband actually preferred the chilled cobbler to the lukewarm, but I received many many compliments. Next time I'll probably add more cinnamon bread cubes. Probably the best cobbler I've ever made.
Very Easy to make. Did change up the recipe some by adding 1 to 2 ounces Rum to Peaches and marinating this for 15 minutes. Also, added 1 teaspoon cinnamon to Topping ingredients as per other's reviews. Used my 8 x 8 inch glass Pyrex dish for this as my 9 inch Pyrex pie dish wasn't quite big enough.
Just too good! I added a sprinkle of cinnamon to the topping syrup but didn't change anything else. Definitely a keeper!