A customized print-friendly version of this recipe is available by clicking the "Print Recipe" button on this page.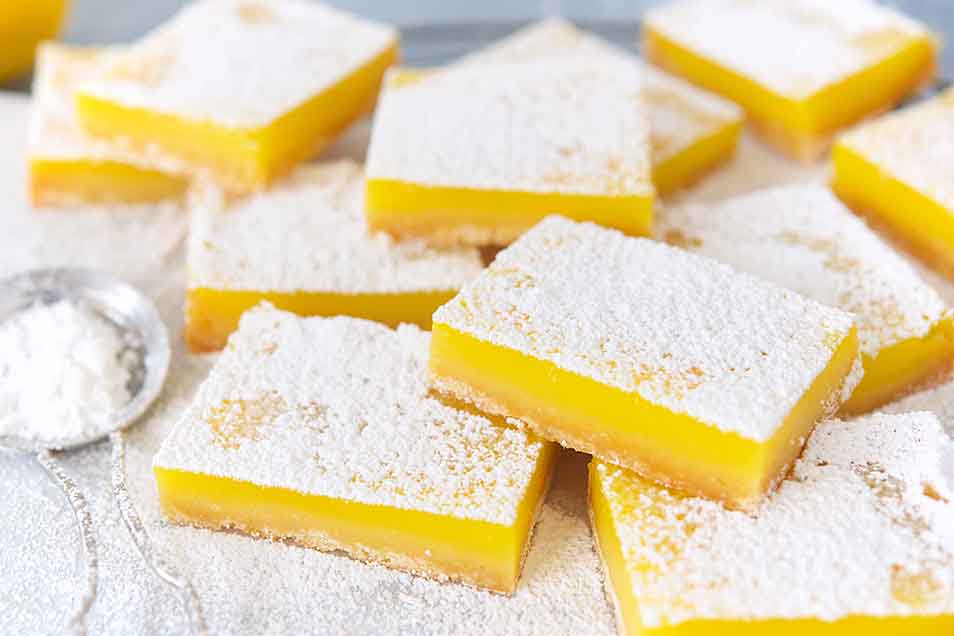 These classic lemon squares feature a buttery crust, and smooth, rich filling with the perfect balance of sweet and tang.

Recipe update: Thanks to feedback from you, our readers, we've made some changes to this recipe as of 12/11/17, giving the bars thicker, more lemon-y filling.
Ingredients
Crust
1/4 teaspoon salt
1/4 cup confectioners' sugar
8 tablespoons (1/2 cup) unsalted butter, at room temperature
Topping
4 large eggs
1 large egg yolk
1 cup + 2 tablespoons granulated sugar
3 tablespoons confectioners' sugar
1/8 teaspoon salt
2/3 cup lemon juice
confectioners' sugar, optional; for topping
Instructions
Preheat the oven to 350°F.

To make the crust: Whisk together the flour, salt, and confectioners' sugar. Work in the butter until it's evenly distributed; the mixture will be crumbly. Press the crust firmly into an ungreased 8" square pan.

Bake the crust for 30 to 35 minutes, or until it's golden brown. Remove it from the oven, and reduce the oven temperature to 325°F.

While the crust is baking, make the topping: Combine the whole eggs, egg yolk, and sugars and whisk until smooth. Add the flour and salt, then the lemon juice, and whisk until thoroughly combined.

Let the filling sit for 15 minutes or so, until the bubbles (mostly) disappear.

While the baked crust is still hot, pour the topping over it. Return the bars to the oven and bake until they appear set and relatively dry on top, about 30 minutes.

Remove the bars from the oven, and cool them on a rack. Let them cool completely before slicing. Just before serving, sprinkle the top of the bars with confectioners' sugar.

Store any leftovers in the refrigerator for up to several (3 to 4) days.
Tips from our bakers
For an extra hit of lemon flavor, stir the finely grated rind of 1 lemon into the crust dough before baking.
Worried about your bars sticking in the pan? Parchment paper to the rescue! See our blog post, Baking with a parchment paper sling.
Reviews
Loved this one. Made a few changes as I only had a 9" square pan. I increased the amount of flour in the base to 1 1/2 cup, mixed the flour, salt and sugar together and then cut in 1/2 cup cold butter, using a pastry blender until the mixture was crumbly and sandy in appearance. I patted the mixture into the prepared (parchment lined) pan and baked as directed. For the filling, I added the zest of the 3 large lemons I needed to yield the 2/3 cup juice called for in the recipe. Baked for 30 minutes. Nice and zippy, not too sweet and the ratio of filling to crust was lovely. Definitely a keeper.
Like Polly, my crust stuck to the glass pan I used. The crust tasted good enough, but I made it for company. It looked awful! Fortunately I had made another dessert. Disappointed. The directions did not state how soon after cooling it on a rack to cut the bars. I put mine in the refrigerator. Perhaps that is why they solidified too much, not allowing removal. ??

We realize it's always frustrating and disappointing to have your baked goods stick to the pan, Kathy. You're so close to being able to enjoy your dessert perfectly! With Lemon Bars especially, it helps to line your pan with parchment paper before beginning the recipe to ensure easy removal of the bars afterwards. Use what's called a parchment paper sling: line the pan so that there's about 1" to 2" of parchment paper overhanging the edges that you can use as handles to lift the bars cleanly from the pan. You can remove the bars from the pan using this method almost immediately once they come out of the oven. It helps to let the bars cool completely before slicing with a knife, sprinkling with sugar, and serving. We'ved asked our Recipe Team to add some additional clarification around these final steps to help prevent disappointment going forward. Kindly, Kye@KAF
I also had the experience Carol from Lowell had in June....my crust also ended up on top...my DIL ( who LOVES lemon bars and has them frequently ) says she has seen them both ways, and still loved them...going to be difficult to present now, but I'll figure it out...making another batch today because I needed 2....
Another fabulous KAF recipe. I added the suggested zest into the shortbread and loved every bite of these. Wonderful lemon flavor, not overly sweet, and they cut beautifully. They tasted good at room temperature, but even better cold from the fridge. This is my new go to lemon bar recipe.
I loved this recipe! I made it as is, but added 1/8 tsp lemon oil to the filling. This is the perfect amount and balance of buttery, shortbread crust and sweet/tart lemony filling. I had one question about how to blend the softened butter with the flour, confectioners sugar and salt. I called the Bakers Hotline, and as usual, they were wonderful. They said to blend the crust with a fork or a spatula (not a mixer). They also recommended I put the butter back in the fridge for 15 minutes to get a room temperature but slightly firmer butter, since it had been out on the counter for several hours and was quite soft. This tip was perfect, and the crust came together nicely, forming a crumbly mix which pressed into the 8" glass dish perfectly. Baked crust for 30 minutes and it browned nicely. Filling was perfectly cooked at 30 minutes.
I made following directions and the bars were wonderful. The curd to crust ration was balanced. I baked to accompany our coffee bar and the tart/sweet pairs well with the bitter coffee. Everyone love them. I have baked other recipes that had less curd but the thickness of this recipe made everyone love them. Thank you for the great recipe.
Made this for the first time and it was fantastic! Super tart and tangy. I did pour the filling into a fine mesh strainer to further eliminate bubbles and any lemon seeds that I didn't pick out. This is definitely a keeper. Thanks again KAF.
We loved this lemon bar recipe. Just the right amount of lemon. Loved the crumbly crust. Will add the lemon zest next time for extra fun. I always reduce sugar in my recipes and i added 1/2 cup of sugar instead and it was perfect for us. Otherwise, I followed the directions exactly and this is a keeper recipe.
What an easy recipe to follow and it turned out great. I needed more squares, so I doubled the recipe and made it in two glass pans. Each pan turned out slightly different as one pan had sloped sides, the other straight. Both were excellent! Will definitely make this one again.
i made this recipe as directed however when i removed it from the oven the crust was on top and the filling settled to the bottom. what went wrong

That is definitely a puzzler, Carol! We'd love the chance to talk through the recipe with you, so we encourage you to reach out to our free and friendly Baker's Hotline staff to help figure out where things went awry at 855-371-BAKE (2253). Kindly, Annabelle@KAF