A customized print-friendly version of this recipe is available by clicking the "Print Recipe" button on this page.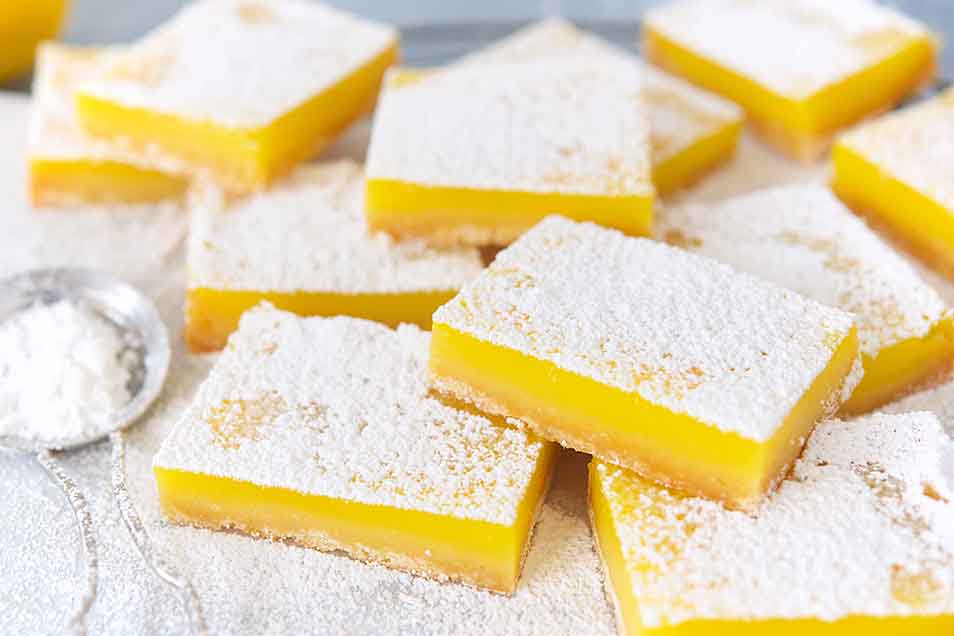 These classic lemon squares feature a buttery crust, and smooth, rich filling with the perfect balance of sweet and tang.

Recipe update: Thanks to feedback from you, our readers, we've made some changes to this recipe as of 12/11/17, giving the bars thicker, more lemon-y filling.
Ingredients
Crust
1/4 teaspoon salt
1/4 cup confectioners' sugar
8 tablespoons (1/2 cup) unsalted butter, at room temperature
Topping
4 large eggs
1 large egg yolk
1 cup + 2 tablespoons granulated sugar
3 tablespoons confectioners' sugar
1/8 teaspoon salt
2/3 cup lemon juice
confectioners' sugar, optional; for topping
Instructions
Preheat the oven to 350°F.

To make the crust: Whisk together the flour, salt, and confectioners' sugar. Work in the butter until it's evenly distributed; the mixture will be crumbly. Press the crust firmly into an ungreased 8" square pan.

Bake the crust for 30 to 35 minutes, or until it's golden brown. Remove it from the oven, and reduce the oven temperature to 325°F.

While the crust is baking, make the topping: Combine the whole eggs, egg yolk, and sugars and whisk until smooth. Add the flour and salt, then the lemon juice, and whisk until thoroughly combined.

Let the filling sit for 15 minutes or so, until the bubbles (mostly) disappear.

While the baked crust is still hot, pour the topping over it. Return the bars to the oven and bake until they appear set and relatively dry on top, about 30 minutes.

Remove the bars from the oven, and cool them on a rack. Let them cool completely before slicing. Just before serving, sprinkle the top of the bars with confectioners' sugar.

Store any leftovers in the refrigerator for up to several (3 to 4) days.
Tips from our bakers
For an extra hit of lemon flavor, stir the finely grated rind of 1 lemon into the crust dough before baking.
Worried about your bars sticking in the pan? Parchment paper to the rescue! See our blog post, Baking with a parchment paper sling.
Reviews
Just like several other commentators, my crust "floated" and ended up somewhere near the middle. Super disappointing as I'd baked this to take to a birthday party (I usually pick KAF recipes for celebration bakes because they're so reliable). This tasted just fine but certainly wasn't presentable, and I didn't have time to make anything else, so I had to bring a store-bought cake instead.

We're sorry to hear this well-loved recipe gave you some trouble. Because this has happened to a few customers over the past year, we've sent this recipe to our Test Kitchen team to retest and make adjustments as needed. Kindly, Annabelle@KAF
As I have seen in previous reviews, I also made upside down lemon squares. Apparently my crust must have been fully cooked the first bake, and the filling went under the crust, and some under the parchment too! One of my first big baking fails using a KAF recipe. The crowd still said they tasted good, but I feel like I butchered them having to flip each bar over to even look remotely like a lemon square. Oh well....will maybe try again.

We're sorry to hear they didn't quite have the look you were going for, Rebecca! Is it possible that the crust shrank after being baked? Perhaps pressing the dough a bit up the sides as well as the bottom would allow the filling to stay inside of the crust rather than bubbling over the edges and seeping underneith. We hope this helps! Annabelle@KAF
I may never make lemon meringue pie again! This was so good. Next time I'll use the excess egg white to make meringue and see how it looks. I followed the recipe exactly, using gram weight, not volume. I did add suggested lemon zest to crust. Greased pan and lined with parchment. Took browned crust from oven, immediately added filling, and returned to finish baking. Did not add extra sugar when serving. We liked the tartness.
I reviewed the original recipe in 2011. I thought it was excellent then, though I was doubling the amount of topping. The revised version (2017) is perfect. The first time I followed the recipe as written. Wanting a bit more lemon flavor I added lemon zest to the crust as suggested in the tips and thought that helped. The third time I added lemon zest to the filling, not the crust, and that worked best for our taste. Better than bakery lemon squares.
The bars tasted really good! We definitely used parchment paper, but some of the crust still stuck to the paper. The crust baked a little unevenly, but that may be because of the way we spread it in the pan. It smelled delicious. and even though all the bubbles in the lemon topping didn't disappear, it still set very well. We even like them refrigerated. !Yummy!
I have made this recipe over 50 times. It is perfect as is. I do add the lemon zest but I add it to the topping and not to the crust. I also use a Cuisinart to mix the crust, and then to mix the topping. Washing the Cuisinart is not even necessary. Make sure to powder the cookies just before serving as the sugar will be absorbed over time. So easy and so delicious!!
These lemon bars are delicious i just bought another box can i get these on line many of my friends loved them also please let me know if we can order these on line thank you

Ellie, thanks for letting us know you love our lemon squares so much! If you want to make these from scratch, this recipe works quite well, but we do also sell our lemon bar mix online. You can find it by typing "Essential Goodness Lemon Bar Mix" into the search bar on our website and then clicking on "Products". Happy baking! Kat@KAF
I baked this yesterday following the recipe to a T. And like some reviewers before me, my crust floated on top as well. To make it worse, I lined the bottom of my baking dish with parchment paper and it actually ended up in the middle of my crust and filling. I did not realize it until I cut into the squares IN THE MIDDLE OF AN OFFICE POTLUCK IN FRONT OF ALL MY COLLEAGUES. That was embarrassing. This is not my first time making lemon bars and that never happened before. I still rated 4 stars because it tasted really good. I googled afterwards to find out what could have caused the problem. It appears that my crust was completely baked, slightly cooled, and has separated from the bottom of the pan when I poured in the filling. So during baking, the filling seeped underneath the crust with the parchment paper stuck with it, which resulted in an upside down lemon bar. Hope my mistake will help others to avoid similar issues.
This was a very easy and tasty recipie and I wouldn't change a thing in it. In fact I my use different flavorings for more of a variety.
Loved this one. Made a few changes as I only had a 9" square pan. I increased the amount of flour in the base to 1 1/2 cup, mixed the flour, salt and sugar together and then cut in 1/2 cup cold butter, using a pastry blender until the mixture was crumbly and sandy in appearance. I patted the mixture into the prepared (parchment lined) pan and baked as directed. For the filling, I added the zest of the 3 large lemons I needed to yield the 2/3 cup juice called for in the recipe. Baked for 30 minutes. Nice and zippy, not too sweet and the ratio of filling to crust was lovely. Definitely a keeper.