A customized print-friendly version of this recipe is available by clicking the "Print Recipe" button on this page.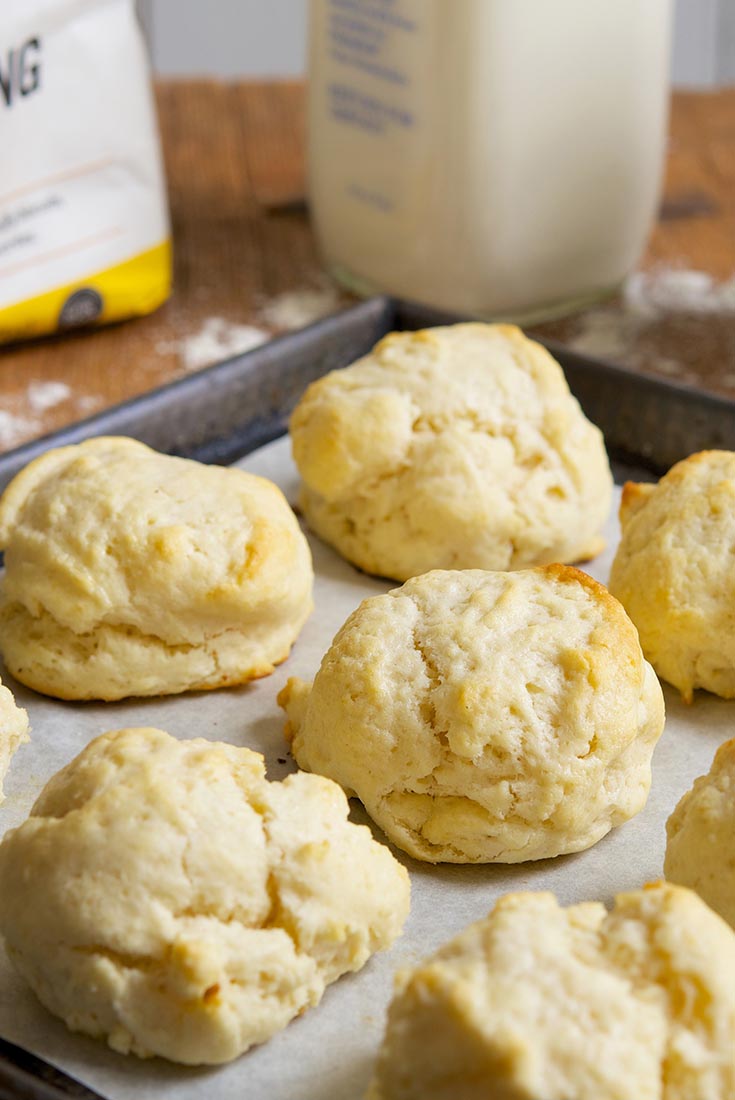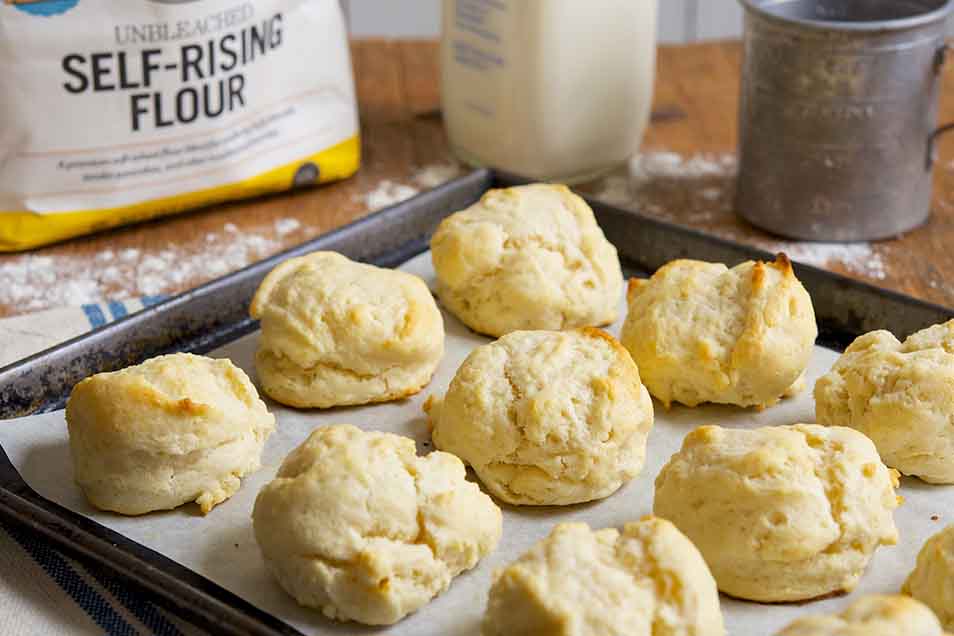 The. Easiest. Biscuits. Ever. Simply mix equal parts (by weight) self-rising flour and heavy cream; scoop biscuits onto a baking sheet, and bake until golden and tender-yet-slightly-crisp. Oh, oh, OH so good! Ultra-tender, super-rich, they're the fastest/easiest biscuits you'll ever bake. And there are lots of ways to take them from simple to sublime — find our favorite variations, from sweet shortcakes to herb biscuits, in "tips," below.
Ingredients
1 1/2 cups King Arthur Unbleached Self-Rising Flour
3/4 cup heavy or whipping cream*
1/8 to 1/4 teaspoon salt, optional; for a saltier biscuit
*If the dough doesn't come together readily, dribble in an additional 1 to 2 tablespoons cream, to make it totally cohesive.
Instructions
Preheat the oven to 450°F, with a rack in the top third.

Mix the flour and cream until smooth and cohesive.

Scoop 1-ounce balls of dough onto an ungreased or parchment-lined baking sheet; a tablespoon cookie scoop works well here. Leave a couple of inches between them. Not into scooping? Pat the dough 3/4" thick and cut biscuits with a cutter instead, if desired.

Brush the tops of the biscuits with cream, milk, or water; this will help them rise.

Bake the biscuits for 10 minutes, or until they're light golden brown on top. Break one open — it should be baked all the way through.

Remove the biscuits from the oven, and serve warm, or at room temperature. Store, well-wrapped, at room temperature for several days; freeze for longer storage.
Nutrition Information
Serving Size

28g

Servings Per Batch

1 biscuit
Amount Per Serving:
Calories

98

Calories from Fat

45

Total Fat

5g

Saturated Fat

3g

Trans Fat

0g

Cholesterol

19mg
Sodium

184mg

Total Carbohydrate

12g

Dietary Fiber

0g

Sugars

0g

Protein

1g
* The nutrition information provided for this recipe is determined by the ESHA Genesis R&D software program. Substituting any ingredients may change the posted nutrition information.
Tips from our bakers
These biscuits are a blank palette, just waiting for you to stir your favorite additions into the dough.
To make Self-Rising Cream Shortcakes: Add 2 tablespoons sugar and 1 tablespoon vanilla.
To make Never-Fail Biscuits with Herbs: Add 3 tablespoons fresh herbs.
To make Easy Bacon-Cheddar-Chive Biscuits: Add 1/2 cup chopped cooked bacon, 3/4 cup chopped sharp cheese, and 3 teaspoons snipped chives.
To make Easy Pumpkin Pie Spice Biscuits: Add 2 tablespoons sugar and 1 1/2 teaspoons pumpkin pie spice.
To make Easy Sausage and Apple Breakfast Biscuits: Add 3/4 cup each cooked, crumbled sausage and peeled, cored, diced apple; plus 1 teaspoon cinnamon.
For larger biscuits, simply scoop the dough into 1 1/2-ounce balls, to make 8 biscuits; or 2-ounce balls, to make 6. Bake the larger biscuits a minute or so longer, or until they're baked all the way through.
This recipe is ridiculously easy to scale up (or down). Simply use equal amounts of flour and heavy cream, by weight; each biscuit uses about 1 ounce of dough. So if you use, say, 4 ounces of flour and 4 ounces of cream, you'll make 8 biscuits. Or 12 ounces (3 cups) of flour, 12 ounces (1 1/2 cups) of cream — 24 biscuits.
Feel free to stir the additions of your choice into the dough. Berries, cheese cubes, crumbled bacon or diced ham, chopped scallions, chocolate chips, dried fruit... use your imagination!
To make now, serve later, place shaped/unbaked biscuits close together on a small baking sheet; place the sheet in the freezer, and freeze until solid. Transfer the biscuits to an airtight container (plastic bag, etc.) When you're ready to serve, there's no need to thaw the biscuits; remove them from the freezer and bake as directed above, adding a few minutes to the baking time.
Reviews
Mine just fall apart. They taste good, but they just break apart into chunks. Even when they are cool - just had one for breakfast and used a steak knife to slice so I wouldn't have chunks. I'm pretty exact - I tap the flour into measuring cups to be sure there are no air holes, scrape it across the top with the flat side of a knife, etc. I 'm probably using 1-2 extra tbsp of cream. I start off mixing the dough with a fork but then just use my hands. Maybe I'm working the dough too much?, or?

Hi Peggy, the tapping technique you describe when measuring flour is likely the cause of the crumbly texture. When you tap the measuring cup, it compacts the flour into the cup and you end up using too much in the dough. This makes for dry, crumbly biscuits. Instead, we recommend using the flour measuring technique that's illustrated in our "Measuring Standards," link to the right of the ingredients header. It's a gentle fluff, sprinkle, sweep method that will ensure your cups of flour are light (about 4 1/4 ounces per cup). This should give your biscuit the texture you're looking for. Kye@KAF
It's true! Only two ingredients, and I did happen to have some heavy cream in the fridge. I put these together in about 5 minutes while dinner was warming. I didn't make drop biscuits, I patted them out and used a large biscuit cutter. 10 minutes in the oven and they were meltingly perfect! They really did melt in my mouth! My husband loves my cooking and always asks me to "save" a really good recipe...he asked me to definitely save this one!!
Oh my goodness, these are perfection! I made 1/2 as regular biscuits, then the other half of the dough I did the pumpkin spice variety. For the pumpkin spice, I added some of the sugar/spice to the mixture, and also rolled the biscuit in it before baking. Can something be too good?? I wanted to eat the whole batch! I plan to make a whole batch of each variety and freeze unbaked. I love all the variations you have listed and will be trying some of the others, as well.
These tasted, to us, like mushrooms. All of our cooking equipment was clean, the ingredients (including the KA self-rising flour) were used without issue on another recipe after this one etc. I don't know if it's because we were expecting a typical biscuit (we usually make buttermilk biscuits from scratch) or what exactly but these just tasted 'off' to us. The texture was also very crumbly. When we tried to spread butter onto them, they fell into tiny pieces - both while fresh from the oven and after they had cooled. In the end, we threw them away. I really wanted to like this recipe for it's ease, but it just didn't work for my family. I'll leave you to decide if it's worth trying a small batch to see if they'll work for yours.

We're genuinely surprised to hear about the flavor you detected, and we're wondering if there's a possibility that the cream had gone bad or the flour was rancid. Often times "off" tastes can be attributed to ingredients that are past their prime. As for the texture, these biscuits are more crumbly than the traditional version. They become more sturdy once they're cool, but using slightly softened or warm butter for spreading can make the process of buttering them up easier. We hope your future biscuit baking experiences are more pleasant. Kye@KAF
For some reason I have never been able to make good biscuits, UNTIL NOW! This is the simplest and the BEST biscuit recipe! I did not have KA self-rising flour, and was not about to go out and get some since I was in my PJ's, so I used the Allrecipies' way of making my own self-rising flour. I did cut the recipe in half, and, I am ashamed to say, I ate them all (7) --- they were that good! I will definitely be making these again, and will certainly pass it on to my friends if they are looking for a great biscuit recipe. Thanks KA.
I have not made theses yet but they sound wonderful. My daughter has severe milk allergy. Could I use almond, cashew or oat milk instead of the cream. There is a coconut milk coffee creamer that might work. Any suggestions? Thanks

We've found that canned coconut milk does make nice dairy-free biscuits, but you might need to add a few tablespoons of additional flour to help the dough come together. You can also use a plain, non-dairy creamer for a richer biscuit. Happy baking! Kye@KAF
Dear King Arthur Flour, You all knocked it out of the park with this biscuit recipe. Mine came out delicious. I put a little sweet cream button on the top. The tops, sides & bottoms came out flaky and browned beautifully; while the inside was moist and soft. I shaped mine a little bigger for breakfast sandwiches and had to bake them a little longer; but they were still perfect. I posted a "Tried it" on Pinterest. I have already recommended it to my sister and girl friend. Your Self-Rising Flour worked like a champ! Thank you so much. Mary Margaret
One more update for this wonderful recipe. Using the tip from the bakers, I used this recipe to make the cream shortcakes. I added chopped, dried cranberries to the flour, and wanted to put orange zest in as well, but was out of oranges and orange oil. Then I remembered the Fiori di Sicilia. It is a flavor combination of citrus and vanilla. So I skipped the vanilla in the recipe, and just doubled the amount of Fiori di Sicilia. The smell and taste was heavenly!
This is an update from my earlier review. I wanted to try the cream shortcakes that are listed in the Tips From Our Bakers section of this recipe. I added the sugar to the flour, along with Peach Jammy Bits and chopped pecans. I cut the recommended amount of vanilla in half, and added it with the cream. I patted the shortcakes (or scones, or whatever), and cut them out with a biscuit cutter. I brushed them with cream, and sprinkled Sparkling White Sugar on top. Nirvana!!!
Made these biscuits for the first time yesterday in preparation for our son's visit. I added Cabot's Seriously Sharp Cheddar (shredded), and fresh chives from the garden. I patted out the dough and used a biscuit cutter. I brushed the tops with cream and put a couple in the oven to test drive. They came out exactly perfect, a little crispy on the outside, soft and fluffy on the inside and oh so yummy. Of course I gilded the lily and added some butter to the biscuit when I cut it open. I froze all the rest of the biscuits on a baking sheet, and then once they were hard, I put them down in a Food Saver bag and sealed them for longer storage. I will be making these again.