A customized print-friendly version of this recipe is available by clicking the "Print Recipe" button on this page.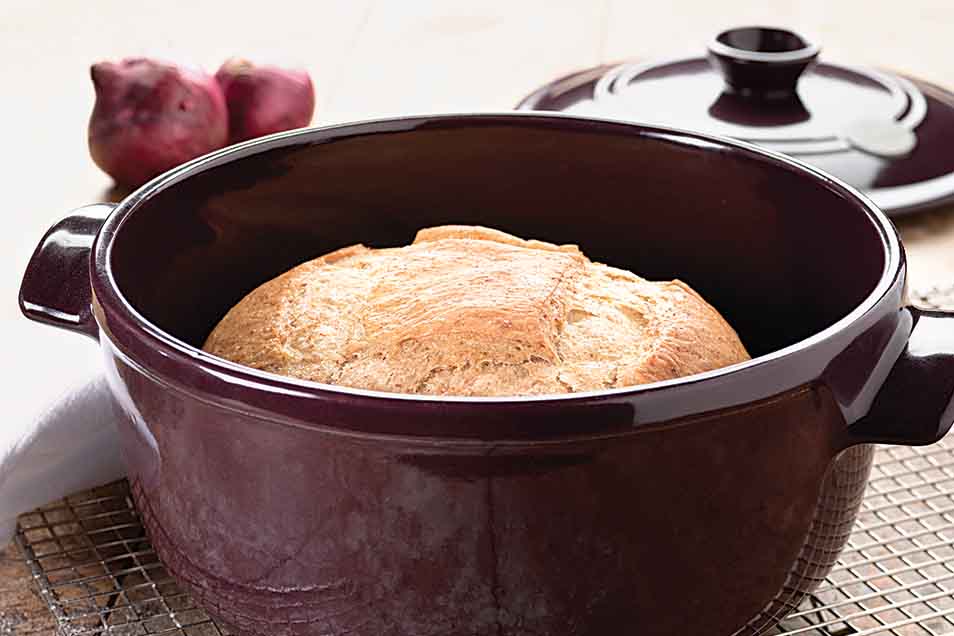 This bread's texture and flavor are enhanced by whole wheat and flax flours, plus a long, slow rise.
Instructions
Stir together all of the ingredients (or use a stand mixer) to make a sticky dough. Continue to work the dough enough to incorporate all the flour, or beat for several minutes in a stand mixer.

Cover the bowl with plastic wrap, and let it rest at room temperature overnight, or for at least 8 hours; it'll become bubbly and rise quite a bit, so be sure your bowl is large enough.

Turn the dough out onto a lightly floured surface. To make a single loaf, choose a 14" to 15" long lidded stoneware baker; a 9" x 12" oval deep casserole dish with cover; or a 9" to 10" round, 4" deep lidded baking crock. To make 2 loaves, lightly grease (or line with parchment) a large baking sheet.

Shape the dough to fit, and place it in the lightly greased pan of your choice, smooth side up. For two loaves, divide dough in half, shape each into an oval loaf, and place on the prepared baking sheet.

Cover and let rise at room temperature for about 1 hour, until dough has become puffy and fills the pan about 1/2 full.

Slash the loaf in a cross-hatch pattern or 3 diagonal slashes just before placing into the oven.

If baking in a lidded crock or pan, place into a cold oven. Set the oven temperature to 450°F.

Bake the bread for 45 to 50 minutes, then remove the lid and continue to bake for another 5 to 15 minutes, until the bread is deep brown, and an instant-read thermometer inserted into the center registers about 205°F.

To bake on a baking sheet, preheat the oven to 400°F, and bake for about 25 to 30 minutes, until bread is deep brown. Remove the bread from the oven, turn it out onto a rack, and cool before slicing.

Yield: 1 large or 2 smaller loaves.
Reviews
The texture is perfect. Soft on the inside with a nice crusty crust. There isn't a better bread to go along with some nice homemade apple butter. I'm not sure what the typical shape is for this loaf when cooked in a Dutch oven but my second proof went wide in the pot instead of higher. I ended up with bread that was maybe 3 1/2 inches high in the center. It resembled a frisbee or UFO. It may have looked strange but it's absolutely delicious. I will be making this again for sure.
I regularly make no knead bread with KAF bread flour, KAF white whole wheat, pumpkin and sunflower seeds, a little salt and some honey. I also use sour cream and water for the moisture. But I wanted a white sandwich bread this time. Followed directions and baked in a loaf pan. The dough barely rose, the resulting loaf being barely 2 inches tall and way too salty. Will try another white bread recipe next time.

We're sorry to hear that this well-loved recipe didn't do the trick for you, Lucy. If we can help pick out a recipe that better fits your tastes, please give our Baker's Hotline a call at 855-371-BAKE. Kindly, Annabelle@KAF
I baked a similar loaf with only all-purpose flour and wanted to add some whole wheat so I looked at this recipe for the proportions. Here are my comments with the experience of working with another recipe: 1) You do not need more flour--expect a very ragged blob 2) Let it rise(covered) in mixing bowl 3) Scrape dough onto floured surface and let rest, covered for 1 hour 4) After 30 minutes, put your oven-proof baking vessel without the lid into oven to preheat 5) Use a smaller baking vessel (I used a 7 inch oven-proof glass pot and probably could use a smaller one.) 6) Remove preheated vessel and quickly but gently pick up your dough blob with floured hands and drop it in 7) Replace lid and bake covered for 45 minutes, uncovered for 15 minutes. Using a glass pot, this bread will NOT stick at all. I think the trick to not sticking is dumping it in that very hot pot or crock. I don't call myself an expert, but I was sad to see so many people struggle with this recipe when a few changes could make all the difference.
For those of you who say your dough is wet and sticky I'd recommend adding more flour (about a TBL at a time until the dough starts to come together. It should still stick to the bottom but pull away from the sides. The dough will be tacky at this point but not wet and definitely manageable for your proofing. Great recipe!
prepared this yesterday....dough was very soft and wet. did use the grams conversion measurements for it. this morning did find the dough still very wet and sticky... would not hold the slash marks if i had try to make them. final baked loaf is short.. used a 4.5 qt. lodge oven to bake it. would could i do to improve this? thanks...

Susan, it sounds like your dough was just a little too wet. It should be tacky like tape, but not sticky like glue. Try using less water to start next time around, and increase as needed. Bryanna@KAF
Followed the recipe, but used weight instead volume, using the KAF conversion chart. This was more like a batter than a dough. Like the other user, had to pry it out of the dutch oven, even though oiled. I love the flavor and texture, but I have had cakes rise higher.

We are sorry to hear you had trouble with this recipe. There may have been a slight error when making the conversions using our chart, so instead simply press the button that says "ounces" or "grams" underneath the ingredients header to be sure you are using the right amount. Try adding a light, even coating of semolina flour or cornmeal on the bottom of your Dutch oven (on top of the layer of oil) before putting in the dough to prevent sticking. I hope this helps! Kye@KAF
Big gooey mess as I plopped the mixture in the bowl for its overnight rise. A bigger gooey blob the next day. A bit of flour on the counter and on top of the blob and I was able to form a nice flat round. Let it rise for 1 1/2 hours in a WELL oiled baking pot (also used parch. paper, but didn't really need it since while the loaf baked it pulled away from the sides and came out of my copper cooking pot---a small Dutch oven size w/lid) very easily. Next time I will add more fresh rosemary, herbs, garlic, etc. This recipe is easy and the loaf turns out crusty and as I expected---perfect for serving with hot soups.
This would have been great except I could not get the baked loaf our of my dutch oven in one piece. The bottom was completely fused to the pan. I had to tear most of the loaf away & then chisel out the bottom crust. The part that I pulled away was great. I thought I followed the instructions & greased the pan before putting dough in it for the second rise. Any idea where I went wrong? b

Sorry this happened, it sounds as though maybe there wasn't enough oil or the dutch oven was on too low of a rack. Please feel invited to call our Baker's Hotline at 855-371-2253 so we can help you troubleshoot further. Bryanna@KAF
I didn't really have the proper baking vessel for this and thus did it in a too-large stainless steel dutch oven. I was surprised at how perfect it came out regardless; the loaf was broad and flat, but had a fantastic crust and was delightfully moist inside. I've never made a no-knead recipe before but I'll be making this again, based on how fabulous a result I got for so little effort.
Very Moist. I let rise at room temp for 8 hrs then refrigerated for two days. It made two loaves which I baked in cast iron skillets.