A customized print-friendly version of this recipe is available by clicking the "Print Recipe" button on this page.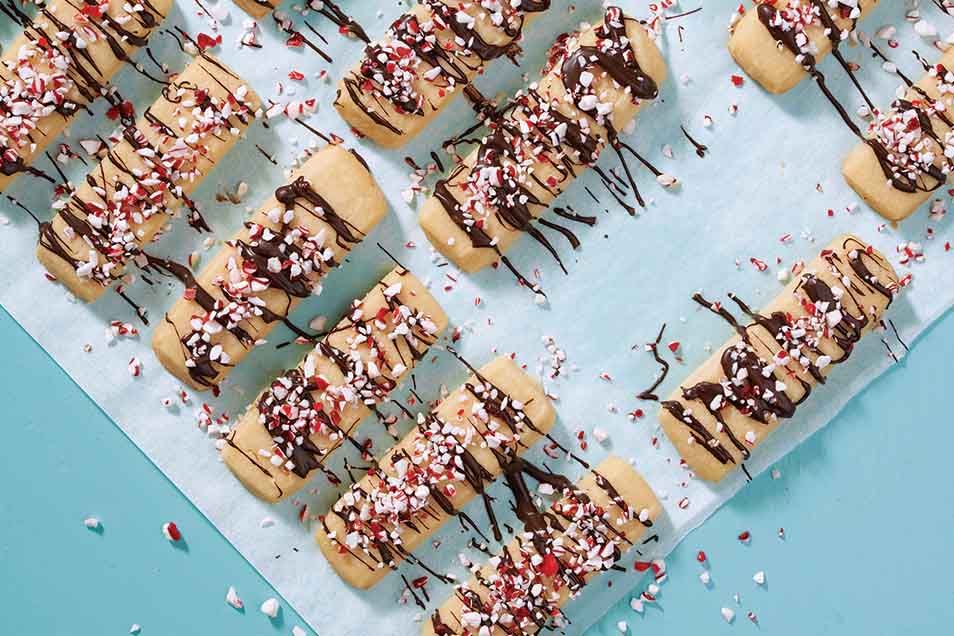 A quintessential Christmas cookie: colorful, fun to eat, and bedecked with chocolate and peppermint.
Ingredients
Glaze
3/4 cup chocolate chips
1 tablespoon unsalted butter
1 tablespoon corn syrup
Topping
1/2 cup peppermint crunch or crushed peppermint candies or candy canes
Instructions
To make the dough: In a medium bowl, beat together the sugar, butter, salt, and vanilla. Add the flour, stirring to make a cohesive dough.

Pat the dough out on a piece of wax paper or parchment to a rectangle 9" long by 6" wide. Cover with plastic, and chill on a flat surface for 1 hour.

Preheat the oven to 350°F. Lightly grease a baking sheet, or line with parchment.

Transfer the dough to a lightly floured surface and, trim the edges so they're straight. Divide the rectangle in half lengthwise to make two 9" x 3" strips of dough. Cut each strip of dough into 3/4" x 3" slices. Place the slices on the prepared baking sheet.

Bake the sticks for 12 to 15 minutes, until they feel firm when pressed. Remove them from the oven and transfer to a rack to cool.

To make the glaze: Melt chocolate and butter together, stirring constantly. Stir in the corn syrup.

Drizzle the glaze over the cooled cookies and sprinkle with peppermint crunch. Place on a rack to allow the glaze to set.
Nutrition Information
Serving Size

1 cookie, 32g

Servings Per Batch

24 servings
Amount Per Serving:
Calories

154

Calories from Fat

72

Total Fat

8

Saturated Fat

5g

Trans Fat

0g

Cholesterol

17mg
Sodium

51mg

Total Carbohydrate

20g

Dietary Fiber

1g

Sugars

13g

Protein

1g
* The nutrition information provided for this recipe is determined by the ESHA Genesis R&D software program. Substituting any ingredients may change the posted nutrition information.
Tips from our bakers
A pizza wheel and a ruler can be helpful for cutting uniform strips. Lightly dust the top of the dough with flour before using these tools, to keep them from sticking to the dough and picking it up when you use the ruler.
If your chocolate is not cooperating with 1 tablespoon each of corn syrup and butter (some bakers have told us it has been grainy) add one more tablespoon of corn syrup to smooth it out.
Reviews
These cookies are addictive! I agree with other reviewers about the dough being too solid to roll out after chilling. I had to work with it for a while, but eventually it was okay. My chocolate came together nicely (I used Ghirardelli Bittersweet chocolate chips), but also found it too thick to drizzle. My solution was to use a fork to poke holes in the bottom of a plastic bag, then spoon the chocolate into the bag and squeeze lines of chocolate back and forth across rows of cookies. It was fast, easy and less frustrating! I opted to use Christmas sprinkles in place of peppermint (we don't care for it) and the cookies were still very pretty and delicious!
This is a tasty cookie, but it was difficult to get the chocolate right, even with the extra butter and corn syrup. I could never get it to a "drizzle " consistency. I did eventually frost the cookies with it and that worked ok, but of course being tender shortbread one or two broke in the process. I also found I couldn't use a regular hand mixer (I don't have a stand mixer) to make the shortbread. My food processor was perfect though. I pressed the dough into a 9 X 9 pan, but did make the 9X6 shape. This worked well for shaping the cookies with 3 very nice edges and 1 shaped edge. Agree with using ruler and pizza cutter. If I were to make them again, I might consider chocolate frosting up front rather than the chocolate drizzle. I am bringing my cookies to a swap today, and for presentation I put them in red mini baking cups with two ends flattened out to make a taco shape. They do look nice.

Hi Havaleh! Thank you for taking the time to review this recipe. We're happy that in the end, your cookies turned out well! Chocolate can be a finicky thing, you want to melt it slowly over low heat or it becomes hard to work with if it's overheated. If you make these again and are looking for more of a thinner glaze, you might want to check out our Chocolate Water Glaze recipe. Great idea to make the dough in your food processor when the hand mixer wasn't working out for you! Happy baking! Morgan@KAF
My new favorite cookie. I doubled the recipe because a batch of 24 cookies just wasn't enough. It was as the end of a marathon family cookie baking day so I only chilled it about an hour. I used Guittard Onyx bittersweet chocolate and had no problems except having a lot of extra chocolate mix leftover.
I picked up Sift magazine specifically for this recipe and ended up extremely disappointed. The dough was impossible to roll out immediately after chilling, but once I let the dough warm up for about an hour they rolled out fine and baked up very well. However, I have finally thrown up my hands in defeat with the glaze, after trying it seven (!) times. I am not a complete novice when it comes to working with chocolate so I know how to troubleshoot, but it seized up or became grainy every single time despite everything I tried. I guess I'm glad to know I'm not the only one who has had trouble with the glaze. Very frustrating.

We're sorry that you had such trouble with this recipe. Based on your feedback and that of other bakers, we have made a few adjustments, including recommending patting the dough into shape before chilling and cutting the chilling time down to just 1 hour. We've also added a tip suggesting adding additional corn syrup if your glaze doesn't come together smoothly. We hope that these tweaks will help to make for many happier bakes. Mollie@KAF
Please consider re-writing the recipe for the glaze on these cookies. I carefully read the previous reviews and your employee's comments about not using a high quality chocolate chip, so I used Nestle. Like the other reviewers, my glaze never came together. I also tried adding an extra tablespoon of butter. Epic fail.

Meg, thank you for taking the time to share your feedback with us. While we're disappointed to hear that you had such a poor experience, your feedback did help prompt us to take this recipe back to the Test Kitchen. We've made a few adjustments to the recipe as a result, including adding a tip about incorporating additional corn syrup into the glaze if your chocolate isn't cooperating as we would hope. We've found that this can help to smooth out even the most temperamental of chocolate mixtures and hope that it will lead to a more positive overall experience with this recipe. Mollie@KAF
I had the exact same problem as other reviewers did. I let my dough sit in the fridge over night and it too was rock solid when I pulled it out. To speed up the thawing process I turned my oven on its warm setting and tossed the dough in it for a good 15 mins. Once it was soft enough on the outside I worked the dough a little with my hands till it was maluable enough to roll out. Had the same problem with my glaze also!! Wouldn't melt AT ALL. Tried the microwave and the stove. Trick is to ADD MILK. Just a few splashes and it came out perfect! Over all good recipe. Just bad directions!
As another reviewer mentioned, I had to let the dough sit at room temp a little while in order to roll it out. And, I also had drizzle the consistency of frosting. I did weigh all ingredients. I cut them with a shortbread cutter for uniformity and once the peppermint chips were on the icing, they looked fine. I was happy to read the helpful hint about using more corn syrup in the chocolate since I do plan to make these again in a couple of days. They were delicious and a big hit at a bake sale where their color made a nice addition.
I was so excited to see this recipe in the Sift magazine! I sadly wasn't able to complete them though. I weighed out all my ingredients, but there was just too much flour and it was too stiff and crumbly to roll out. I was hoping after allowing to chill the dough would magically come together, but of course it didn't. I came on here to see if someone else had success with it, and if I tried them again how I could improve, but it looks like someone else had a similar problem. It makes me not want to purchase the Sift magazine any more, when the recipes don't seem truly tried and tested.

We're sorry to hear that you had such trouble with the dough, Susan. The ratios are very similar to those used in our very well-loved and often baked Shortbread recipe, and we can attest to the fact that they work. Like shortbread, the mixture may seem a little dry at first, but if you keep beating it should come together. If it absolutely won't, then you can try dripping in 1 tsp of water. We'd be happy to offer additional guidance to help make for a better next experience and hope you'll give our Baker's Hotline a call at 855-371-BAKE. Our bakers are here seven days a week and happy to chat! Mollie@KAF
I made this recipe. They taste fine and I will make them again, HOWEVER - after chilling the dough for two hours the disk was hard as a rock and I couldn't roll it out to the recommended size. I had to let the disk sit on a rack for several hours before I was able to manipulate the dough. They baked up just fine. I then went to make the glaze. It never came to a point where it was glaze like where I could drizzle it over the cookies. I even put it in the microwave hoping to have it become runny - no such luck. I ended up "frosting" the cookie sticks with the chocolate and then dipping the frosted cookie into a dish of the peppermint chips. They look just fine. Taste just fine. But I was just not able to have the results that the recipe showed. I have no idea where I went wrong or why things went off the rails like they did.

Alison, it sounds like there might be too much flour in your cookie dough, causing it to be hard and difficult to roll out. Be sure you're either weighing your flour using a scale or lightly fluffing and sprinkling the flour one spoonful at a time into your measuring cup. Also, it sounds like your chocolate seized when you put it back in the microwave. If you used high-quality chocolate chips, they probably didn't contain much lecithin, which actually makes a smoothy, drizzle-able texture. Next time you can try adding another tablespoon of corn syrup or butter to get a balance drizzle. Hope this helps! Kye@KAF