A customized print-friendly version of this recipe is available by clicking the "Print Recipe" button on this page.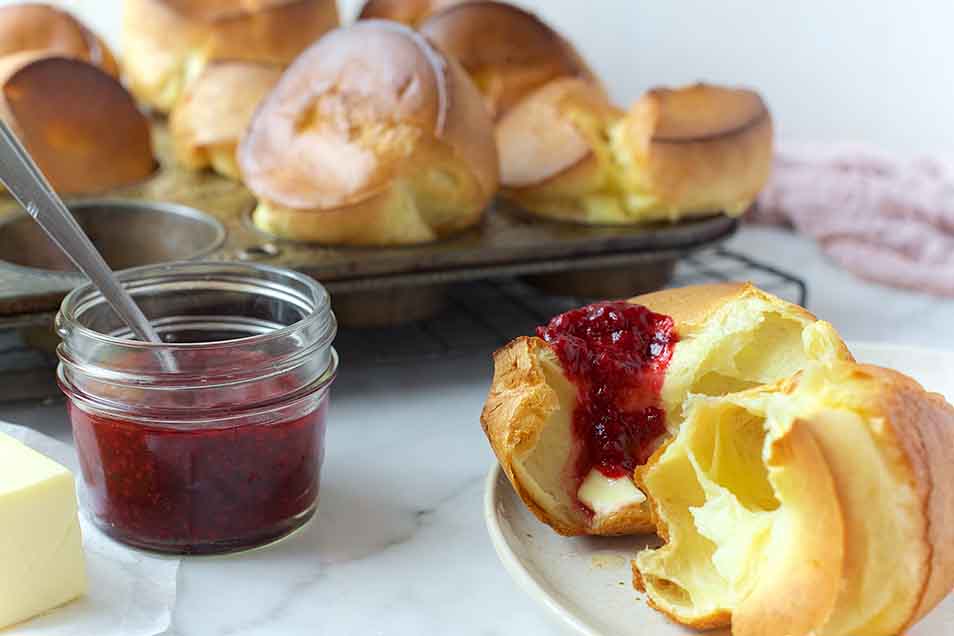 Flour, milk, eggs, salt, and butter: what a simple combination of ingredients for such a sublime treat! These popovers don't require a special pan, nor any unusual mixing method; just blend in a blender; beat thoroughly with an electric mixer; or whisk vigorously by hand, and bake a dozen gorgeous popovers, ready in just about 30 minutes.
Ingredients
4 large eggs, warmed in a cup of hot water for 10 minutes before cracking
1 1/2 cups milk (skim, low-fat, or full-fat), lukewarm
1/2 to 3/4 teaspoon salt*
1 1/2 cups King Arthur Unbleached All-Purpose Flour
3 tablespoons melted butter
*See "tips," below.
Instructions
Preheat the oven to 450°F. Position a rack on a lower shelf. The top of the fully risen popovers should be about midway up the oven. What you don't want is for the tops of the popping popovers to be too close to the top of the oven, as they'll burn.

Use a standard 12-cup metal muffin tin, one whose cups are close to 2 1/2" wide x 1 1/2" deep. (Want to use a popover pan? See "tips," below.) Grease the pan thoroughly, covering the area between the cups as well as the cups themselves. Make sure the oven is up to temperature before you begin to make the popover batter.

Use a wire whisk to beat together the eggs, milk, and salt. Whisk till the egg and milk are well combined, with no streaks of yolk showing.

Add the flour all at once, and beat with a wire whisk till frothy; there shouldn't be any large lumps in the batter, but smaller lumps are OK. OR, if you're using a stand mixer equipped with the whisk attachment, whisk at high speed for 20 seconds. Stop, scrape the sides of the bowl, and whisk for an additional 20 to 30 seconds at high speed, till frothy.

Stir in the melted butter, combining quickly.

Pour the batter into the muffin cups, filling them about 2/3 to 3/4 full.

Make absolutely certain your oven is at 450°F. Place the pan on a lower shelf of the oven .

Bake the popovers for 20 minutes without opening the oven door. Reduce the heat to 350°F (again without opening the door), and bake for an additional 10 to 15 minutes, until they're a deep, golden brown. If the popovers seem to be browning too quickly, position an oven rack at the very top of the oven, and put a cookie sheet on it, to shield the popovers' tops from direct heat.

If you plan on serving the popovers immediately, remove them from the oven, and stick the tip of a knife into the top of each, to release steam and help prevent sogginess. Slip them out of the pan, and serve.

If you want the popovers to hold their shape longer without deflating and settling quite as much, bake them for an additional 5 minutes (for a total of 40 minutes) IF you can do so without them becoming too dark. This will make them a bit sturdier, and able to hold their "popped" shape a bit longer.
Nutrition Information
Serving Size

1 medium (64g)

Servings Per Batch

12
Amount Per Serving:
Calories

110

Calories from Fat

45

Total Fat

5g

Saturated Fat

2.5g

Trans Fat

0g

Cholesterol

70mg
Sodium

135mg

Total Carbohydrate

12g

Dietary Fiber

og

Sugars

2g

Protein

5g
* The nutrition information provided for this recipe is determined by the ESHA Genesis R&D software program. Substituting any ingredients may change the posted nutrition information.
Tips from our bakers
The lesser amount of salt listed will produce popovers that are quite bland; if your diet can support it, the greater amount of salt will produce more flavorful popovers.
Want to make the batter in a blender? Go for it. Blend eggs, milk, and salt; add flour, blending until smooth; then add the melted butter at the end, blending until frothy.
Using a popover pan, this recipe will make six standard popovers; or 18 minis. The minis need to bake about 10 minutes less than indicated; the standard popovers, about 5 minutes more.
For cheese popovers, add 1/4 cup (1 ounce) Vermont Cheese Powder to the batter along with the flour. For herbed popovers, stir 1 1/2 teaspoons of Pizza Seasoning, or your favorite dried herbs, into the batter along with the flour.
Serve with honey butter or maple butter: 4 ounces (8 tablespoons) softened butter mixed with 1/8 teaspoon salt and 2 to 3 tablespoons honey or maple syrup. Or, serve with cheese butter: 4 ounces (8 tablespoons) softened butter mixed with 2 tablespoons (1/2 ounce) Vermont Cheese Powder.
Reviews
This is the third time I've tried this recipe, and the same result; partially risen popovers, but not the result I was looking for. And I did everything per the instructions: warmed the eggs, warmed the milk, whisked to a froth, etc. They seem to rise around the edges, but not in the center. Taste fine, but look funny. This recipe does not call for preheating the tin ( I used a popover pan ), but many do; would this help? Would overbeating the mix be a possible cause. Popovers are my nemesis...any help is appreciated!\

Hi Tom! It sounds like the oven isn't hot enough (it might be lying, but an oven thermometer will determine that for sure) or that there's too much flour.

To ensure you're using the right amount, we recommend checking out the "Recipe Success Guide," link next to the ingredients header above. You'll see that either measuring your flour by weight using a scale, or fluffing and sprinkling the flour into your measuring cup are the most accurate ways to measure flour.

Popovers are my very favorite food in the world and I've always followed my mom's method: whisk everything together and bake. That's it. It might be worth going back to the basics! Check your oven's temperature, avoid any extra flour, and see if simplicity in technique does the trick. Annabelle@KAF
This recipe is NOT exactly like the one in the KA book that I used for years...with a KA popover pan (12). With that recipe it called for 3 eggs and it made 12 popovers and I LOVED. I gave away my KA popover pan now that I am not cooking for an army...and thought perhaps I could use a large 6 well muffin pan. 2 times...my results are no where near what they are with a popover pan. Still edible but dense and not like the ones I have made for decades...not really something I'd serve to others. I realize this recipe has 4 eggs compared to the 3 for the book recipe. I weighed the flour and used a higher protein flour and large eggs. IS it possible to make LARGER sized popovers AND get a good result?? I am thinking the issue is volume...and temperature of oven. Suggestions?? I'm gonna give it another try or two before I give up on popovers and relegate that to something I USED to make but can't now in my tiny kitchen. (IF I had the room for a dedicated popover pan...but senior apartments have very sparse storage. I need to only keep things that can be used in multiple ways and in small storage spaces).

Hi there, Tanya! We'd love to help out with this. It sounds like the higher protein content of the flour was the culprit here. The higher protein content will cause the flour to absorb more liquid, which accounts for the denseness you experienced. We'd suggest either using the All-Purpose Flour called for in the recipe or if you use the higher-protein flour, you'll want to increase the liquid by about 2 teaspoons per cup (4.25 ounces) of the flour you use. We hope this helps and happy baking! Morgan@KAF
I've been making these for about a year now and they're always a hit - with me, and others! Thank you for sharing :)
Again they did not rise! I must be doing something wrong

We want to help, Erica! Please give our Baker's Hotline a call at 855-371-BAKE (2253). Kindly, Annabelle@KAF
I've used King Arthur flour for many years so decided to try this recipe for holiday popovers. They turned out great! The only thing not clear was that my popover pan must be smaller than typical because I got a dozen out of the recipe and the tip was correct that cooking time was about 5 minutes less. Warming the eggs beforehand and using lukewarm milk made the batter nice and smooth.
I made these popovers for Christmas dinner along with my prime rib. They are excellent. I have a Nordic Ware popover pan and this recipe and that pan resulted in six beautiful popovers. They were so good. Next time I'm going to try adding things like Rosemary.
My first time making popovers. I bought the special tins. They turned out fantastic!! And SO SO easy to make. I'll make again.. that's for sure!! I highly recommend this recipe! I made for Xmas dinner to go with my prime rib!
With less than a teaspoon of salt divided over a dozen popovers the amount of sodium is negligible . Definitely needs the salt.
Best popover recipe I have ever used, and I have tried many.
First time making popovers. So yummy. I just preheated my pan and added melted butter to bottom of tin before adding batter so popovers came out really easily.