A customized print-friendly version of this recipe is available by clicking the "Print Recipe" button on this page.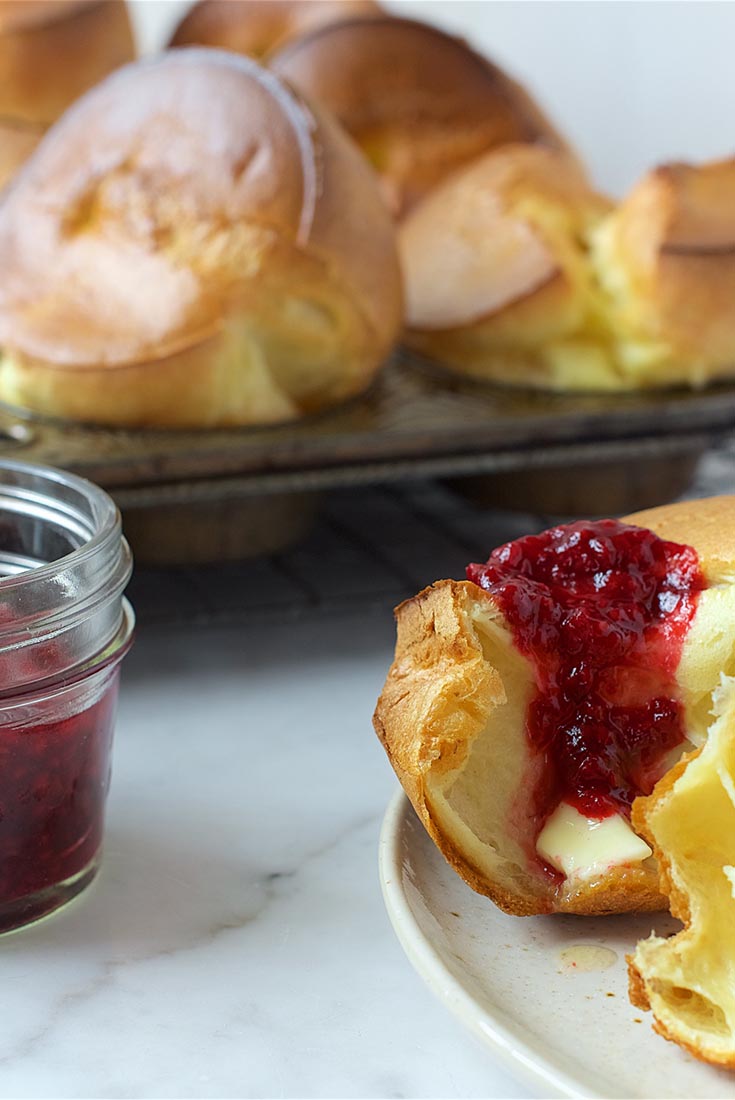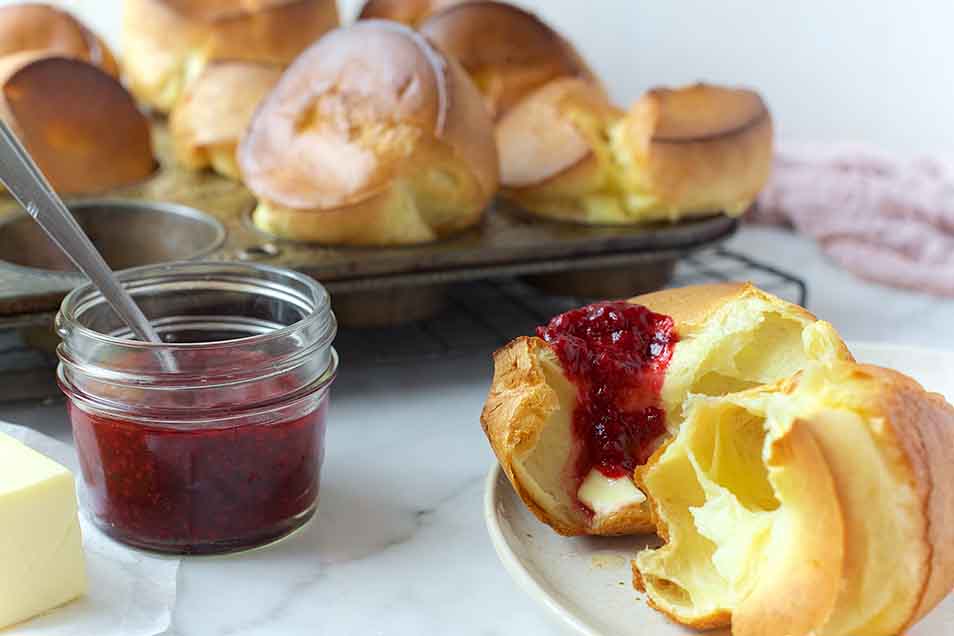 Flour, milk, eggs, salt, and butter: what a simple combination of ingredients for such a sublime treat! These popovers don't require a special pan, nor any unusual mixing method; just blend in a blender; beat thoroughly with an electric mixer; or whisk vigorously by hand, and bake a dozen gorgeous popovers, ready in just about 30 minutes.
Ingredients
4 large eggs, warmed in a cup of hot water for 10 minutes before cracking
1 1/2 cups milk (skim, low-fat, or full-fat), lukewarm
1/2 teaspoon salt
1 1/2 cups King Arthur Unbleached All-Purpose Flour
3 tablespoons melted butter
Instructions
Preheat the oven to 450°F. Position a rack on a lower shelf. The top of the fully risen popovers should be about midway up the oven. What you don't want is for the tops of the popping popovers to be too close to the top of the oven, as they'll burn.

Use a standard 12-cup metal muffin tin, one whose cups are close to 2 1/2" wide x 1 1/2" deep. Grease the pan thoroughly, covering the area between the cups as well as the cups themselves. Make sure the oven is up to temperature before you begin to make the popover batter.

Use a wire whisk to beat together the eggs, milk, and salt. Whisk till the egg and milk are well combined, with no streaks of yolk showing.

Add the flour all at once, and beat with a wire whisk till frothy; there shouldn't be any large lumps in the batter, but smaller lumps are OK. OR, if you're using a stand mixer equipped with the whisk attachment, whisk at high speed for 20 seconds. Stop, scrape the sides of the bowl, and whisk for an additional 20 to 30 seconds at high speed, till frothy.

Stir in the melted butter, combining quickly.

Pour the batter into the muffin cups, filling them about 2/3 to 3/4 full.

Make absolutely certain your oven is at 450°F. Place the pan on a lower shelf of the oven .

Bake the popovers for 20 minutes without opening the oven door. Reduce the heat to 350°F (again without opening the door), and bake for an additional 10 to 15 minutes, until they're a deep, golden brown. If the popovers seem to be browning too quickly, position an oven rack at the very top of the oven, and put a cookie sheet on it, to shield the popovers' tops from direct heat.

If you plan on serving the popovers immediately, remove them from the oven, and stick the tip of a knife into the top of each, to release steam and help prevent sogginess. Slip them out of the pan, and serve.

If you want the popovers to hold their shape longer without deflating and settling quite as much, bake them for an additional 5 minutes (for a total of 40 minutes) IF you can do so without them becoming too dark. This will make them a bit sturdier, and able to hold their "popped" shape a bit longer.
Nutrition Information
Serving Size

1 medium (64g)

Servings Per Batch

12
Amount Per Serving:
Calories

110

Calories from Fat

45

Total Fat

5g

Saturated Fat

2.5g

Trans Fat

0g

Cholesterol

70mg
Sodium

135mg

Total Carbohydrate

12g

Dietary Fiber

og

Sugars

2g

Protein

5g
* The nutrition information provided for this recipe is determined by the ESHA Genesis R&D software program. Substituting any ingredients may change the posted nutrition information.
Tips from our bakers
For cheese popovers, add 1/4 cup Vermont Cheese Powder to the batter along with the flour.
For herbed popovers, stir 1 1/2 teaspoons of Pizza Seasoning, or your favorite dried herbs, into the batter along with the flour.
Want to make the batter in a blender? Go for it. Blend eggs, milk, and salt; add flour, blending till smooth; then add the melted butter at the end, blending till frothy.
Serve with honey butter or maple butter: 4 ounces (1 stick) softened butter mixed with 1/8 teaspoon salt and 2 to 3 tablespoons honey or maple syrup.
Or, serve with cheese butter: 4 ounces (1 stick) softened butter mixed with 2 tablespoons Vermont Cheese Powder.
Using a popover pan, this recipe will make six standard popovers; or 18 minis. The minis need to bake about 10 minutes less than indicated; the standard popovers, about 5 minutes more.
Reviews
I've made a couple of different popover recipes and this one yielded the fluffiest popovers! There was a little too much batter for 12 so now I can make a few more tomorrow--woohoo!
Have made these treats twice since Christmas - and today subbed out 5 oz of milk with local eggnog and dusted the batter with nutmeg....a delicious final brunch of 2017!
The method in this recipe is spot on. I made a different recipe and they were very heavy. These were light and hollow like they should be. My question: daughter has a casein allergy. Would this work with almond milk and margarine?

Hi Vicki. We think they would be perfectly using almond milk and margarine. Happy baking! Annabelle@KAF
I made these for breakfast this am. They are like magic! My husband would love it if I made chocolate popovers. What do you recommend?

Ooh that would be a wonderfully decedent breakfast, Carol! Replacing 1/4 cup of the flour with 1/4 cup cocoa powder should do the trick. Happy baking! Annabelle@KAF
This is my second attempt at popovers, first by this recipe and it was a grand success---I measured the ingredients (not having noticed the by weight option until just now) and used a standard muffin pan as suggested---it came out great. Take into consideration that my stove is over 80, has no thermostat and no glass window to the oven, and thus I managed to shut off the flame while trying to lower it to 350, but couldn't immediately tell as I didn't want to open the oven---and it STILL worked. Light, airy, and with a nice flavor. The recipe is simple enough, it goes together with no bother, although I'll have to find something to more neatly and consistently portion the batter into the muffin wells.
The popovers were good but I found the bottom third resembled a muffin in texture. Perhaps I didn't get enoughcair in the batter??

That's one possibility, Bobbie, and another is that you may have run into the common baking pitfall of flour measurement. Too much flour can result in heavier baked goods that struggle to rise (or pop) fully. We recommend using a scale to measure flour (as well as your other ingredients) whenever possible. If you don't have a scale, you'll want to fluff the flour up in its container, sprinkle it into the measuring cup, and level it off in order to achieve the relatively light cup of flour (4.25 oz or 120 grams) our recipes intend. A fully preheated oven is key too, as the high heat is what creates the signature pop. Hope this helps! Mollie@KAF
I've made popover a million times , failed miserably with this recipe, what did I do? I used a cast iron popover pan ans a small cast iron skillet for extra batter, neither rise AT ALL! Both are leaden . I pre heated pans, didn't open oven at all , I am so confused! HELP

We're confused too, E, but we'd love to dive into this deeper and get you back on track to making perfect popovers. Consider giving our Baker's Hotline a call at 855-371-BAKE(2253) so we can help. Kye@KAF
Never fail popovers. Delicious in every way. I do add a half tsp butter in each cup and preheat briefly in oven before adding batter. Love these!
Super easy, and the blog tip about keeping the oven door shut was spot-on (esp since I did the opposite of what the blog said and put it on the top rack of the oven and even placed a cookie sheet beneath the muffin tin...despite that, the popovers came out spectacularly golden brown & puffy with moist, custardy inside). Thanks for this great recipe!
Tried making cheese popovers for the first time as a treat for my wife, her dad used to make them on Christmas mornings before he passed away. Coloring and inside turned out well. The rise from my muffin pan was moderate, I hand whisked so did not get enough air in the mix. I'm using a newer gas range but I like to stick a large pizza stone in the oven to keep the temperature more stable and an accurate oven thermometer doesn't hurt. I'll make these again using a mixer next time. Very easy recipe to execute.