A customized print-friendly version of this recipe is available by clicking the "Print Recipe" button on this page.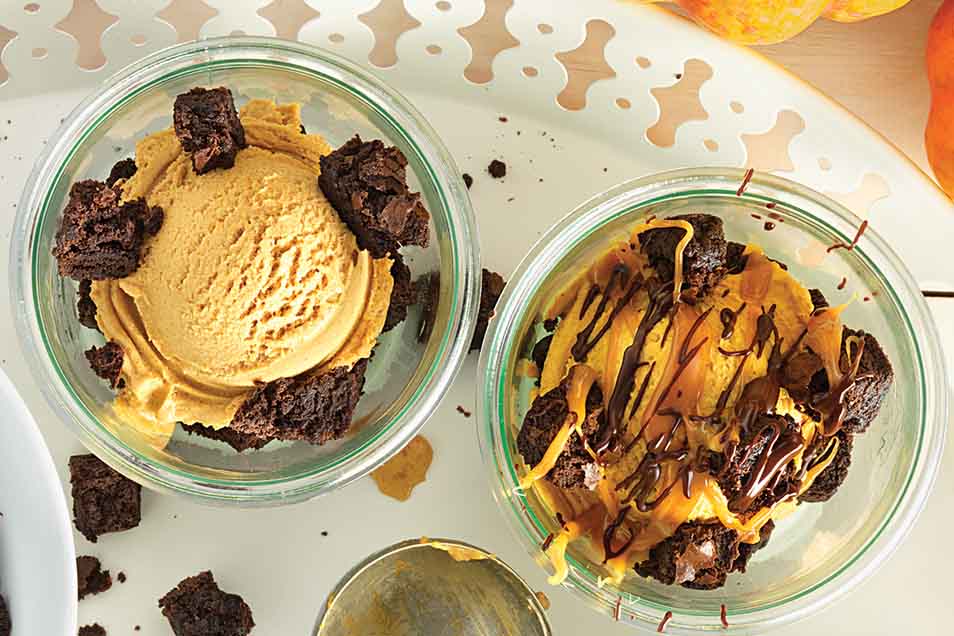 Pumpkin pie meets ice cream in this frozen treat for fall. The rich, creamy custard is accented with real pumpkin as well as our pumpkin pie spice and Vietnamese cinnamon. The only thing that's missing is the crust — but we guarantee you won't miss it when you top a warm brownie with a scoop of this ice cream.
Ingredients
1 cup pumpkin purée
1 cup whole milk
1 1/2 cups heavy cream
1 1/2 teaspoons pumpkin pie spice
1 teaspoon cinnamon
pinch of salt
1 tablespoon vanilla extract
1/4 teaspoon pumpkin flavor, optional; for enhanced flavor
4 large egg yolks
1/2 cup granulated sugar
1/2 cup brown sugar
1/4 teaspoon xanthan gum, optional; for smoother texture
2 tablespoons bourbon, optional; for softer ice cream and added flavor
Instructions
Freeze the work bowl of an ice cream maker according to the manufacturer's instructions.

Combine the pumpkin purée, milk, cream, spices, salt, vanilla, and pumpkin flavor in a saucepan. Set the pan over medium heat, and bring the mixture just to a boil. Remove it from the heat.

Beat together the egg yolks, sugars, and xanthan gum until light and airy.

Pour half the warm pumpkin mixture slowly into the egg yolk mixture, stirring constantly.

Pour the yolk/pumpkin mixture back into the saucepan with the remaining pumpkin mixture. Cook over low heat, stirring with a heatproof spatula, until the custard thickens significantly; it will register between 170°F and 180°F on a digital thermometer.

Remove the pan from the heat, and let the custard cool to room temperature, stirring occasionally to prevent a skin from forming. Refrigerate for at least 2 hours, or overnight.

Transfer the custard to an ice cream maker. Freeze according to the manufacturer's instructions, adding bourbon at the end of the freezing process, if desired.

Serve immediately if you prefer soft, creamy ice cream. For firmer consistency, transfer the ice cream to an airtight container and freeze for about 2 hours.

Yield: about 1 quart.
Tips from our bakers
Adding the bourbon will help keep the ice cream from turning rock-hard in the freezer.