A customized print-friendly version of this recipe is available by clicking the "Print Recipe" button on this page.
Pumpkin Spiced Springerle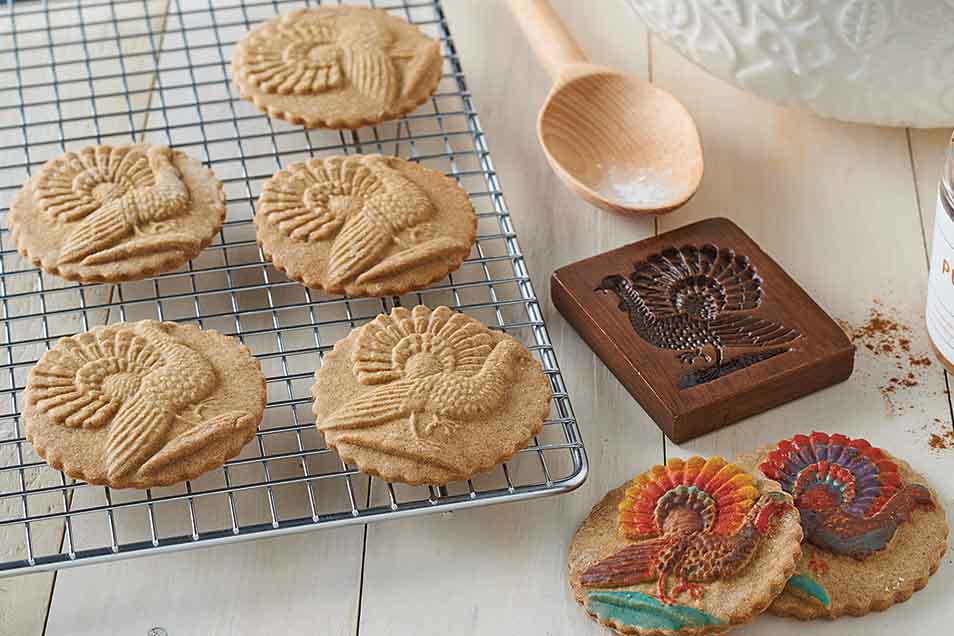 Although springerle cookies often make their grand appearance just once a year, around the holidays, we think this particular variation can be savored throughout the autumn months. Hints of pumpkin are accented by our traditional blend of pumpkin pie spices, and, if you're a chocolate fan, complemented by a smooth coating of rich chocolate glaze. This cookie has autumn tea-time written all over it.
Ingredients
Cookies
1 cup (16 tablespoons) unsalted butter
1/2 cup brown sugar
1/2 cup granulated sugar
1 tablespoon molasses
1/2 teaspoon salt
3 tablespoons pumpkin pie spice
1 large egg
1/4 cup pumpkin purée
1/4 teaspoon pumpkin flavor, optional; for enhanced flavor
1 teaspoon vanilla extract
3 1/2 cups King Arthur Unbleached All-Purpose Flour
Glaze (optional)
1/4 cup (4 tablespoons) unsalted butter, melted
1/4 cup cocoa powder, Dutch-process preferred
1 cup confectioners' sugar
1 teaspoon vanilla extract
2 to 4 tablespoons milk
Instructions
Beat together the butter, sugars, molasses, salt, and pumpkin pie spice until light and creamy.

Beat in the egg, pumpkin purée, pumpkin flavor, and vanilla.

Stir in the flour in three additions, mixing until the dough comes together.

Divide the dough in half, shape both halves into disks, wrap in plastic, and refrigerate for at least 1 hour.

Preheat the oven to 300°F. Grease two baking sheets, or line them with parchment.

Working with one piece at a time, flour your work surface and roll the dough 1/4" thick.

To shape cookies using a springerle mold: Brush a very light coating of flour onto the dough and your springerle mold. Press the mold firmly into the dough, then remove and cut around the design with a knife or a fluted pastry wheel.

To shape cookies using a springerle pin: Use a regular rolling pin to roll each disk of dough into a 1/4"-thick rectangle, roughly the same width as your springerle pin. Use a pastry brush to brush a very light coating of flour onto the dough. Flour your springerle pin, then give it a couple of sharp raps to knock off any excess. Slowly roll the springerle pin over the dough, pressing down hard enough to leave a good impression. Cut the cookies apart on the lines, using a pastry wheel or knife.

Transfer the cookies to the prepared baking sheets.

Freeze the cookies for at least 30 minutes; this helps them retain their shape during baking.

Bake the cookies for 30 minutes, until they're firm and dry looking; rotate the baking sheets halfway through. Remove the springerle from the oven, and cool completely right on the pan.

To make the glaze: Combine all the ingredients, stirring until smooth. Add enough milk to make a thin, pourable glaze.

Dip the unstamped side of each cookie into the glaze; set the springerle on a rack, and let the glaze set until firm.

Yield: 20 to 30 cookies, depending on size.
Tips from our bakers
If you prefer a less sweet, darker chocolate glaze, simply melt 1 cup (6 ounces) good-quality dark chocolate (bittersweet or semisweet) in a microwave or double boiler, then brush or spread it onto the backs of the cooled cookies. For best-looking results, temper the chocolate.
To add a colorful glaze to the tops of your cookies: Prepare our simple cookie glaze, adding enough milk to make it thin enough to brush onto the cookie with a food-safe craft brush. Tint the glaze with gel paste or food coloring, and brush it onto the cookies. Alternatively, spread a layer of colored glaze over a whole cookie, and brush away excess with a pastry brush for a slightly transparent effect.