A customized print-friendly version of this recipe is available by clicking the "Print Recipe" button on this page.
Pumpkin Spiced Springerle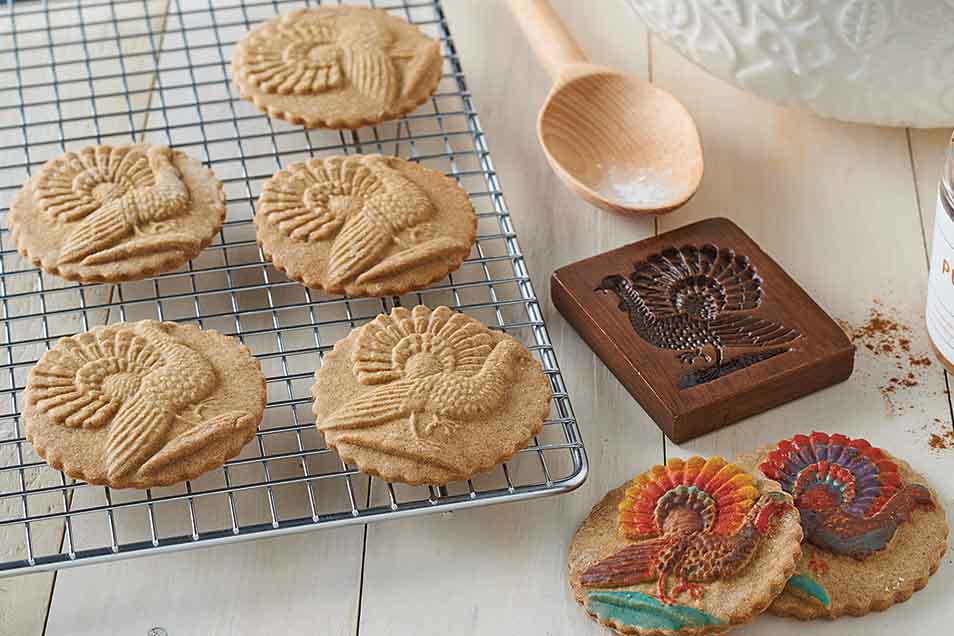 Although springerle cookies often make their grand appearance just once a year, around the holidays, we think this particular variation can be savored throughout the autumn months. Hints of pumpkin are accented by our traditional blend of pumpkin pie spices, and, if you're a chocolate fan, complemented by a smooth coating of rich chocolate glaze. This cookie has autumn tea-time written all over it.
Ingredients
Glaze (optional)
1/4 cup (4 tablespoons) unsalted butter, melted
1/4 cup cocoa powder, Dutch-process preferred
1 cup confectioners' sugar
1 teaspoon vanilla extract
2 to 4 tablespoons milk
Instructions
Beat together the butter, sugars, molasses, salt, and pumpkin pie spice until light and creamy.

Beat in the egg, pumpkin purée, pumpkin flavor, and vanilla.

Stir in the flour in three additions, mixing until the dough comes together.

Divide the dough in half, shape both halves into disks, wrap in plastic, and refrigerate for at least 1 hour.

Preheat the oven to 300°F. Grease two baking sheets, or line them with parchment.

Working with one piece at a time, flour your work surface and roll the dough 1/4" thick.

To shape cookies using a springerle mold: Brush a very light coating of flour onto the dough and your springerle mold. Press the mold firmly into the dough, then remove and cut around the design with a knife or a fluted pastry wheel.

To shape cookies using a springerle pin: Use a regular rolling pin to roll each disk of dough into a 1/4"-thick rectangle, roughly the same width as your springerle pin. Use a pastry brush to brush a very light coating of flour onto the dough. Flour your springerle pin, then give it a couple of sharp raps to knock off any excess. Slowly roll the springerle pin over the dough, pressing down hard enough to leave a good impression. Cut the cookies apart on the lines, using a pastry wheel or knife.

Transfer the cookies to the prepared baking sheets.

Freeze the cookies for at least 30 minutes; this helps them retain their shape during baking.

Bake the cookies for 30 minutes, until they're firm and dry looking; rotate the baking sheets halfway through. Remove the springerle from the oven, and cool completely right on the pan.

To make the glaze: Combine all the ingredients, stirring until smooth. Add enough milk to make a thin, pourable glaze.

Dip the unstamped side of each cookie into the glaze; set the springerle on a rack, and let the glaze set until firm.

Yield: 20 to 30 cookies, depending on size.
Tips from our bakers
If you prefer a less sweet, darker chocolate glaze, simply melt 1 cup (6 ounces) good-quality dark chocolate (bittersweet or semisweet) in a microwave or double boiler, then brush or spread it onto the backs of the cooled cookies. For best-looking results, temper the chocolate.
To add a colorful glaze to the tops of your cookies: Prepare our simple cookie glaze, adding enough milk to make it thin enough to brush onto the cookie with a food-safe craft brush. Tint the glaze with gel paste or food coloring, and brush it onto the cookies. Alternatively, spread a layer of colored glaze over a whole cookie, and brush away excess with a pastry brush for a slightly transparent effect.
Reviews
Transferring the cookies got tricky, I wound up doing a version like I read above, pressing it on parchment in the pan, but then I was on a roll. I used the owl mold. I wish I could upload my photo, it was so pretty. I love anything with pumpkin spice, so this is a winner for me.
Three TABLESPOONS of pumpkin pie spice? Is that right, or was it supposed to be teaspoons? Thanks!

Jan, while this may seem like a large amount of spice, three tablespoons is the correct amount of Pumpkin Pie Spice. The recipe makes a large amount of dough, and the Pumpkin Pie Spice is a combination of four other spices, so it's really less than a tablespoon of each. We think you'll love these flavorful cookies! Kye@KAF
I made this good tasting pumpkin recipe, but instead of using the springerle stamp, I put it through my cookie press. It was the perfect consistency for my OXO press. I made a leaf design which combined with the pumpkin flavor was a nice autumn treat. On some I sprinkled clear sugar crystals that added a nice crunch. I will be making these again.
How did you do the colorful, rainbow turkeys? This looks too thin to be an icing, and I think I remember you once doing something similar with a thistle shortbread stamp.

Jan, these fun turkeys are painted with food coloring that has been thinned by vodka or another clear alcohol. Thanks to your request, we're working to get some simple directions written up. In the meantime, we hope you'll feel encouraged to experiment - that's what art's all about after all, right? Mollie@KAF
These are surprisingly time consuming to stamp out, but so, so pretty. It took me an hour to press out about 30. I feel like it was worth it, they look just like the picture, and my house smells *amazing*.
My family makes springerle cookies every Christmas. I did let these set out to dry over night before baking. The turned out beautiful and very tasty.
My first attempt at making these beautiful cookies was not what I was hoping for...but with a cup of ingenuity and several ounces of patience I was successful. For those of you who are new to this endeavor, I'd like to share with you a few tips. Keeping my dough at the perfect thickness to ensure a good press, and then moving the cookie to the parchment covered cookie sheet were my biggest problems. I ended up with misshaped cookies, cookies that stretched in the move, and some cookies tore upon trying to get them moved from my well floured board to the cookie sheet. So, after a batch of different size cookies, with many not displaying a good "picture" of the mold, Here is what I did....1. I grabbed small chunks of the dough, patted it into somewhat of a square and carefully placed it on the parchment paper on my cookie sheet. I then continued to pat until it was a fat quarter of an inch and big enough to accept the mold. 2. I then pressed the mold into the dough, removed the mold and carefully cut the remaining dough from the cookie with my pizza cutter. Worked perfectly, and I grabbed another wad of dough and continued in this fashion till the cookie sheet was filled. What a beautiful batch of uniformly sized and molded cookies. Didn't have to struggle trying to move them while retaining their shape and they were all of a uniform thickness. I'm sure you springerle experts have no problem...but this sure worked for this novice and perhaps it will work for you.

Judy, your sprinkling of tips and dusting of tricks are greatly appreciated! Sounds like you have mastered the system. Happy baking! Bryanna@KAF
Turned out perfect! Shapes held nicely, just make sure your dough is rolled out to 1/4" as directed, not thinner. I dipped the backs into a melted mixture of chocolate:1oz unsweetened chocolate, 5 ozs semi-sweet chocolate, and 1 stick of butter(1/4 cup). Yum
I have had these cookies in Germany and loved them. I made these last night and they are just as good, great taste love the pumpkin and spices. Great recipe easy to follow love King Aurther flours and you do a wonderful job feathering seasonal favorites.
Having never made traditional or any other springerle cookies, I can't make that comparison. I did not want to spend a lot of money on the lovely springerle rollers or the owl cookie mold for one recipe so I used a cookie stamp I had on hand. The dough was not difficult to work with, and sort of held the stamp design (it showed up in the light at an oblique angle). Set aside a lot of time for this because the chilling of the dough, then freezing the dough and baking the dough is time-consuming. We liked the flavor both with and without the chocolate. I used semi-sweet chocolate and did not try the glaze yet. I thought the chocolate overpowered the pumpkin spice flavor of the cookie a bit. Maybe I slathered on too much chocolate! I just wonder how to produce such a nice-looking design on springerle as is shown in the photo. Is it just the studio light shining obliquely or do they really come out with a very visible design?