A customized print-friendly version of this recipe is available by clicking the "Print Recipe" button on this page.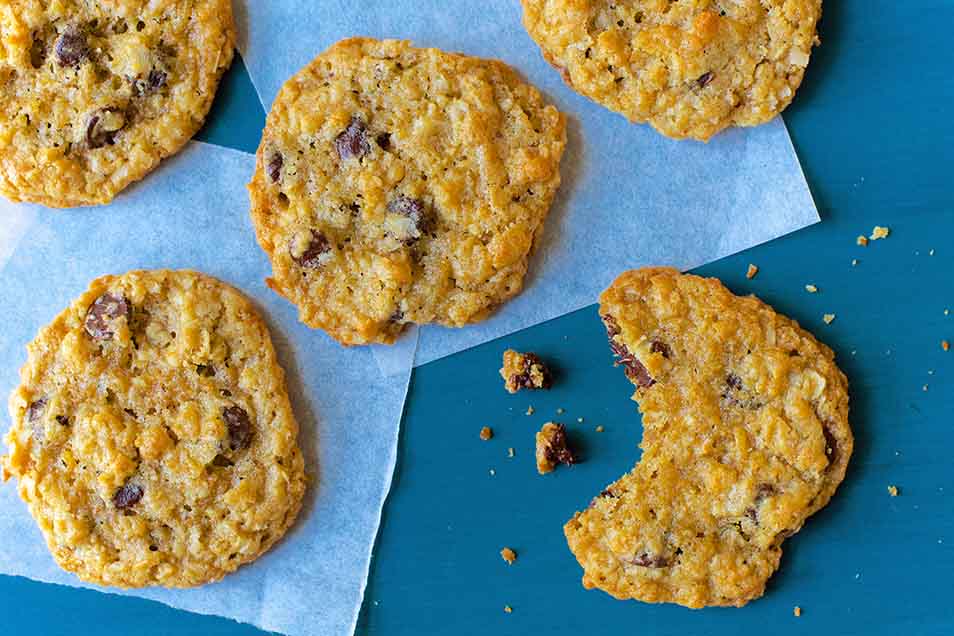 These cookies will knock your socks off with sweetness! Kids will love them with a glass of ice-cold milk; the more "mature" folks can enjoy them with a cup of hot coffee.
Ingredients
1 cup vegetable shortening or butter
1 cup brown sugar, firmly packed, light or dark
1 cup granulated sugar
1 teaspoon vanilla extract
1 teaspoon salt
2 large eggs
1/2 teaspoon baking powder
1 teaspoon baking soda
1 cup old-fashioned rolled oats
1 cup shredded coconut
1 cup chocolate chips
3 cups crispy rice cereal or cornflakes
Instructions
Preheat the oven to 350°F. Lightly grease a couple of baking sheets, or line them with parchment.

Beat together the shortening, sugars, vanilla, and salt until fluffy. Add the eggs and beat until smooth.

In a separate mixing bowl, whisk together the flour, baking powder, and baking soda. Add the flour mixture to the shortening mixture and beat until well blended.

Stir in the oats, coconut, chips and cereal, mixing just until blended.

Drop the dough by rounded teaspoonfuls onto the prepared baking sheets; a teaspoon cookie scoop works well here.

Bake the cookies for 10 to 12 minutes, or until they're golden brown.

Remove the cookies from the oven, and cool right on the pan, or on a rack. Store completely cooled cookies, well wrapped, at room temperature for up to a week; freeze for longer storage.
Nutrition Information
Serving Size

1 cookie, 22g

Servings Per Batch

60
Amount Per Serving:
Calories

101

Calories from Fat

Total Fat

5g

Saturated Fat

Trans Fat

Cholesterol

7mg
Sodium

79mg

Total Carbohydrate

5g

Dietary Fiber

1g

Sugars

8g

Protein

1g
* The nutrition information provided for this recipe is determined by the ESHA Genesis R&D software program. Substituting any ingredients may change the posted nutrition information.
Tips from our bakers
Want to make these cookies into bars? Press the dough into a lightly greased 9" x 13" pan. Bake the bars in a preheated 350°F oven for 28 to 32 minutes, until the batter is golden brown, lightly puffed, and appears set on top. Remove the pan from the oven and cool completely before cutting into squares or bars.
From recipe editor PJ Hamel: — I'd heard rumors of "Ranger Cookies" for years, but never really paid enough attention to figure out what they were. Then recently, while idly flipping through the cards in my grandmother's well-worn wooden recipe box, there they were: Ranger Cookies, carefully written out in her distinctive longhand. Wow, they must have been around longer than I thought! I checked some of my older cookbooks: There they were in the '60s... in the '50s... my search petered out after that, due to the dearth of older cookbooks in our library. Suffice it to say, Ranger Cookies have been a part of the American cookie landscape for over 60 years, at least. While many versions of this sweet cookie forego the chocolate chips, my grandmother added them to hers.
Reviews
I remember Ranger Cookies from when I was a kid and have tried a couple of recipes by that name. Something was always missing. Not anymore! These are definitely the Ranger Cookies from my childhood, and the four 1 cup mix-ins are a perfect combination, creating such a unique but irresistible flavor. My family is just as pleased as I am. I doubt they'll last the weekend!
I have baked this recipe several times with the crispy rice. I added 1/4 cup crunch peanut butter and 1/4 cup chopped raisins. It was fabulous. My sons and their friends call these Texas Rangers Cookies because I made them and took them to a game one night.
I have made these cookies for years now. I simply love this recipe , crispy on the outside chewy on the inside I also tweaked the recipe just a bit, half shortening, half butter,and used 1/2 White chocolate chips,1/2 craisins infused with blueberry juice... Thank you for a wonderful recipe!
This cookie has a unique texture--both crunchy and chewy, thanks to the cornflakes. The flavor is excellent. However, I would highly suggest lowering the oven temp or reducing the bake time--they browned very fast, in about 8 minutes instead of the suggested 10-12. Also, I personally felt that a tablespoon-size scoop was more appropriate, as the cookies don't spread, and I needed to flatten the balls of dough. Very good overall!
They should be made with raisins not chocolate chips!
I have been making my grandmother's early 1950's Ranger cookies recipe for decades, so yes, they have been around a long time (wow, nearly 70 years). Our version of ingredients do not include chocolate anything, but use chopped nuts in equal measure, and the rice cereal. I did try this version, but believe Mamaw's combination is still better. She made great food economically like many of her era needed to do. This is still the most requested cookie recipe among family and friends for decades. They travel well, and ship well, if you have enough to bake after snacking on the dough, or can snag the cooled ones fast enough to get them into a box. We frequently are mixing the dough by hand at the end. To address another reviewers comments, the difference between a chewy cookie and a crisp cookie is 1-2 minutes cooking time depending on your oven. In years of baking this is the only recipe that seems magic enough to gets both choices from the same batch. With enough practice you can also look at the surface to tell what you've got. But i am strict about using a timer just because it's easier, as I typically bake some chewy and some crisp to make everyone happy.
I made these cookies three times so far. The first I followed the recipe exactly using crisco shortening. They were very delicious and so crisp! My daughter ate them dunking in her morning coffee...but there was something slightly missing. Next time I made it with half unsalted butter and half crisco and upped the vanilla to two tsp. I loved them and so did everyone who ate them the first times. The little bit of butter and vanilla gave it the richness and brought out the flavors more. Third time I made them that way again for my co-teacher's birthday, she loved them and I'm totally - totally in love with this recipe in every way.
DO NOT start eating the raw dough. It is addicting, and I anticipate dying tomorrow, but maybe it was worth it. I am anticipating making ice cream and using the dough...all in all, this is an amazing cookie recipe. As far as the problems some cooks had with dryness or spreading, I would recommend using a scale and making the dough by weight. The weight of a cup of flour isn't consistent, and that would account for both problems. Because of the reviews about the cookies being very sweet, I cut the sugars 20% each, and they were still plenty sweet. They could stand even less sugar. But that's a personal call. : )
I love these cookies! I made a half batch exactly as directed in the recipe, with butter. My cookies look much like the picture. They are about 3 1/2" in diameter and somewhat flat-ish. They are quite sweet and very yummy. They remind me of a wonderful cookie they make at the Boise Co-op grocery store which I've never been able to imitate.....but this cookie is very close. Thank you for this great recipe! P.S. I baked my cookies for about 13 minutes.
I made a recipe for Ranger Cookies as given in Betty Crocker's Cookbook, copyright 1969. The differences were: oven 375 for 10 min instead of 350; no chocolate chips; fortified whole wheat flakes cereal instead of rice krispies or corn flakes; and the recipe is halved in all quantities. The dough was crumbly for me, as some others mentioned. It did not flatten at all, so I flattened them "manually". The cookies were described as"chewy on the inside, crisp on the outside," but there was no chewiness; mostly crisp. The difference of 25 degrees in temperature might have been part of the problem. Plus, I used brown sugar that had dried out, and coconut that had lost a lot of moisture while storing in the refrigerator. I think that may have contributed to the inability of the dough to hold together well. They taste pretty good, but I think I'll try again with new coconut and brown sugar and 350 instead of 375 degrees, and see if I can get the right texture. I used Grape Nuts Flakes as the cereal. I thought that cereal and the oatmeal make a nice sensation chewing them - I just want a little chewier cookie. Could be I mixed the flour a little too much, too...