A customized print-friendly version of this recipe is available by clicking the "Print Recipe" button on this page.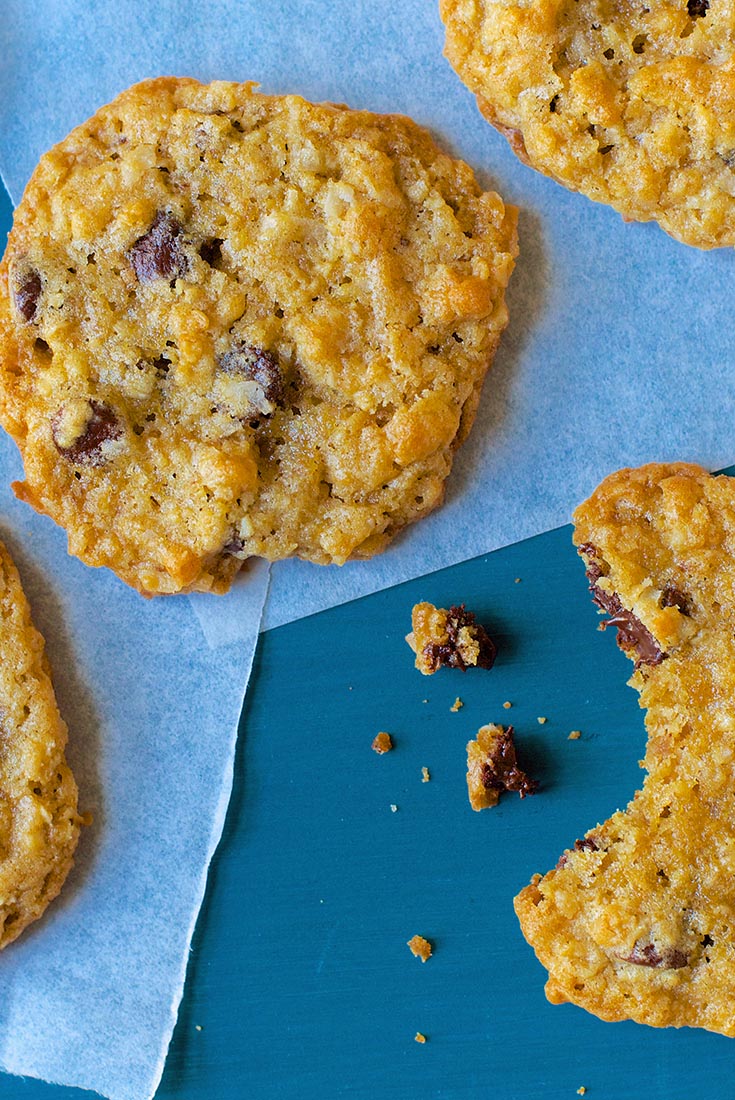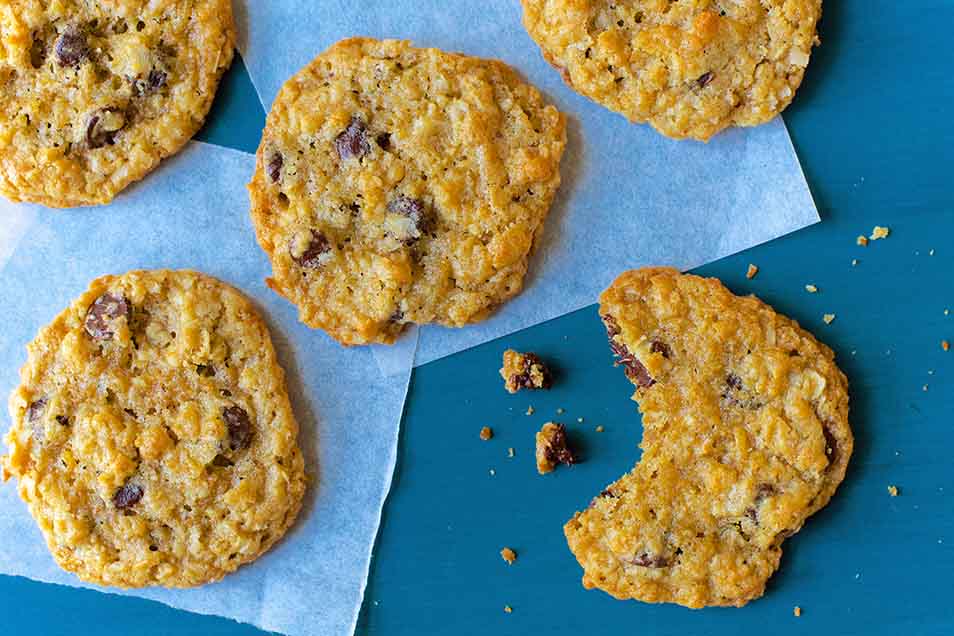 These cookies will knock your socks off with sweetness! Kids will love them with a glass of ice-cold milk; the more "mature" folks can enjoy them with a cup of hot coffee.
Ingredients
1 cup vegetable shortening or butter
1 cup brown sugar, firmly packed, light or dark
1 cup granulated sugar
1 teaspoon vanilla extract
1 teaspoon salt
2 large eggs
1/2 teaspoon baking powder
1 teaspoon baking soda
1 cup shredded coconut
1 cup chocolate chips
3 cups crispy rice cereal or cornflakes
Instructions
Preheat the oven to 350°F. Lightly grease a couple of baking sheets, or line them with parchment.

Beat together the shortening, sugars, vanilla, and salt until fluffy. Add the eggs and beat until smooth.

In a separate mixing bowl, whisk together the flour, baking powder, and baking soda. Add the flour mixture to the shortening mixture and beat until well blended.

Stir in the oats, coconut, chips and cereal, mixing just until blended.

Drop the dough by rounded teaspoonfuls onto the prepared baking sheets; a teaspoon cookie scoop works well here.

Bake the cookies for 10 to 12 minutes, or until they're golden brown.

Remove the cookies from the oven, and cool right on the pan, or on a rack. Store completely cooled cookies, well wrapped, at room temperature for up to a week; freeze for longer storage.
Nutrition Information
Serving Size

1 cookie, 22g

Servings Per Batch

60
Amount Per Serving:
Calories

101

Calories from Fat

Total Fat

5g

Saturated Fat

Trans Fat

Cholesterol

7mg
Sodium

79mg

Total Carbohydrate

5g

Dietary Fiber

1g

Sugars

8g

Protein

1g
* The nutrition information provided for this recipe is determined by the ESHA Genesis R&D software program. Substituting any ingredients may change the posted nutrition information.
Tips from our bakers
From recipe editor PJ Hamel: — I'd heard rumors of "Ranger Cookies" for years, but never really paid enough attention to figure out what they were. Then recently, while idly flipping through the cards in my grandmother's well-worn wooden recipe box, there they were: Ranger Cookies, carefully written out in her distinctive longhand. Wow, they must have been around longer than I thought! I checked some of my older cookbooks: There they were in the '60s... in the '50s... my search petered out after that, due to the dearth of older cookbooks in our library. Suffice it to say, Ranger Cookies have been a part of the American cookie landscape for over 60 years, at least. While many versions of this sweet cookie forego the chocolate chips, my grandmother added them to hers.
Reviews
Made these for a military holiday gathering and Christmas cookie contest. Came in 2nd place! I was beat by someone who made a choc chip with bacon, hard to beat bacon on anything lol Everyone wanted the recipe for these and I got many compliments. Family loves these too and will be making again this year. A similar recipe was my late grandfathers favorite and when I make these I always think of him! These are easy, have easy to get ingredients and make a bunch to share with family and friends.
I made these cookies this past weekend and wow-zer, are they awesome! I used real butter, dark brown sugar and rice crispies. I was surprised you could still feel the crunch of the rice crispies. I love coconut but liked that their taste in this recipe was minimal. I usually love cookies warm right out of the oven but I liked these better after they were completely cooled. I followed the recipe as written and will make them again but will try some of the batter with raisins instead of chocolate chips. I've already gotten recipe requests from friends I shared them with.
I made these cookies following the recipe except for using butter. Rolled into balls and baked 12 min. They were prefect and I will make again.
yum! made exactly as shown except used butter instead of shortening. made little round balls and that turned out great - tried flattening some before baking and those were not as nice - too thin. will for sure make these again!!!
I made this Ranger cookie recipe for the first time. I have made many different recipes and this one calls for more Rice Krispies than I normally put in . I usually just add 2 cups . This recipe came out perfect .Chewy on the sides and soft and tender in the middle . Mine did not spread to thin cookies. I used a Tsp ice cream scoop and pressed them down slightly with a glass bottom dipped in a little water to keep it from sticking. . I baked them on the middle and next lower shelve of the oven ( Two pans. ) They needed a little longer time than stated about 14 minutes and they are perfect . My Grandchildren love them and I may add Cranberries as well next time . Its a keeper.
I'll start with the good news. They tasted really good. At least the three I was able to salvage. I followed this recipe to a T and they came out very flat, almost like lace cookies. I don't like thin, crispy, waif-like cookies, I prefer bigger, meatier cookies with a nice structure. These did not have that. I made several dozen of these and ended up throwing most of them out before I baked them because I did not want a bunch of thin, delicate 5" cookies that would end up as crumbs at the bottom of the dish within a few hours. And based upon my experience with the first three, I assumed the rest would be like that too. I refrigerated dough first before I rolled them AND froze the dough once I scooped them, too. They still turned out badly.

Aw shucks, Matty! We understand that cookies are a very personal thing, and it can be frustrating when the results don't turn out as expected. These cookies are flatter and more lace-like than some other recipes. If you use shortening rather than butter, the cookies will turn out slightly puffier. You can also add an additional 1/4 cup of flour to give the cookies more body. Chilling before baking will also help give you the results you're looking for. We hope this helps you adjust this recipe to better meet your taste preferences, or you might also find our Chocolate Chip Oatmeal Cookies more to your liking. We hope you find what you're looking for! Kye@KAF
There is so much going on, I wasn't sure how these would turn out. But oh my gosh, they are delicious! Somehow the combination of everything is just right. And they have oatmeal, so they are healthy, too, right? :) This is a keeper for sure.
These were delicious but came out as little mounds (the way I put them on the sheet). They didn't spread out and flatten like in the picture. I put in half the white sugar and half the brown sugar after reading the comments and they tasted plenty sweet to everyone. (Could that be the reason they didn't spread...?)

Esther, the most common reason why cookies fail to spread is too much flour. We recommend measuring your flour either by weight using a scale or fluffing and sprinkling the flour into your measuring cup one spoonful at a time. This will ensure the correct ratio of dry to wet ingredients, giving you the perfect spread. We also recommend checking out the article on our blog titled, "One reason why cookies spread," to learn more about this very subject. It's delicious and interesting, too! Kye@KAF
Wow, this is a real winner! I used 1/2 shortening and 1/2 butter and followed the recipe as written. I did chill the dough overnight, since I wanted to bake them in the early morning before it got too hot! I found the dough to be crumbly - had to really press the balls together after using my scoop. Since I baked them on a Silpat they didn't flatten much and were a perfect crispy/chewy texture. My husband wants another batch soon!
I made these cookies on Saturday to take to our daughter (who lives an hour away) in honor of her cat, Ranger, yesterday (Sunday.) I made the recipe with all butter, and since it was my first attempt, I followed the recipe and instructions to the letter. I was expecting the rather crumbly dough to melt while baking as the photos with the recipe show a flat cookie -- mine didn't change much while baking, so I gave them a light "whack" with the spatula before removing the slightly cooled cookies on parchment onto the cooling rack. I got tired of the teeny cookies so I changed to a tablespoon scoop for the rest of the cookies. I felt the dough was a bit dry -- probably due to the fact that all the last ingredients (chips, Rice Krispie cereal, coconut, had to wait until Hubby got home with the rolled oats (I was SURE I had oats in the pantry!!) thus there was a delay in adding these ingredients. Everyone loved them but I will try another batch when I have every ingredient on hand to see if the dough is easier to handle and whether the cookies flatten on their own while baking. Hoping I can return and give an updated rating at that time!