A customized print-friendly version of this recipe is available by clicking the "Print Recipe" button on this page.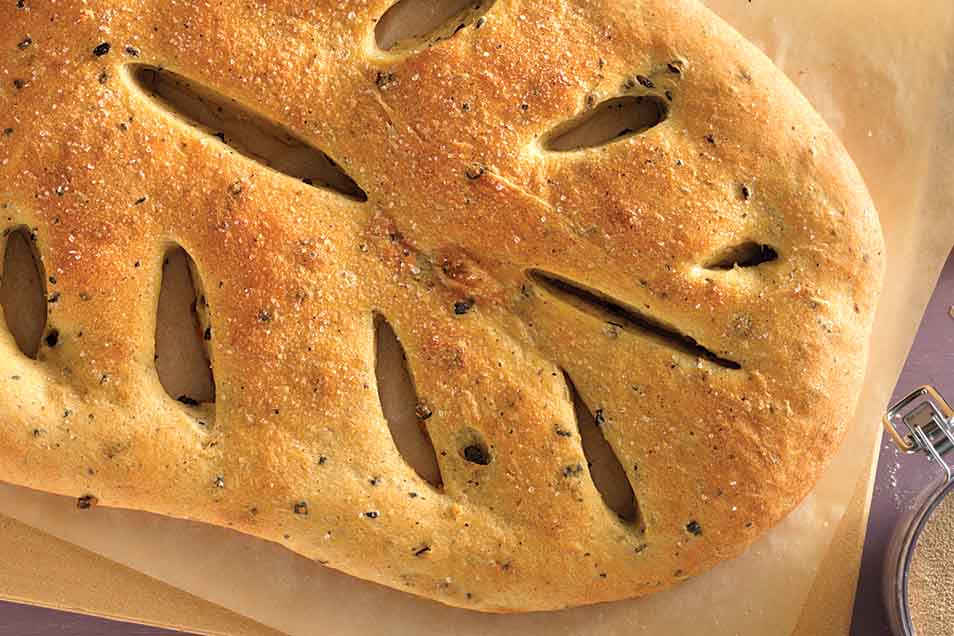 In Provence this bread is known as fougasse. Its origin is ancient Rome's flatbreads — including fougasse's better-known cousin, focaccia. Kalamata olives combined with a good extra virgin olive oil will give the bread robust olive flavor, but feel free to add more or fewer olives according to your tastes.
Ingredients
Bread
2 1/2 to 2 3/4 cups King Arthur Unbleached All-Purpose Flour
1/4 cup drained, pitted, and coarsely chopped kalamata olives
1 1/2 teaspoons instant yeast
1 teaspoon salt
2 tablespoons King Arthur Easy-Roll Dough Improver, optional but useful
3 tablespoons Baker's Special Dry Milk or nonfat dry milk
2 tablespoons olive oil
1 clove garlic, finely chopped
2 teaspoons fresh oregano, finely chopped; or 1 teaspoon dried oregano
1 cup lukewarm water
Instructions
To make the dough: Mix and knead all of the ingredients — by hand, mixer, or bread machine — to make a soft, smooth dough.

Transfer the dough to a lightly greased bowl, and let it rise, covered, for 1 to 1 1/2 hours, until just about doubled in bulk.

Gently deflate the dough, and shape it into a 10" x 12" oval on a lightly greased piece of parchment.

Brush lightly with olive oil, and sprinkle with sea salt.

For a traditional shape, cut decorative slits all the way through the dough from top to bottom. Pull the dough apart at the slits (at least 2", to allow for rising).

Cover the flatbread and let it rest for 30 to 45 minutes, while you preheat the oven to 400°F with a baking stone on the middle rack.

With a large baker's peel, transfer the flatbread on its parchment to the heated stone.

Bake the flatbread for 20 to 25 minutes, until it's golden brown.

Remove it from the oven, and transfer it to a rack to cool.

Yield: 1 large flatbread.
Tips from our bakers
If you don't have a baking stone, simply bake the bread on a baking sheet set on the middle rack of your oven.
Reviews
Wonderful recipe ! I love to bake , but making bread is not( or was not) my strong suit unless I use the recipes from this website ! I made this bread last night , and it turned out great ! YAY ! I used dried oregano , and garlic powder, also the yeast I had on hand was the gold LEsaffre instant yeast . Thank you for this wonderful , easy to follow recipe!
This recipe was very easy to make. The dough was very easy to handle without the dough enhancer. I didn't have oregano so used KAF pizza seasoning. Will likely explore using zaatar as well.
Perfection! Followed the recipe exactly had everything in my pantry. I must say that I am pretty good with dough but sometimes the first time I try a recipe it is not quite right ...not this time it was delicious...thank you King Arthur Flour this will be my go to bread for many Sunday & holiday dinners.
Love this bread, so easy. Wouldn't change a thing!
My husband and I love this. Made it a bunch of times. Follow the recipe exactly, except I don't have dough relaxer, so I just use a rolling pin. Question--what is the best way to freeze this? Two is too much for the two of us. I assume after the first rise, after I roll it out, I should freeze. Then what? Thanks for the wonderful recipe!

Debra, it's best to bake both loaves at once and then freeze the second after it has cooled completely. This will ensure the dough rises nicely and has a pleasant texture (plus, you'll only have to turn on the oven once!). You can reheat the second flatbread slightly before serving if you prefer. Happy baking! Kye@KAF
How would you substitute real olives in this recipe?

Marlene, if you'd like to make a delicious olive-studded flatbread, we recommend using the recipe called Olive and Onion Fougasse, which uses real olives. This recipe here is designed to work with the Olive Artisan Bread Flavor, so you'll have better results if you use the fougasse recipe. It's equally tasty! Kye@KAF
Bake this all the time and it is always well received. This is also much requested from friends and neighbors as a thank you gift.
Nice texture and flavor. Worth a try. I used 1/4 tsp citric acid on the second batch to give it a hint of sourdough flavor.