A customized print-friendly version of this recipe is available by clicking the "Print Recipe" button on this page.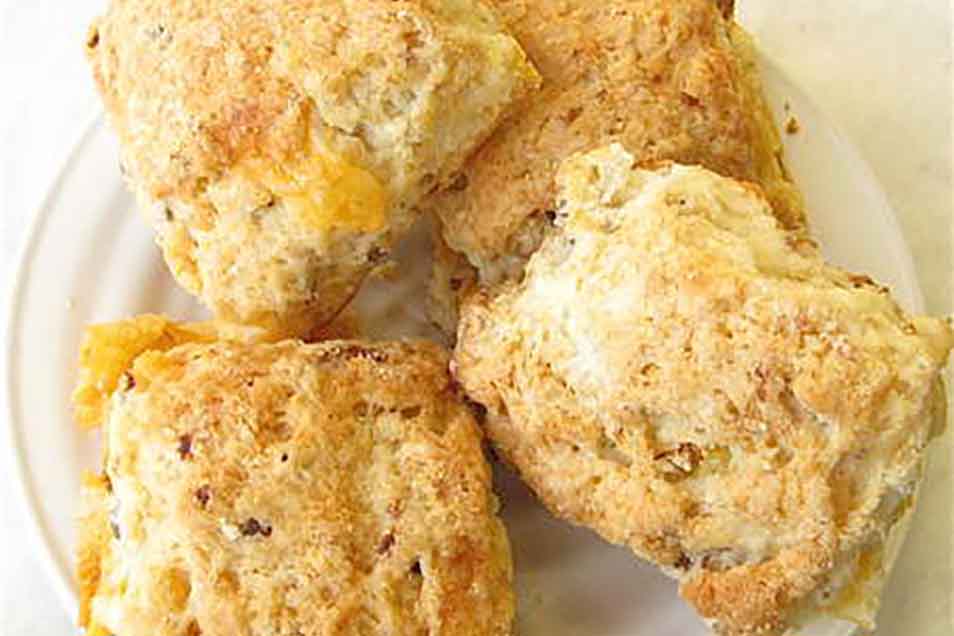 Packed with breakfast sausage and chunks of cheddar cheese, these biscuits (a.k.a. scones) are a perfect accompaniment to eggs, grits, or a cup of fresh fruit salad. Or simply grab one on your way out the door; 10 to 15 seconds in the microwave will heat it up nicely.
Ingredients
1 tablespoon baking powder
1/2 teaspoon baking soda
1 teaspoon salt
1 tablespoon Pizza Dough Flavor, optional
1/2 cup butter, cut in pats
1 cup yogurt, buttermilk, or sour cream (low-fat is fine)
2 cups cooked, sliced breakfast sausage links (1/2" pieces)
1 cup diced cheddar cheese
Instructions
Preheat the oven to 425°F.

In a medium-sized mixing bowl, combine the flour, baking powder, baking soda, salt, and Pizza Dough Flavor. Add the butter, cut in pats.

Work in the butter till the mixture is crumbly.

Add the sausage and cheese, mixing to distribute. Add the yogurt, buttermilk, or sour cream.

Mix just till everything is evenly moistened.

Transfer the dough to a piece of parchment or a lightly floured work surface. Pat and roll it into an 8" x 10" rectangle about 3/4" thick.

Cut the dough into twenty 2" squares.

If you've been working on parchment, simply lift the parchment onto a baking sheet. Separate the biscuits so there's about 1" between them. If the biscuits aren't on parchment, space them on a lightly greased baking sheet, leaving about 1" between them.

Bake the biscuits for 20 to 25 minutes, or until they're a medium- to deep-golden brown.

Remove the biscuits from the oven, and cool them on a rack briefly. Serve warm.

Yield: 20 biscuits.
Tips from our bakers
Make now, bake later: these biscuits are a great candidate for the freezer. Simply make biscuits, shape, and place on a pan. Freeze, then transfer to a plastic bag for storage. When you're ready to bake, remove them from the freezer, place on a pan, brush with cream, and bake as directed. They'll take maybe 5 minutes longer, since they're frozen.