A customized print-friendly version of this recipe is available by clicking the "Print Recipe" button on this page.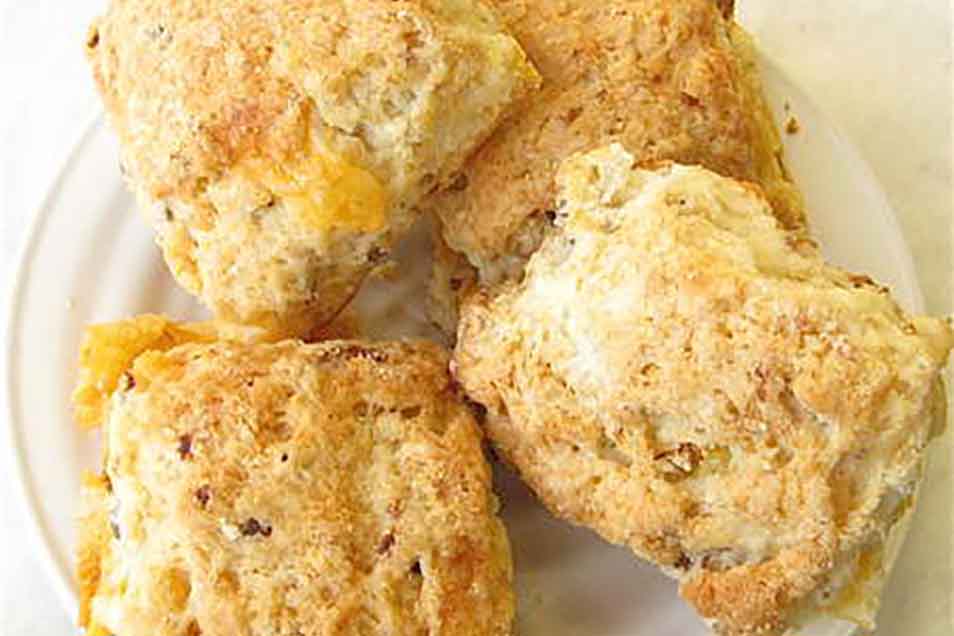 Packed with breakfast sausage and chunks of cheddar cheese, these biscuits (a.k.a. scones) are a perfect accompaniment to eggs, grits, or a cup of fresh fruit salad. Or simply grab one on your way out the door; 10 to 15 seconds in the microwave will heat it up nicely.
Ingredients
1 tablespoon baking powder
1/2 teaspoon baking soda
1 teaspoon salt
1 tablespoon Pizza Dough Flavor, optional
1/2 cup butter, cut in pats
1 cup yogurt, buttermilk, or sour cream (low-fat is fine)
2 cups cooked, sliced breakfast sausage links (1/2" pieces)
1 cup diced cheddar cheese
Instructions
Preheat the oven to 425°F.

In a medium-sized mixing bowl, combine the flour, baking powder, baking soda, salt, and Pizza Dough Flavor. Add the butter, cut in pats.

Work in the butter till the mixture is crumbly.

Add the sausage and cheese, mixing to distribute. Add the yogurt, buttermilk, or sour cream.

Mix just till everything is evenly moistened.

Transfer the dough to a piece of parchment or a lightly floured work surface. Pat and roll it into an 8" x 10" rectangle about 3/4" thick.

Cut the dough into twenty 2" squares.

If you've been working on parchment, simply lift the parchment onto a baking sheet. Separate the biscuits so there's about 1" between them. If the biscuits aren't on parchment, space them on a lightly greased baking sheet, leaving about 1" between them.

Bake the biscuits for 20 to 25 minutes, or until they're a medium- to deep-golden brown.

Remove the biscuits from the oven, and cool them on a rack briefly. Serve warm.

Yield: 20 biscuits.
Tips from our bakers
Make now, bake later: these biscuits are a great candidate for the freezer. Simply make biscuits, shape, and place on a pan. Freeze, then transfer to a plastic bag for storage. When you're ready to bake, remove them from the freezer, place on a pan, brush with cream, and bake as directed. They'll take maybe 5 minutes longer, since they're frozen.
Reviews
I loved this recipe! I was searching for a savory scone recipe when I came across this breakfast biscuit. I followed the instructions almost down to the letter - but I did have to add about 1-2 more tablespoons of sour cream to get the dough to the right consistency. I love the rich flavor of the sausage, but I think this biscuit could be made with lots of different meat and cheese combos - it could be a good way to use up some leftover ham after the holidays!
These were delicious and were a huge hit with my two teenage sons! I was concerned at first because I didn't have any breakfast sausage links or diced cheese on hand but after reading the other reviews I went ahead and used ground sausage (I used 1lb) and shredded cheddar cheese. That worked perfectly. The other tip of using parchment paper when shaping and cutting these was also very helpful. I did that, cut them using a pizza cutter, and slid them (& the paper) straight onto my baking pan. I'll definitely be making these again.
I made these without the sausage for lacto-ovo vegetarians, adding 1/4 cup of cheddar cheese powder and freezing them as per the hint. They were a big hit. Of course without the sausage I only got 9 good-sized biscuits. But they were extra cheesy delicious!
I made this recipe for our Thanksgiving " light breakfast" and it was a hit ! My teenage son could not get enough. I did omit the pizza starter and I used sour cream . I also used 2 cups of white King Arthur and 1 cup of whole wheat King Arthur. We are recently transplanted Texans living in MS . I used small link cut into chunks and cheddar cheese also cut into chunks . So Yummy !
I didn't have any Pizza Dough Flavor, so I came up with the idea of using the sour dough starter as a hint of that flavor. Per staff recommendations I cut the flour to 2 cups and the liquid to 1/2 cup yogurt with 1 cup unfed sour dough starter. I cooked up 1 pound of bulk sausage and used 1 cup in the recipe and 1 cup of shredded cheddar cheese. In forming the dough, it stuck to the parchment paper I was forming them on, so in the future, I will form them on one sheet of parchment paper and transfer them individually to a parchment lined baking pan.
I made them with ground sausage, browned. Yummy, yummy, yummy!
I've made these a couple of times. I used cooked crumbled sausage and shredded cheese because that's what I had on hand and it worked fine. Great dipped in the yolk of over-easy fried eggs. I can't wait to make these for the grandkids the next time they come. This recipe is so easy the grandkids could help.
I have made these a couple of times now. We really like them. They are easy to make. I do recommend this recipe.
I made these for breakfast this morning and they turned out perfectly delicious! The only thing I did differently was I used ground breakfast sausage and shredded cheese (I added a bit more cheese too). Thank you for a wonderful recipe!