A customized print-friendly version of this recipe is available by clicking the "Print Recipe" button on this page.
Self-Rising Pineapple Upside-Down Cake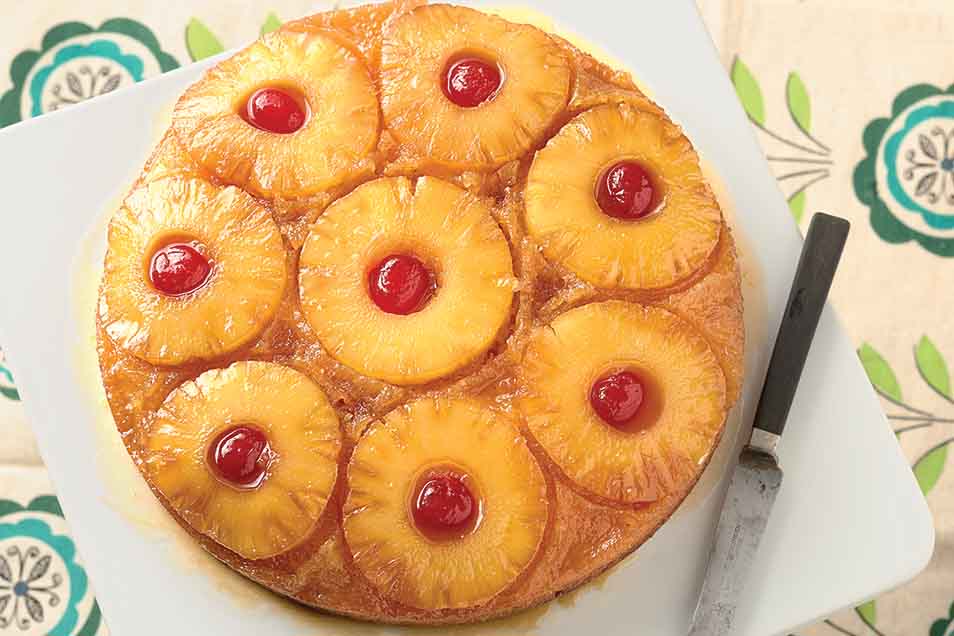 Buttery, brown sugary, tangy, and VERY tasty, this classic cake — with its moist, flavorful topping of pineapple rings and cherries — has been an American favorite for at least 80 years. It became popular way back in 1911, after a Dole engineer invented a machine that would slice that company's signature product — pineapple — into perfect rings. Note that this quick and easy cake doesn't even require a mixing bowl: just a saucepan, and a cake pan.
Ingredients
Topping
20-ounce can pineapple rings, well drained, juice reserved
1/2 cup (8 tablespoons) cold unsalted butter
1 cup brown sugar
1/4 cup pineapple juice, reserved from rings
maraschino cherries
Instructions
Preheat the oven to 350°F. Lightly grease a 9" cake pan with non-stick baking spray or shortening.

To make the sauce: In a medium (2- to 3-quart) saucepan, melt the butter and whisk in the brown sugar and pineapple juice until well blended.

Cook over low heat until the sugar is completely dissolved. Increase the heat and boil until the mixture thickens a little, and the temperature reaches 235°F to 240°F (soft-ball stage). Depending on pan size, this will take between 3 and 5 minutes. If you don't have a thermometer, drop a bit of the syrup into a glass of cold water; it will form a soft, flexible ball when it's reached the proper temperature.

Pour the sauce into the prepared pan. Set your saucepan aside; don't wash it, you'll be using it again.

Arrange the drained pineapple slices in the pan. Place a maraschino cherry into the middle of each pineapple slice, if desired. Set aside.

Place the butter for the cake into the saucepan. Swirl the butter around to melt it, and mix in any remaining sugar syrup; don't worry if it has some lumps.

Whisk in the sugar and vanilla.

Add the eggs one at a time, whisking well after each addition.

Add the flour and pineapple juice to the mixture. Whisk until fairly smooth.

Pour the batter into the prepared pan.

Bake the cake for 35 to 40 minutes, until evenly browned and a cake tester inserted into the middle comes out clean.

Remove the cake from the oven, and cool it in the pan for 10 minutes. Run a spatula around the edges to loosen, and turn it out onto a serving plate. Serve warm, or at room temperature, with whipped cream or ice cream, if desired.

Yield: one 9" cake, 8 to 10 servings.
Tips from our bakers
You can omit cooking the syrup to soft-ball stage, if you want; the sauce will be thinner and soak into the cake more, which is still a good result.
Don't have self-rising flour? Try our recipe for Pineapple Upside Down Cake using all-purpose flour.
Reviews
To dry for my liking

Janet, we're sorry to hear this recipe didn't turn out pleasing as you hoped. There are a number of reasons why cakes turn out dry, including too much flour being used and over-baking. Our friendly bakers on the hotline are here to help you troubleshoot if you'd like to look into this further (855-371-2253). Kye@KAF
This cake was simple to make and delicious to consume!
This was a delicious cake. Especially good while warm. Easy to make too, which is what I look for. I boiled the topping to soft ball consistency, but when I turned the cake over on the plate I had a lot of run off. Not sure why, maybe I should have boiled the topping a little longer. Anyway, it was very good. I think I'll add pecans to the next one and use diced pineapple and chopped cherries instead of sliced pineapple. I read about this on one of the other pineapple upside down cake recipes and it sounded good.