A customized print-friendly version of this recipe is available by clicking the "Print Recipe" button on this page.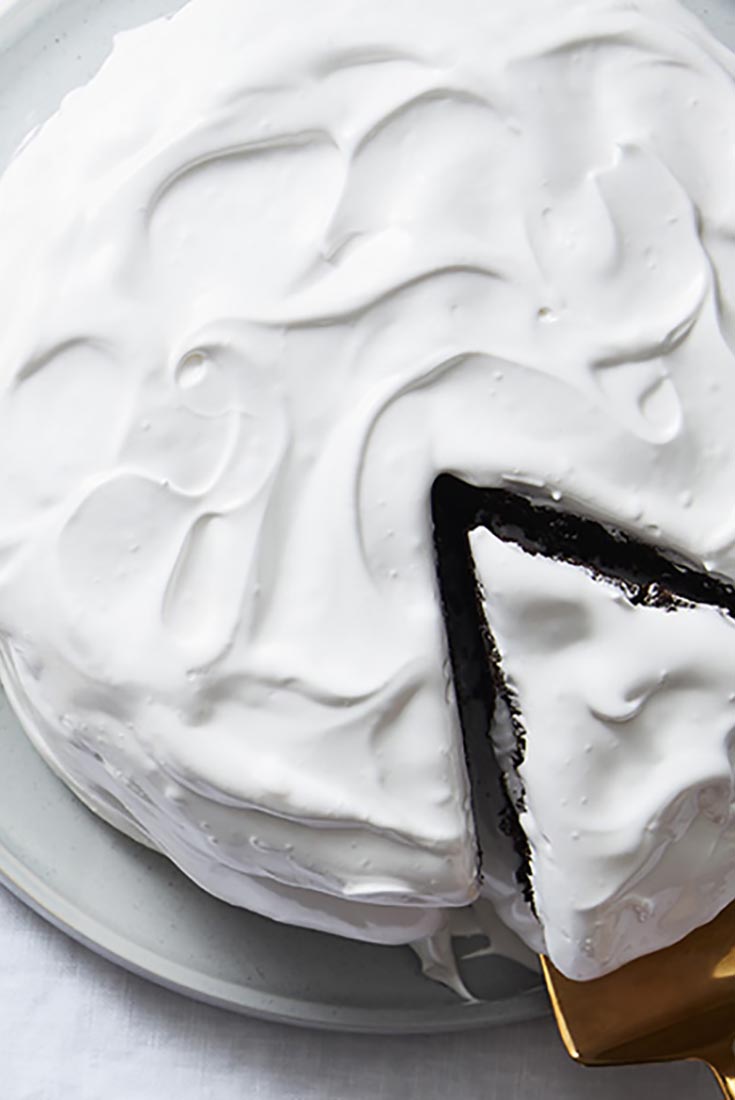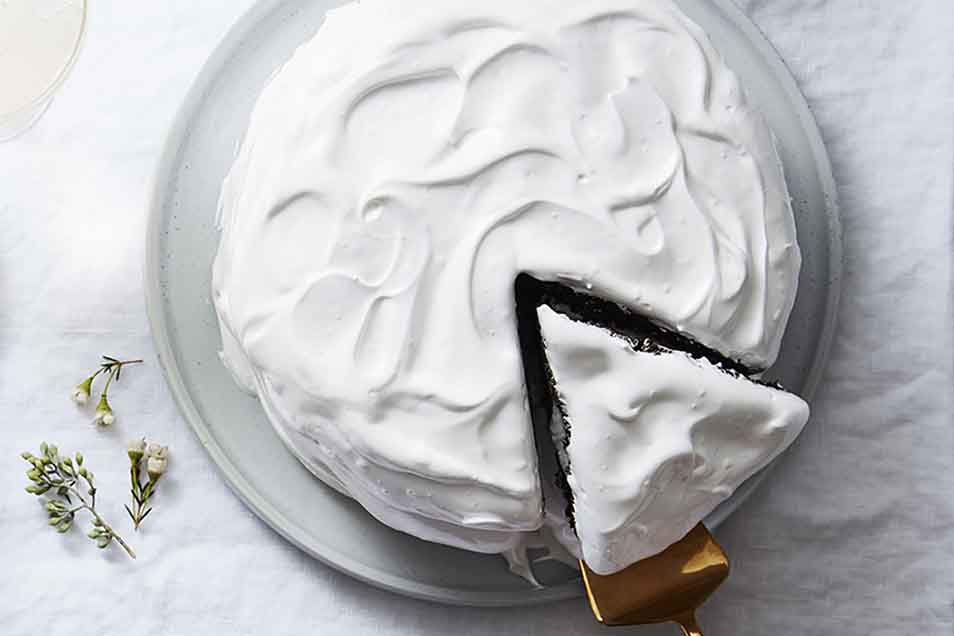 Seven-minute frosting has been around since at least the early 1900s. To make the unique texture this frosting is known for, egg whites and sugar are combined and beaten over simmering water, to dissolve the sugar and achieve a very light, fluffy texture.
Ingredients
1 1/2 cups sugar
1/3 cup cold water
2 large egg whites
2 teaspoons light corn syrup or 1/4 teaspoon cream of tartar
pinch of salt
1 teaspoon vanilla extract
Instructions
In the top of a double boiler, combine the sugar, water, egg whites, corn syrup or cream of tartar, and the pinch of salt.

Beat with an electric mixer set at low speed for 30 seconds, then set the pan over boiling water (the pan shouldn't touch the water). Beating at high speed, cook the frosting for about 7 minutes, or until it's stiff and glossy.

Remove it from the heat, add the vanilla, and beat an additional 2 minutes.

Use immediately to frost a sheet cake, tube cake, or layers.
Nutrition Information
Serving Size

19g

Servings Per Batch

24
Amount Per Serving:
Calories

50

Calories from Fat

0g

Total Fat

0g

Saturated Fat

0g

Trans Fat

0g

Cholesterol

13g
Sodium

20mg

Total Carbohydrate

13g

Dietary Fiber

0g

Sugars

13g

Protein

0g
* The nutrition information provided for this recipe is determined by the ESHA Genesis R&D software program. Substituting any ingredients may change the posted nutrition information.
Tips from our bakers
The frosting must be used promptly, because it firms up as it sits and cools.
Reviews
Can you add fresh pureed fruit or jam to frosting for flavor?

We haven't tried that, Toni, but you're welcome to experiment! Add it once the frosting is mixed up, just a little at a time. It will give beautiful color! Try to use a jam without seeds in order for it to incorporate better. Annabelle@KAF
Love this recipe, came out perfectly the first time and the large cake was demolished by a group of kids and parents. I used almond extract instead of vanilla and the flavor was great. Peppermint oil, lavender, marshmallow, lemon oils and extracts would all be great derivatives. This frosting has moved up to the top of my list next to Italian Buttercream. Yum!
I made this recipe as written. Came out perfectly. After frosting my cake, I noticed that the frosting in places became a bit 'crispy' on the exterior in places about 5 hours later. Can you tell me why that happened? If there something I could have done a little differently to avoid that? Beat for a shorter period of time? Add more water?I would like to avoid that change to the frosting if I could. Thank you.

The Seven-Minute Frosting by nature will start to get a bit hard around the edges as it dries out with time. We find this quite pleasant: It adds a bit of crunch and texture to what otherwise might be a soft, spongy consistency throughout. However, if this is something that you don't enjoy, try storing the cake in a closed container (or a cake dome) to slow down the drying process. Also plan strategically so you can pipe the frosting as close to serving as possible.

Another option? Embrace the crispy exterior and brûlée the frosting with a torch like meringue. It will take on a fantastic caramelized flavor and texture. Kye@KAF
Is there anyway to get it ungritty after it's already mixed?

Stasia, the grittiness may dissipate slightly as the frosting rests and hydrates, but there won't likely be a drastic change in texture. Next time, after stirring the mixture for 30 seconds and allowing the mixture to sit for a moment. rub a little between your fingers to feel for lumps or grittiness. If it feels gritty, mix it further and feel it again. Old meringue powder won't dissolve properly even when whipped with sugar, and your frosting will be grainy and sandy. We hope this helps make your next batch silky smooth. Kye@KAF
Thank you very much for the recipe !!!, I needed certainty and I found them here. My previous experiences had been very frustrating and I think the big difference in this case was to previously beat the mixture.
I have made this recipe for years and had my share of gritty icing. I have learned a couple of things. Mix the sugar and water before you start. Don't let the water touch the second pan, all you need is a simmer, not a boil. At first it was hit and miss with this frosting, but since I have scaled back and relaxed when I make this, it has been consistent. My husbands second favorite icing. Sometimes I leave out the karo syrup because he doesn't like it quite that sweet. Hope this helps, Blessed day pat
Q: Can I add flavours to this frosting? Suggestions for how and which ones? And how about food colouring?

Lara, you can experiment with using different liquids instead of just water in the recipe: cranberry juice, apple cider, coffee, or water mixed with a few tablespoons of liquor could be tasty. You can also use different flavored extracts in place of the vanilla in the recipe, which is added right at the end before the mixture is beaten. Almond, cherry, and lemon are all commonly used extracts that could take the flavor of this frosting up a notch. Kye@KAF
Came out very gritty. Any tips?

Royal icing can have a gritty texture if the meringue powder is not properly hydrated. Make sure you mix the meringue powder with the water and let it rest for at least five minutes, and then rub a bit between your fingers to ensure it doesn't feel gritty. If it does, whisk it up and let it sit for a few minutes longer. Continue doing this until the meringue and water mixture feels smooth. Also be sure to sift your powdered sugar before adding it to prevent any lumps. Happy baking! Kye@KAF
I had used this icing recipe for years, then forgot the exact ingredients. Thank you so much. Glad I found it.
I have no words for this. Pure bliss;) two questions though, how much does this last on a layer cake and can I use various extracts or even spices to this frosting? Thank you in advance :)

Monica, the world (of this frosting) is your oyster! Feel free to use any extract or flavoring you like in place of the 1 teaspoon of vanilla extract, noting that flavored oils are usually about 4x as strong, so use them sparingly. You can also add cinnamon or a spice blend if you think it will pair nicely with the cake you'll be frosting. Cakes that are frosted with this recipe will last for several days, but you'll want to store it in the fridge (covered if possible) to help keep it fresh for longer. Happy baking! Kye@KAF