A customized print-friendly version of this recipe is available by clicking the "Print Recipe" button on this page.
Shaker Chicken and Noodle Soup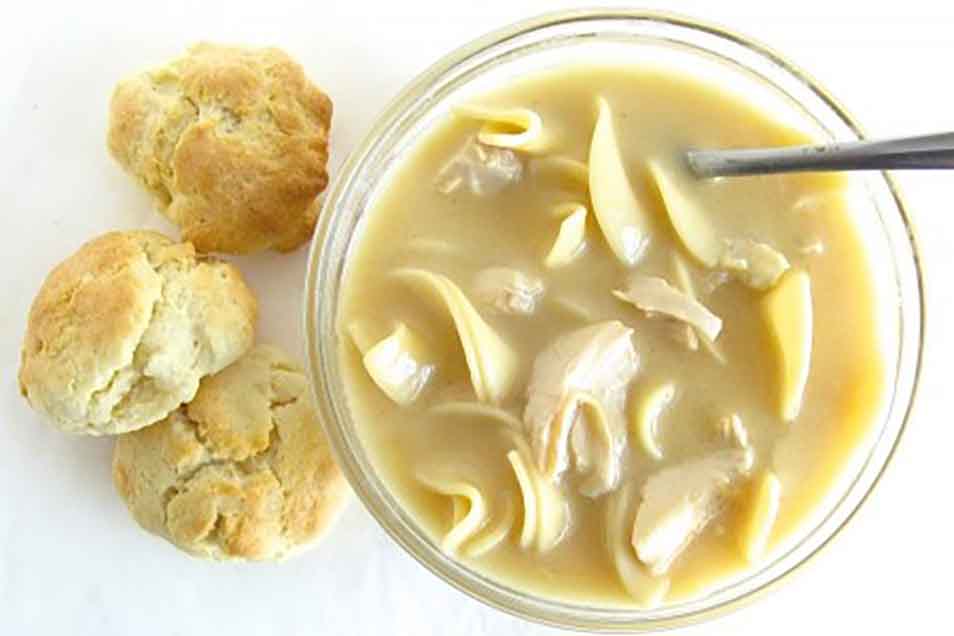 This hearty soup, packed with big, fat noodles and chunks of white-meat chicken (or turkey), pairs beautifully with a chunk of toasted Italian bread. Or a soft dinner roll. Or a slice of whole wheat bread. Or...
Ingredients
6 1/2 cups chicken stock
2 tablespoons dry vermouth
2 tablespoons butter
1/2 cup heavy cream
2 cups egg noodles, uncooked
2/3 cup water
1 cup diced cooked chicken or turkey
salt and pepper to taste
chopped fresh parsley, for garnish
Instructions
In a small saucepan, combine 1/2 cup of the stock with the vermouth and butter. Bring to a boil and reduce the liquid to about 1/4 cup. The mixture will be syrupy. Stir in the cream, and set aside.

In a larger saucepan, bring the remaining stock to a boil. Add the noodles and cook till tender, about 7 to 8 minutes.

Mix the flour and water together until smooth, and stir into the noodle mixture.

Allow the soup to boil for 1 to 2 minutes, then stir in the cream mixture and chicken.

Season with salt and pepper to taste, and garnish with chopped parsley.

Yield: 6 servings.
Tips from our bakers
Prefer not to use vermouth? Alcohol is a flavor carrier, so you'll definitely lose a bit of flavor; but substitute extra broth or water for the vermouth, if desired.
Reviews
Wow, wow, wow incredible soup. I followed the directions using the ingredients specified in the recipe.....almost. I sauteed some onions and carrots, put them in the slow cooker, added the broth and everything except the noodles. I added a couple sprigs of fresh thyme as someone suggested, salt and pepper and let that simmer for a several hours. The whole thing went into the fridge overnight; took it out about 6 hrs before we planned to eat, cooked on high to reduce the broth. When we were ready we cooked the noodles and them added them into the soup. Delicious! Definitely will make again just the way I did. Thanks KAF!
Made KAF Homemade Egg Noodle to use in this recipe. For those of you who love boiled (rolled) chicken pot pie. Flat southern style chicken & dumplings. This is it. Do not omit the vermouth. A lifetime ago my church's fundraiser was a Chicken Pot Pie Dinner with all the fixings (homemade pies and cakes, Dutch coleslaw and rolls) People would line up from near and far for a sit down church basement dinner or a tote home meal using their own containers. The women of the church would each get a number of chickens that they then cooked at home. The church kitchen bustled with aproned women. Some rolling dough, others tending large pots of boiling chicken broth (of course no vermouth they practiced temperance). Those gals sold it all. Turned people away. A classic country recipe.
Great soup. I chopped up some carrots and celery, was so delish. I used Roasted chicken from Costco, came out great.
Why is it called Shaker Chicken? The recipe was delish and simple.

We're glad this recipe turned out so well for you, fellow baker! The exact origins of this recipe aren't easily traceable, but it's likely that this soul-warming soup comes from the Shaker community. Enjoy! Kye@KAF
We made this soup using a thick Italian Fusilli pasta and it was out of this world!
My husband wouldn't eat soup at all before this! This is now my go-to!
This is fabulous! Everyone loves it. I sometimes add a little carrot and celery. This is so quick to make. Many thanks
Made this last night and it was delicious! I added more chicken, both white and dark meat, used the jus from the roasted chicken I had made the day before instead of the water and, before I serve it again, I'm going to add more vermouth because I would've liked more than a hint of that flavour. I was happily surprised at how easy it was to put together as it was a last minute dinner choice.
This soup is the best I have ever had and so simple to make. Thank you!!!