A customized print-friendly version of this recipe is available by clicking the "Print Recipe" button on this page.
Simple and Rich Chocolate Cake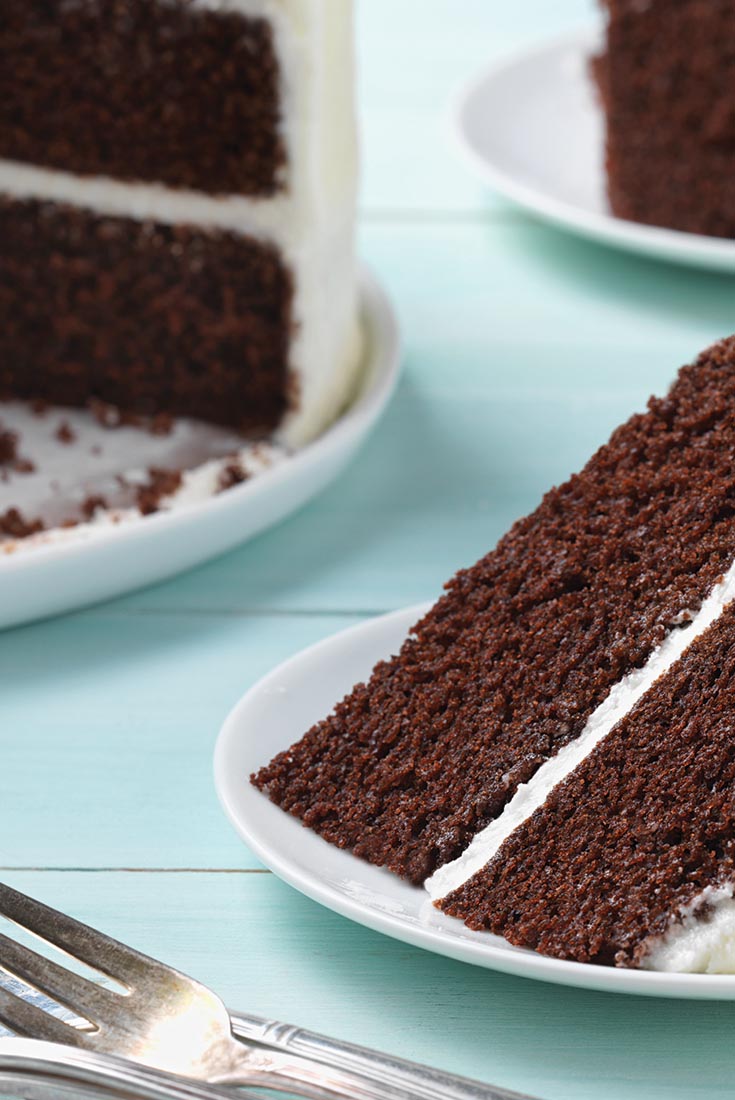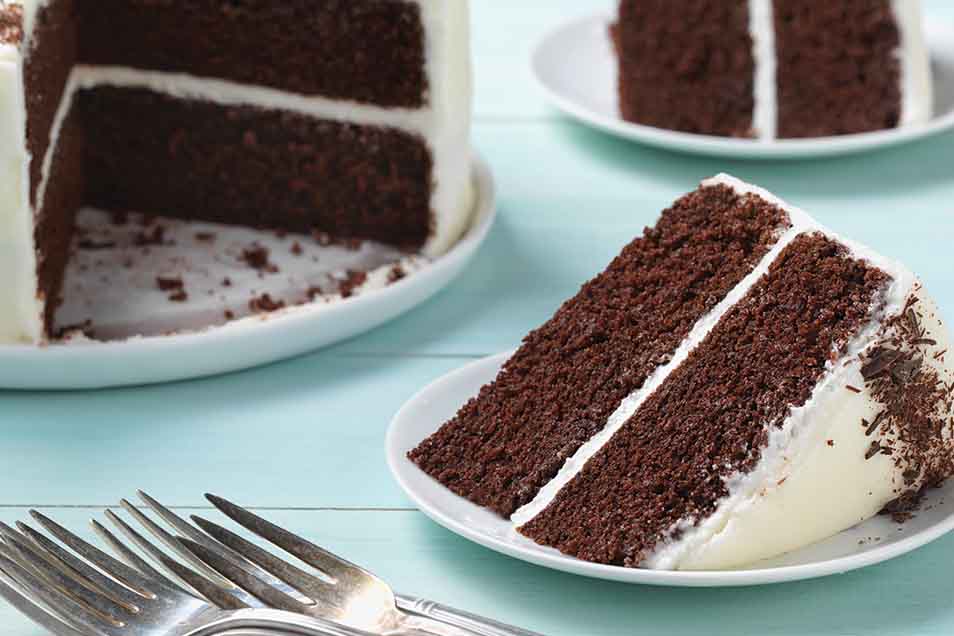 All cakes should be this easy to make, not to mention delicious! It's moist and tender, and has a rich, decadent chocolate flavor that pairs well with either chocolate or vanilla frosting. If there's a chocolate cake-lover in your life, this is sure to be his/her birthday cake of choice.

Baking gluten-free? For great results, substitute King Arthur Gluten-Free Measure for Measure Flour for the cake flour in this recipe; no other changes needed.
Instructions
Place a rack in the center of the oven. Preheat the oven to 350°F.

Lightly grease your choice of pan(s): one 9" x 13" pan, two 8" or 9" round cake pans, or the wells of two muffin tins (24 muffin cups). You can also line the muffin tins with papers, and lightly grease the insides of the papers using non-stick spray.

Whisk together the flour, sugar, cocoa, baking powder, baking soda, and salt until evenly blended. Set aside.

Whisk together the remaining ingredients until evenly blended.

Pour the wet ingredients into the dry ingredients and stir until smooth and well combined.

Pour the batter into the prepared pans.

Bake the cake until the center feels firm when gently pressed, and a toothpick inserted in the center comes out clean — 42 to 50 minutes for a 9" x 13" pan; 30 to 36 minutes for 9" pans; 35 to 40 minutes for 8" pans, or 22 to 26 minutes for cupcakes.

Remove the cake from the oven. Allow it to cool completely in the pan, then loosen the edges with a knife and gently remove from the pan. Allow the cupcakes to cool in the pans for 5 minutes, then turn out onto a rack to cool completely.
Tips from our bakers
Natural cocoa will also work with this recipe, but the cake will be lighter in color and milder in flavor.
Reviews
I made this cake exactly as written--the third time today as cupcakes and it is now my go-to recipe for chocolate cake. All versions are fabulously delicious, extremely easy to make--no electric mixer needed and using weight not volume, the cakes come out light and chocolaty. For my GF and DF daughter I used a GF flour blend (everything else the same) and she loved, loved it! Thanks KAF!!
Made exactly as stated. I am also a baker of 35 yrs. Cake was dry, dense, more like whoopie pie cake. Strong coffee taste.

We're genuinely sorry to hear this Simple and Rich Chocolate Cake missed the mark for you, Cake Baker. We find that using King Arthur Cake Flour helps give this cake a delicate, tender crumb, so we encourage bakers to try using it in this recipe (if you're not already doing so). Also, we highly recommend measuring flour either by weight with a scale, or by gently fluffing and sprinkling the flour into the measuring cup and then leveling it off with a knife (rather than scooping right from the bag). The light cups of flour will ensure a tender, moist cake. Otherwise too much flour can make the cake turn out dense, heavy, and dry. As for the coffee flavor, we find it can enhance the notes of chocolate but the cake is also divine when whole milk is the liquid that's used in the batter. We hope this helps you or other bakers get fantastic results with this recipe. Kindly, Kye@KAF
By your low-rating, we're guessing something went awry when making this recipe, K. If we can help you troubleshoot or find another recipe that's more to your liking, please don't hesitate to reach out to our Baker's Hotline: 855-371-BAKE(2253). Kye@KAF
This recipe is delicious! AND I MADE IT VEGAN! I used flax eggs for the egg replacement(1T ground flax with 3T hot water per egg-allow to sit to cool a bit). Very fluffy yet sturdy and not crumbly. Has a soft tight crumb compared to other vegan chocolate cake recipes I have tried. Highly recommend!
can someone please share how to successfully (still taste delicious) make this vegan?

While this isn't something we've tested, Arlen, we encourage you to use your favorite egg replacers to make this recipe vegan. Eggs are a very important ingredient in chocolate cake so the texture may take some trial and error to get right, or at least get it to the point that you enjoy it. Happy experimenting! Annabelle@KAF
Terrific recipe: baked it using 2 greased, wax-paper lined 8' pans: the cakes rose beautifully. Filled and frosted the cake with chocolate ganache (12 oz. bittersweet chocolate + 1 1/3 C heavy cream). The resulting birthday cake got rave reviews--moist crumb, nice dark chocolate flavor, not overly sweet.
Made this as a small birthday cake in the beautiful 6 cup bundt pan by halving the recipe (I only ever use melted butter in my bundt pans and brush them lavishly...nothing sticks). While I was baking cake, made an orange ginger simple syrup: 1. Zested and juiced one large orange, put zest aside. 2. Put juice into small pan with 1 TBS sugar, 1/2 tsp ground ginger and 1/4 tsp of lemon oil. Boiled until reduced to syrupy consistency (about 15 - 20 min) 3. As cake was cooling, added 2 TBS butter and zest and heated until butter was melted. 4. Brushed on hot cake. YUMMY. My only objection: the cake was a bit too coffee flavored and insufficiently deeply chocolate as I had expected it to be. I used double Dutch cocoa. Also had run out of cake flour so used regular flour, but subbed 2 TBS of corn starch for 2 TBS of flour. Cake was light and lovely.
This is a wonderful chocolate cake. I have baked it twice, and both times it has turned out perfectly. I followed the recipe exactly, using KAF Double Dutch Dark cocoa. It's moist and very chocolatey. I used 8" pans and the layers rose quite high. The first time I made it I frosted it with Italian Buttercream. This time I used the old tried and true Hershey's One Bowl Buttercream frosting recipe. They were both a big hit with my guests, but the chocolate/chocolate combination won by a nose. I like the fact that the flavor of the cake itself stood out, even against the somewhat assertive flavors of both frostings. So, for anyone looking for a really good chocolate cake recipe, this is IT.
I just made this recipe and the cake was moist and perfect. I measured most of the ingredients by weight because I didn't have measuring cups available, and I think that was part of the cake's success. Could you add measurements by weight to the recipe? I Googled and converted everything, and would have appreciated having everything in the recipe.

We love baking by weight! You can click on either "ounces" or "grams" below the ingredients header to view the ingredients in these units. Happy baking! Kye@KAF
Cannot tell you how absolutely wonderful this recipe is...I love to bake but life kind of got in the way for several, many several years as a matter of fact and I'm back at it now. This was my first attempt at a scratch cake in forever and this my dears, this recipe takes it. I will have a hard time making any other recipe; this was so perfect. I don't know if Devine Cocoa is the caliber of cocoa which was instructed to be used, but baby, baby, hubba, hubba. It is SO chocolaty and so moist...I used butter, not oil as well and topped it with chocolate cream cheese icing...so delicious, if you try it you'll have to slap your sister. I highly recommend this recipe!