A customized print-friendly version of this recipe is available by clicking the "Print Recipe" button on this page.
Simple and Rich Chocolate Cake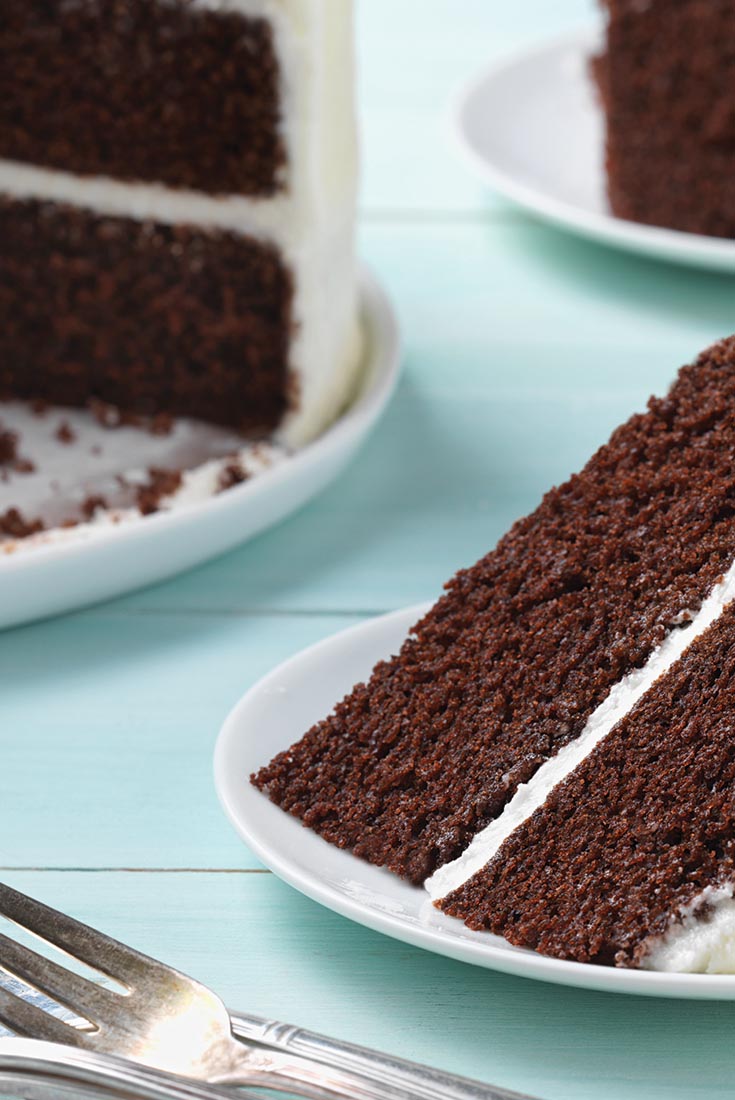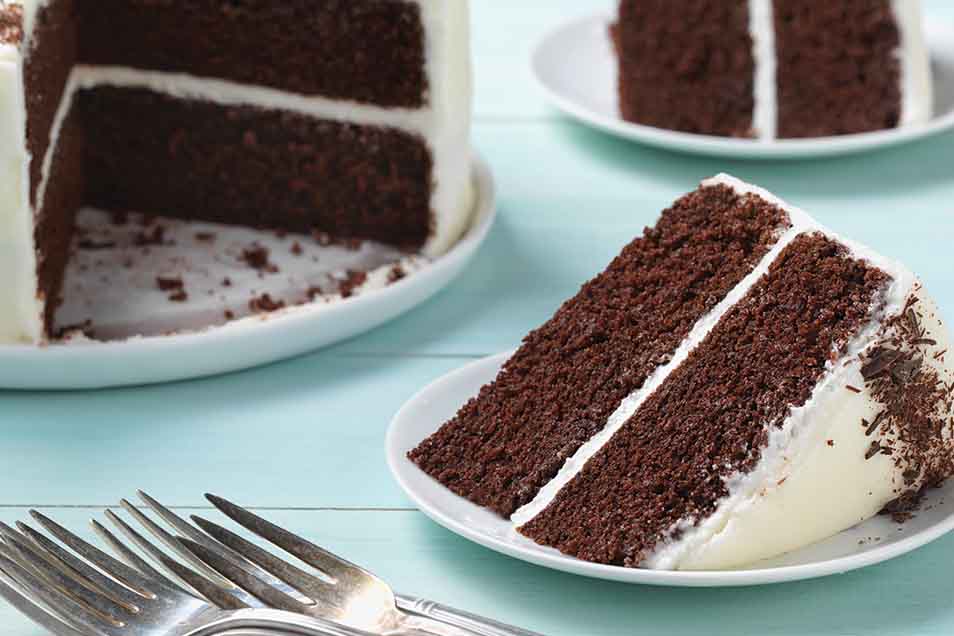 All cakes should be this easy to make, not to mention delicious! It's moist and tender, and has a rich, decadent chocolate flavor that pairs well with either chocolate or vanilla frosting. If there's a chocolate cake-lover in your life, this is sure to be his/her birthday cake of choice.

Baking gluten-free? For great results, substitute King Arthur Gluten-Free Measure for Measure Flour for the cake flour in this recipe; no other changes needed.
Instructions
Place a rack in the center of the oven. Preheat the oven to 350°F.

Lightly grease your choice of pan(s): one 9" x 13" pan, two 8" or 9" round cake pans, or the wells of two muffin tins (24 muffin cups). You can also line the muffin tins with papers, and lightly grease the insides of the papers using non-stick spray.

Whisk together the flour, sugar, cocoa, baking powder, baking soda, and salt until evenly blended. Set aside.

Whisk together the remaining ingredients until evenly blended.

Pour the wet ingredients into the dry ingredients and stir until smooth and well combined.

Pour the batter into the prepared pans.

Bake the cake until the center feels firm when gently pressed, and a toothpick inserted in the center comes out clean — 42 to 50 minutes for a 9" x 13" pan; 30 to 36 minutes for 9" pans; 35 to 40 minutes for 8" pans, or 22 to 26 minutes for cupcakes.

Remove the cake from the oven. Allow it to cool completely in the pan, then loosen the edges with a knife and gently remove from the pan. Allow the cupcakes to cool in the pans for 5 minutes, then turn out onto a rack to cool completely.
Tips from our bakers
Natural cocoa will also work with this recipe, but the cake will be lighter in color and milder in flavor.
Reviews
Terrific recipe: baked it using 2 greased, wax-paper lined 8' pans: the cakes rose beautifully. Filled and frosted the cake with chocolate ganache (12 oz. bittersweet chocolate + 1 1/3 C heavy cream). The resulting birthday cake got rave reviews--moist crumb, nice dark chocolate flavor, not overly sweet.
Made this as a small birthday cake in the beautiful 6 cup bundt pan by halving the recipe (I only ever use melted butter in my bundt pans and brush them lavishly...nothing sticks). While I was baking cake, made an orange ginger simple syrup: 1. Zested and juiced one large orange, put zest aside. 2. Put juice into small pan with 1 TBS sugar, 1/2 tsp ground ginger and 1/4 tsp of lemon oil. Boiled until reduced to syrupy consistency (about 15 - 20 min) 3. As cake was cooling, added 2 TBS butter and zest and heated until butter was melted. 4. Brushed on hot cake. YUMMY. My only objection: the cake was a bit too coffee flavored and insufficiently deeply chocolate as I had expected it to be. I used double Dutch cocoa. Also had run out of cake flour so used regular flour, but subbed 2 TBS of corn starch for 2 TBS of flour. Cake was light and lovely.
This is a wonderful chocolate cake. I have baked it twice, and both times it has turned out perfectly. I followed the recipe exactly, using KAF Double Dutch Dark cocoa. It's moist and very chocolatey. I used 8" pans and the layers rose quite high. The first time I made it I frosted it with Italian Buttercream. This time I used the old tried and true Hershey's One Bowl Buttercream frosting recipe. They were both a big hit with my guests, but the chocolate/chocolate combination won by a nose. I like the fact that the flavor of the cake itself stood out, even against the somewhat assertive flavors of both frostings. So, for anyone looking for a really good chocolate cake recipe, this is IT.
I just made this recipe and the cake was moist and perfect. I measured most of the ingredients by weight because I didn't have measuring cups available, and I think that was part of the cake's success. Could you add measurements by weight to the recipe? I Googled and converted everything, and would have appreciated having everything in the recipe.

We love baking by weight! You can click on either "ounces" or "grams" below the ingredients header to view the ingredients in these units. Happy baking! Kye@KAF
Cannot tell you how absolutely wonderful this recipe is...I love to bake but life kind of got in the way for several, many several years as a matter of fact and I'm back at it now. This was my first attempt at a scratch cake in forever and this my dears, this recipe takes it. I will have a hard time making any other recipe; this was so perfect. I don't know if Devine Cocoa is the caliber of cocoa which was instructed to be used, but baby, baby, hubba, hubba. It is SO chocolaty and so moist...I used butter, not oil as well and topped it with chocolate cream cheese icing...so delicious, if you try it you'll have to slap your sister. I highly recommend this recipe!
I saw this recipe could be easily cut in half to make a one-layer 8" round cake and went for it. I weighed the flour and sugar and sifted the cocoa with the cake flour to blend it better than I could with a whisk. After blending the batter, I decided to beat it on medium for 30 seconds. Baked the full 40 minutes. I chose to coat it with ganache instead of frosting: 3/4 c. semi-sweet chocolate chips, 2 TB cream, 2 TB coffee. It was fantastic in looks and taste--even my in-laws loved it! Good rise, good crumb, did not taste overly sweet, and the chocolate really came through. My ganache improvisation added just a hint of coffee to complement the chocolate. Since there are just two of us at home, I'm always looking for smaller batch recipes or recipes that can easily be halved. This one is a winner.
I am 11 years old and I baked this cake and it turned out to be moist and delicious recommend this recipe it's great
Cake tastes fine but crumb is very dry. had to use natural cocoa but that doesn't seem like it should cause it to be so dry

Emilia, using natural cocoa instead of Dutch process here does change the pH balance of the batter, which can affect more than just flavor. We wonder if it's also possible that you measured your ingredients by volume and might have unintentionally gotten more flour into the batter than intended. For best results, we recommend measuring by weight whenever possible. When measuring by volume, we recommend fluffing the flour up in its container, sprinkling it into the measuring cup, and leveling it off. This will help to achieve the relatively light cup of flour (4.25 oz) our recipes intend, and the more moist final product we'd all hope for. Mollie@KAF
I am very disappointed in this cake! I made it with my tried and true buttercream icing for a family dinner, and as I was frosting the cake the top layer split in two. I have been baking for 25 years and have never had this happen. I tried to save the cake by spackling the cracked piece with frosting but nothing helped. I ended up having to cut it half and serve it in two pieces. How embarrassing for someone who is known for her beautiful cakes. The only saving grace was, it tasted delicious and now my family has a story to tell. If I wasn't having company it would have gone straight into the trash. This is the first KA recipe that didn't work for me. I will not be making this one again! I baked the cake for 35 minutes at 350 and cooled it completely in the pans, as directed. The cake did not dome or crack, and I did not have to trim the tops. I really can't fathom what could have caused the layer to crack, other than just bad luck!

Well, we're glad to hear the flavor of this cake was still delicious, K! We'd love to help troubleshoot the cracking cake to prevent this sort of situation in the future. We need a bit more information to get a better understanding of caused the top layer to crack (what pans was the cake baked in, was it split into layer, what was the texture of the cake, etc.) Please feel encouraged to give our friendly bakers a call at 855-371-BAKE(2253) so we can discuss further. Kye@KAF
This cake is incredibly moist and flavorful. Seriously, delicious. But did anyone else have trouble with it not rising much? My 9" rounds were only about 3/4" tall plus a small dome. I had to make it twice in order to make a substantial looking 4-tiered cake. Maybe I just should have used 8" rounds instead?

Kelly, using two 8" round pans will certainly give you taller cakes if you're looking to make a lofty layer cake. We recommend trying that next time, as well being more aware of how the flour is measured and how long the batter is stirred. (These two things are the most common culprits of short cakes.) Try measuring your flour by weight using a scale or fluffing and sprinkling it into your measuring cup, and mix just until the wet and dry ingredients are combined. We hope this helps! Kye@KAF