A customized print-friendly version of this recipe is available by clicking the "Print Recipe" button on this page.
Simple and Rich Chocolate Cake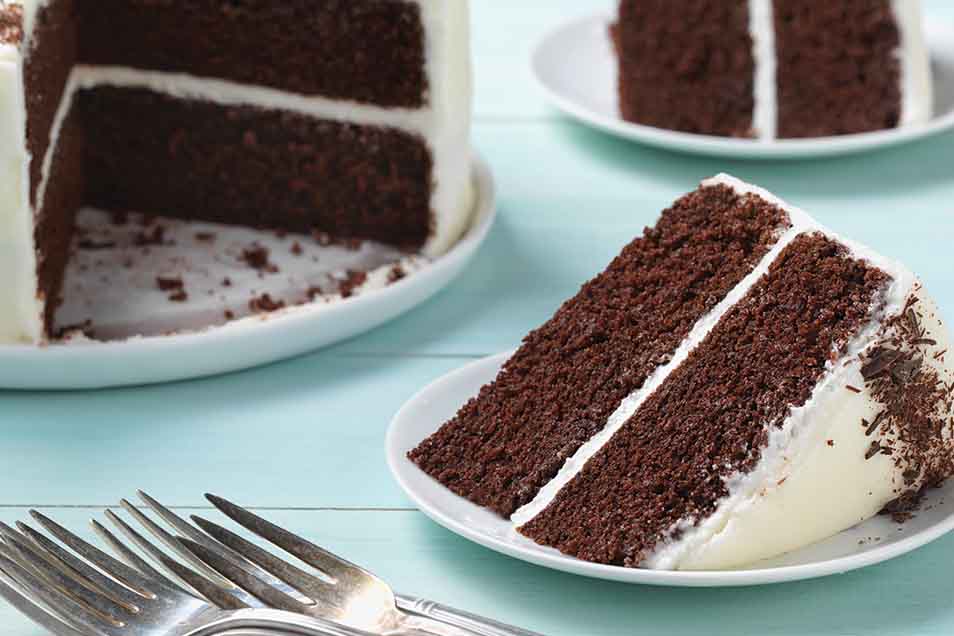 All cakes should be this easy to make, not to mention delicious! It's moist and tender, and has a rich, decadent chocolate flavor that pairs well with either chocolate or vanilla frosting. If there's a chocolate cake-lover in your life, this is sure to be his/her birthday cake of choice.

Baking gluten-free? For great results, substitute King Arthur Gluten-Free Measure for Measure Flour for the cake flour in this recipe; no other changes needed.
Instructions
Place a rack in the center of the oven. Preheat the oven to 350°F.

Lightly grease your choice of pan(s): one 9" x 13" pan, two 8" or 9" round cake pans, or the wells of two muffin tins (24 muffin cups). You can also line the muffin tins with papers, and lightly grease the insides of the papers using non-stick spray.

Whisk together the flour, sugar, cocoa, baking powder, baking soda, and salt until evenly blended. Set aside.

Whisk together the remaining ingredients until evenly blended.

Pour the wet ingredients into the dry ingredients and stir until smooth and well combined.

Pour the batter into the prepared pans.

Bake the cake until the center feels firm when gently pressed, and a toothpick inserted in the center comes out clean — 42 to 50 minutes for a 9" x 13" pan; 30 to 36 minutes for 9" pans; 35 to 40 minutes for 8" pans, or 22 to 26 minutes for cupcakes.

Remove the cake from the oven. Allow it to cool completely in the pan, then loosen the edges with a knife and gently remove from the pan. Allow the cupcakes to cool in the pans for 5 minutes, then turn out onto a rack to cool completely.
Tips from our bakers
Natural cocoa will also work with this recipe, but the cake will be lighter in color and milder in flavor.
Reviews
The cake was rich and had a light fluffy texture. I didn't give a full five stars only because the edges were very thin compared to the center. Maybe flouring the pans instead of just greasing would have helped. I will try this recipe again. I think it would make great cupcakes.
Wonderfully moist and delicious. It was super easy to bake. I use a scale to measure my ingredients and suggest that everyone do this for guaranteed successful baking. I made Hazelnut Buttercream frosting for it and added semisweet chocolate grated on top. Thanks once again KAF !
I made this as the recipe was written. It is great! However, the listed bake time for a 13x9 pan was way too long for my oven. Thank goodness I checked it at 30 minutes it was smelling "done". At 35 minutes, it was done.
I wanted to make a cake to decorate elaborately so the cake inside needed to be extraordinary. I called the baker's hotline to confirm that the triple blend King Arthur cocoa would give a good result and I chose the coffee option as opposed to the water as well. When we cut the cake at a Christmas party expectations were high as it was beautiful. It simply exceeded all expectations. The moist milk chocolate taste was so delectable. I used a cream cheese icing but almost any icing would have been fine because the cake was pure wonder. It will be a permanent addition to my family recipe book.
I just made this recipe (with my toddler) and it turned out fantastic. My husband said that it was delicious as well. It was moist, without being a wet/soggy/under baked type cake. It wasn't crumbly... Which my husband apparently hates. I normally bake cookies, bars, and sweet breads, so upon reflection, i realized that this was my first from scratch cake on my own. I measured everything by weight, which is why I think it turned out so well. I made a peanut butter frosting, and it was sweet, but not too sweet, and worked really well for us. I will definitely be making this simple recipe again. Thank you, KAF!
It's okay but a little bit dry. Not cafe flavors at all. take almost a hour to be ready.

Thanks for reaching out to us, M. The most common reason a recipe turns out dry is if any extra flour was packed (which flour likes to do!) into the measuring cup. To ensure you're using the right amount, we recommend checking out the "Measuring Standards," link next to the ingredients header above. You'll see that either measuring your flour by weight using a scale, or fluffing and sprinkling the flour into your measuring cup are the most accurate ways to measure flour.

Since the coffee in this recipe isn't meant to be detectable, but rather to enhance the chocolate, we encourage you to check out our recipe for Cappuccino Cake if you're looking for that strong coffee flavor. Kindly, Annabelle@KAF
*Follow-up to previous review... I'm glad you keep on top of any problems associated with your products/recipes/blogs, etc... When I served the cooled cake, it was just a bit drier than I would have liked, but I think I was the only one at dinner that thought so!!! Everyone who had a piece (or two, or more...) loved it. I had a bowl of fresh softly whipped cream on the table for serving and there were only a couple of takers. The taste is great, and I like the fact that is so simple and easy (and FAST) to put together. Highly recommended!
Hi! I found this recipe on the back of the K.A. Cake Flour box. ("best by" date: 02/26/2019) There is a difference in the amount of flour called for on this page and that on the box. The box calls for 2 1/2 cups, which I converted to 300 grams (always turns out better when weighed). I'm wondering if this might be a reason that the cake (9" x 13" pan) took a lot LESS time to bake than expected? I followed the recipe to the letter, my oven has not just one, but two thermometers to ascertain proper temperature - but when I checked it at 40 minutes, it had already reached an internal temp of 211 degrees F! The box recommends 44 - 50 minutes of baking time for the 9 x 13, so I figured I would start checking at 40. I'm glad I did. Right now it's cooling, so I'm not certain of the crumb, density, etc. It sure does smell good, though!!! (As all the recipes I've tried from your site!)

Thanks for bringing this to our attention, MCT. We checked with the right members of our team and were able to confirm that the correct amount of flour is 2 1/4 cups (269 grams), as it's listed here. We've reached out to our packaging team so that we can work on getting the Cake Flour Box updated with the correct amount of flour as soon as possible. Customers like yourself who have a keen attention to detail are one of our best asset here at King Arthur Flour; thanks for helping keep us on our toes! Kye@KAF
I made this cake this weekend and it turned out perfect. It was the first layer cake I had ever made. It was moist and rich and everybody couldn't believe I made it. I increased the amount of the butter cream icing just to be sure I had enough. As it turned out, I didn't need to but I rather have too much on the first try than not enough. I cut the domes off the cake layers, ground them in the food processor, and sprinkled the crumbs on the top and sides of the cake. I am going to make another one just as soon as I lose the pounds I gained from the first one.
I made this cake according to the recipe. It was the first layer cake I ever made and it turned out great. Some in my family couldn't believe I had made it. I didn't use any cake pan strips, so both layers had domes that I had to cut off; however, I ground the ones I didn't eat in my food processor and sprinkled the crumbs over the top of the cake. I also made extra butter cream frosting to be sure I had enough. I am going to make this cake again as soon as I work off the pounds I gained from the first one.