A customized print-friendly version of this recipe is available by clicking the "Print Recipe" button on this page.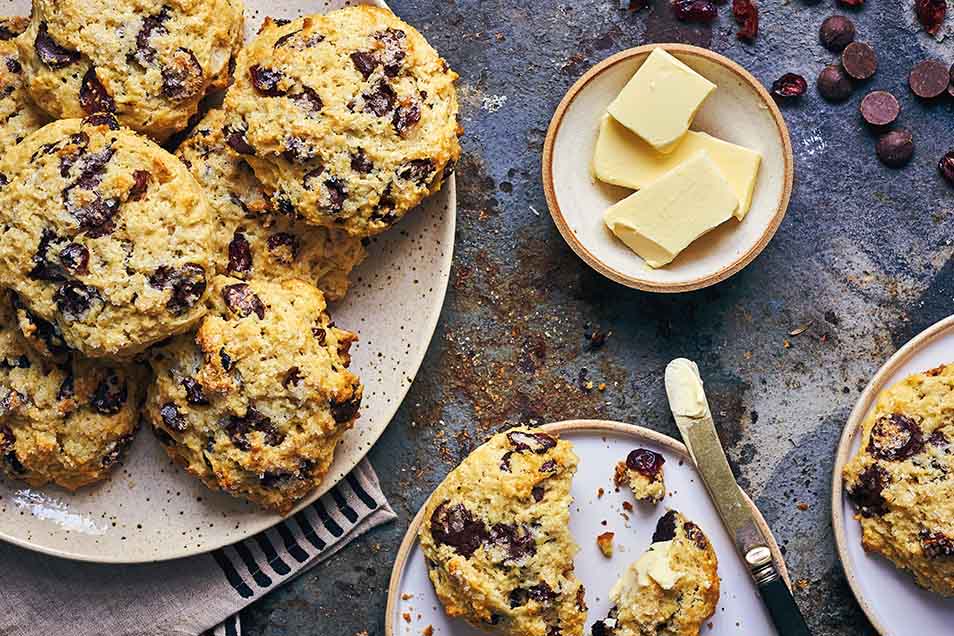 Here's your basic "start here" scone recipe. This plain vanilla scone is just waiting for your favorite add-ins; we happen to love a combination of dried cranberries and bittersweet chocolate chips.
Ingredients
Dough
2 3/4 cups King Arthur Unbleached All-Purpose Flour or Pastry Flour Blend
1/3 cup sugar
3/4 teaspoon salt
1 tablespoon baking powder
1/2 cup (8 tablespoons) cold butter
1 cup to 2 cups chopped dried fruit, chocolate or other flavored chips, nuts, or a combination
2 large eggs
2 teaspoons vanilla extract or flavoring of your choice
3/4 cup half & half or milk
Instructions
Preheat your oven to 375°F. If you're using an 8-wedge scone pan, lightly grease the wells. Or lightly grease eight 4" x 1" paper baking cups. Or grease a baking sheet, or line with parchment.

In a large mixing bowl, whisk together all the dry ingredients. Cut in the butter just until the mixture is unevenly crumbly; it's OK for some larger chunks of butter to remain unincorporated. Stir in the fruit, chips, and/or nuts.

In a separate mixing bowl, whisk together the eggs, vanilla or other flavor, and half and half or milk. Add the liquid ingredients to the dry ingredients and stir until all is moistened and holds together.

Using a muffin scoop or a 1/3-cup measure, generously filled, fill your scone pan or baking cups. Or plop the dough in mounds onto the baking sheet. Brush with a bit of milk and top with coarse sparkling sugar, if desired.

Bake the scones 25 minutes (for the scone pan), or 30 minutes (for the baking cups or baking sheet), until lightly browned. Remove them from the oven and let them sit for 4 to 5 minutes to firm before removing them from the pan. Serve scones warm with butter and/or jam.
Tips from our bakers
Variation: To make wedge-shaped scones without a scone pan, line a baking sheet with parchment, and flour the parchment. Make the scone dough, reducing the milk or half-and-half by 2 tablespoons. Scrape the dough onto the floured parchment, and round it into a 7" circle. Using a bench knife that you've run under cold water, slice it into 8 wedges. Carefully separate pull the wedges away from the center to separate them just a bit; there should be about ½" space between them, at their outer edges. Bake as directed above, for about 30 minutes. Remove from the oven, and cut and separate while warm. Yield: 8 large scones. For smaller scones, divide the dough in half to make two smaller circles, and cut into 8 wedges each. Bake for about 25 to 27 minutes, or until brown around the edges and just starting to brown on top. Yield: 16 scones.
Want to make these ahead? Sure, but keep in mind that refrigerated or frozen scones never bake up quite as tall and tender as ones baked immediately. Make the dough, shape it into scones by your preferred method, but don't top with sugar; wrap well, and refrigerate overnight (or freeze). To bake, remove scones from the fridge or freezer, unwrap, and put on a lightly greased baking sheet (or simply unwrap and leave them in their pan). Preheat the oven to 350°F; the scones will warm up a bit as the oven heats. Brush with a bit of milk and sprinkle with coarse sugar, if desired. Bake scones until they're starting to brown, which will be anywhere between 25 and probably 35 minutes, depending on how cold they are when you put them into the oven.
It's simple to substitute heavy cream for the butter and milk in this recipe. See how it's done: Cream scones vs. butter scones: how to convert your favorite recipe.