A customized print-friendly version of this recipe is available by clicking the "Print Recipe" button on this page.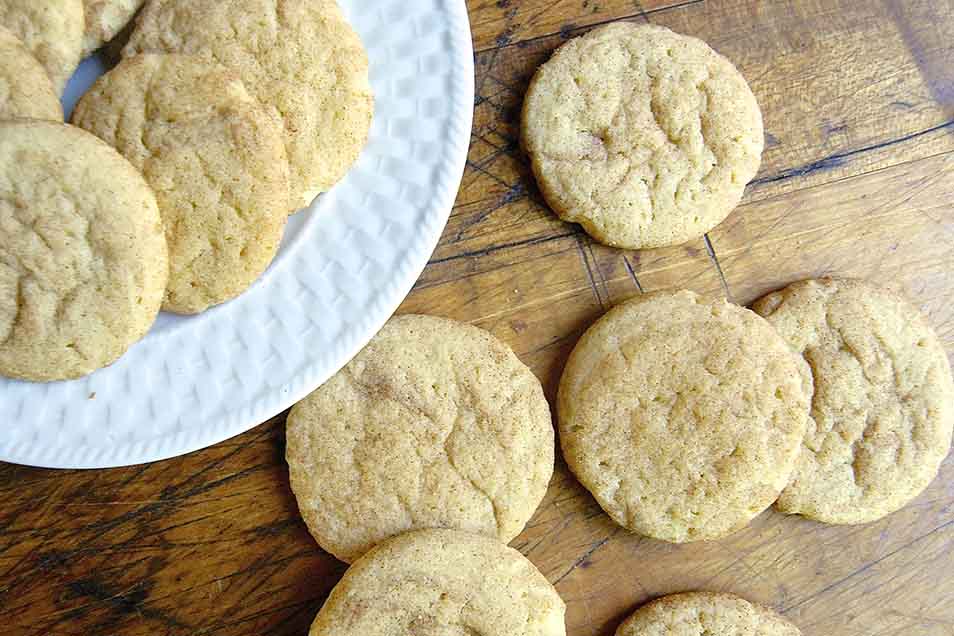 PJ Hamel writes about her version of the snickerdoodle: "I made these and put them out for taste-testing. The comments ranged from 'Great taste, but they need to be chewy,' and 'I like mine soft,' to 'Yes! This is a real snickerdoodle!' Obviously, there's no real snickerdoodle; each person's version is his or her own reality."
Ingredients
1 cup vegetable shortening
1 1/2 cups sugar
2 large eggs
1 teaspoon vanilla extract
2 teaspoons cream of tartar*
1 teaspoon baking soda*
1/2 teaspoon salt
2 3/4 cups King Arthur Unbleached All-Purpose Flour
cinnamon-sugar
*Or substitute 2 teaspoons baking powder for the cream of tartar and baking soda (2 teaspoons total, not 3!)
Instructions
Preheat the oven to 400°F. Lightly grease (or line with parchment) two baking sheets.

In a medium-sized mixing bowl, beat together the shortening and sugar until smooth, then beat in the eggs, again beating until smooth. The mixture will become lighter, and lighter-colored, as you beat; this is the result of air being absorbed.

Beat in the vanilla, cream of tartar, baking soda (or baking powder, in place of the cream of tartar and soda), and salt, then add the flour, mixing slowly until combined.

Place about 1/2 cup cinnamon-sugar in an 8" or 9" round cake pan.

Drop the soft dough by tablespoonfuls into the pan with the sugar, about 6 to 8 balls at a time. Gently shake the pan to coat the dough balls with sugar.

Place the cookies on the prepared baking sheets, leaving about 1 1/2" between them. Using the bottom of a glass, flatten each cookie until it's about 1/2" thick. Repeat until you've used up all the dough.

Bake the snickerdoodles for 11 to 12 minutes, reversing the position of the pans (top to bottom, and back to front) midway through.

Remove the cookies from the oven once they're set and just starting to turn golden. Transfer them to a rack to cool completely.

Store cookies, tightly wrapped, at room temperature for several days; freeze for longer storage.
Nutrition Information
Serving Size

1 cookie

Servings Per Batch

40
Amount Per Serving:
Calories

101

Calories from Fat

Total Fat

4g

Saturated Fat

Trans Fat

Cholesterol

9mg
Sodium

55mg

Total Carbohydrate

5g

Dietary Fiber

Sugars

9g

Protein

1g
* The nutrition information provided for this recipe is determined by the ESHA Genesis R&D software program. Substituting any ingredients may change the posted nutrition information.
Tips from our bakers
To make the coating, mix cinnamon and sugar until you've got just the flavor and color you want; if you have no idea where to begin, try 1/2 teaspoon cinnamon mixed with 1/4 cup sugar, which makes a "middle-of-the-road" version of cinnamon-sugar.
For caramel-stuffed snickerdoodles, place a gumball-sized piece of soft caramel into the center of each ball of dough before rolling in cinnamon-sugar. See our blog post for complete instructions.
Reviews
An excellent no-fail recipe. When edges are just turning the cookies are done. I use convection baking which allows me to bake three sheets at a time. For crispy cookies the Crisco is a must.
I also had trouble with the baking temperature being too high. I baked one test cookie at 11 minutes, 400 degrees and it was completely burnt on the bottom. After some trial and error I found that 375 degrees and 11-12 minutes seemed to work fine. I used good quality, fairly light colored Nordicware sheet pans with parchment paper. These cookies weren't 'cinnamon-ey' enough and my test subjects mistook them for straight sugar cookies! For the coating I used about 3/4 tsp cinnamon with 1/4c white sugar. If I were to make them again I'd probably throw a 1/4-1/2 tsp of cinnamon into the dough as well and maybe use a full teaspoon or even a teaspoon and a half of cinnamon for the coating. Otherwise the cookies were pleasantly crispy without being too hard. I used the cream of tartar/baking soda combo rather than all baking soda.
Tasty snickerdoodles IF you don't follow the original baking times. I followed the instructions (despite some doubts on the original oven temperature and time) and ended up with almost burnt, slightly charred cookies. I turned my oven down to 350 and baked for 8 minutes (switching halfway through) and they were almost perfect. I don't believe my oven is the issue here because I've followed numerous other recipes from KAF and they've all turned out marvelously.

Sorry to hear that the bake temp and time didn't work for you, but we're glad that you've identified what does! If it's a softer, chewier snickerdoodle you're after, you might also enjoy our recipe for Buttery Snickerdoodles, baked for the lesser amount of time. Mollie@KAF I'd still like a softer cookie, but I believe that they will soften up over time. If not, I'll likely crumble them and stir into ice cream. If I make these again, I'll probably bake them for 7 minutes.
Great cookies! I made one substitution, and switched out the cinnamon sugar outside for a coating of your speculaas spice mix and sugar instead. Everyone who has tried them loved them but can't quite identify the the flavor aside from describing them as warm and Christmas-y.
This is a great recipe. I used the Baking Powder substitute. At first I tried one inch dough balls, but they're too small and come out crisp. I like my Snickerdoodle's on the chewy side. So I made the dough balls twice as big and cut cooking time to 10 minutes total. BINGO! Perfect Snickerdoodle~
Maybe snicker doodles aren't my thing? I made these since I was out of milk and butter in the house and they hit the sweet spot but they don't have a lot of moxie. My husband loved them. I could live without them next time and walk to the store to pick up things to bake something else.
Great recipe.... I shape the dough into balls, dip each in melted butter, then drop into a Baggie containing a cinnamon sugar mixture. After flattening the dough, I add a little more cinnamon/ sugar. These cookies are great frozen.... You get a wonderful chewy-crispy texture... My grandboys love them...
I used Smart-Balance original spread and these came out perfect. Soft, slightly chewy, and very yummy. The only thing I added was some ground nutmeg and ground clove as well as the cinnamon.
I'm trying to view the recipe off my iPhone, but aside from seeing the name of the recipe and a photo, there is NO recipe shown--just all your ads and a huge page footer.
I am sorry you are having some issues with our site. I am able to view the recipe while using a PC and Firefox. Sometimes our site does not play well with devices and/or Internet Explorer. Please try a PC or another browser. You may always call our Customer Service Team for further assistance, 1-800-827-6836. Elisabeth@KAF
I've been making this exact recipe for years and it is fantastic.... just like the picture. Today I made it with butter instead of the shortening and it is like a whole other cookie......It is good but it is flat, and very crispy while buttery. It does NOT look like a snickerdoodle. I guess I will have to go back to shortening if I want it to be like this recipe.