A customized print-friendly version of this recipe is available by clicking the "Print Recipe" button on this page.
Stovepipe Savory Pastries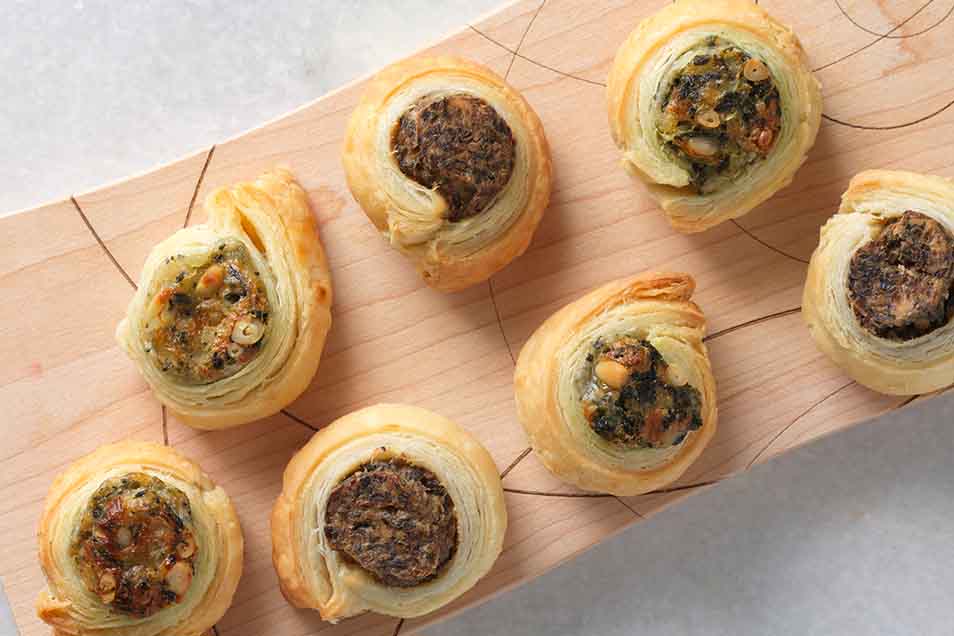 These make-ahead, bake when you need them appetizers can be filled any number of ways (choose one or more fillings from the options below), and are as tasty as they are elegant.
Ingredients
Mushroom filling
2 tablespoons butter
1/2 cup minced onions or shallots
2 cups mushrooms, ground or finely chopped
1/4 cup dry sherry or brandy
2 teaspoons dried chives
2 teaspoons dried parsley
1 teaspoon Worcestershire sauce
3-ounce package cream cheese
salt and pepper to taste
Sausage filling
1 1/4 to 1 1/2 pounds bulk sweet or hot Italian sausage
Spinach filling
1 tablespoon olive oil
1 cup diced onions
10-ounce package chopped frozen spinach, thawed and well drained
1/2 cup fresh bread crumbs
1 cup grated Fontina cheese
1 cup grated Parmesan cheese
3/4 cup pine nuts
salt and pepper to taste
Instructions
To make the mushroom filling: In a large skillet, melt the butter over medium heat. Add the onions and cook, stirring occasionally, until they're translucent. Add the ground mushrooms and cook until they release their liquid. Continue cooking until the mixture is dry, then add the sherry, herbs, and Worcestershire sauce.

Cook once again until the mixture is dry, then stir in the cream cheese. Taste and season, then remove from the heat and cool completely before using to fill the pastry. This amount is enough to fill about 20 pastries.

To make the spinach filling: In a large skillet, heat the olive oil over medium heat. Add the onions and cook until translucent. Add the spinach and bread crumbs, and stir until evenly combined. Remove from the heat and stir in the cheeses and pine nuts; taste and adjust the seasoning, then cool completely before using to fill the pastries. Yield: 3 cups, enough to fill the full batch of pastry dough.

To assemble the pastries: Divide the dough into four equal rectangles. Keep the unused portions in the refrigerator. On a floured work surface, roll 1/4 of the dough into a 5" x 13" rectangle. Trim the sides and ends to make straight lines; save these scraps to re-roll for the bottoms.

Form the filling of your choice into a rope about 3/4" in diameter. Place the filling down the center of the rectangle. Wet one of the long edges with some water, and roll the other toward it to enclose the filling. Wrap the roll and freeze for 30 to 40 minutes while you roll and fill the rest of the dough.

Collect all the scraps and pile them on top of each other. Roll out once more, and cut 4 dozen 1" circles, re-rolling the scraps as necessary. Put the circles on a parchment-lined baking sheet and refrigerate.

Take the filled rolls out of the freezer (they should be semi-frozen and firm by now); cut each one into 12 pieces. Take the circles out of the refrigerator and brush with water or a beaten egg. Place each piece of filled dough over a circle, pressing down to seal. At this point you can refrigerate your stovepipes for up to 24 hours, or freeze them and use from the freezer as you need them.

To bake: Place as many of the pastries as you need on a parchment-lined baking sheet while you preheat the oven to 400°F. Bake for 15 minutes, until golden brown. Cool for 5 minutes before serving (the filling will be very hot).

Yield: 4 dozen pastries.
Tips from our bakers
This recipe is designed to give you at least two flavor options (three if you choose to do sausage). If you use only part of the spinach filling, consider using the rest as a pizza topping; or freeze it to use later.
For a sausage-filled pastry, use the bulk sausage of your choice (Italian, breakfast, chorizo, etc.), and roll it (raw) into a rope like the other fillings. There will be a little more fat draining out when you bake them, but a quick stop on absorbent paper before serving will take care of that.
Reviews
Yum! I doubled the mushroom filling for mine. Both my spouse and I loved these -- and this was my first time doing puff (abeit easy puff) pastry! Plus, the recipe makes enough that I have extra stored in the freezer to throw in the oven for my next get together. Thanks, King Arthur!
So flaky and the spinach version was easy to substitute different cheeses and nuts.The blog instructions and pictures were very helpful in making the puff pastry correctly. Helpful hints: refrigerator is your friend...keep ingredients cold and if it becomes difficult to handle, then chill again. Use parchment to roll out pastry. It was time consuming for the first go around, but what a great recipe to make a day ahead or freeze before baking!