A customized print-friendly version of this recipe is available by clicking the "Print Recipe" button on this page.
The Easiest Pizza You'll Ever Make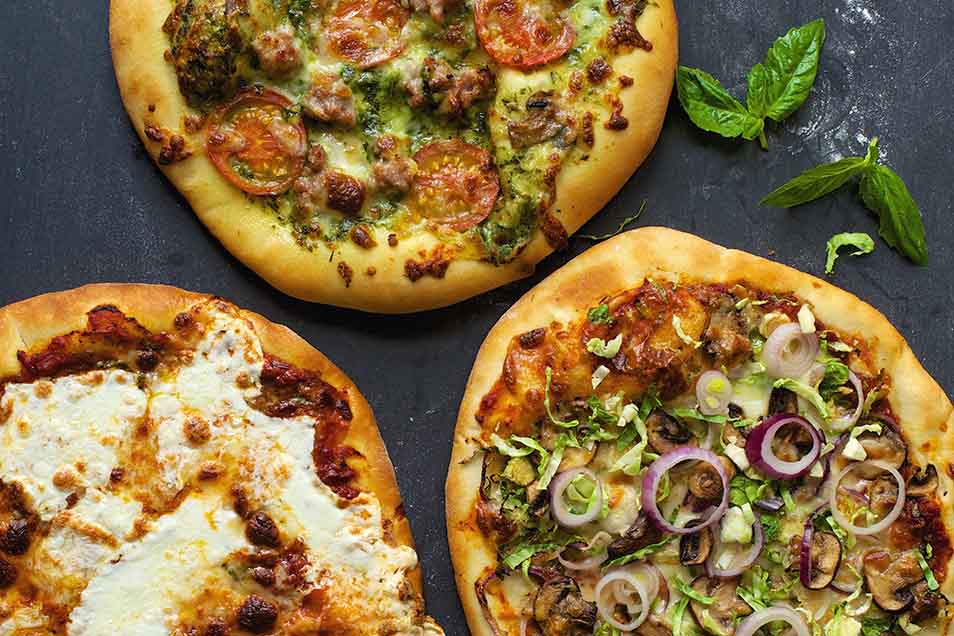 This recipe makes a terrific "do-it-yourself-party." All you do is make this simple dough and provide plenty of toppings and grated cheese; your guests will have fun doing the rest. This recipe makes three or four 12" pizzas (depending on how thick you like the crust). For a larger party, you can easily double it.
Ingredients
2 cups lukewarm water
1 tablespoon sugar
1 tablespoon active dry yeast or instant yeast; or 1 packet active dry yeast
1 tablespoon salt
2 tablespoons olive oil, optional
5 1/2 to 6 cups King Arthur Unbleached All-Purpose Flour or Pizza Flour Blend, enough to make a soft, smooth dough
2 tablespoons Pizza Dough Flavor, optional
Instructions
Dissolve the sugar, yeast, and salt in the lukewarm water (and olive oil, if you're using it).

Add the flour and Pizza Dough Flavor, starting with 5 1/2 cups flour and adding more as necessary to make a soft, smooth dough.

Knead the dough (with your hands, a mixer, or your bread machine set on the dough cycle) until it's smooth and elastic, about 7 to 10 minutes.

Place the dough in a lightly greased bowl or other container, cover it, and let it rise for 1 to 2 hours, whatever fits your schedule.

Gently deflate the dough, and divide it into four pieces, for medium-crust pizza; or three pieces, for thicker crusts. Roll each piece, on a floured surface, with a floured rolling pin, into a circle to fit a 12" pizza pan. To roll, work from the center to the outside like pie dough. Let the dough rest several times to relax it and make it more cooperative. Turn it over from time to time and roll the reverse side.

Place the rounds on pizza pans; on baking sheets; or, if you have a pizza stone in your oven, on parchment.

Preheat your oven to 450°F. While it's heating, get out your toppings, which you've prepared ahead. Some possibilities include sliced pepperoni; sautéed mushroooms, onions, or peppers; cooked meats; olives; anchovies; and grated or shredded cheese.

Brush each crust with a bit of olive oil; spread pizza or spaghetti sauce lightly over the surface, and let your guests add their favorite toppings. Sprinkle the top with grated cheese.

Bake the pizzas for 15 to 20 minutes, until they're golden brown, the toppings are hot and bubbly, and the cheese is melted. Remove the pizzas from the oven.

Immediately transfer pizzas to a cooling rack, so their bottoms don't get soggy. After about 10 minutes (to allow the toppings to set), slice and serve; a pair of scissors is a great cutting tool.

Yield: 3 or 4 pizzas, 6 to 8 servings.
Nutrition Information
Serving Size

1 slice

Servings Per Batch

32
Amount Per Serving:
Calories

90

Calories from Fat

10

Total Fat

1g

Saturated Fat

0g

Trans Fat

0g

Cholesterol

0mg
Sodium

270mg

Total Carbohydrate

17g

Dietary Fiber

1g

Sugars

1g

Protein

3g
* The nutrition information provided for this recipe is determined by the ESHA Genesis R&D software program. Substituting any ingredients may change the posted nutrition information.
Reviews
I have been experimenting with dough for years...years! About a year ago, I found the KA recipes online; fan-*******ing-tastic!!! This recipe helped me bridge the gap between my thin crust dough and an evenly baked, crispy, and chewy crust with a stiff pie to hold any toppings. Add a garlic salt egg wash on the crush a few minutes to end of bake - perfect!!
First, thank you for always providing grams measurement. It is so refreshing instead of inaccurate cups, etc. My son kind of shamed me into trying homemade pizza dough by telling me how surprised he was that it was something I didn't make myself (he does). So, where did I go to give it a try? King Arthur of course! It was great, and has become my go-to for pizza night. Thanks again!
I halved the recipe (to make two 12" pies), followed your recipe to the letter and it all worked out well. Good solid recipe. Could be more flavorful, hence your optional dough additive (which I don't own). I let mine rise in the fridge overnight, maybe a couple of days would have added more flavor (w/o additives). However, this was one of the better pizza doughs I've had in terms of texture, mouth feel, ability to stand up to toppings, non-floppage factor (you know when you hold up a slice and the point of the triangle flops down and the cheese/toppings slide off...lame). People around here fold their pizza in half due to floppage---which makes it almost a Calzone at that point---bottom line: yours was really good. Simple, straightforward procedure.
Fantastic, soft, pliable dough that is a dream to work with. Bakes up nice and crispy. I made 1 pizza and baked on parchment paper on a heated pizza stone. Froze the other 3 dough portions. Thank you for a great recipe!
Wow! Absolutely love this recipe. I did view the comments and used the idea of the paper. However I do not have the pizza stones I do however have a 12 inch cast iron pan. That worked very well for me. It also makes it easier to make a deep dish pizza.
Nice soft texture. I used instant yeast... Totally ready to beat down within an hour.
After several years of trial-and-error I find the best pizza is with a pizza stone, the crust rolled on parchment & the parchment placed directly on the pizza stone, with the oven pre-heated to 450. This works even though we really like to load up the pizza with toppings. The dough can still be rolled thin and comes out crisp using a parchment/stone combo.
Hi, this was my first time making pizza dough. I had some mixed results. The recipe was great and the dough turned out well, excellent flavor. The issue was the "bake" aspect - the crust ended up nice and crunchy, but the crust in the center of the pizza remained slightly doughy and not crisp, even after 30 minutes in the oven. I baked on a pizza stone (I didn't preheat it - are you supposed to do that?). Do you think it would help to pre-bake the crust for a few minutes before adding the toppings? Or are you supposed to preheat the pizza stone? We froze 3/4s of the dough (after it rose but before it is shaped) so am eager to try it again with one of those to see if we can get a less doughy center. Thanks in advance for your help!

Prebaking the crust alone for about 7 minutes won't hurt at all, MJ. In addition to that, we recommend stretching out your dough so the center is a little bit thinner than the edges for best results. That usually helps the middle bake at about the same rate as the edges. Happy baking! Annabelle@KAF
Made this recipe, highly reccomend!
When I got married my husband said he does not like homemade pizza. I started making this, and he now request it. By far it is the best pizza dough recipe I have found. I usually make 3 pizzas and the whole family is happy, because they get options. I like it because it is easy, and other than waiting for the dough to rise, it is fast.