A customized print-friendly version of this recipe is available by clicking the "Print Recipe" button on this page.
Traditional Angel Food Cake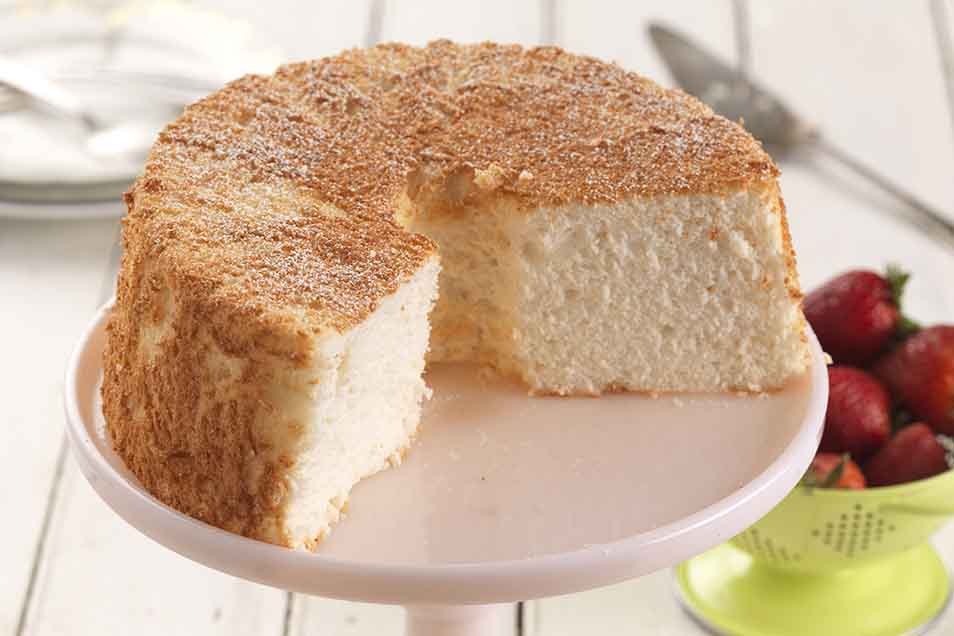 Angel food cake is one of the most versatile desserts we know. It pairs perfectly with fresh fruit or a flavored whipped cream, is excellent with Seven Minute Frosting for a sumptuous no-cholesterol treat, and is unforgettable with a drizzle of warm chocolate sauce.
Ingredients
1 cup King Arthur Unbleached Cake Flour or King Arthur Unbleached All-Purpose Flour
1 1/2 cups sugar
12 large egg whites, room temperature
1/2 teaspoon salt
1 teaspoon vanilla or almond extract, or a combination
1 1/2 teaspoons cream of tartar
Instructions
Preheat the oven to 325°F. Don't grease or flour your angel food cake pan. A 10" round pan or an angel food loaf pan will fit this recipe well.

In a large bowl, whisk together the flour and 3/4 cup of the sugar. Set aside.

In a large mixing bowl, combine the egg whites, salt, and extract. Beat until the mixture is just frothy, then sprinkle the cream of tartar on top and continue beating until the mixture forms stiff, glossy peaks.

Add the remaining sugar, 1/4 cup at a time, then gradually fold in the dry ingredients.

Spoon the batter into the pan, and bake the cake for 40 to 45 minutes, or until it's golden brown and the top springs back when lightly touched.

Remove the cake from the oven, and set it upside down with a bottle through its center cone to keep its top from flattening on the counter. Let the cake cool for 1 1/2 hours. This cooling period sets the structure, and keeps the cake from collapsing.

Loosen the edges of the cake with a knife, and remove it from the pan.

Store the cake, covered, on the counter for up to a week. Freeze, well wrapped, for up to 3 months.
Nutrition Information
Serving Size

53g

Servings Per Batch

16
Amount Per Serving:
Calories

100

Calories from Fat

0g

Total Fat

0g

Saturated Fat

0g

Trans Fat

0g

Cholesterol

0mg
Sodium

115mg

Total Carbohydrate

25g

Dietary Fiber

0g

Sugars

19g

Protein

4g
* The nutrition information provided for this recipe is determined by the ESHA Genesis R&D software program. Substituting any ingredients may change the posted nutrition information.
Tips from our bakers
Using our unbleached cake flour (instead of all-purpose flour) yields a taller, more tender angel food cake.
Reviews
This was my first Angel Food Cake - was very pleased with the results. A pretty cake with great texture and wonderful flavor. I used 3/4 teaspoon vanilla extract and 1/4 teaspoon KA Fiori di Sicilia. Was a perfect combination. Will definitely make this again and again.
Followed directions precisely. Baked cake and looked perfect. Turned over my ungreased, non-stick pan and it promptly fell out of the pan. Disaster and trash can bound. Too bad, it tasted wonderful.

Thanks for reaching out, Jeff. Angel Food Cake needs to be baked in a pan that isn't non-stick because, as you experience, the non-stick properties don't allow the cake to hold onto the sides when you turn it upside down. Using a standard angel food cake pan that isn't non-stick should give you the results you're looking for. Kindly, Annabelle@KAF
I followed the directions for this recipe exactly. I was looking for a new angel food cake recipe that used all purpose flour as I did not have any cake flour on hand. I used my grandma's tube cake pan that I always use for my angel food cakes (it is NOT nonstick and the pan was not greased). When I removed this cake from the oven, it looked like the most beautiful angel food cake I have made. I inverted the pan to cool on a bottle. Within 10 minutes, the cake had fallen out of the pan on to the counter. Very disappointing.

We're surprised and sorry you had that experience, Lexi! While we're not sure exactly why this happened in your case, it may have been that there was some residual fat on the walls of your tube pan from making a Bundt cake or other type of cake where you would want the sides of the pan to be greased. If that's not the case, we'd encourage you to call our Baker's Hotline at 855-371-BAKE (2253) so that we can work together to get to the bottom of your angel food cake mystery. Kat@KAF
This makes a wonderful angel good cake, though I must admit I've never fully grasped the appeal of such a cake. But I bought the tube pan as part of my latest purchase just to know that I could make one. Mine was fully done much earlier than stated because of my oven. Moist and delicate without sponginess. I used a coffee Italian meringue as a frosting. By the way, this excellent recipe is virtually the same as the Fannie Farmer Angel good cake.
I have made this recipe, and would make a few changes. Mixing some sugar with the flour to be folded in leads to a dense cake. You should beat all your sugar in and do your flour separately. This should result in the light and fluffy texture of an angel food cake.
I had a bunch of egg whites left over from making homemade cat food (hey - why should they miss out on the good stuff?) Never made an angel food cake from scratch and I don't think I've ever eaten one. Wow. Just wow. Super simple. I only had a regular tube pan - it's nyc - we don't have big kitchens so we gotta make things work. It stuck a bit on the way out but was easy to patch together. The taste was just divine. Can't wait to bring it to work to share tomorrow. Never ever going to eat a store bought one again. I don't know if it would work but maybe parchment on the bottom would help?Can the bottom of a tube pan be lined with parchment or will it make the cake come out too soon when it's cooling on the bottle?

That's an interesting idea, Deb. We're thinking parchment on the bottom will be ok, since the cake mainly holds onto the sides of the pan, but it might be a good idea to do a test-run before making it for a special occasion — just in case! Annabelle@KAF
It has been a number of years and a move to a new kitchen since I had made an actual, from scratch angel food. So I wasn't sure if it was my oven at first but at 45 minutes my cake was still shiny on top yet pulling away all around from the edges so I took it out of the oven. When I tipped it over the entire cake fell out of the pan after a minute. The texture was still tender but of course it suffered in density when it hit the granite countertop. My evaluation was that the temperature was too low for my pan. I have a 1960s cake pan that seems to be heavier then the models today. And in looking at all my other older recipes they all suggest 375 F. I will try this recipe again in the future but at a higher temperature as the flavor and texture were still wonderful.

Hi Chris, we're sorry to hear about your slippery cake! This recipe, like most angel food cake recipes, call for turning the cake pan upside down during cooling to prevent it from sinking in on itself. (The cake is so delicate it will collapse on itself if left to rise right-side-up.) Turning the cake over helps maintain a light texture and open crumb. We're surprised to hear the cake slipped right out. It sounds like you might have used a non-stick pan. Next time, try using a different angel food cake pan, preferably one without a non-stick lining. If you have to let it cool right-side up, just know that the cake may become denser than it otherwise would be, but it'll still be delicious! Kye@KAF
I made it and it's in the oven now. But it doesn't appear to be rising at all.

Oh no, Wendy! We're sure your cake it out of the oven by now, and we're keeping our fingers crossed that it rose to the occasion once it met the heat of the oven. If it didn't, it might be because the egg whites weren't whipped quite long enough, the batter deflated when the dry ingredients were added, or that the sides of the pan were greased. (They need to be grease-free so the batter can cling to the edges and climb up the sides for support as it rises.) If you'd like to troubleshoot, consider giving our friendly Baker's Hotline a call at 855-371-BAKE(2253). Kye@KAF
This turned out really really well. I wasn't sure how to add the sugar to the beaten egg whites, so I just added it to the mixture in the mixer. My partner and I shared it with the family and it's almost gone. We just cut the first slice five minutes ago.
This was a fantastic cake! I have never had 12 egg whites~ until all 11 chickens started laying at the same time. :-) This cake had an almost marshmallow flavor. It was light and fluffy. Not super sweet, and the top crust had a nice texture. This will be my go-to recipe the next time I have a surplus of eggs!