A customized print-friendly version of this recipe is available by clicking the "Print Recipe" button on this page.
Traditional Boston Brown Bread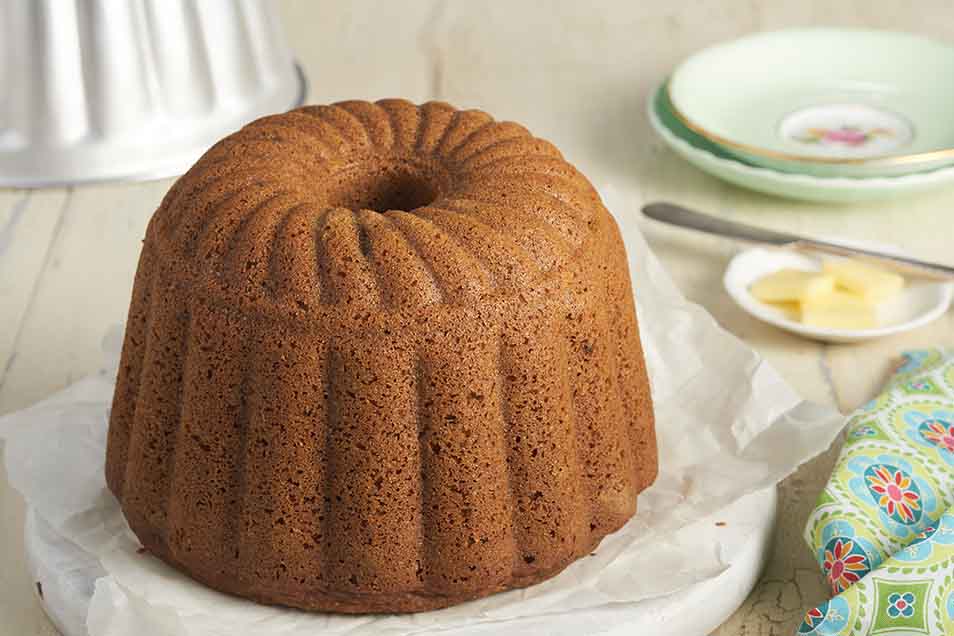 This dark, moist bread is traditionally served with baked beans and franks — not just in Boston proper, but throughout New England, where it's become a Saturday supper tradition. It's a cinch to put together, is moist and delicious, and can be mixed up quickly (though the steaming takes about two hours). Sliced thick and slathered with butter (or not), it's down-home bread at its finest.
Ingredients
1 cup yellow cornmeal
1 cup pumpernickel flour
1 teaspoon baking soda
1 teaspoon salt
1 cup raisins; optional, but good
2 cups buttermilk
3/4 cup molasses
Instructions
Mix the cornmeal, flours, baking soda, salt and raisins together. Combine the buttermilk and molasses and stir them into the dry ingredients.

Place the mixture in an 8 1/2" x 4 1/2" bread pan, or 2-quart pudding mold. Cover loosely with foil that has been greased on the inside (to prevent sticking) and secure with a rubber band. Or grease the inside lid of the pudding mold.

Place the pan, or mold, in a kettle or saucepan on top of something (crinkled aluminum foil or a stainless steel vegetable steaming insert will do nicely) to keep the pan off the bottom of the kettle. The kettle should be deep enough so its lid can cover the pudding container.

Fill the kettle with boiling water two-thirds of the way up the pan. Cover, bring the water back to a boil, then lower to a simmer. Steam for about 2 hours, adding water if necessary. The bread is done when a toothpick inserted into the center comes out clean, or with a few moist crumbs clinging to it.

Remove the bread from the kettle, and let it cool in the pan for about 10 minutes before turning it out of the pan to cool on a rack.

Store, well-wrapped, at room temperature for a day or so. Refrigerate up to several days, or freeze for up to 3 months.
Reviews
My mother used to buy the canned bread and we would slather it with cream cheese. I used organic cornbread mix for the wheat and cornmeal,(because I was trying to use it up) left out the salt and added the teaspoon of baking soda. Steamed it in a combination of one coffee can and three canning jars. Smells wonderful coming out of the kettle, slipped right out of the jars (including the one I forgot to grease) and tastes great. As soon as I finish up the cornbread mix I will revert to white whole wheat and cornmeal Great stuff
I have Irish roots and have always loved the Boston Brown Bread my Grandmother made for me. When the mold became available at KAF I was so pleased, and treated myself to one of them. KAF had two Brown Bread recipes. One was steamed, and one was baked. As the two recipes were basically the same, I used the larger one, seen here, and baked it in my new mold. I soaked the raisins ( or currents), drained them very well, and added a teaspoon of vanilla. The pan was generously sprayed, including the lid. With the oven set at 350 I baked it with the lid on for 60 minutes. Then WITHOUT the lid for another 10 minutes. It cooled on a rack for 10 minutes. Then I shaked it gently to loosen it and used a long knife to free it around the post, and removed it from the mold. It cooled, inverted, on the rack . It was delicious, and came out looking like the picture. Unusual for me !
I had an older recipe that was fussier and I always struggled to find metal cans (ending up with countless ziplock bags of coffee as well !!). So I rarely made this childhood favorite. Finally ordered the KA mold and used this simple recipe. It was a brunch hit (and a half) with transplanted New Englanders who had not had this in AGES. I will likely be making this weekly now !
I will make this again yet something went wrong it didn't cook all the way through. What do you think I might have done wrong?

The kind of pan you used may have affected the baking time (glass and ceramic pans take longer), and ovens are notorious for ranging in temperature. It may just be that your oven was running a bit low. The best way to test for doneness is to use a toothpick (or a piece of uncooked spaghetti to reach into the depths of the pan); when it comes out clean, it's done. Feel empowered to adjust the baking time as necessary until this happens. Happy baking! Kye@KAF
I used a well-greased rice cooker container atop a round steaming trivet, set inside a dutch oven to make a double batch. I put some greased aluminum foil over the dough before covering the dutch oven. It took about three hours at a low simmer. It slipped out easily after about 15 minutes of rest. I used rye flour (no pumpernickel available). It is moist and luscious with chocolate notes. I am surprised by the nice texture. I expected something more like a pudding. So wholesome and simple. Wish I had tried this decades ago. Thank you.
Just out of the oven and it smells great. I let it cool slightly and toasted it to try with whipped cream cheese. It has great flavor. I used a pudding mold that I have and it worked out fine. I also used rye flour instead of pumpernickel. I did not have raisins so I omitted those. Just read another review, I should have added sry fruit. Thanks for a great recipe.
Came across this wonderful recipe today and made it even though I had to alter it slightly for lack of pumpernickel and 100% whole wheat flours. Instead I used rye flour and white whole wheat. I did call your hot line just to make sure it would work. It came out of my 2 qt. pudding mold looking just like the picture. The texture and flavor are definitely superior to the canned version, which can be difficult to find here in AZ, anyway. It is so easy to put together - will be making this often, but with half again more raisins. They are a great addition to this brown bread. Thank you for your wonderful recipes. I can always count on K.A. Happy New Year! Judy
Wonderful balanced recipe that tastes true to my happy memories. At 5,000ft I used half the baking soda (1/2 t). Also used homemade kefir instead of buttermilk. Thank you for this recipe.
I have made this quite a few times and just love it. I'v seen it made with dried fruit before, but i am wondering about adding fresh fig and sour cherries, fresh ( I have fig trees, sister upnorth has sour cherries) any thoughts? I don't want to make it squishy or too liquidy,....any ideas?

I think adding fresh fruit to this recipe would make the batter too wet. I would stick to dried fruit. Barb@KAF/strong>
You could use a steamed pudding mold instead of coffee cans

Yes, go right ahead and use those molds! Bryanna@KAF