A customized print-friendly version of this recipe is available by clicking the "Print Recipe" button on this page.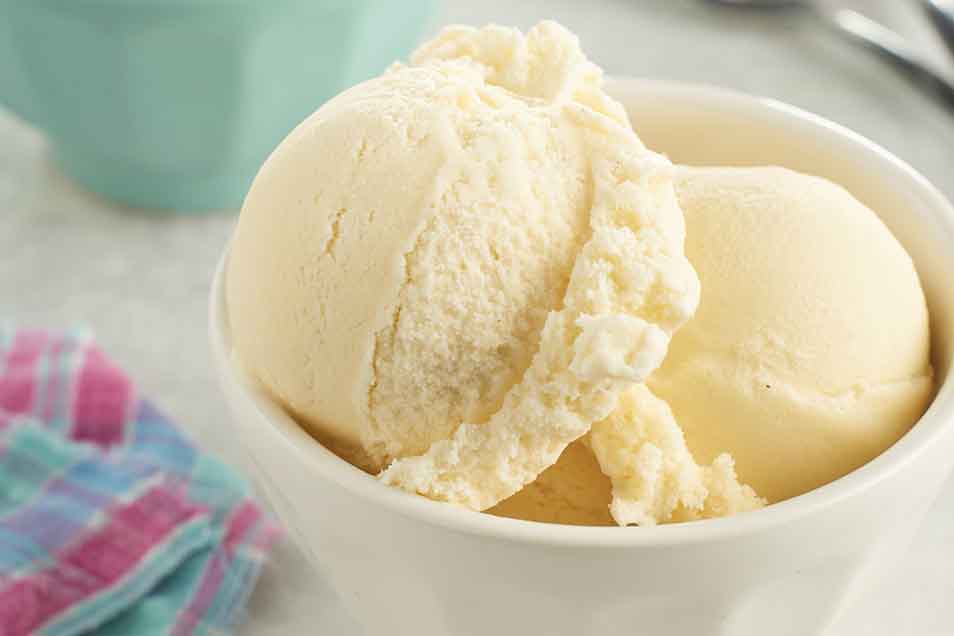 This ice cream features the strong, true flavor of vanilla. Serve it in an ice cream sandwich, or use it to make any of your favorite summer desserts à la mode.
Ingredients
2 cups milk
2 cups heavy cream
1 tablespoon King Arthur Pure Vanilla Plus, vanilla bean paste, Vanilla Bean Crush, or vanilla extract
4 large egg yolks
1/2 cup sugar
1/4 teaspoon xanthan gum, optional; for creamier texture
Instructions
Freeze the work bowl of an ice cream maker according to the manufacturer's instructions.

Pour the milk and cream into a saucepan set over medium-high heat, and bring it just to a boil. Add the vanilla, remove from the heat, and let sit in the saucepan at room temperature for 30 minutes.

In another saucepan, beat together the egg yolks, sugar, and xanthan gum until light and airy. Stir the warm milk into the egg yolk mixture.

Heat the yolk/milk mixture (custard) over low heat, stirring with a heatproof spatula until it thickens somewhat; it'll be approaching the thickness of heavy cream and will register between 170°F and 180°F on a digital thermometer.

Remove the pan from the heat and let the custard cool to room temperature, stirring occasionally to prevent a skin from forming. Refrigerate for at least 2 hours, or overnight.

Transfer the mixture to an ice cream maker. Freeze according to the manufacturer's instructions.

If you prefer soft, creamy (soft-serve) ice cream, serve immediately. For a firmer consistency, transfer the ice cream to an airtight container and freeze for about 2 hours.

Yield: about 1 quart.
Nutrition Information
Serving Size

about 1/2 cup

Servings Per Batch

8 servings
Amount Per Serving:
Calories

309

Calories from Fat

226

Total Fat

25g

Saturated Fat

15g

Trans Fat

1g

Cholesterol

175mg
Sodium

51mg

Total Carbohydrate

18g

Dietary Fiber

0g

Sugars

16g

Protein

4g
* The nutrition information provided for this recipe is determined by the ESHA Genesis R&D software program. Substituting any ingredients may change the posted nutrition information.
Tips from our bakers
To keep ice cream from becoming rock-hard in the freezer, stir in 2 tablespoons rum, vodka, brandy, or the spirit of your choice, just before removing from the ice cream maker. Alcohol will keep the ice cream from freezing too solidly.
For a sweeter, more American-style ice cream, increase the sugar to 2/3 cup.
For fun twists on this fabulous ice cream base, mix in any of the following inclusions once your ice cream is frozen: 1 prepared batch of our frosted lemon cookie mix (unfrosted cookies chopped into 1/2" to 3/4" chunks and mixed in separately from the frosting); 1/2 prepared batch of our fabulous fudge brownie mix (prepared with or without nuts and cut into 1/2" to 3/4" chunks) along with 3/4 cup (7 1/2 ounces) caramel sauce; or 1 cup each of milk chocolate chunks and large coconut flakes .
Reviews
Wow some of the best vanilla ice cream I've ever had, and DEFINITELY the best ice cream I've ever made! Can't wait to try chocolate now!!!
This is a keeper and I've looked no further. Made this a few times already. Followed recipe as instructed except sometimes I either added Oreo Cookies (cut in pieces), chocolate chips or just as is. Thank you KAF. Your recipes never fail me.
Flavor and texture is great. I don't have the patience for an hour+ process for the custard, so I just tempered the eggs with the hot liquid instead of letting it sit and cool. Then, at the end, I put the bowl of custard in an ice bath to cool it down enough to refrigerate immediately. Really delicious.
Made this last weekend and it is delicious! I did not use xanathan gum and it is quite smooth without it. Not sure why you would want to spend the money on XG (expensive) however I am new to ice cream making so perhaps there is something I don't know? Anyway, highly recommend this recipe. Stirred in Vodka to make it softer. You can't taste it at all. Wondering if stirring spirits in like this is akin to cooking with wine/booze, the alcohol goes away so you can't really get plotzed on it? Xanthan gum is a binder that is used in ice cream, salad dressings and gluten free baking. It helps the product stay together. In regards to the alcohol (after doing a little research) alcohol does not fully evaporate or "get cooked off" when heating the source. Depending on the method of preparation, anywhere from 5% to 85% of the alcohol can be left in the end product. It definitely does not fully evaporate from a source that is not heated. So, your ice cream still has the vodka in it. Hope this helps and Happy Creating!! JoAnn@KAF
Used Vanilla Bean Crush. Superb ice cream, in a different league from anything store-bought.
Prepared exactly as to ingredients and method . . . it was absolutely wonderful. Yes, it does take a little time to prepare but the end result is well worth it. None of the commercial high end vanilla ice creams even come close. Thanks KA for giving us the vanilla answer to your Chocolate Decadence recipe.
4.5 stars. I made the recipe almost exactly as-is, except I add a little (30g) HFCS to round out the sweetness a little. Texture was great. Even after a month in the freezer it never turned icey. Always easy to scoop. I like vanilla but I thought 1T was too much. Re-making tonight with 2t. I suppose the quantity depends on your exact vanilla though. I'm using the stuff I get from Costco.
I've been making ice cream for decades and this one is the hands down best vanilla ice cream recipe...because of the xanthan gum. It makes all the difference, especially since my ice cream usually isn't eaten in the first few days. Even after 10 days it stays very creamy. It's worth the expense and trouble to get your hands on the xanthan gum. I didn't use heavy cream, substituting lower fat dairy and the ice cream is even better; the vanilla flavor isn't masked by heavy rich cream. Vanilla paste gave better flavor than extract, IMO. Sometimes I'll add chocolate chips or a few nuts, but pure vanilla is wonderful. Again, do not omit the xanthan gum.
I just used this Vanilla Bean Ice Cream recipe to make an exceptional vanilla ice cream and that is what this recipe delivered. I recently purchased a self freezing ice cream maker and I have also made KAF's Mocha Madness and Strawberry Sorbet. I love the ease of preparation that KAF's recipe provide, so that was why I chose this vanilla ice cream recipe. I did follow the method of preparation, but made 5 ingredient changes. I did not have the Vanilla Crush, but I did scrape one vanilla bean and added the seed/pulp to the heating milk. I used 1/3 cup granulated and 1/3 cup brown sugar. That is a little hint that I have used for several years, now. It really complements the vanilla flavor. I used 2 cups of half and half instead of heavy cream and really like the lighter textured ice cream. I did not have the xantham gum, but substituted 2 tsp. of cornstarch stirred into 2 Tbsps. of the milk to make a slurry that was added to the heated milk when it reached 180 degrees.I liked the method of mixing the sugar and egg yolks in the mixer until light and fluffy. I added 2 tsp. vanilla and 1/4 tsp. salt. These were my ingredient changes, but followed the mixing method. I like making my ice cream mixture early in the day and letting it chill thoroughly in a glass jar in my refrigerator until I am ready to freeze it. I love the texture. It is still smooth and creamy, but not icy. Light enough in texture that I enjoy it to the end without feeling weighed down by heavy cream. I will make this ice cream again and again! Super recipe! Thanks KAF!
Wow, Julie! Thanks for sharing your variation for all to enjoy - I'm inspired to get some ingredients on the way home - happy baking OR ice cream making! Irene@KAF