A customized print-friendly version of this recipe is available by clicking the "Print Recipe" button on this page.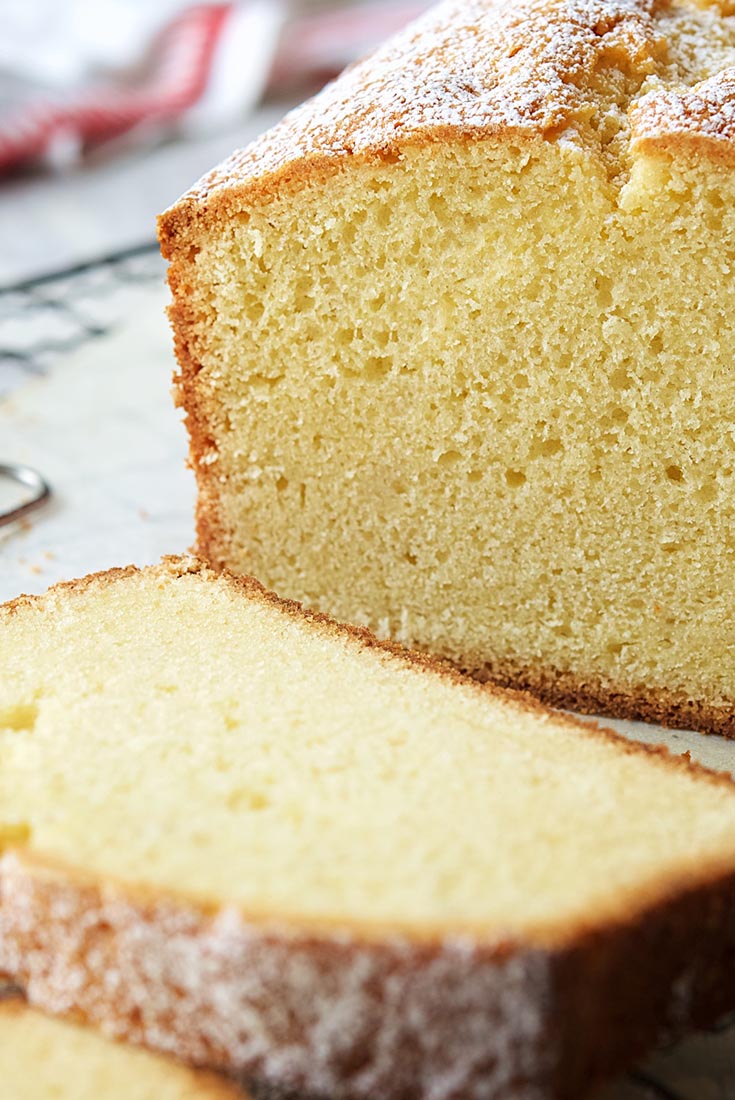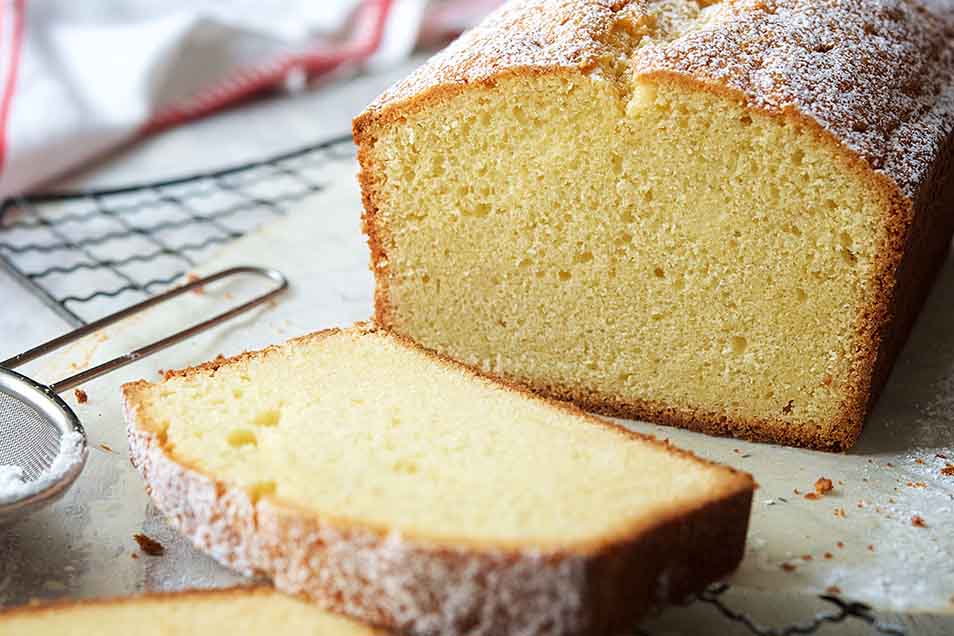 This pound cake — a rich dark brown outside, with a fine, golden crumb — is the perfect base for sliced fruit and a dollop of whipped cream.
Ingredients
14 tablespoons (1 3/4 sticks) unsalted butter
3-ounce package cream cheese
3/4 teaspoon salt
1 1/2 cups sugar
1 3/4 cups King Arthur Unbleached All-Purpose Flour
1 teaspoon baking powder
2 teaspoons vanilla extract
1/4 teaspoon almond extract
5 eggs
Instructions
In the bowl of an electric mixer, beat together the butter and cream cheese, at high speed, until they're very light and fluffy. Add the salt, sugar, flour, and baking powder, and mix to combine; the batter will be stiff. Add the extracts, and 1 egg. Beat well. Continue to add the eggs one at a time, beating well after each egg is added; the finished batter should be extremely light and fluffy.

Spoon the batter into a greased 9" x 5" loaf pan. Bake the cake in a preheated 325°F oven for 90 minutes, tenting it lightly with aluminum foil after 60 minutes, until a cake tester inserted into the center comes out clean. Remove the cake from the oven, and after 5 minutes turn it out of the pan to cool on a rack. Serve the cake warm or at room temperature; store it well-wrapped at room temperature.
Reviews
This cake was delicious. I took it to a party and was even complimented on how good it was by a professional chef! Definitely a keeper!
My cake just went into the oven now... fingers crossed It would be great if you could post step by step procedure along with the pics.... was confused for few seconds with the final batter... pictures will be of great help

Thanks for the suggestion, Jowher. While we don't have process photos for this particular recipe, you'll find step-by-step walkthroughs for many of our other recipes on our blog. We hope you'll find the extra detail helpful! Mollie@KAF
This recipe won me a 1st place ribbon at the 2017 Ohio State Fair! Thank you KAF! :)
I have been holding on to this recipe for a while, but I finally baked it tonight. It is delicious and the moist crumb is amazing. Adding the extract and eggs after the flour surprised me, but with each egg I could actually see the batter becoming lighter and fluffier. I omitted the almond extract, and added vanilla and orange instead. Next time I will add a little orange zest...or lemon extract and lemon zest. It is a perfect recipe for flexibility. I also added a little orange juice to confectioners sugar to make a glaze, which I lighty brushed on with my pastry brush, then dusted it to finish. It is pretty and even with the glaze, it isn't too sweet. And while it is thick like a pound cake, it isn't heavy. A perfect first-day-of-Fall pound cake to have with tea on the crisp autumn evening. This is my new go-to pound cake recipe.
Made this pound cake today, and it turned out wonderful!!! Everyone loved it. Had some strawberries and fresh whipped cream. Will be making this again! Love KAF!!! you guys and gals rock!!!
I made this today, came out great in a Bundy pan. Great texture,light and delicious ! Thanks KAF for another great one.
Rookie question here, I had the butter on the counter to come to room temp, but it is a very warm day here and I wonder if my butter got too soft? It never really seemed to get "light and fluffy" and the final batter seemed rather dense to me. It's still in the oven and the batter tasted good, but I am prepared for the texture to be off because of the consistency of the batter that I had. Hoping for the best. It smells good...

We hope the final result was delicious, even if imperfect, Mary. Butter can definitely become too soft, especially when left in especially warm conditions. When creamed, it generally looks greasier and wetter and can lead to a wet, heavy cake. For visual tips on the ideal consistency of "room temp" butter, take a look at our blog article entitled "Creaming butter and sugar". Mollie@KAF
Best ever pound cake! I made this for Father's Day but it looked so good when it came out of the oven last night, we tried a slice or two and then this morning popped a slice into the toaster - delicious! Super easy to put together - I followed the recipe exactly but forgot to put in the 5th egg - ugh - no worries though, it was still delicious. The texture of the cake is wonderful - a nice moist crumb and the flavor is better than any store bought pound cakes. I used vanilla bean paste (KAF) instead of the extract for the extra push of vanilla flavor and used my pain de mie pan. I'm serving it for dessert tonight with sliced strawberries I cut up yesterday with a light sprinkling of sugar and some homemade chocolate sorbet (KAF recipe). I can't wait to make this again!
I've tried three pound cake recipes in the last few weeks and this is by far our favorite. The baking time is off though. . .I baked mine in a bundt loaf pan and it was done in approximately 65 minutes at 325. . .maybe even a shade less. The flavor and texture were excellent!
90 minutes is WAY too long to bake this cake! It was delicious but after 70 minutes the crust was burned on the bottom. How do people cook this in a bundt pan? Do they double the ingredients?

Glad you found this favorite so delicious! The fact that your cake was burning on the bottom at 70 minutes makes us wonder what kind of a pan was used and/or if your oven might be running a little hot. If baking in a glass or ceramic pan, the edges will heat up faster than with a standard metal, loaf pan; so we recommend turning the oven temperature down by 25° to enable the cake to fully bake through. Surprising as it might sound, a recipe like this that fits snugly into a 9"x5" pan will also fill a 9- or 10-cup Bundt pan, as well as 2 x 9" rounds or 24 cupcakes. Hope this helps! Mollie@KAF