A customized print-friendly version of this recipe is available by clicking the "Print Recipe" button on this page.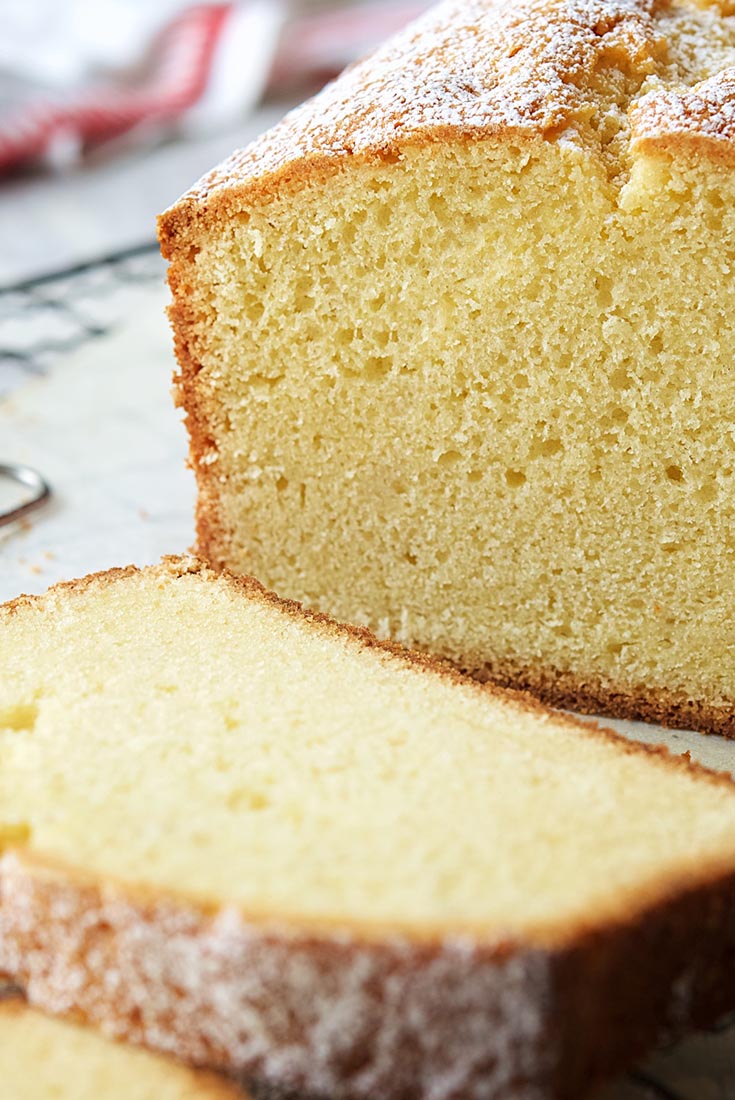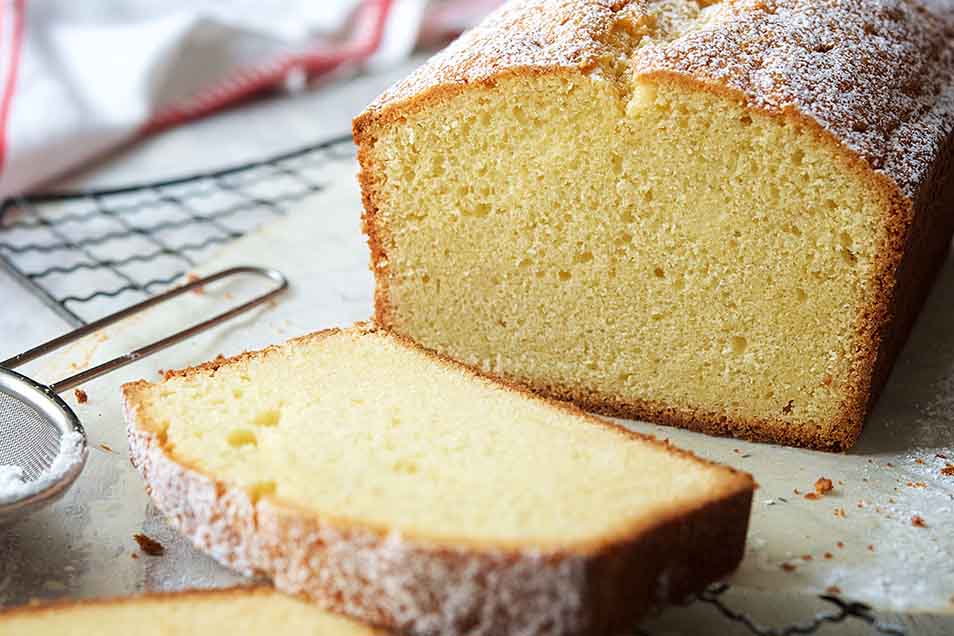 This pound cake — a rich dark brown outside, with a fine, golden crumb — is the perfect base for sliced fruit and a dollop of whipped cream.
Instructions
Preheat the oven to 325°F with a rack in the center position. Lightly grease a 9" x 5" loaf pan.

Using an electric or stand mixer, beat together the butter and cream cheese at high speed until they're very light and fluffy.

Add the salt, sugar, flour, and baking powder, and mix to combine; the batter will be stiff.

Add the extracts and 1 egg. Beat well. Continue to add the eggs one at a time, beating well after each addition; the finished batter should be extremely light and fluffy.

Spoon the batter into the prepared loaf pan.

Bake the cake for 85 to 90 minutes, tenting it lightly with aluminum foil after 60 minutes, until a toothpick inserted into the center comes out clean.

Remove the cake from the oven, and after 5 minutes turn it out of the pan to cool on a rack.

Serve the cake warm or at room temperature; dust it lightly with confectioners' sugar just before slicing, if desired.

Store the cake, well-wrapped, at room temperature for several days; freeze for longer storage.
Reviews
I followed the instructions meticulously (I'm a very methodical and careful person), I put it into the 9' x 5' loaf pan, and it concerned me because the pan was really full ... however, I trust the recipes and instructions I've found on this site, so I figured it must not rise very much... 20 minutes of baking, and the smell of burning batter filled the house. Sure enough, the pan had overflowed it's contents all over and onto the heating elements, the racks, the bottom of the oven. What a mess... I will try this recipe again, because it seems like it'll be good, but I'll use a bundt pan, instead of a loaf pan. Or, a larger loaf pan. I have a 10' x 6' pan that would probably be big enough. First, I need to thoroughly clean my oven.

We're so sorry hear this, Liam, and understand your frustration in the mess. We've all had that experience with our ovens and it's never a good time. It sounds like one of two things may have happened.

The first is if there was too much flour. If you measured your ingredients by weight then that isn't the issue, as it's only measuring flour by volume that varies. If you prefer to measure your flour by volume, we recommend fluffing the flour with a whisk or spoon, sprinkling it into the measuring cup, and scraping off the excess. Extra flour would mean extra batter in the pan.

The other possibility is that the pan didn't have the same capacity as the 9" x 5" loaf pans we use in our test kitchen and sell on our website. A 9" x 5" loaf pan holds about 15% more batter than a standard loaf pan which is 8 1/2" x 4 1/2", so it's possible that your pan had a smaller capacity than ours did.

Perhaps it was a combination of the two, but either way, we really are sorry to hear about the mess, and our free and friendly Baker's Hotline would love the chance to troubleshoot further at 855-371-BAKE (2253). Kindly, Annabelle@KAF
Very good, and exactly what I was looking for in a pound cake. I've made this a couple times now, and I really like the addition of 4 tsp freshly ground cardamom and the zest of half an orange.
Best pound cake I've ever baked. Loved the texture of the cake.
I am surprised at the number of people don't follow the receipe and get negative results. It is one thing I love about King Arthur flour , I can trust the receipe to be exact. This cake melts in your mouth!. The directions are clear. I baked it with the 9 x 5 loaf pan and followed the time for baking which was 60 minutes then lightly tent it . It came out perfect. Just like that picture. Thank you King Arthur chefs!
I'm a pound cake lover! I've made many recipes in my time and this is my all-time favorite go-to recipe for pound cake! It's easy to put together and works well with a 9x5" loaf pan. It baked in 60 min for me in a convection oven. Measure your loaf pan! I accidentally grabbed my 8 1/2 x 4" pan one time and it overflowed everywhere! Make this! Is so delicious!
This is delicious......BUT.....I followed instructions exactly using grams measurements. Maybe I overwhipped the eggs at the end, but my 9x5" loaf pan overflowed all over my sheet pan ( good thing I put it on one)!! Then, I couldn't remove it. It baked in one hour, not 90 min. I would definitely make this again, but I'll use a bundt pan next time.

We see your follow-up comment about accidentally having grabbed your 8 1/2" by 4 1/2" loaf pan instead of the 9" by 5" pan, which explains why it overflowed. It sounds like you were still able to enjoy this cake, regardless, which we're glad to hear! Kye@KAF
My cake is done, and it has to be renamed the WORLDS BEST POUND CAKE EVER!!
My cake is in the oven now. Just FYI for those who will try to bake this , the recipe indicates a 9 x5 loaf pan is supposed to be used not a bundt pan.
I followed the recipe exactly. I used a Goldtouch Pan. I covered it after the first 60 minutes and the cake was done 22 minutes later. I'm glad I checked it. The cake tasted great and was even better the next day.
Excellant recipe! Very dense and flavorful. The next time I make it, I may leave out the almond extract and add some lemon peel, for a different flavor.