A customized print-friendly version of this recipe is available by clicking the "Print Recipe" button on this page.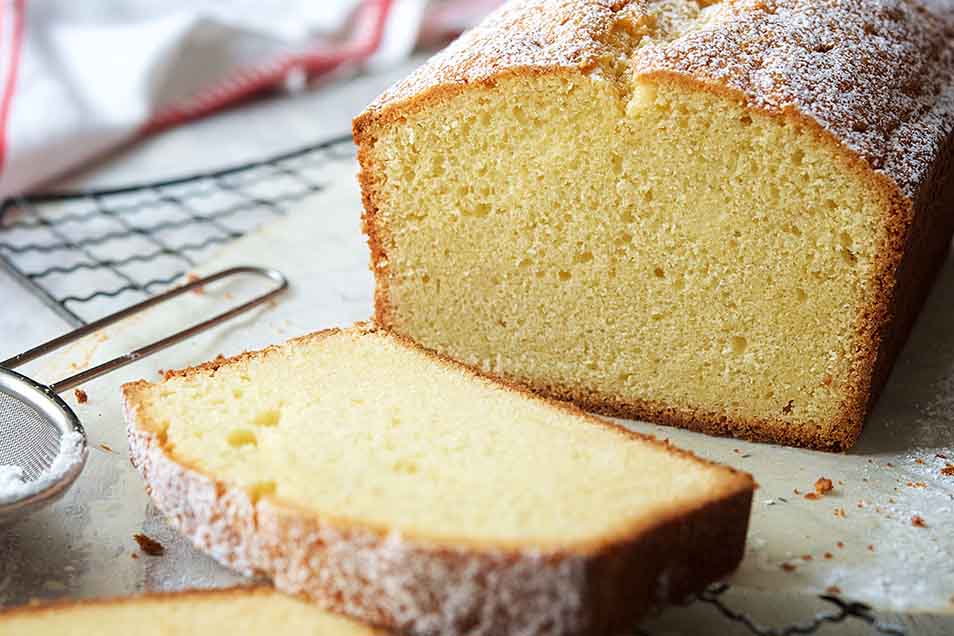 This pound cake — a rich dark brown outside, with a fine, golden crumb — is the perfect base for sliced fruit and a dollop of whipped cream.
Instructions
Preheat the oven to 325°F with a rack in the center position. Lightly grease a 9" x 5" loaf pan.

Using an electric or stand mixer, beat together the butter and cream cheese at high speed until they're very light and fluffy.

Add the salt, sugar, flour, and baking powder, and mix to combine; the batter will be stiff.

Add the extracts and 1 egg. Beat well. Continue to add the eggs one at a time, beating well after each addition; the finished batter should be extremely light and fluffy.

Spoon the batter into the prepared loaf pan.

Bake the cake for 85 to 90 minutes, tenting it lightly with aluminum foil after 60 minutes, until a toothpick inserted into the center comes out clean.

Remove the cake from the oven, and after 5 minutes turn it out of the pan to cool on a rack.

Serve the cake warm or at room temperature; dust it lightly with confectioners' sugar just before slicing, if desired.

Store the cake, well-wrapped, at room temperature for several days; freeze for longer storage.
Reviews
Beautiful texture. Baked perfectly, released from pan flawlessly! My loaf pan is 10"x 6" and was the perfect size for this recipe. Delicious!
I made this recipe using a 10" Calphalon loaf pan. I used 6 small eggs instead of 5 large ones. After 1 hour I checked the cake and it looked completely done I was unsure whether to stop here or continue. I stuck a skewer in the middle and it came out clean, but still I decided to "tent the cake". I never heard this phrase, but via Google I learned that it means to make a triangle "roof" of foil over the pan. I did that and took the cake out after 15 minutes. The top part was dented in the middle. Smell was amazing, taste was just good (nothing complex). It seemed to have two textures, the outer part was more crumbly/dry and interior was more moist. This was visible when the slice was cut. Appearance wise it looked completely plain, like a loaf of bread. It is an easy recipe with simple ingredients and a simple taste. I personally didn't love it but my husband liked it with morning chai.
I made this cake exactly as the recipe says and it came out great!
I followed the recipe exactly using weight. I did use vanilla bean paste in place of extract. Mine was perfect. Stuck a little in the corners but didn't break. Taste and texture was spot on. Will use fresh lemon and omit almond extract next time, and there will be a next time. Thank you KA!
Very good, and exactly what I was looking for in a pound cake. I've made this a couple times and I like adding 4 tsp of freshly ground cardamom and the zest of half an orange!
I made a gluten free version using KAF Measure for Measure GF flour, and mixed the very fluffy batter in my KitchenAid mixer using the after-market paddle beater with built-in spatula. The cake appearance was nearly flawless, but like another baker, my batter rose above the pan on one side and spilled out about one cupf batter, which baked into a large cupcake-like treat. (The oven spillage took off one star.) Both that and the loaf were light, delicious and with a tender crumb. My GF version needed only 60 minutes to bake. Bravo, KAF team, for another winner easily translated to GF with your MFM GF flour! (All this done with a broken arm!)
First time I made this recipe but it won't be the last. It's just so delicious, moist and with a great crumb. I made it in my KitchenAid mixer with the whipping attachment. It went together quickly and the only change I made to the recipe was adding 2 tablespoons of King Arthur's Cake Enhancer (#4748 ). For the actual baking I decided on a bundt pan. I used one of those oil-and-flour sprays. Because I was using the bundt pan I adjusted the time. At the 30 minute mark I used foil to tent. And it was done at the 55 minute mark. This recipe is really nice because it doesn't make a huge bundt --which is to say that if you are going to a party you might want to make double the batter or more than one. The color was golden on the outside and a soft yellow inside. Children and hubby give thumbs up.
I followed the instructions meticulously (I'm a very methodical and careful person), I put it into the 9' x 5' loaf pan, and it concerned me because the pan was really full ... however, I trust the recipes and instructions I've found on this site, so I figured it must not rise very much... 20 minutes of baking, and the smell of burning batter filled the house. Sure enough, the pan had overflowed it's contents all over and onto the heating elements, the racks, the bottom of the oven. What a mess... I will try this recipe again, because it seems like it'll be good, but I'll use a bundt pan, instead of a loaf pan. Or, a larger loaf pan. I have a 10' x 6' pan that would probably be big enough. First, I need to thoroughly clean my oven.

We're so sorry hear this, Liam, and understand your frustration in the mess. We've all had that experience with our ovens and it's never a good time. It sounds like one of two things may have happened.

The first is if there was too much flour. If you measured your ingredients by weight then that isn't the issue, as it's only measuring flour by volume that varies. If you prefer to measure your flour by volume, we recommend fluffing the flour with a whisk or spoon, sprinkling it into the measuring cup, and scraping off the excess. Extra flour would mean extra batter in the pan.

The other possibility is that the pan didn't have the same capacity as the 9" x 5" loaf pans we use in our test kitchen and sell on our website. A 9" x 5" loaf pan holds about 15% more batter than a standard loaf pan which is 8 1/2" x 4 1/2", so it's possible that your pan had a smaller capacity than ours did.

Perhaps it was a combination of the two, but either way, we really are sorry to hear about the mess, and our free and friendly Baker's Hotline would love the chance to troubleshoot further at 855-371-BAKE (2253). Kindly, Annabelle@KAF
Very good, and exactly what I was looking for in a pound cake. I've made this a couple times now, and I really like the addition of 4 tsp freshly ground cardamom and the zest of half an orange.
Best pound cake I've ever baked. Loved the texture of the cake.