A customized print-friendly version of this recipe is available by clicking the "Print Recipe" button on this page.
Whole Wheat Pita with Middle Eastern Salad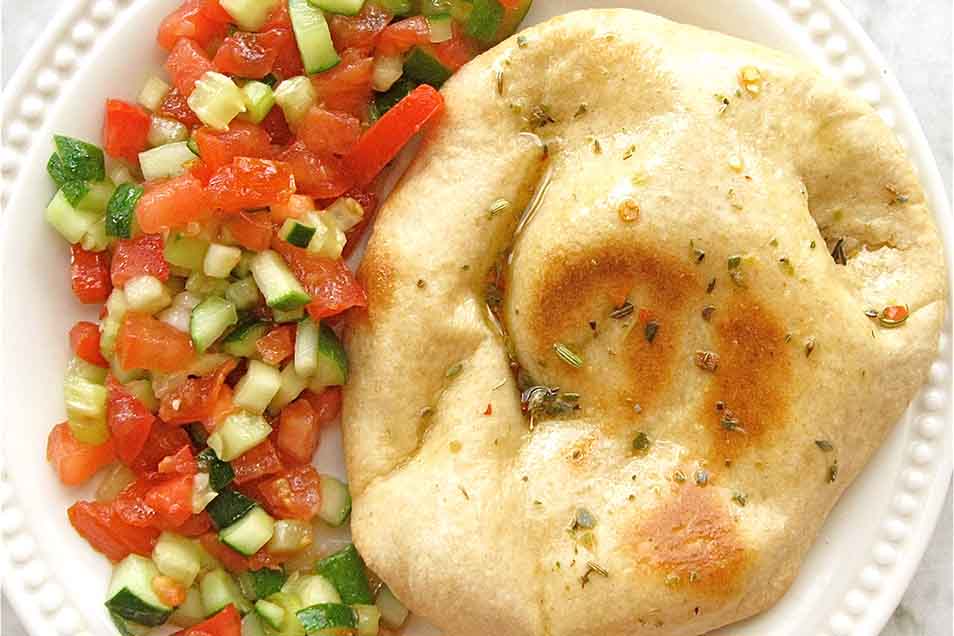 These soft pitas are made with a combination of white whole wheat flour, and bread flour. The whole wheat gives them a lightly nutty taste, and golden color; the bread flour helps them "pop" in the oven.
Ingredients
Pita
1 1/2 cups King Arthur Unbleached Bread Flour
1 1/2 teaspoons salt
1 1/2 teaspoons instant yeast
1 to 1 1/8 cups lukewarm water*
2 tablespoons orange juice
2 tablespoons olive oil
plain or herb/spice infused olive oil, to brush on finished pitas
*Use the greater amount in winter or in a dry climate; the lesser amount in summer or a humid climate.
Middle Eastern Chopped Salad
2 cups diced tomato
2 cups diced cucumber, unpeeled
heaping 1/8 teaspoon salt, or to taste
2 tablespoons olive oil
6 scallions, white and part of the green part, sliced; optional
2 to 3 teaspoons lemon juice, to taste; optional
Instructions
Combine all of the pita ingredients (except the oil for brushing), and mix and knead to make a soft, smooth dough.

Place the dough in a lightly greased bowl or large measuring cup, cover it, and let it rise for 60 to 90 minutes, till it's just about doubled in bulk. Towards the end of the rising time, start to preheat your oven to 450°F, with a pizza stone on the bottom shelf, if you have one.

Gently deflate the dough, and divide it into 8 pieces. Shape each piece into a ball, cover them, and let them rest for 10 minutes.

Working with two pieces of dough at a time, roll each into a 6" circle. If you roll the dough about 7" wide, it'll shrink back to about 6".

Carefully flop the dough onto the hot pizza stone. If you're not using a pizza stone, put it on an ungreased baking sheet, and put the baking sheet on your oven's bottom rack.

Bake for 4 minutes. The pitas should rise enthusiastically. If they're on a stone, they'll probably puff up like balloons; if they're on a baking sheet, they'll still expand; just not as vigorously.

Turn the pitas over, and bake for an additional 60 seconds.

Remove them from the oven, and brush with your favorite olive oil, plain or flavored. Wrap lightly in a cotton towel, to keep them soft. Repeat with the remaining pieces of dough.

Serve pitas with chopped salad.

Yield: 8 pitas.

To make the chopped salad: While the pita dough is rising, combine all of the salad ingredients, seasoning with salt and lemon juice to taste. Let the salad rest at room temperature while you prepare the pitas.
Tips from our bakers
Why the addition of orange juice in the pita dough? It helps tame the mildly tannic flavor of whole wheat. Can you leave it out? Of course; simply substitute water.
Reviews
I tried making pita bread once before and it didn't puff up. This recipe, however, worked like a charm!! The only thing I want to mention is MAKE SURE YOUR BAKING TRAY/pizza stone or whatever you're using IS HOT BEFORE YOU PUR YOUR PITA BREAD ON IT. If the baking tray is cold at the start of the process, the pita breads will not rise as significantly!
Easy and fun to make. Nothing at all like the cardboard pitas found in supermarkets. These were soft and substantial. I sprinkled a bit of za'atar over them after brushing with the oil, filled them with falafel (again make your own very easy) and veggies with a tahini sauce topping. Delicious.
Hello, I have not had Pita this delicious since I lived near a Middle Eastern Bakery in Ohio! Delishious does not begin to describe these pita! I also used a cast iron skillet and small pizza stone. I have access to a kiln and pottery supplies. I was told that I could make plain stone ware tiles to cover the bottom rack of the oven, (unglazed, food safe clay). Can I do this and make my own modular pizza stone? Making two or three at a time can be frustrating.

It's worth giving a try, Mary! Just make sure they're oven safe and sealed with something so they aren't porous. They'll need a good 30 minutes or so to preheat thoroughly. Annabelle@KAF
I have never written a review on a recipe before. I have few words: you will never buy store bought pitas again!!!!
Hi I have made this recipe many times but the pita will never ever puff up, so as suggests by another reviewer I wanted to try the tanghzong method. Can u plz help me with the measurements for the same. While making the slurry should I use the whole wheat flour or the bread flour? Also to adjust the hydration to 75 percent as per your blog, should I include the orange juice in the hydration percentage or not. Another doubt I have after doing the math, is that the total water of the recipe including the 1/2 cup for the slurry should add up the 75% hydration? Or do I need to add that half cup back into the water called for the recipe?

Hi Seema. While we're unable to do the math for you, we can let you know that the 75% hydration will include the liquid used in the tangzhong, and that the orange juice would be included in the liquid. It's up to you whether you want to use the orange juice or the water to make your slurry. Happy baking! Annabelle@KAF
I have made these twice. The first time they didn't all puff. The dough was stiffer and they were a little on the tough side and staled quickly. This time I made them with the tangzhong method (I am a huge fan of Tangzhong) and a higher hydration. I also let them sit for about 15 minutes after rolling them out. Infinitely better. Every single one puffed. They were tender and soft and kept much longer.
I made these today and while they're good, they didn't puff up and they're fairly crispy. I did bake then on a pizza stone. I did add a little bit more flour when I was kneading because the dough was pretty sticky. Was that my mistake?

Excess flour can lead to heavier dough that struggles to rise fully or puff in the oven, Alex. Bread Flour also contributes to the rise, so if you chose not to use it, this could make a difference. A very hot oven and pizza stone are also key to the process, so next time we'd suggest erring on the side of caution and preheating both for at least 30 minutes. Hope this all helps you to get a puffier next batch! Mollie@KAF
I made this pita bread and it came out very good. The bread was soft and the texture was crispy. This is my keep sake recipe for making pita bread.
I made these today, and we filled them with the Middle Eastern salad, homemade hummus, and some leftover shredded chicken. Yum! I used a tortilla press (lined with a ziploc bag with the sides slit, as my Salvadoran friend taught me) to flatten the dough balls. For lack of a baking stone, I set both a 12" cast iron skillet and my KAF stoneware bun pan on the bottom rack of the oven, and just baked two pita at a time. The pita on the cast iron puffed more often than the stoneware ones. I'll try just cooking them on the stovetop next time and see if they still puff. Good one, KAF!
I made a sourdough version of this recipe and it was by far the best pitas I ever made. They all puffed perfectly now if I could just learn to make them round instead of looking like ink blots I would be in great shape.