A customized print-friendly version of this recipe is available by clicking the "Print Recipe" button on this page.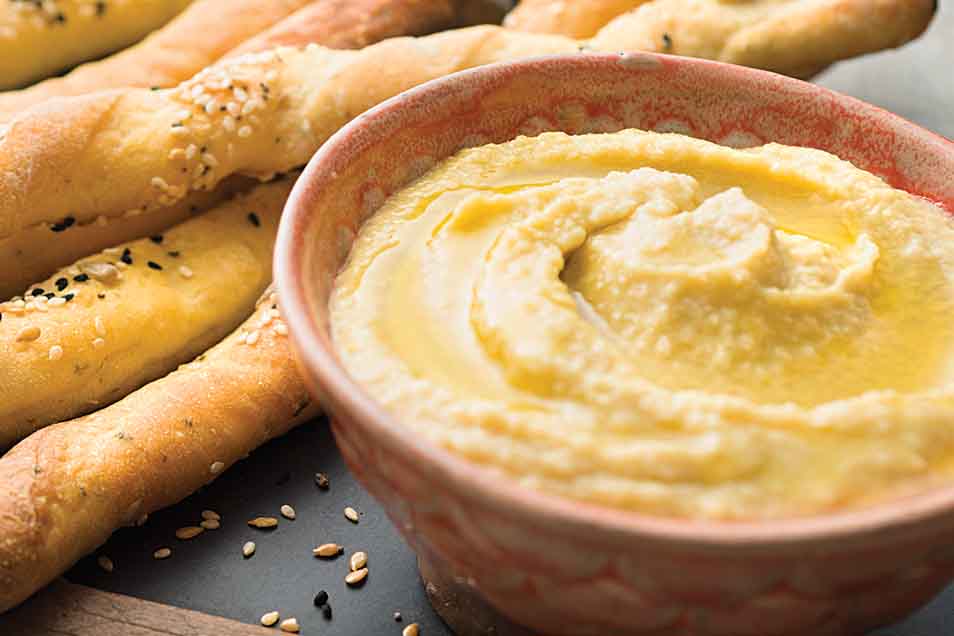 What, no tahini? This hummus has only five simple ingredients: chickpeas, garlic, salt, cumin, and olive oil, whirled briefly in a food processor. Adjust the amount of garlic to your personal taste (or that of your audience). And heat it up with a touch of cayenne, if you like. Hummus and fresh vegetables are a wonderful sandwich filling. And it's a delicious, garlicky spread for crackers or pita chips.
Ingredients
15- to 20-ounce can chickpeas or garbanzo beans, drained, liquid saved
3 to 9 cloves garlic, peeled
1/4 to 1/2 teaspoon salt, to taste
3/4 teaspoon ground cumin
3 to 5 tablespoons olive oil; or a combination of olive oil and reserved liquid from the beans
Instructions
Place the drained chickpeas, garlic, salt, and cumin in the work bowl of a food processor.

Process until the beans are very finely chopped. With the machine running, drizzle in the oil. If necessary, drizzle in just enough of the reserved chickpea liquid to make the mixture smooth.

Remove from the processor, and refrigerate in a covered container until ready to serve. Garnish with a sprig of fresh parsley, if desired.
Tips from our bakers
If you have to add some of the chickpea juice, do so sparingly. The goal is just enough to make the spread smooth, without turning it liquid.
Add as much garlic as you like. Remember, it's easy to add more garlic, impossible to take out what's already there. So start with fewer cloves, then add more to taste, as you process the spread. Also, be aware that the garlic will become stronger as the hummus sits; so unless you're someone who can never get enough of this aromatic member of the onion family (Alliaceae), go light at first.