A customized print-friendly version of this recipe is available by clicking the "Print Recipe" button on this page.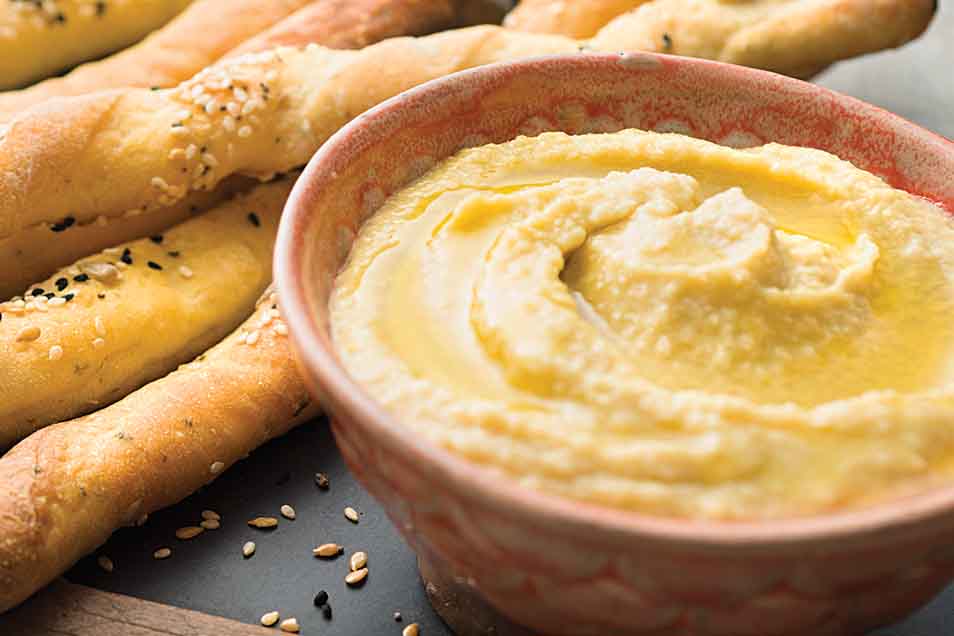 What, no tahini? This hummus has only five simple ingredients: chickpeas, garlic, salt, cumin, and olive oil, whirled briefly in a food processor. Adjust the amount of garlic to your personal taste (or that of your audience). And heat it up with a touch of cayenne, if you like. Hummus and fresh vegetables are a wonderful sandwich filling. And it's a delicious, garlicky spread for crackers or pita chips.
Ingredients
15- to 20-ounce can chickpeas or garbanzo beans, drained, liquid saved
3 to 9 cloves garlic, peeled
1/4 to 1/2 teaspoon salt, to taste
3/4 teaspoon ground cumin
3 to 5 tablespoons olive oil; or a combination of olive oil and reserved liquid from the beans
Instructions
Place the drained chickpeas, garlic, salt, and cumin in the work bowl of a food processor.

Process until the beans are very finely chopped. With the machine running, drizzle in the oil. If necessary, drizzle in just enough of the reserved chickpea liquid to make the mixture smooth.

Remove from the processor, and refrigerate in a covered container until ready to serve. Garnish with a sprig of fresh parsley, if desired.
Tips from our bakers
If you have to add some of the chickpea juice, do so sparingly. The goal is just enough to make the spread smooth, without turning it liquid.
Add as much garlic as you like. Remember, it's easy to add more garlic, impossible to take out what's already there. So start with fewer cloves, then add more to taste, as you process the spread. Also, be aware that the garlic will become stronger as the hummus sits; so unless you're someone who can never get enough of this aromatic member of the onion family (Alliaceae), go light at first.
Reviews
Thank you so very much for this recipe! After seeing a naturopathic doctor and being tested for food allergies I have been restricted on foods I eat for a short time. I love hummus with my veggies. However, since I can't have hummus with lemon juice or tahini I was bummed because most recipes have those in it. This recipe is perfect for me! It's delicious too! Family and friends that have tried it love it as well. So thank you for putting this recipe online.
Canned garbanzo beans leaves a funky taste in the hummus. Its not fast to start from dried beans, but you won't do the 'quick' method again after that funk taste.

Sounds like you've discovered that your taste buds strongly prefer dried beans over canned. That's just fine, Matt--go ahead and use dried beans (that have been soaked then cooked until tender) to prepare your homemade hummus. Enjoy! Kye@KAF
Peanut butter is an excellent substitute for tahani. Tried and true. I put tahani when I have it, because hummus a regular at my house. Paired with tabouleh, in a wheat wrap. Oh ! My ! Goodness ! It's called supper at my house. I have mint growing, so I always include it in my hummus. This recipe looks good but I have not made it. My purpose to comment was to tell y'all about the peanut butter substitute ... didn't mean to be a liar, liar, pants on fire.
I was skeptical of this recipe at first since I've tried so many other variations of hummus with little success. However, to my great surprise, it turned out very well! I really like garlic, but based on others' suggestions I toned down the garlic and only used one very large clove. I had to add about 5 full TBSP of olive oil and about one TBSP of liquid to get the consistency correct, but other than that, it was as easy as the recipe said!
I often do it this way. But I heat olive oil in a pan and cook the garlic first (whole clove), with a quarter of an onion. Then I add the garbanzos, sesame seeds and spices... Cook for a few minutes and then everything goes into the blender along with tahine (if I have some), some lemon juice and some more oil... yum!
I use similar recipe, but add lemon juice and maybe just 4 nice size cloves garlic. But, I heat the olive oil add garlic to just before it starts to cook then set off the heat for a few minutes. This takes the bite away from the garlic. One time over did garlic and had to add a whole can more of chick peas.
Excellent results and quite a good base to experiment with. We've added tahini, too, but it's great without.
This one is good but it does need the tahini paste to really taste like HUMMUS. Some tips to bring more depth to this recipe: Roast the garlic before adding to the beans. I also roast red pepper and red onions then puree them wth a little olive oil and sea salt and top the hummus with it.