A customized print-friendly version of this recipe is available by clicking the "Print Recipe" button on this page.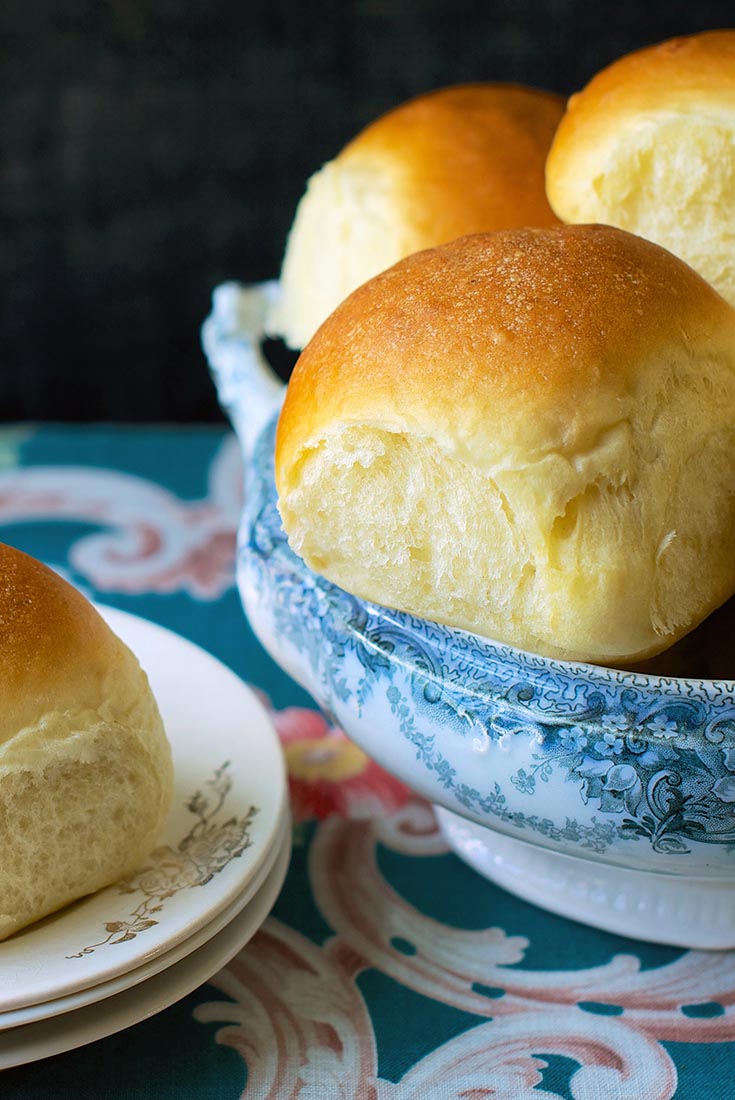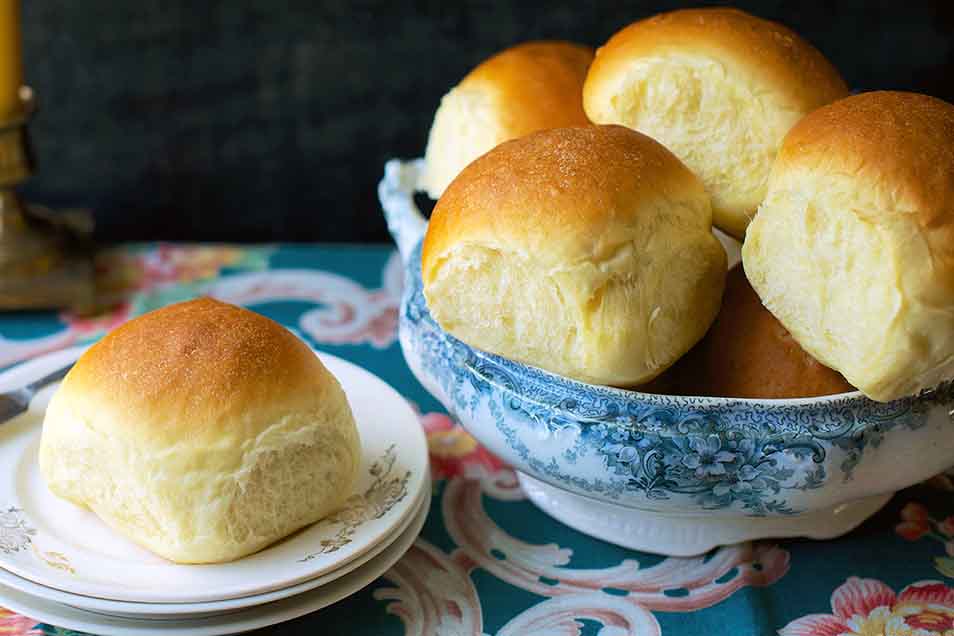 This recipe was inspired by one in a small handwritten Amish cookbook; thus its name. And my, oh my, are these rolls good! Dense yet still tender, moist but not at all heavy, these are the quintessential soft dinner roll. Mashed potato gives them both their soft texture, and staying power: they'll remain moist and fresh-tasting at room temperature for several days, meaning they're a good candidate for make-ahead.
Ingredients
2 large eggs
1/3 cup sugar
2 teaspoons salt
6 tablespoons softened butter
1 cup unseasoned mashed potatoes, lightly packed*
2 1/2 teaspoons instant yeast or active dry yeast
3/4 cup lukewarm water (water in which the potatoes were boiled, if possible)
4 1/4 cups King Arthur Unbleached All-Purpose Flour
*1 medium-to-large baking potato will yield 8 ounces of mashed potato.
Instructions
To make the dough: Mix and knead all of the ingredients together — by hand, mixer, or bread machine set on the dough cycle — to make a smooth, soft dough.

Place the dough in a lightly greased bowl, cover the bowl with plastic wrap, and let the dough rise until it's doubled in bulk, about 90 minutes. If you're using a bread machine, allow the machine to complete its cycle, then leave the dough in the machine until it's doubled in bulk, perhaps an additional 30 minutes or so.

Gently deflate the dough, and divide it into 16 large balls, or 24 smaller balls. Round each ball into a smooth roll.

Place the rolls in a lightly greased 9" x 13" pan. Cover the pan with lightly greased plastic wrap, and let them rise for 1 1/2 to 2 hours, until they're quite puffy. Towards the end of the rising time, preheat the oven to 350°F.

Bake the rolls for 20 to 25 minutes, until they're golden brown and feel set. Remove them from the oven, and turn them out of the pan onto a rack. Brush with melted butter, if desired.

Serve rolls warm, or at room temperature. Store rolls, well wrapped in plastic, for several days at room temperature; freeze for longer storage.
Nutrition Information
Serving Size

1/16 of recipe

Servings Per Batch

16 to 24 rolls
Amount Per Serving:
Calories

200

Calories from Fat

Total Fat

6g

Saturated Fat

Trans Fat

Cholesterol

41mg
Sodium

223mg

Total Carbohydrate

28g

Dietary Fiber

1g

Sugars

4g

Protein

5g
* The nutrition information provided for this recipe is determined by the ESHA Genesis R&D software program. Substituting any ingredients may change the posted nutrition information.
Tips from our bakers
These rolls have the characteristic golden brown, rounded, smooth top of a classic dinner roll; we like to bake them rather tightly spaced, in a 9" x 13" pan, so that they crowd each other and become pull-apart rolls, with unbrowned sides, as they're baking. For round rolls that are browned all over, place them in a larger pan, farther apart, so that they won't touch one another while they're baking.
Reviews
I am in love! Best rolls ever. My husband said they were better then our local bakers!! So easy. I must admit. I did cheat and used seasoned mashed potatoes. They were kind of dry and turned out perfect!
Perfecto! I also did a half recipe and worked great. Used 8" square pan and will use 9" next time since they seemed alittle tight in the pan.
Absolutely love these rolls! Quick question, how much in advance can they be made? OR can the dough be kept for a day or 2? Is it better to bake them a day ahead of time and just keep them covered? Just wondering what is the best option for Thanksgiving with everything else going on in the kitchen! Thanks a bunch :)

We're so glad you enjoyed these, Alex! We'd recommend baking the rolls and allowing them to cool. If you only have a couple of days before Thanksgiving, you can leave them in a plastic bag either on the counter or in the fridge. If it's going to be longer than a couple of days, freeze them. If you freeze them, pull them out to thaw on Thanksgiving morning. To reheat your rolls before the meal, wrap them in foil and bake for about 10 minutes at 350°F. Happy baking! Annabelle@KAF
Oh my, these are deeeelicious! I followed the recipe exactly and they came out perfectly. I cut the recipe in half with no issues. I made 12 rolls and baked them in a 9 inch round pan. I weighed each dough roll for uniformity and they were 1.75 ounces each. They're heavenly. This was my first attempt with this recipe--made a test batch before a fancy dinner party this weekend. My husband and I each had one and now I need to give them away in a hurry before we eat the rest of them. Thanks KAF for a winner!
These are wonderful rolls to serve with your special meals. Very tender and complement any meal!
This is, hands down, the best dinner roll recipe I have ever come across. It's even better than my Grandma's dinner rolls, which were the gold standard for me for many years. These came out so incredibly tender and light, that eating them made me think of salty and buttery cotton candy. I have learned from experience that a more-sticky dough makes for a more tender and fluffy dinner roll, so my dough was somewhat sticky when I went to shape them. In fact, it was so slack that I couldn't really shape them into perfect little spheres. But the resulting rolls were so perfect that I didn't much care if the shape was pretty or not. I even used some of the dough to make hamburger buns in my hamburger bun pan, and filled them with shredded barbecue chicken for sandwiches a few days later. They were the perfect burger bun, not-too-dense, with a soft and fluffy crumb, and a bit of crust on the top and bottom. I still need to figure out how to shape them so as to look a bit more attractive without losing the light and airy texture, but as they came out, they are delicious! If I continue to use this dough to make hamburger buns, I'll probably cut back some on the butter so the buns aren't quite as rich. KAF, if you have tips to help me get that round shape with such a slack dough, I'm listening.

Tis the season for extra sticky doughs, Jon! Warm/humid weather usually affects how much liquid your flour will absorb, so it could help to hold back 2 or 3 tablespoons of the water when mixing up your dough. Drizzle it in as needed until the dough is tacky like tape and soft like your cheek. Doing a pre-shape can really help make the final shaping a lot easier and allows you to get a nice, tight skin and round spherical shape. Once you've divided your dough, slightly deflate each piece into a very rough square, and fold each corner into the center. Put it seam side down on the counter, cover the rolls with plastic wrap to keep them from drying out, and let them rest for 15 minutes. Then, go back, and they'll be much easier to roll against the countertop and create a tight skin. Best of luck! Annabelle@KAF
I was very concerned when I went to divide and shape these rolls. I have learned from experience that the lightest dinner rolls usually result from a very soft, moderately-sticky dough. That is what I went for here. The dough was so soft that I couldn't do much to shape them or get the seams and gaps on the bottom. I didn't want to try to fit them all into a rectangular baking pan, so a dozen ended up on a rimmed baking sheet, and the remaining 4 were baked on a jelly roll pan. The finished rolls weren't the prettiest or most shapely, but they were the softest, lightest rolls I have ever made. Eating one reminded me of cotton candy...it was so light and fluffy. I like brushing my rolls with melted butter and salting them generously right out of the oven. I did that here, and it only made them more delicious! I will definitely make these again, and plan to use half the batch to make hamburger buns next time. Thanks for a wonderful recipe and the best dinner rolls I have made yet.
I made these rolls for the first time to take to my daughters house to go with a roasted chicken dinner. Everyone raved about them. Softest, tastiest and chewiest rolls we've ever had. My daughter called later that night and told me to never make them again. It seems she couldn't stop eating them even after we left. Can't wait for Thanksgiving dinner to introduce them to the rest of my extended family.
First, the amount of liquid was not enough to make the recipe. I had to add more liquid. I choose to add milk. Anyway, i let it rise, then divided into dough balls and let rise again. I eggwashed and then baked. They turned out nice but i found them fairly dense. Just my opinon.

Hi there, CS. The good news is that the trouble you experienced can be easily fixed; it sounds like you might be measuring your flour by scooping directly from the bag or canister, which compacts it into the cup. This results in a dry, heavy, dough and dense rolls like you were describing. In order to ensure the right amount of flour is added, we recommend clicking on the "Measuring standards," link to the right of the ingredients header. You'll see that each cup weighs about 4 1/4 ounces when measured by weight using a scale. For best results, use these standards when making all King Arthur Flour recipes. The next batch should be light, fluffy, and absolutely delicious! Kindly, Annabelle@KAF
i wrote earlier about the potato rolls, well I sifted my flour and measured again, and made the rolls, and let them rise, was concerned about the rising. these rolls turned out to be the greatest and softest rolls I have ever made, I did give it a 5 star , wish there was more stars, , and it went faster than my oher breads, and rolls, love this receipe thanks again, p.s. my husband has eaten 5 already, .