A customized print-friendly version of this recipe is available by clicking the "Print Recipe" button on this page.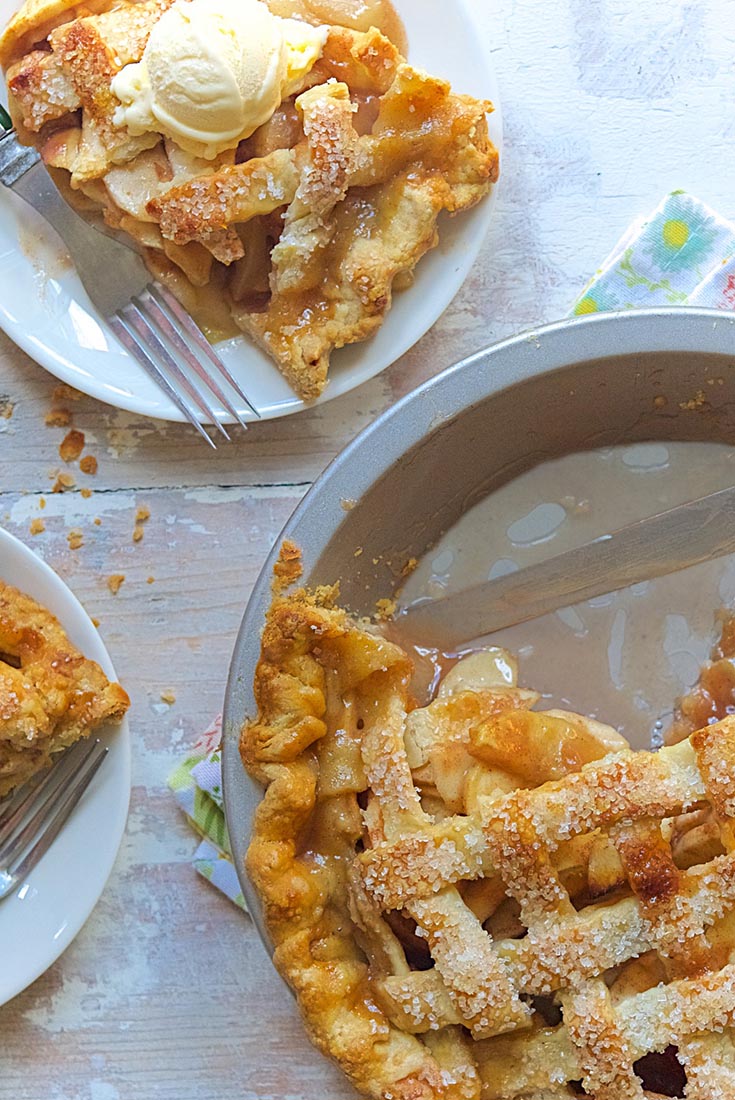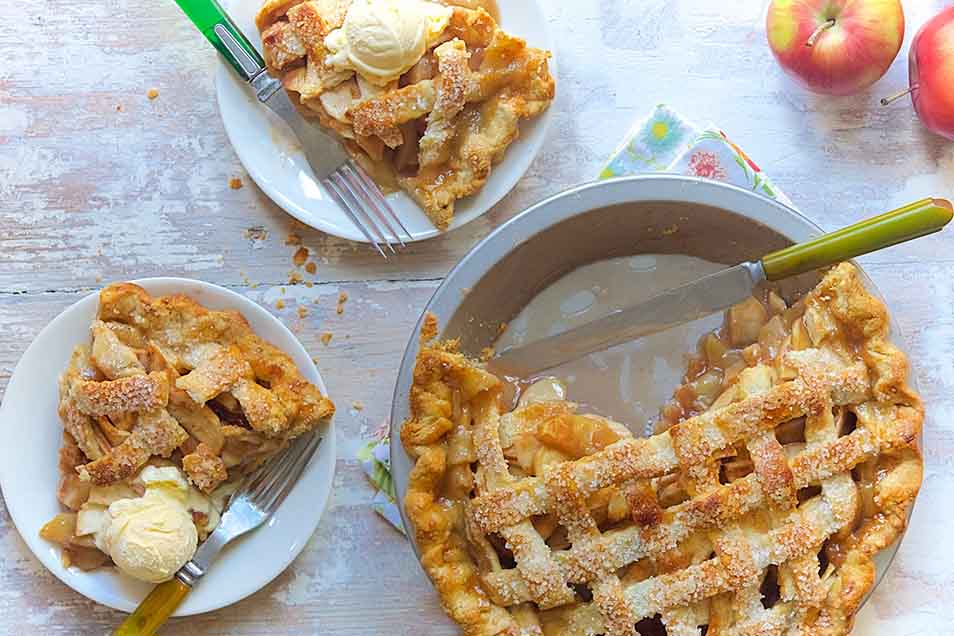 Apple pie: American icon, most popular pie, and the ONE dessert everyone has to make for Thanksgiving. With its flaky, buttery crust; tart-sweet apples, and wonderful cinnamon-y aroma, a slice of warm apple pie is the perfect end to any repast, from casual lunch to elegant dinner. Add vanilla bean ice cream, and you've got a dessert for the ages.
Instructions
To make the crust: In a medium bowl, whisk together the flour and salt.

Work in the shortening until the mixture is evenly crumbly. Dice the butter into 1/2" pieces, and cut into the mixture until you have flakes of butter the size of a dime.

Add the water 2 tablespoons at a time, mixing with a fork as you sprinkle the water into the dough. When the dough is moist enough to hold together when you squeeze it, transfer it to a piece of wax or parchment paper. It's OK if there are some dry spots in the pile. Use a spray bottle of water to lightly spritz these places; that way you'll add just enough water to bring the dough together without creating a wet spot.

Fold the dough over on itself three or four times to bring it together, then divide it into two pieces, one about twice as large as the other. The larger piece will be the bottom crust; the smaller piece, the top crust. Pat each piece of dough into a disk about 3/4" thick.

Roll each disk on its edge, like a wheel, to smooth out the edges. This step will ensure your dough will roll out evenly, without a lot of cracks and splits at the edges later. Wrap in plastic and refrigerate for 30 minutes before rolling.

Preheat the oven to 425°F.

Lightly grease a 9" pie pan that's at least 2" deep. This will make serving the pie easier after it's baked.

To make the filling: Combine the sliced apples and lemon juice in a large mixing bowl.

In a small bowl, whisk together the sugar, flour, cornstarch, salt, and spices. Sprinkle the mixture over the apples, and stir to coat them. Stir in the boiled cider (or apple juice concentrate) and the vanilla, if you choose to use it.

Roll the larger piece of pastry into a 13" circle. Transfer it to the prepared pan, and trim the edges so they overlap the rim of the pan by an inch all the way around.

Spoon the apple filling into the pan. Dot the top with the diced butter.

Roll out the remaining pastry to an 11" circle. Carefully place the pastry over the apples. Bring the overhanging bottom crust up and over the top crust, pinching to seal the two and making a decorative crimp. Prick the crust all over with a fork, to allow steam to escape. Or cut decorative vent holes, if desired. Alternatively, you can weave a lattice.

For extra crunch and shine, brush the top crust with milk (or an egg white beaten with 1 tablespoon of water), and sprinkle with coarse sugar.

Crimp the edges of the pie, then place it in the refrigerator for 10 minutes to firm up the crust while the oven finishes heating.

Place the pie on a parchment-lined baking sheet. Bake the pie for 20 minutes, then reduce the oven temperature to 375°F and bake for 40 minutes more, until you see the filling bubbling inside the pie (and perhaps dripping onto the parchment). Check the pie after half an hour of baking time, and cover the edges with foil or a pie shield to keep them from browning too quickly, if necessary.

When the pie is done — you should see the filling bubbling vigorously, either around the edges, or via any decorative vents — remove it from the oven.

Cool the pie completely before slicing — really. Cutting any fruit pie that's still warm is a messy business. The filling continues to thicken as the pie cools, and if you cut it too soon it will run out all over the place. It's better to bake the pie in advance, cool it completely, then warm each slice as needed after it's been cut.

Store any leftover pie, lightly covered, at room temperature for several days. Freeze for longer storage.
Nutrition Information
Serving Size

1 slice

Servings Per Batch

8
Amount Per Serving:
Calories

420

Calories from Fat

160

Total Fat

18g

Saturated Fat

8g

Trans Fat

0g

Cholesterol

25mg
Sodium

270mg

Total Carbohydrate

63g

Dietary Fiber

4g

Sugars

31g

Protein

4g
* The nutrition information provided for this recipe is determined by the ESHA Genesis R&D software program. Substituting any ingredients may change the posted nutrition information.
Tips from our bakers
For the best apple flavor, use more than one variety of apple in your filling. Use apples that will hold their shape during baking: Jonagold, Granny Smith, Ginger Gold, Cameo, Northern Spy, and Delicious are some good choices.
Here's a tasty variation: Cranberry-Apple Pie. Add 1 cup dried cranberries to the filling, and bake as directed.
There are many different thickening options available for fruit pies, from flour to cornstarch to Instant ClearJel and more. For an easy guide to thickener substitutions, see our Pie Filling Thickeners Guide.
For a simple sugar-crumb crust in place of a pastry top crust, work together 1/2 cup each sugar, unbleached all-purpose flour, and butter (8 tablespoons), plus a pinch of salt, until sandy textured. Sprinkle atop the pie in place of the top crust; save the remaining top-crust pastry for another single-crust pie.
Reviews
So simple, and it wasn't runny as some other bakers said it might be. Guests asked for seconds! I especially want to hang onto the crust recipe, as it was easy to handle and made a lovely. flaky result.
I made this pie for thanksgiving 2017 and it was absolutely astounding! I used ginger gold, gala, and macintosh apples and a LOT of them, plus 2 or 3 bosc pears mixed in. I didn't have the boiled cider so I omitted it and it was still the best apple pie I've ever had! can't wait to try it out with the cider. the real star though was the crust. I have sworn off making homemade pie crust for about 10 years because I could never get it right, and have never really tasted a good homemade crust. all these years I thought I didn't like pie crust! this one absolutely changed my mind. it was so easy to put together and tasted delicious - it really was both flaky and tender. I can't praise this recipe enough!
I made this recipe for Thanksgiving 2017. I went through the trouble of getting the apple cider and everything and my pie came out mushy and I was disappointed. I don't know if I am up to trying again. For some reason I think the pie had too much liquid because of the cider. Feeling defeated.

No one likes a mushy pie, fellow baker, and we're sorry to hear your Thanksgiving pie left you feeling disappointed. We'd love the opportunity to troubleshoot and re-instill some much-deserved confidence in your pie baking skills. Give our Baker's Hotline a call at 855-371-BAKE(2253) so we can talk about ways to ensure your filling has just the right consistency. Happy baking! Kye@KAF
First time to make this pie. It was very easy and tasted out of this world. The boiled apple cider makes a world of difference.
I made this pie for my stepmom's birthday with Honeycrisp Apples and XL Granny Smith Apples and it was AMAZING.
This is a great recipe. I baked it twice - once for Thanksgiving and once for Christams. Both times turned out great and the guests raved about the pie! Thank you, King Arthur Flour!
I made this pie for thanksgiving using instant clear jell instead of cornstarch. The taste was very good, but the top crust caved in as it cooled for a day. The bottom crust was soggy and had to be scraped off the pie pan.i may try it again without the apple juice concentrate.

We'd love to offer some additional tips for a more successful next bake and hope you'll consider giving us a call at 855-371-BAKE. Mollie@KAF
I want to ask you if using both shortening and butter would be using to much for the recipe. I had trouble with the crust to greasy and would not hold together so I could put it in the pie dish. So what did I do wrong if you can tell me. I am going to make it again for Christmas. Thank you, Marianne Juhl

Marianne, using a combo of shortening and butter shouldn't make for a greasy pie, but dough that gets too warm might feel greasy. We wonder if perhaps that might have been the cause of the trouble? Keeping the ingredients cold throughout the process is key, in order to maintain the small chunks of fat that will melt out in the oven, creating pockets of steam, and ultimately flakes. If we can help to troubleshoot further, feel free to give us a call at 855-371-BAKE. We'd be happy to chat! Mollie@KAF
Made this exactly as written, omitted the vanilla, and used a mix of Cortlands, Granny Smiths, Galas and Golden Delicious. It was amazing. Always going to use this recipe from now on! Thank you.
I've got no earthly idea what I'm doing wrong here. I've now made this 5 times, and 2 of the 5 it was really good. The other 3 times, the filling has been INCREDIBLY soupy. I thought maybe I just didn't let it cool long enough, but this time I made it last night, so it cooled overnight... yet when I cut into it today, a ton of watery liquid came out, basically the entire filling. It's like there's no filling at all, just pastry and sliced apples and then watery apple liquid. It still *tastes* good, but I am a very sad panda. =( I've followed the recipe exactly the same each of the 5 times, both the times it's worked and the times it hasn't. My mom thinks maybe the boiled cider just adds too much liquid, but that doesn't explain why it actually worked twice, or why everyone else is so happy with it. So in addition to being sad, I'm also confused.

How confounding, Susannah. The difference in results could be related to anything from what kinds of apples you chose, to the kind of thickener used, how long the filling bubbled before you took it out and what else was in your oven at the same time (and therefore affected the heat). We encourage you to give our free and friendly Baker's Hotline a call at 855-371-BAKE so we can help you get to the bottom of it all! Mollie@KAF