A customized print-friendly version of this recipe is available by clicking the "Print Recipe" button on this page.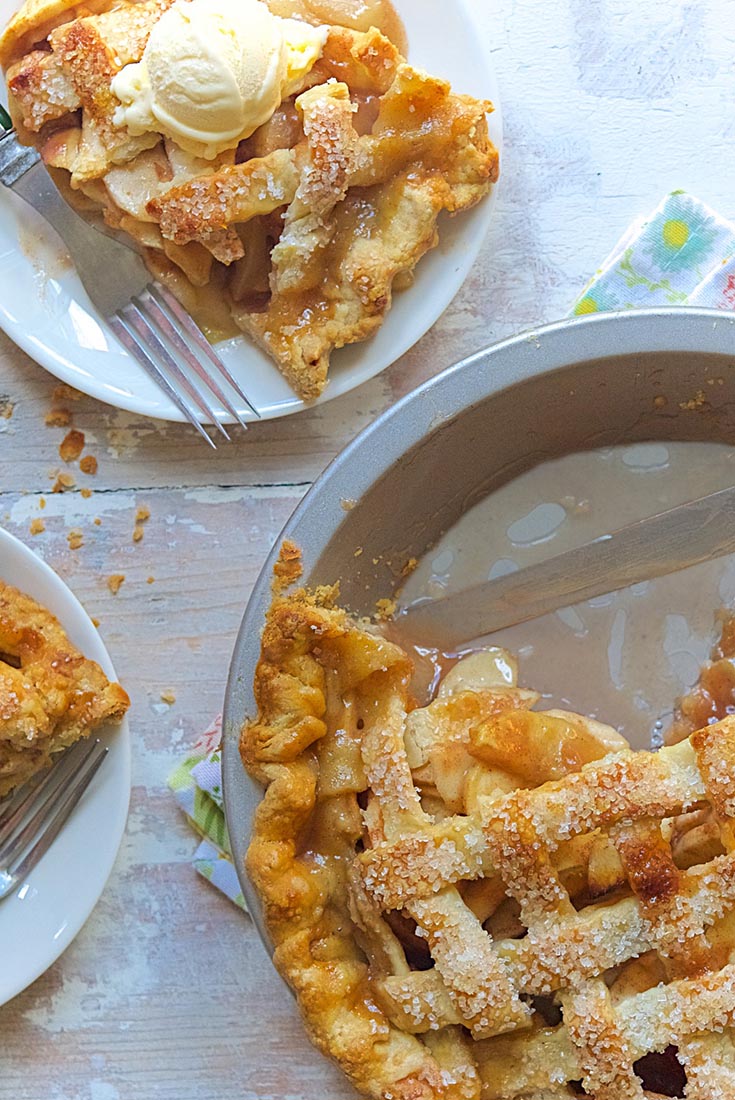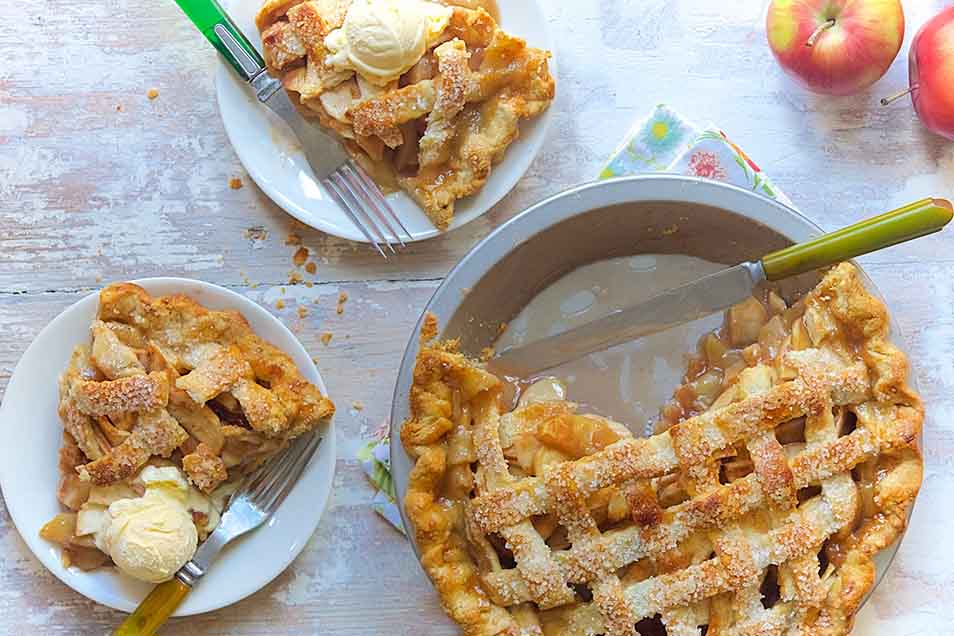 Apple pie: American icon, most popular pie, and the ONE dessert everyone has to make for Thanksgiving. With its flaky, buttery crust; tart-sweet apples, and wonderful cinnamon-y aroma, a slice of warm apple pie is the perfect end to any repast, from casual lunch to elegant dinner. Add vanilla bean ice cream, and you've got a dessert for the ages.
Instructions
To make the crust: In a medium bowl, whisk together the flour and salt.

Work in the shortening until the mixture is evenly crumbly. Dice the butter into 1/2" pieces, and cut into the mixture until you have flakes of butter the size of a dime.

Add the water 2 tablespoons at a time, mixing with a fork as you sprinkle the water into the dough. When the dough is moist enough to hold together when you squeeze it, transfer it to a piece of wax or parchment paper. It's OK if there are some dry spots in the pile. Use a spray bottle of water to lightly spritz these places; that way you'll add just enough water to bring the dough together without creating a wet spot.

Fold the dough over on itself three or four times to bring it together, then divide it into two pieces, one about twice as large as the other. The larger piece will be the bottom crust; the smaller piece, the top crust. Pat each piece of dough into a disk about 3/4" thick.

Roll each disk on its edge, like a wheel, to smooth out the edges. This step will ensure your dough will roll out evenly, without a lot of cracks and splits at the edges later. Wrap in plastic and refrigerate for 30 minutes before rolling.

Preheat the oven to 425°F.

Lightly grease a 9" pie pan that's at least 2" deep. This will make serving the pie easier after it's baked.

To make the filling: Combine the sliced apples and lemon juice in a large mixing bowl.

In a small bowl, whisk together the sugar, flour, cornstarch, salt, and spices. Sprinkle the mixture over the apples, and stir to coat them. Stir in the boiled cider (or apple juice concentrate) and the vanilla, if you choose to use it.

Roll the larger piece of pastry into a 13" circle. Transfer it to the prepared pan, and trim the edges so they overlap the rim of the pan by an inch all the way around.

Spoon the apple filling into the pan. Dot the top with the diced butter.

Roll out the remaining pastry to an 11" circle. Carefully place the pastry over the apples. Bring the overhanging bottom crust up and over the top crust, pinching to seal the two and making a decorative crimp. Prick the crust all over with a fork, to allow steam to escape. Or cut decorative vent holes, if desired. Alternatively, you can weave a lattice.

For extra crunch and shine, brush the top crust with milk (or an egg white beaten with 1 tablespoon of water), and sprinkle with coarse sugar.

Crimp the edges of the pie, then place it in the refrigerator for 10 minutes to firm up the crust while the oven finishes heating.

Place the pie on a parchment-lined baking sheet. Bake the pie for 20 minutes, then reduce the oven temperature to 375°F and bake for 40 minutes more, until you see the filling bubbling inside the pie (and perhaps dripping onto the parchment). Check the pie after half an hour of baking time, and cover the edges with foil or a pie shield to keep them from browning too quickly, if necessary.

When the pie is done — you should see the filling bubbling vigorously, either around the edges, or via any decorative vents — remove it from the oven.

Cool the pie completely before slicing — really. Cutting any fruit pie that's still warm is a messy business. The filling continues to thicken as the pie cools, and if you cut it too soon it will run out all over the place. It's better to bake the pie in advance, cool it completely, then warm each slice as needed after it's been cut.

Store any leftover pie, lightly covered, at room temperature for several days. Freeze for longer storage.
Nutrition Information
Serving Size

1 slice

Servings Per Batch

8
Amount Per Serving:
Calories

420

Calories from Fat

160

Total Fat

18g

Saturated Fat

8g

Trans Fat

0g

Cholesterol

25mg
Sodium

270mg

Total Carbohydrate

63g

Dietary Fiber

4g

Sugars

31g

Protein

4g
* The nutrition information provided for this recipe is determined by the ESHA Genesis R&D software program. Substituting any ingredients may change the posted nutrition information.
Tips from our bakers
To make the rose apple pie pictured on the Fall 2018 cover of Sift, line the pie pan with a single pastry crust and flute the edges. Wash 5 or 6 red-skinned cooking apples and set aside; don't peel them. Have the lemon juice from the ingredients list on hand. In a small bowl, whisk together the sugar, flour, ClearJel, salt, and spices. Sprinkle over the pastry in the pan. Slice the apples from the outside toward the core as thinly as you can (you should almost be able to see the knife through the apple). Cut the slices in half from top to bottom to make two semicircles. Form a 2 1/2" circle out of a folded piece of aluminum foil, place it in the pie shell, and arrange the slices skin side up inside the foil, working from the outside in to form a rose. Move the foil circle as you build more roses toe keep them intact; after the pastry is filled with roses fill any gaps between them with extra apple slices.
To make Salted Rosemary Caramel Apple Pie, omit the sugar and butter from the filling ingredients listed above and top the apple filling with a batch of Salted Rosemary Caramel Sauce. Bake as directed.
For the best apple flavor, use more than one variety of apple in your filling. Use apples that will hold their shape during baking: Jonagold, Granny Smith, Ginger Gold, Cameo, Northern Spy, and Delicious are some good choices.
Here's a tasty variation: Cranberry-Apple Pie. Add 1 cup dried cranberries to the filling, and bake as directed.
There are many different thickening options available for fruit pies, from flour to cornstarch to Instant ClearJel and more. For an easy guide to thickener substitutions, see our Pie Filling Thickeners Guide.
For a simple sugar-crumb crust in place of a pastry top crust, work together 1/2 cup each sugar, unbleached all-purpose flour, and butter (8 tablespoons), plus a pinch of salt, until sandy textured. Sprinkle atop the pie in place of the top crust; save the remaining top-crust pastry for another single-crust pie.
Reviews
I made 3 apple pies. What else are you going to do with 19lbs of apples. I used 1/2 cup apple juice and boiled it down to 1/4 cup to make it more like concentrate. I also added lemon zest. Got rave reviews.
My pie turned out great. I used every ingredient suggested and I was pleased With the results. My daugther enjoyed shopping for the ingredients and following the recipe to create our first homemade apple pie.
I prefer nutmeg over cinnamon as a spice for apples, so switched the amounts; also, I omitted the cornstarch, as I have never used it in an apple pie (and the filling set up just fine.) I still prefer a lard crust, but this is a good one.
I have baked this pie three times and every time it comes out delicious. I used the boiled cider and LOVE the flavor it gives to the pie. It has become a favorite of mine. And it makes the house smell wonderful.
Fantastic. I usually use a different crust recipe, but when I came to KAF to find it, this one came up first and I was baking apple, so I went with it. My two adjustments were the vegi shortening and butter. I used lard in place of vegi shortening and "plant based butter" for my dairy free sister. The crust was stellar! Made a great birthday pie for my husband! A little leftover crust for a small open faced apple tart with a bit of the leftover liquid from the pie filling brushed over top, just like my English Granny always made with the leftover crust when I was a kid!
8 Cups of apples in a single 9" pie? In what universe will that fit? In the past I've trusted KAF recipes, but at this point I can no longer do that. I'm now left with a crust that's heaping with filling and about 4C left to use. Not okay, not okay.

We admit that this is a generously topped apple pie, fellow baker, one that gets close to deserving a "mile-high" title. While the apples should be nicely mounded in the pie pan, they should all fit (with maybe a few spares slices extra for snacking!). It sounds like a few different things may have come into play here, the first being the pan size. It's important that the pie pan is at least 2" deep in order to fit all the delicious apple filling.

Second, it helps to measure your apples by weight rather than by volume alone to ensure you're using the right amount. (About 2 pounds and 2 ounces or 964 grams of apple should fit in your pie.)

Lastly, how you place the apples in the pie pan can make a difference. If you take some care to layer the slices evenly so they're laying flat, you'll be able to fit more into the pie. If you dump them all from the bowl, there may be quite a bit of empty space between the apple slices that takes up some valuable real estate! If you don't want to layer the apples by hand, pouring them into the pan about a third at a time and shaking the pan to make them settle can also help with this. We hope these tips help you or other bakers fit even more apple deliciousness into your pies going forward. Kindly, Kye@KAF
Just made this wonderful apple pie recipe with a couple of changes....I brushed the bottom pie crust with egg white to prevent the liquid from leaking through the crust. But, I'm baffled as to why most of the filling bubbled out while still baking. I couldn't remove the pie from the oven at this stage as the recipe recommends as the pie clearly was not done. Can someone tell me if a pie vent would have prevented the filling from bubbling out or give me an idea of what I might have done wrong? The pie itself, turned out wonderful..the apples baked but weren't mushy! Biggest disappointment was the lack of liquid in the actual pie after baking. I will definitely make this recipe again!

Cindy, it sounds like your pie pan might not have been deep enough to hold in all the deliciousness of this recipe. If you're not already doing so, use a deep dish pan that's at least 2" deep (and also place it on a baking sheet to catch any drips). We do recommend cutting slits, pricking the dough with a fork, or weaving a lattice top (in step 12) to ensure that the steam can escape adequately. You might want to try cutting an even larger vent in the center next time if you want to see if this reduces the overflow.

You can also try slicing your apple thinner and arrange them in a way that packs them in tightly in the pan. Creating a large mound of filling makes it more likely to bubble over. Two last options: you can try cooking the filling down on the stovetop slightly to release some of the moisture and break down the apples before adding them to the crust, or you can simply use less of the filling. (Eat any extra!) We hope this helps, and happy baking! Kye@KAF
Made filling as written without optional vanilla in a deep dish ceramic pie plate. Baking on bottom rack of the oven ensured a crisp bottom crust. Why is the crust recipe different for this pie than for your Classic 2 Crust recipe? I noticed there's more shortening in this recipe. I used the classic recipe since that's what I'm used to making. Next time I will try this crust. I'm not used to apple pie with sauce, so this was an unusual pie. It tasted wonderful, and thickened beautifully with flour and Instant Clear Jel. I think I will try it next time without the cider and see if i like it better. The sauce is so flavorful tha it's overwhelming to the lovely apples themselves.

Hi Kim! The crust used in this recipe was preferred by the recipe author, but any crust will work just beautifully, as you found with the Classic Double Pie Crust. We're so glad you enjoyed this pie! Annabelle@KAF
So simple, and it wasn't runny as some other bakers said it might be. Guests asked for seconds! I especially want to hang onto the crust recipe, as it was easy to handle and made a lovely. flaky result.
I made this pie for thanksgiving 2017 and it was absolutely astounding! I used ginger gold, gala, and macintosh apples and a LOT of them, plus 2 or 3 bosc pears mixed in. I didn't have the boiled cider so I omitted it and it was still the best apple pie I've ever had! can't wait to try it out with the cider. the real star though was the crust. I have sworn off making homemade pie crust for about 10 years because I could never get it right, and have never really tasted a good homemade crust. all these years I thought I didn't like pie crust! this one absolutely changed my mind. it was so easy to put together and tasted delicious - it really was both flaky and tender. I can't praise this recipe enough!