A customized print-friendly version of this recipe is available by clicking the "Print Recipe" button on this page.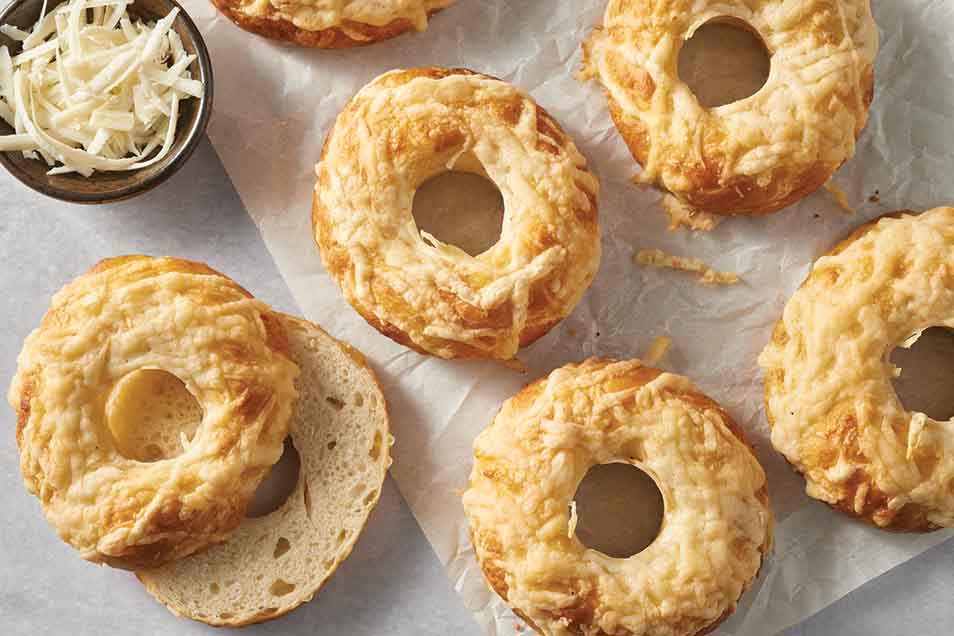 Back in the day, bagels were plain, poppy seed, onion, or sesame seed — with maybe a marble rye thrown in for special occasions. Today, we have cinnamon-raisin, chocolate, cranberry-walnut, "everything"... We Americans have gotten our creative hands on what was once a very simple roll, and taken it over the top — which is exactly where we place these Asiago bagels. With chunks of Asiago inside and shreds of the cheese on top, these bagels are dense, chewy, and marvelously flavorful.
Ingredients
Dough
1 1/4 cups cool water
1 3/4 teaspoons salt
1 1/2 teaspoons instant yeast
3/4 cup Asiago cheese cubes, about 1/2"
Topping
3/4 cup shredded Asiago cheese
Instructions
To make the starter: Combine the ingredients in a medium-sized bowl, cover, and let rest at room temperature overnight.

To make the dough: Combine the puffy starter with all the dough ingredients, and knead — by hand, electric mixer, or bread machine — to form a stiff but not dry dough. Since we're using a high-protein bread flour here, you might notice it takes a bit more effort and time to develop the gluten.

Place the dough in a lightly greased bowl or large (at least 8-cup) measuring cup, cover, and set it aside to rise for 1 hour. Gently deflate the dough, and let it rise for another 30 minutes.

While the dough is rising, prepare the water bath by heating the water, baking soda, and malt powder or sugar to a very gentle boil in a wide-diameter (about 10") pan. A 10" electric frying pan works well here. Boil until the baking soda has dissolved, then turn off the heat.

Gently deflate the risen dough, transfer it to a work surface, and divide it into 12 pieces. Roll each piece into a smooth, round ball. Cover the balls with plastic wrap, and let them rest for 30 minutes. They'll puff up very slightly.

Preheat your oven to 425°F. Bring the water in the pan back to a simmer/slow boil.

Use your index finger to poke a hole through the center of each ball, then twirl the dough on your finger to stretch the hole until it's about 2" in diameter (the entire bagel will be about 3 1/2" across). Place each bagel on a lightly greased or parchment-lined baking sheet, and repeat with the remaining pieces of dough.

Transfer the bagels, four at a time if possible, to the simmering water. Increase the heat under the pan to bring the water back up to a gently simmering boil, if necessary. Cook the bagels for 2 minutes, flip them over, and cook 1 minute more. Using a skimmer or strainer, or the end of a wooden spoon, remove the bagels from the water and place them back on the baking sheet. Top each wet bagel with some of the shredded cheese. Repeat with the remaining bagels.

Bake the bagels for about 25 minutes, or until they're as deep brown as you like.

Remove the bagels from the oven, and cool completely on a rack.

Yield: 12 bagels.
Reviews
I used my starter with no additional yeast. I had to add a little more flour, as I kneaded the dough. Flavor and texture are perfect!
Great recipe, very flexible. Have made it several times, all without the asiago cheese as I can't get my hands on any where I live. I didn't adjust the other ingredients, just made it without, and they turn out fine. I have also made them with and without the starter, again they turn out great either way, just depends on your recipe. Finally I make mine in the bread machine so it's even easier. Well done KAF!
Amazing recipe. Better than panera's asiago cheese bagel. I didn't have asiago in the fridge, so I used parmesan.I also added zesty marjoram herb in the dough, and on top I also sprinkled a little herb de provence.. VERY good results! follow the instructions as directed and you can't go wrong.
This was my first foray into baking breads. I like cheese bagels and I saw the blog post and said to myself, 'Five ingredients? I can do that!' And on the first try, I had tasty cheese bagels. The steps were easy to follow for a novice.
These tasted great. My husband loves the asiago bagels at Panera and he was very pleased with these!
Just made my first batch of these bagels today and they are fantastic! I was encouraged by the fact that they only required bread flour, as I didn't have any higher protien flours in my pantry. I set the starter up the night before and was rewarded with a bubbly brew the next morning. The dough came together easily and soon enough I had my first ever batch of home made bagels! I did make a small change to this recipe: rather than 12 bagels, I divided the dough into 16 pieces for mini-sized bagels. I baked them for 18 minutes and they turned out golden and delicious. The final texture is slightly less chewy than a "true" bagel, but it is still very satisfying. The brown sugar and baking soda bath creates a perfect exterior. Can't wait to make these again!
I made these last night. In the interests of full disclosure I used the fridge for some of the risings (starter overnight, dough in the am before work, fridge after an hour, punch down at lunch time, fridge again, boiled and baked off at night) but these were great. Tasted diferent from Panera's, but in a good less salty way. My daughter complained that the Asiago made the house smell like vomit but she ate them happily once baked. More cheese on top is better than less. Had I looked at the photos again, that would have let me know that I had too little on top. I think some apple pieces baked inside these might be heavenly!
I agree, apple pieces would be a wonderful addition to this bread recipe. Betsy@KAF