A customized print-friendly version of this recipe is available by clicking the "Print Recipe" button on this page.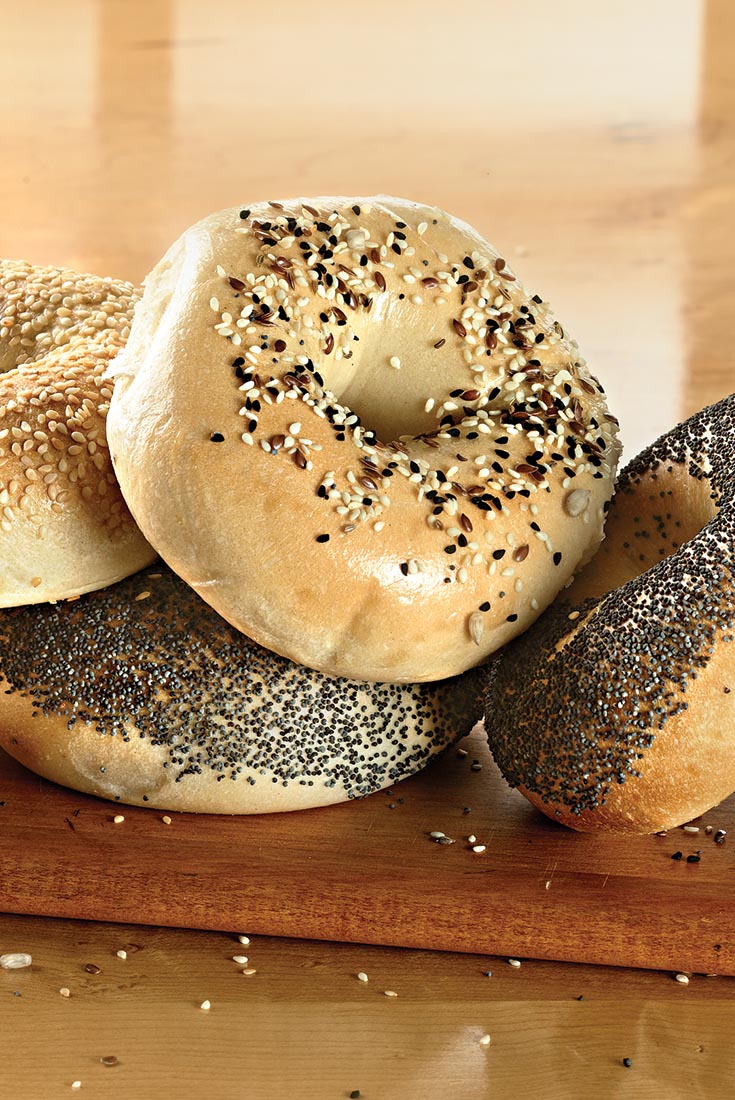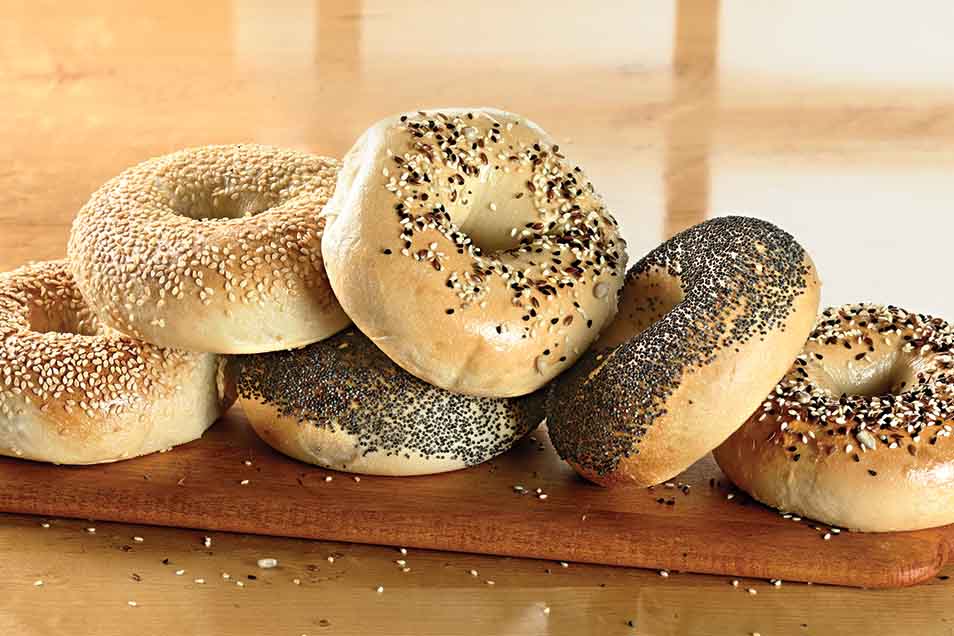 These simple flour-water-salt-yeast bagels, made with an overnight starter for extra flavor, are a tasty introduction to bagel-making.
Ingredients
Dough
1 1/4 cups cool water
1 3/4 teaspoons salt
1 1/2 teaspoons instant yeast
Topping
1/4 cup sesame seeds or poppy seeds, optional
Instructions
To make the starter: Combine the starter ingredients in a medium-sized bowl, cover, and let rest at room temperature overnight.

To make the bagel dough: The next day, combine the starter with all of the dough ingredients and knead — by hand, mixer, or bread machine — to form a smooth, stiff but not dry dough. Place in a lightly greased bowl, cover, and set aside to rise for 1 hour.

Gently deflate the dough, and let it rise for another 30 minutes.

Transfer the dough to an unfloured work surface and divide it into 12 pieces. Roll each into a smooth ball. Cover the balls with plastic wrap, and let them rest for 30 minutes. They'll puff up very slightly.

While the dough is resting, prepare the water bath by heating the water and malt (or sugar) to a very gentle boil in a wide-diameter (about 10") pan.

Preheat your oven to 425°F.

To shape the bagels: Use your index finger to poke a hole through the center of each ball, then twirl the dough on your finger to stretch the hole until it's about 2 inches in diameter (the entire bagel will be about 3" across). Place each bagel on a lightly greased or parchment-lined baking sheet, and repeat with the remaining pieces of dough.

To boil the bagels: Transfer the bagels, three to four at a time if possible, to the simmering water. Increase the heat under the pan to bring the water back up to a gently simmering boil, if necessary. Cook the bagels for 2 minutes, flip them over, and cook 1 minute more. Using a skimmer or strainer, or the end of a wooden spoon, remove the bagels from the water and place them back on the baking sheet. Repeat with the remaining bagels.

To bake the bagels: Bake the bagels for about 25 minutes, or until they're as deep brown as you like. To top with seeds, remove the bagels from the oven after about 15 minutes, spray with water, and sprinkle with the seeds. Return to the oven to finish baking.

Remove the bagels from the oven, and cool completely on a rack.

Store up to 5 days in a plastic bag. Freeze in a plastic bag for up to 3 months.
Tips from our bakers
If you'd like to freeze them, slice them most of the way, then freeze. You won't need to wait for them to thaw before slicing and toasting.
Reviews
Great recipe! Easy to follow steps and helpful links (like to the malt). I didn't make the rounds perfect, so they looked a little funny, but the texture and flavor are amazing. Thank you!
I made these bagels and I followed the recipe to the T. They are tasty but they taste like a crusty dinner roll and not a bagel. Also my dough did not bake smooth with a thick crust like a traditional bagel. The bagels were a little lumpy looking (from air?) and the crust was thin. Still yummy as a dinner roll.

We're glad to hear that the bagels were tasty, Michelle. The way you're describing your dough as rough and lumpy leads us to think that a bit too much flour may have been added. This would lead to a dryer, rougher dough, and a dryer, crustier result. For ideal measurement accuracy when not using a scale, we recommend fluffing the flour with a whisk or spoon, sprinkling it into the measuring cup, and scraping off the excess. Measuring this way should result in a smooth, tacky dough, and chewy, smooth, and delicious bagels. Another thing to note is that in the winter, the dryer air can result in needing to add extra water. Aim for a smooth, marshmallowy dough that's slightly tacky like tape to the touch. Happy baking! Annabelle@KAF
These turned out wonderfully doughy on the inside with a thin crust that crisped up nicely after toasting! I did make a handful of changes... I substituted 4 oz of my non-fed (very vigorous but been in the fridge for three weeks) sourdough starter for the overnight starter and mixed in 5 oz of the water and 5 oz of all-purpose flour (no bread flour in my house today). I let this sit on my counter for an hour or so until bubbly and starting to expand slightly then added the rest of the ingredients (cut yeast to about 3/4 tsp) and followed the rest of the recipe more or less exactly (with slightly higher raising times as my house temp is on the cooler side). I may have ended up with a slightly stickier dough that didn't raise as much, but this may have resulted in the chewier centers as well. It was enough to make 9 bagels about the size of a pre-package bagel from the grocery store. They didn't brown as much as I expected and I took them out after 25 minutes anyways. I'm glad I did - after slicing one and toasting, the crust is nicely crisp and the inside is chewy and tender with a hint of a sourdough flavor. Delicious!
I think that some of the problems I had were my own fault, but the crust came out super hard, next time I make this recipe I am going to try a lower temperature, for more time. I do have a question, is it possible to ver knead because, my dough just seemed so dry, so I kept kneading it. it was much longer than I have ever needed to knead dough before. Sarah - If your dough was dry, you needed to add more liquid. Or you added too much flour. I recommend calling in to our Baker's Hotline to discuss the technique you used and the baker can help to zero in on the issue. The number to contact us is 855-371-2253. We look forward to chatting with you. JoAnn@KAF
Great flavor! I placed formed bagels in fridge overnight and boiled and baked in the morning to save time. My bagels aren't as puffy as those in the photo....why? I made a stiff dough but time after time they lack the typical roundness. What am I missing?

The overnight rest is likely what caused your bagels to turn out more flat. The shaped bagels should just be left to rest for about 30 minutes; an overnight rise may cause the bagels to over-proof or rise too much, which then results in a slack dough and deflated bagel. Try putting them right into the water bath after about 30 minutes and see if that helps. Kye@KAF
I love this recipe and have made numerous times but I do have a question. Although my dough is shiny and smooth once I add to the bath they always develop a wrinkles. Is this a sign of overproofing? The water is a gentle simmer and Ihave altered the proofing time to a minimum. Taste great but dont look as nice as they do raw.
Your instincts are spot on! Those wrinkles are telling you the bagels are proofed too much. Cut back the time 15 minutes and see what your results are. Happy Baking! Irene@KAF
These are delicious and look perfect - just like your pictures - but they don't have the chewy inner crumb I was hoping for. I used my own (firm) sourdough starter, and added some semolina. I didn't have AP so I used bread flour. The outside has a crispy crust, but the inner crumb is soft like a dinner roll.

If you are looking for a chewier texture, try using a High-Gluten Flour instead of all purpose or bread. The higher protein content of the flour will give you the classic bagel texture it sounds like you are looking for! You may need to add slightly more liquid as this flour is also more absorbent. Happy bagel baking! Kye@KAF
First try today at bagel making &just took them out of the oven---dough did take a long kneading time to to develop but was nice to work with, can see that shaping is a skill that needs to be practiced! Think 8 bagels would have be better for my tastes, these had nice crispy outside but though they were on the 'thin' side--thought the texture was more roll like then bagel but wife liked them so all is well
This was my first time making bagels. Other than adding ~2 Tbl barley malt syrup to the dough, I followed the recipe closely. The bagels were very tasty, albeit not the prettiest ones around. I will definitely make these again!
Great recipe, though I make mine bigger--I get about 9 from this recipe. Two changes I made, in order to approximate the bagels we used to get from a local shop (sadly now closed): I use 1/4 cup of white whole wheat in the starter along with 1/4 cup bread flour. I also use 1/4 cup milk in the liquid in the "main" mix, and I add 1-2 tbsp. molasses. My daughter loves them! So do my husband and I, of course, but my daughter's the picky one!