A customized print-friendly version of this recipe is available by clicking the "Print Recipe" button on this page.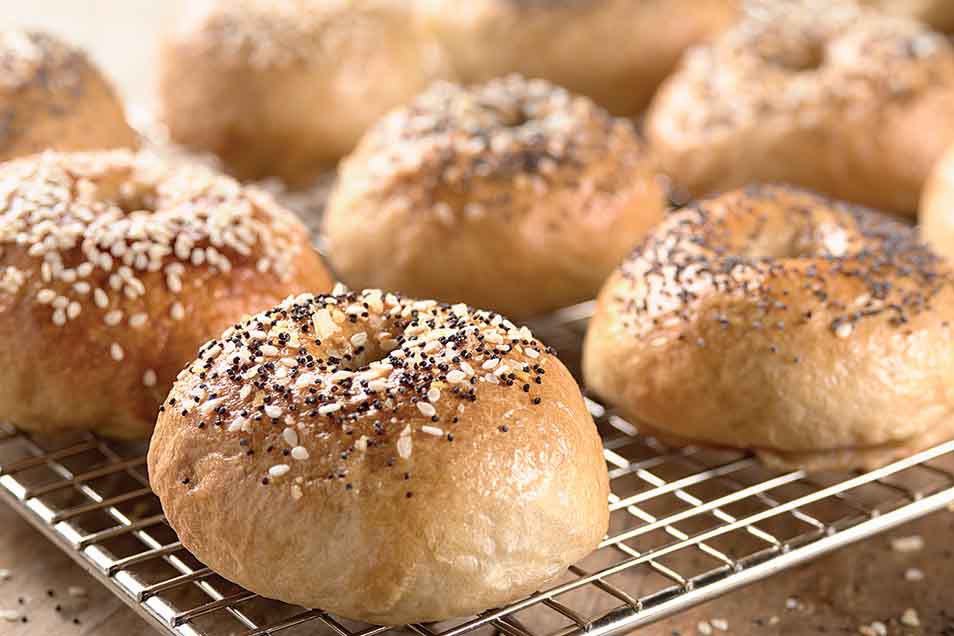 Smaller, taller bagels are light-textured, perfect for toasting, and make a lovely snack-sized serving. High-gluten flour makes them extra chewy. Read our blog about these bagels, with additional photos, at Flourish.
Ingredients
Topping
Everything Bread and Bagel Topping, or poppy, golden flax, or caraway seeds, or the topping seeds of your choice, optional
Instructions
To make the starter: Combine the flour, water, and yeast in a small container, stirring till smooth. Cover and let rest at room temperature for about 14 hours (overnight), until bubbly and expanded.

To make the dough: Combine the risen starter with the remaining dough ingredients, mixing till you've formed a shaggy, rough dough.

Knead the dough for about 7 minutes in a stand mixer. Or knead it using the dough setting on your bread machine. It's difficult to fully develop this dough manually, so we don't recommend kneading it by hand. The well-kneaded dough will be fairly stiff and perhaps a bit shaggy.

Place the dough in a lightly greased container (or leave it in your bread machine), and let it rise for about 90 minutes, till it's puffy.

While the dough is rising, pour water to a depth of about 1/2" to 3/4" into a large, deep skillet with a lid; a 12" to 13" skillet is a good choice. Add 1 tablespoon non-diastatic malt powder (for best shine), or 1 tablespoon brown sugar. The malt won't dissolve; that's OK. It'll be fine once the water is heated. Place a round cooling rack, or vegetable steamer, into the pan. Grease the rack or steamer with non-stick vegetable oil spray. If you don't have a large enough skillet, use a canning kettle or or other wide-diameter pan. Set the pan on the stove, but don't turn the burner on yet.

Preheat the oven to 425°F.

Gently deflate the dough, and divide it into 12 pieces. Each piece will weigh about 76g (about 2 5/8 ounces).

Round six of the pieces into smooth balls, rolling them beneath your cupped fingers on a non-floured work surface. (A floured work surface won't give you enough traction for rolling.) Keep the other pieces covered with plastic wrap.

Working quickly, poke a hole in the center of each ball of dough, and twirl it around your finger to make a hole about 1 1/2" wide. As you move from one piece of dough to the next, the holes will shrink; that's OK. While you're doing this, heat the water in the skillet or kettle to a gentle simmer.

When you've poked a hole in all six pieces of dough, place them on the rack in the skillet. Turn the heat to high to bring the water to a full boil, cover the pan, reduce the heat to medium, and steam the bagels for exactly 2 minutes. While the bagels are steaming, line a baking sheet with parchment (preferred), or lightly grease it.

Remove the lid, and use a spatula to very gently transfer the bagels to the prepared baking sheet.

Bake the bagels for 20 minutes. While they're baking, get out the seeds you want to use (if any).

Remove the bagels from the oven; they should be a light golden brown. Spray with Quick Shine (for best seed adherence). Or spray with water. Sprinkle with the seeds of your choice.

Return the bagels to the middle shelf of the oven, and place another baking sheet on the shelf above, to shield them so the seeds don't burn.

Bake for an additional 3 to 5 minutes, or until the bagels are golden brown. While the first batch of bagels is getting its final turn in the oven, ready the next batch: gently deflate the balls of dough, shape into rounds, poke holes, steam, and place on a pan.

Remove the first batch of bagels from the oven; put the second batch in. Cool the finished bagels on a rack, or right on the pan. When all the bagels are baked and cooled, store them airtight, at room temperature.
Reviews
If you were going to let the dough rise overnight in the refrigerator, would it be better to let it rise in the greased bowl, then shape in the morning? Or better to let rise, then shape and put in the fridge overnight?

Hi there, Helene! If you'd like to do an overnight rise, the best time to do that would be during the first rise time. We'd recommend putting the dough in a greased bowl and sticking it right into the fridge after kneading. The next morning you'll want to start shaping the bagels first thing so the dough doesn't over-proof. Happy baking! Morgan@KAF
Just made these. Believe what everyone said about them. They are chewy and delicious.
First off, I have to say I was thrilled when I saw my beautiful bubbly starter this morning. Measuring 1/16 tsp of yeast was interesting as it weighhs practically nothing and eyeballing half of an 1/8 well... This was my first attempt at bagels and iI am so happy this is the first recipe I tried. The dough came together beautifully. I mixed it in my Ankarsrum using the roller and the bowl scraper. The result was a magnificent ball of slightly shaggy dough. Ait lookd just right and rose quite nicely. Figuring out a decent configuration for the steaming step took some trial and error. I have the perfect deep 12" pan for this, but the round cooling racks I have are rather shallow. I doubled the racks in a criss-cross pattern in an effort to gain a little more height. This seemed to work okay, but i had a challenging time removing the bagels from the rack and some dough seeped through to the pan. I used an eggwhite wash for the toppings; everything, poppyseed, and homemade zaatar. For the scond batch I transferred the Malt water to my steamer pot and used the insert rather than the short cooling rack. I am not sure if i didn't maintain a good temp for the water or if I didn't steam them long enough, but the second batch came out very tall, as if they did not steam long enough, or the water was not hot enough. I also did not make the holes big enough and they closed up tight. So that the scond batch look like inflated balls with little pinched up mouths. All said and done, I ate one of the everything topped bagels from the first batch, broken into pieces, as we did at my house when growing up; we were bagel breakers not bagel slicers. I ate part of this bagel plain and the remainder with a little bit of butter, dancing , humming and swooning all over the kitchen, joyously tasting my New York childhood with every bite.
The best bagel I have had since moving south ;) I found the recipe easy to follow and the results were tasty.
After having failed miserably with regular boiled bagels (they deflated in water) I decided to try this steaming method (sort of). I didn't have time to prepare the starter the night before so I made it early in the morning and left it in the mixer folding every so often. In addition I had only SAF yeast (no instant) and I was short of bread flour so I used Robin Hood AP plus a tsp of gluten in the starter. Mid-day I added rest of ingredients plus an extra 1/4 cup flour. I had just enough KA bread flour for this and kneaded it in my stand mixer. It was stiffer than my failed dough which I feel was important, and it puffed up nicely. I concocted a steamer by placing a mesh splatter screen on a pie crust guard in a large covered skillet. The bagels rose nicely in the steam and baked beautifully, and were chewy and delicious. I will definitely make these again and again.
thx for that great recipe , can I replace the 11g non-diastatic malt powder with 11 g of barley malt syrup.

Yes, you can use 1 tablespoon of barley malt syrup in both the dough and the water bath in this recipe. (Barley malt syrup and non-diastatic malt powder are interchangable by volume.) Happy bagel baking! Kye@KAF
Easier than I thought it would be, taste and texture pretty good on first try. Lovely air pockets. These were larger than I expected, but not as ridiculously large as the giant bready ones from the bagel shop. Of course, we each ate two. A little raggedy looking, not pretty and smooth like the picture, but I'm pretty sure that is operator error! As another reviewer suggested I used my 9x13 electric frying pan to boil them. I think I need to double the malt, since there is more water, to get more shine, but it worked very well. Easy to lift in and out. Another suggestion was to make the dough up the night before and let rise in the refrigerator. That way you are ready in the morning. I'll try that, next, for convenience and maybe a tangier flavor. I'm wondering how a sourdough flavoring would affect them?
It sounds like you are slowly honing in on what it takes to make the prefect bagel! Sure, you may use sourdough flavor for a tangy flavor. Try it! Elisabeth@KAF
These bagels turned out great and the flavor was wonderful. Made a second batch with cinnamon and raisins that were even better. My rack was a little too wide so the bottom of the bagels weren't smooth. I might try again with straight boiling.
Today I made the Baby bagels recipe exactly according to the recipe. They were easy to make and the bagels were delicious. I think the smaller bagels were slightly easier to make than the larger ones I made yesterday. I also thought steaming was easier than boiling. So now I will try adding different flours to this recipe.
I'd never made bagels before, and thought I'd make these with my 7 year old son. Terrific success! Special thanks to the reviewer who suggested a rice cooker -- that saved my bagel!