A customized print-friendly version of this recipe is available by clicking the "Print Recipe" button on this page.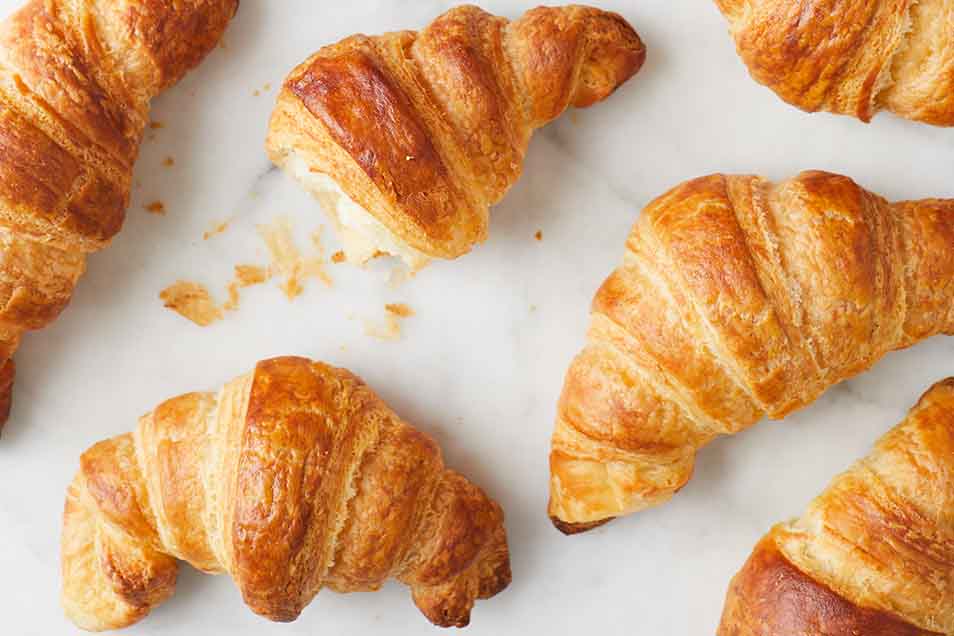 Know in France as croissants de boulanger, this yeasted dough is layered with butter and given a succession of folds that create the distinctive profile of classic croissants. Light and airy and shatteringly crisp, with a deeply caramelized buttery flavor, these croissants are a labor of love that's absolutely worth the time.
Ingredients
Butter
1 7/8 cups unsalted butter, cool to the touch
3/4 teaspoon salt
Instructions
For the dough: Put the eggs and water in a large mixing bowl. Add 1 tablespoon of the sugar, 3 cups of the flour, and the yeast. Mix until well blended; set aside to let the sponge work.

For the butter: Cut the butter into 1˝ chunks and combine with the salt and flour at low speed in a stand mixer just until smooth, with no lumps. Be careful not to beat too much; you don't want to incorporate any air.

Spread the dough on a piece of plastic wrap and shape into an 8˝ square. Wrap and refrigerate for 30 minutes.

Finish the dough: Add the melted butter to the sponge. Whisk together the remaining sugar, 2 1/2 cups of the flour, the dry milk, and salt and add to the sponge. Mix until the dough forms. Knead for 5 minutes; touch the dough lightly with your finger. If it's still sticky, add the remaining flour 2 tablespoons at a time until the dough is the desired consistency. Once the dough is smooth and elastic, pat it into a 9˝ square, then wrap and refrigerate for 30 minutes.

To laminate the dough: Remove the chilled dough from the refrigerator and gently roll it to a 12" square.

Unwrap the butter square and place it in the center of the dough at a 45° angle, so it looks like a diamond in a square. Pull the corners of the dough into the center of the butter diamond. Moisten the edges with a little water and pinch the seams together well to enclose the butter. Dust the top with flour and turn the packet over.

Tap the dough all over with a rolling pin, encouraging it into a rectangular shape. Once it's pliable, roll it to a 20˝ x 10˝ rectangle, picking it up and dusting lightly with flour as needed.

When you've reached the proper size, use a dry brush to sweep off any excess flour and fold the dough in thirds, like a business letter. Take care to keep the edges straight and line them up directly over each other. If the dough slides around, use a little water at the corners to tack them in place. This is your first turn.

Rotate the dough out so it looks like a book about to be opened. Roll the dough out once more to 20˝ x 10˝ and fold it as before. This is the second turn. Wrap the dough and refrigerate it for 30 minutes to allow the gluten in the dough to relax.

Give the dough two more turns after its rest, then wrap the dough well and refrigerate for at least 1 hour or overnight before using. You can also freeze the dough at this point.

To shape the croissants: Cut the packet of dough in half. Wrap and refrigerate or freeze one half.

Roll the other half to a 13˝ x 18˝ rectangle. Trim the edges about 1/4˝ all the way around with a ruler and pizza cutter. This removes the folded edges that would inhibit the dough's rise.

Cut the dough in thirds lengthwise and in half down the center. This will give you six 4˝ x 9˝ pieces. Cut these pieces in half diagonally and arrange them so the points are facing away from you. Stretch them gently to make them a little longer, then cut a 1˝ notch in the center of the base of each triangle.

Take the two inside corners of the notch and roll them up toward you, building a curved shape as you roll the base of the dough toward the tip. Make sure the tip ends up under the bottom of the croissant. Place the shaped pastry on a parchment-lined baking sheet, curving the ends toward each other.

Refrigerate the dough for 30 minutes while you preheat the oven to 425°F. Just before baking, brush the croissants all over with an egg beaten with 1 tablespoon water. Bake for 15 minutes, then reduce the oven's temperature to 350°F and bake for 10 to 15 minutes more, until deep golden brown and no raw dough is visible where the layers overlap. Remove from the oven and let cool on the pan on a rack for 20 minutes before serving.

Store wrapped at room temperature for 2 days; refresh for 10 minutes in a 350°F oven. Croissants don't store well, so try to bake only what you'll use quickly.

Yield: 4 pounds, enough for 2 dozen.
Nutrition Information
Serving Size

1 croissant, 65g

Servings Per Batch

24 croissants
Amount Per Serving:
Calories

228

Calories from Fat

125

Total Fat

14g

Saturated Fat

9g

Trans Fat

0g

Cholesterol

51mg
Sodium

254mg

Total Carbohydrate

22g

Dietary Fiber

1g

Sugars

2g

Protein

4g
* The nutrition information provided for this recipe is determined by the ESHA Genesis R&D software program. Substituting any ingredients may change the posted nutrition information.
Tips from our bakers
Adding flour to the butter inlay helps to stabilize it, so the butter won't flow out the seams of the dough as it's being rolled.
Bubbles and leaks: It's not unusual to have air trapped inside your laminated dough. If this happens, simply pop the bubble with a toothpick and press the dough down to lie flat. If there's a bare spot where butter is coming through, dust the leak with flour, pressing down lightly so it sticks, and continue on with the fold. Refrigerate the dough as soon as the fold is done, to firm it up.
As you work, keep the dough, work surface, and your rolling pin well dusted with flour. Turn over the dough from time to time. As you roll, you tend to expand the top layers more than the bottom. By flipping the dough over, you'll even that out. Before folding the dough over on itself, use your pastry brush to sweep off excess flour. This will help the dough stick to itself after folding, so the layers don't slide around.
Have a little water on hand; don't be afraid to brush the corners of the dough with it, to tack the dough in place.
You can make rectangular, filled croissants, too. See our blog for step by step instructions on how to do this. Fill croissants with ham and cheese, spinach, or use our pain au chocolate sticks for a special treat.
When rolling the dough, especially for the first time, be sure the dough and butter are at the same consistency; this will make rolling much smoother and the layers will be more even.
To make Danish from this dough, add 1/2 teaspoon ground cardamom, 1/4 teaspoon nutmeg, and 1/8 teaspoon of ground cloves to the dough when mixing. Proceed with the rest of the recipe as shown until the dough is finished.
Reviews
Amazing. First time trying croissants and they turned out better than expected!! Still little things to correct though. If I freeze half of thr dough what's the best way to defrost?

It can be a little risky to freeze them raw, CG, as some of the yeast always dies. It can help to increase the yeast by about 10%, and try to keep them frozen no longer than 3 months. You'll freeze them at the point that they're shaped but haven't had their final rise. Make sure they're wrapped well in a couple layers of plastic wrap to keep any ice crystals from forming on them. They can thaw in the fridge overnight, and you can bake them once they're puffy, either in the fridge or at room temperature. Depending on how long they're in the fridge, they will eventually rise in there. Then, bake as directed. If you find they're denser than you'd like, next time, try increasing the yeast by 25%. Happy baking! Annabelle@KAF
Loved this! I made croissants once before but it was somewhat of a failure. These came out perfectly!!! The blog helped a ton. Just too too delicious!!
I used this recipe for my entry in our county fair. I wasn't sure they turned out to my standards but I took them any way. I ended up grand champion. The judge was really impressed. I will definitely use this recipe again. All the hard work it took to make them was well worth it. Thanks King Arthur for another successful fair.
This recipe produced delicious and buttery croissants and the tips at the end of the recipe were very useful. I've made a couple of croissant recipes in the past but this recipe produced a truly delicious taste and flaky texture. I had a couple of questions: 1) If I wanted to make only half the recipe, what dimensions would I roll the detrempe and the paton? 2) How are the dimensions of the detrempe and the paton determined? Is the goal to achieve a certain dough thickenss? Thank you in advance for any help!

We're so glad you enjoyed the buttery, flaky results of this recipe, Zoe! While cutting the ingredients in half would be easy, we fear that cutting the dimensions in half (because you want to achieve the same thickness as you did with the full-sized batch) would make for some very difficult rolling and handling.

Instead, we'd recommend making a full batch and freezing half of the dough. You could either freeze it as one solid piece of dough before it's been rolled out, or freeze it as raw, shaped croissants. This will give you a much better experience when folding and shaping your dough and result in some extra "emergency croissants" to have on hand in the freezer — which is never a bad thing! Annabelle@KAF
I have always wanted to make croissants but was very hesitant to try it. After watching several videos and reading the King Arthur blog four, five or six times, I decided to attempt it. I was not disappointed! It was so much fun, I am planning on doing it again! If you have been dreaming of making your own croissants, I encourage you to give this recipe a try. I made traditional croissants with half of the dough and then I made chocolate croissants with the other half. Flaky, buttery and delish!
These were amazing! My husband said they were the best croissants he has had in America. I do have one lingering question about the fold/turn process. After the dough is rolled out and folded in thirds like a letter, is it folded in half? The instructions made me think no, but the pictures in the longer blog article looked like they might be. My dough definitely looked way wider than the photos?

Clarissa, each folding step should include a three-fold, which is when you fold your dough three times, like a business letter. We can see how some of the photos in the blog might look like the dough is only folded in half, but we promise it's in third. (This is what creates all those lovely layers.) It may be difficult to tell the scale of the rolled out dough in the blog photos, but each time you roll it out, you should be shooting for about a 20" by 10" rectangle. You'll soon have a masterful hand at baking croissants if you give this recipe a try a few more times. Happy baking! Kye@KAF
I just baked this recipe (first time baking croissants) and I think my results were just ok, but most likely due to my own errors. My layers are coming out a bit dense and bready. Is this due to me putting too much flour in the dough? Or possibly proofing at too high of a temperature (I proofed in my off oven as it's a bit warmer than my home)? Or maybe my butter was too soft when laminating? Also, the croissants have a very yeasty almost bitter taste to them. Where could this be coming from?

Hi Allie, you've got a lot of great questions, which we're glad to hear. We'll try our best to give you some answers and suggestions for things to change going forward, but we also encourage you to give our Baker's Hotline a call at 855-371-BAKE(2253). It's the best way we can help guide you through complex processes like baking croissants. As for your "bready" layers, it's possible that there is too much flour in the dough. If you're not already doing so, try measuring your flour by weight and resist putting too much additional flour on your work surface during rolling and shaping. An ideal proofing temperature is around 68-70°F. You're better off letting the croissants proof for longer at a slightly cooler room temperature than risk melting the butter. The yeasty flavor you tasted could have also been a result of a higher than normal proofing temperature. Try resting the dough at room temperature until they're puffy and you can poke the dough without it springing back; then they're ready to bake! Kye@KAF
SO GOOOOOOOOOD I LOVE THEM
What once seemed impossible is POSSIBLE with fantastic results!. I followed the recipe exactly and checked out the blog for reassurance. I made half of the recipe as traditional croissants then got adventurous to fill the second half with chocolate, almond, or raspberry jam and even did a sprinkle of "everything" topping on a few. This was a fun kitchen adventure and a good bake!
This is a brilliant recipe. Not easy... but well worth the effort. My notes: 1. If you are doing a savoury or a plain croissant, make sure the salt is adequate.. the recipe's quantity was a little less to our Indian taste-buds 2. The yeast has to be very active. Check if the egg/water/flour mix starts bubbling before you come back to add more flour. If it is not, then you might have to add more yeast than shown... of course, that brings its own complexities, like higher heat to ensure the residue from the yeast does not overpower the crumb 3. You can bake without the egg wash. The high proportion of butter also softens the crust. 4. If you are using a built in electric oven, then you may be able to remove it after 10 -15 mins of cooking at 350. 20 mins will burn the bread. keep checking once you lower the temp to 350. The oven temperature does not immediately reduce.