A customized print-friendly version of this recipe is available by clicking the "Print Recipe" button on this page.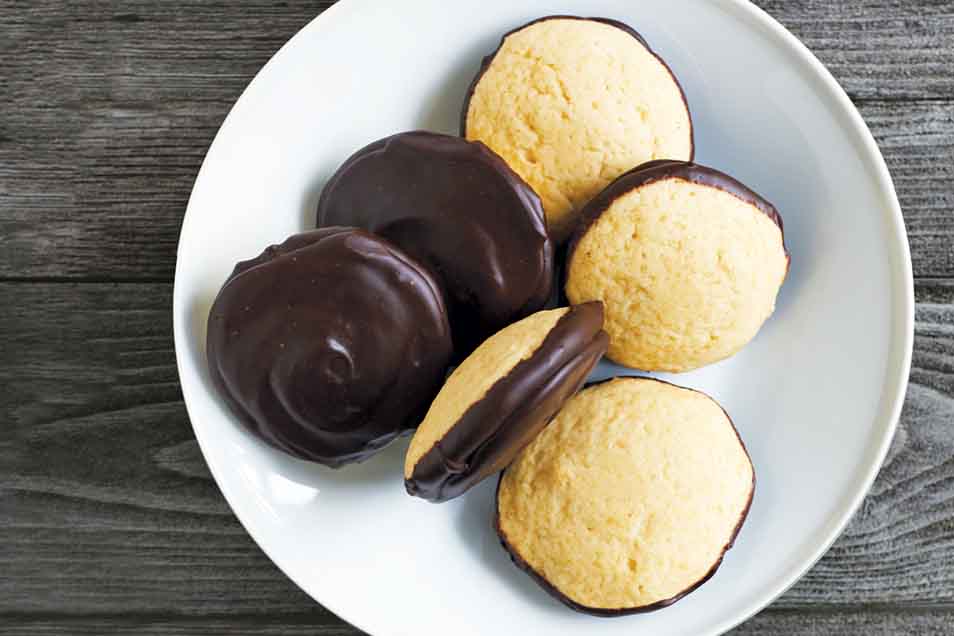 Baltimore's storied Berger cookies, a product of that city's DeBaufre Bakeries, are a close relation to New York City's Black and Whites (a.k.a. Half and Halfs or Half Moons). These cake-like cookies are piled with thick, rich chocolate icing — the thicker the better. Note that the cookies themselves are rather dry, so the over-the-top amount of icing, rather than being overkill, is just right. While we can't claim this recipe makes "the real thing," we feel it's close to the original — and perfect for those of you who can't get to Baltimore.
Ingredients
Icing
2 cups semisweet chocolate chips
1 1/2 tablespoons (1 ounce) light corn syrup
1 teaspoon vanilla extract
3/4 cup (6 ounces) heavy cream
1 1/2 cups confectioners' sugar, sifted
1/8 teaspoon salt
Instructions
Preheat the oven to 400°F. Lightly grease (or line with parchment paper) two baking sheets.

To make the cookies: In a large mixing bowl, beat together the butter, salt, vanilla, and baking powder.

Beat in the sugar, then the egg.

Add the flour to the wet ingredients alternately with the milk, beginning and ending with the flour. Do this gently; there's no need to beat the batter.

Using a spoon or a tablespoon cookie scoop, drop the dough onto the prepared cookie sheets. The balls of dough should be about 1 1/4" in diameter. Flatten each mound of dough to a circle about 1 1/2" across; wet your fingers or a knife, or grease the bottom of a drinking glass or measuring cup to do this. Leave 2"; to 2 1/2" between each cookie, for expansion.

Bake the cookies for about 10 to 11 minutes, or until they're a mottled brown on the bottom (carefully tilt one up to look), but not colored on top. You may see the barest hint of browning around the edges, but these cookies are supposed to be soft and cake-like, so don't over-bake them. Remove the cookies from the oven, and let them cool right on the pan as you make the frosting.

To make the icing: Place the chocolate chips, corn syrup, vanilla, and cream into a large microwave-safe bowl, or into a large saucepan.

Heat the mixture until it's very hot; the cream will start to form bubbles. Remove from the heat, and stir until smooth.

Beat in the confectioners' sugar and salt. Let cool to warm room temperature while you make the cookies.

Dip the top of each cookie into the warm icing; swirl the cookie around to really give it a good coating. Set the cookies back on the baking sheet.

Spread the remaining icing evenly atop the cookies. If it's too soft and flows off the cookies, let it set a bit, until it's firmer. It'll feel like you're piling on a lot of icing; that's precisely the point!

Allow the icing to set completely, then store the cookies airtight in a single layer. Keep at room temperature for several days; freeze for longer storage.
Nutrition Information
Serving Size

60g

Servings Per Batch

20
Amount Per Serving:
Calories

230

Calories from Fat

100

Total Fat

11g

Saturated Fat

7g

Trans Fat

0g

Cholesterol

25mg
Sodium

110mg

Total Carbohydrate

33g

Dietary Fiber

2g

Sugars

23g

Protein

3g
* The nutrition information provided for this recipe is determined by the ESHA Genesis R&D software program. Substituting any ingredients may change the posted nutrition information.
Tips from our bakers
While the fudge icing for these cookies is missing the original Berger cookies' signature taste (think Hostess cupcake icing), we feel its consistency is identical, and its deep chocolate flavor perfect with its vanilla cookie base.
Note: In case you're confused by reader comments referencing two different recipes, this recipe was updated to combine two previously existing recipes.
Reviews
The cake part turned out great, but I had trouble with the frosting. It was grainy and oily. I added extra powdered sugar to absorb the oil (maybe stabilizers from the chocolate chips?) and it just got to be a bigger and bigger blob of grainy chocolate. I'm an experienced baker and have worked with chocolate and I'm not sure what went wrong. They tasted good, so I'll make them again and maybe add the corn syrup at the last minute after mixing the warm cream and melted chocolate. ???

Hi there, Eliza. We're sorry to hear that you had trouble with the icing portion of this recipe. It sounds like your chocolate got a bit too hot and the emulsion broke. When melting chocolate in the microwave this can happen quite easily — we've all been there! You might try heating the cream on the stove, putting the chocolate chips, corn syrup and vanilla in a heatproof bowl and then pouring the cream over the chocolate and corn syrup, mixing until smooth. Then picking back up with the instructions, beating in the confectioners' sugar and salt. We hope his helps and happy baking! Morgan@KAF
I live in the Baltimore area and have made these several times for friends, They have renamed them "Mary's Better than Berger Cookies". Everyone loves them, even though they can easily buy the original ones at any local store.
I like these better than the ones in the packages sold at the convenience stores in the area. I find the cookie part on theirs to be a bit too dry for my taste. These are still dry (they need to be to hold the fudge), but so tasty!
I absolutely love the berger cookie, though i've only had them once.....it was a love at first sight kind of thing. I made this recipe in an attempt to replicate the Baltimore Bomb pie. Only issue i experienced was the cooking time for the cookies. The recipe says to cook for 10 minutes but mine were complete after 5. I followed the directions to a T and was using a gas oven. preheated to 400, greased cookie sheets and all. Only thing that may have impacted it was my cookie sheets were on the darker side. Did i do something wrong that made them cook in 1/2 the time?

Kelly, your baking instincts are right on--it was the dark color of your pans that caused your cookies to bake more quickly than expected. You can try doubling up your pans, turning down the temperature slightly, and checking for doneness early to ensure they get the perfect bake. You can also do what you did here, which was to watch the cookies like a hawk and remove them when they're done. (It might also be worth it to invest in some lighter colored pans.) That's another suitable solution! Kye@KAF
Hi, I just made the cookies and my frosting is shiny too! It seems to be setting but we will see. I followed the recipe exactly- I used Hersheys semi sweet chocolate chips- Wondering if I should have used a more expensive chocolate?

Margaret, the icing should look a bit shiny because of the addition of the light corn syrup. It can take up to a few hours for the icing to set, so we hope that with a bit of time you'll find that your cookies are just about perfect! Happy baking! Kye@KAF
I discovered by accident an amazing secret ingredient - its not corn syrup but maple syrup that makes it EXACTLY like the Berger Icing. I am from Baltimore and tasted the real one a thousand time. I had no corn syrup and used maple. I could not tell the difference. Wow!
I'm a new baker, learning mostly cream and fruit pies. I had one of these original Berger cookies and loved it. So, I began searching for a recipe and found yours. I did something wrong on the fudge. It's shiny and not setting like it should. I tried to follow the instructions to the "T" but obviiusley, did something wrong. Any ideas? Thanks, Joe.

Hi, Joe. It sounds like you might have used another ingredient aside from heavy cream, which will result in the chocolate coating being thinner than intended. Either that, or the chocolate you used may have not been quite the right choice for this recipe. Either way, our friendly bakers on the hotline would love to help you troubleshoot. Please give us a call at 855-371-BAKE(2253) so we can help with this. Kye@KAF
Our nephew sent us a box of your delicious chocolate covered Berger cookies. They are absolutely delicious! Loving the cookies from Bethlehem, PA Ron & Eunice Rankin
Made these according to the recipe, and they were wonderful. Found the cookie dough a bit gooey, so I may have gone up about a tablespoon on the flour, but they baked up just perfectly. Decided to compromise on the baking temp.-- 375 for 11 minutes turned out to be the magic combination for my oven. I had exactly enough of the chocolate mixture to give every cookie a generous coating. A little messy, but an outstanding recipe!
Delicious! Used KAF gluten-free flour plus guar gum for flour and maple syrup instead of corn syrup. Came out great!