A customized print-friendly version of this recipe is available by clicking the "Print Recipe" button on this page.
Basic Whole Grain Cookies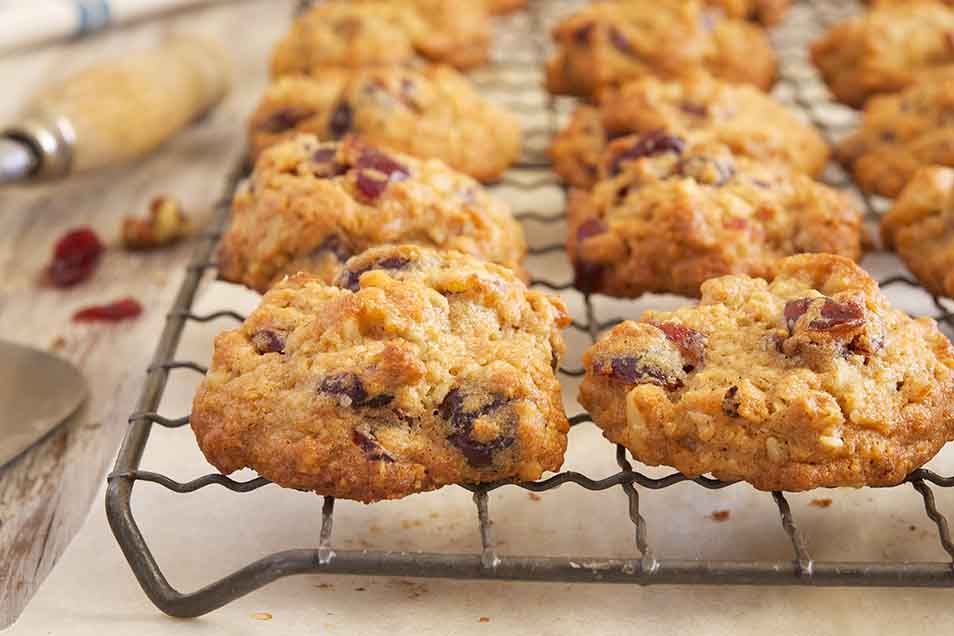 These cookies are a great way to convince yourself (and your family) that baking with whole grains can be a tasty experience. Wheat and oats combine to make a cookie that's indistinguishable from one made with white flour, except in color.

You have a couple of options for the oats used in this recipe. For a cookie with a craggy, oatmeal cookie-like appearance, use quick oats. For a smoother cookie, one that looks more chocolate chippy, grind the oats in a food processor, or substitute oat flour.
Ingredients
1/2 cup (8 tablespoons) butter
1/3 cup + 1 tablespoon granulated sugar
1/3 cup brown sugar, light or dark, packed
1/2 teaspoon salt
1/4 teaspoon baking soda
1/2 teaspoon baking powder
1 teaspoon vanilla extract
1 large egg
3/4 cup quick rolled oats, ground in a food processor or blender if desired
2 tablespoons orange juice, optional*
2 cups chips, nuts, and/or dried fruit, optional; Jammy Bits* are a great addition here
*See "tips," below.
Instructions
Beat together the butter, sugars, salt, baking soda, baking powder and vanilla until well combined.

Add the egg, beating until smooth. Scrape the sides of the bowl, and beat again until smooth.

Add the flour and oats, beating to combine.

If you're making cookies using chips, nuts, etc., beat in the orange juice, then the add-ins.

If you're making plain cookies, without add-ins, omit the orange juice.

Cover the cookie dough, and refrigerate until thoroughly chilled; at least several hours, or overnight.

When you're ready to bake, preheat the oven to 375°F. Lightly grease (or line with parchment) two baking sheets.

Drop the cookies by the traditional teaspoonful (about 2 measuring teaspoons, about a 1" ball) onto the prepared baking sheets, spacing them about 2" apart. A teaspoon cookie scoop works well here.

If the cookie dough has been refrigerated, bake the cookies for 13 to 14 minutes, until they're a very light golden brown, and a bit darker around the edges. For unrefrigerated dough, bake for about 11 minutes. For softer cookies, reduce the baking time by about 2 minutes.

Remove them from the oven, and cool right on the baking sheets.
Nutrition Information
Serving Size

10g

Servings Per Batch

70
Amount Per Serving:
Calories

44

Calories from Fat

19

Total Fat

2g

Saturated Fat

1g

Trans Fat

0g

Cholesterol

3g
Sodium

25mg

Total Carbohydrate

6g

Dietary Fiber

.5g

Sugars

5g

Protein

0g
* The nutrition information provided for this recipe is determined by the ESHA Genesis R&D software program. Substituting any ingredients may change the posted nutrition information.
Tips from our bakers
Use the optional orange juice if you're adding chips, nuts, fruit, etc. Don't add the orange juice if you're not using any add-ins.
Jammy Bits, sweet, soft little morsels of fruit purée, come in six delicious flavors: raspberry, blueberry, strawberry, orange, apricot, and peach.
Can you bake these cookies without refrigerating the dough first? Yes. If you're making cookies without add-ins, they'll spread to be very flat. Cookies with add-ins will spread quite flat, but still be acceptable.
What about using traditional (old-fashioned) rather than quick oats? Go for it; we haven't tried it, but assume the spread will be different. If all you have in the cupboard is old-fashioned rolled oats, give them a quick whirl in a food processor, so they're more like quick oats; or process till they're finely ground, for a smoother-looking cookie.
The nutritional information for this recipe is calculated using 1 cup of dried cranberries and 1 cup of chocolate chips.
Reviews
I am always looking for a good whole grain cookie and was excited to try this. Also, I had small amounts of various dried fruit and nuts in my pantry to use up, and this recipe certainly accommodates that. I made it exactly as written and used as mix-ins cashews, dried cranberries, crystallized ginger, flake coconut and dates to equal 2 cups total. I refrigerated the dough over night. The dough tasted wonderful (I'm not afraid of raw eggs), but the baking was problematic. First, the cookies did not spread at all; they remained the round lumps that came out of my cookie scoop. I found the temperature to be too high and the time too long. The cookies turned dark very quickly after just 8 minutes in the oven, but because they didn't spread, they were not really baked through. I will definitely make these cookies again but with the following changes: Bake at 350 for about 10 minutes, and will flatten the cookies lightly before baking. I like a less sweet cookie, so I will also reduce the sugars to 1/4 cup each. Even though they were a little over-baked, the taste and texture were quite good. The add-ins save the day. Looking forward to playing with this recipe.
First time trying this recipe and it's by far my best ever. I didn't have any OJ so I skipped and I only added raisins. I also blended the quick oats a little to not have full grains, but not into a powder either. These were baked for 8 mins in my countertop convection oven at 32t F.
Loved the recipe. Used 1 cup pecans and 1 cup chocolate chips. Baked them right away. Perfect. Willdefinitely make them again.
Was looking for a way to use some of a giant bag of walnuts I had left from the holidays. WOW these were a treat! I used dark-colored nonstick baking sheets so I reduced the heat to 360 degrees and rolled the dough in balls, baking for 9 minutes. Made half with Craisins, half with chocolate chips. Will add a bit of cinnamon to the Craisin ones next time. Grandson loved, husband loved, I loved. Win win!
The cookies are very good. I put in just one fourth cup butter, and then one fourth cup natural chunky peanut butter. I put in chocolate chips ,raisins, and dried cranberries. Mine added up to less than two cups. I baked them ten minutes.
I like put 1 cup dried apricots, half of a cup of sunflower seeds, and half a cup of shredded coconut as my add-ins. I send them through the food processor first. They turn out wonderfully chewy.
This is the first time I've had a KAF recipe go totally kaput on me. I weighed my ingredients and followed the directions to a "T" and my cookies turned out flat and crunchy. Ick. Not sure what went wrong, but I would never make this again and would tell others to steer clear as well.

We're so sorry to hear that this recipe didn't do the trick for you, Fatima. If we can help pick out a recipe that better fits your tastes, please give our Baker's Hotline a call at 855-371-BAKE (2253). Kindly, Annabelle@KAF
Love this recipe! I subbed the sugar for rice malt syrup and kept the brown sugar the same. I subbed half the oil for applesauce. I only used 1 cup of chocolate chips. This recipe is so versatile and a failsafe. Amazing cookies! Shiny and fluffy turn out and baked really well after only refrigerating batter for 5 minutes in the fridge.
I did an experiment. Please note that I also did the add in's. I did the orange juice (organic) and added chopped cranberries, peanuts, walnuts, and orgsnic chocolate chips. All of this equaled 2 cups total combined. I then baked 8 cookies without refrigeration and put the rest of the cookie dough into the refrigerator for overnight. In he meantime I baked the 8 cookies. However 11 minutes was too long. I took them out after 6.5 minutes. They are chewy and loaded with good flavor and texture. Looking forward to how they will turn out after refrigeration! Thank you so much.
I made these and took them to work. They were a great hit! I added the juice and included a mix of choch chips, dried apricots, pumpkin seeds, sunflower seeds, coconut, flax seeds and ground flax. I also used 1/2 cup of whole wheat flour and 1/4 cup of almond flour and for good measure I added about 2 tbsp of tahini.