A customized print-friendly version of this recipe is available by clicking the "Print Recipe" button on this page.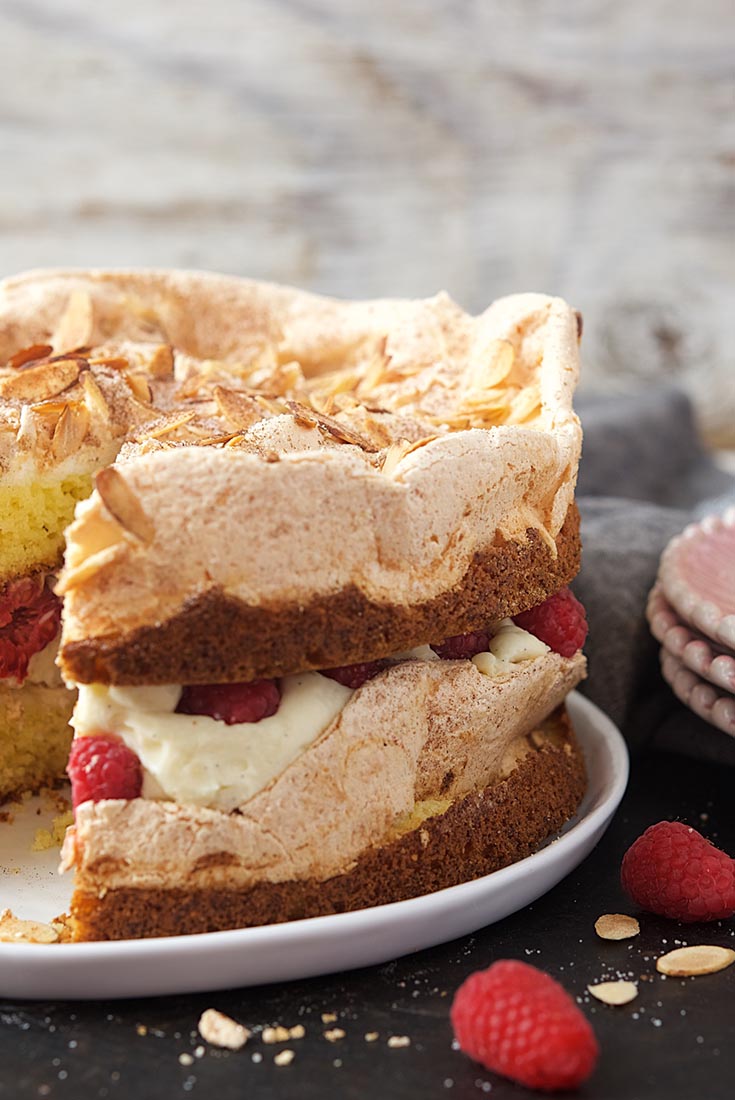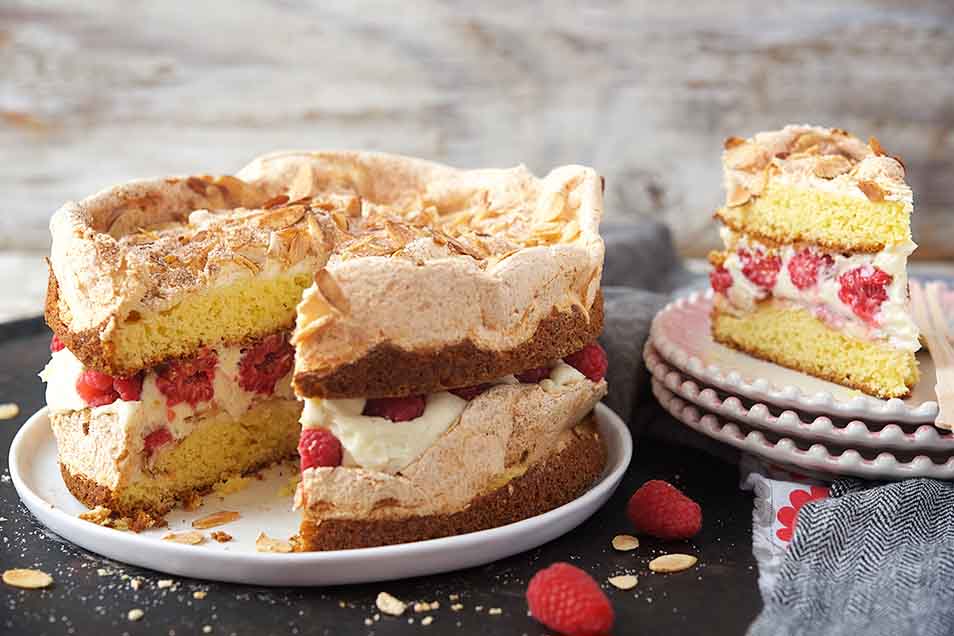 This fancy looking (but-oh-so-easy-to-make) confection (our favorite kind!) features layers of dense yellow cake topped with meringue, cinnamon, and nuts; and a rich, creamy filling studded with fresh berries.

Baking gluten-free? For great results, substitute King Arthur Gluten-Free Measure for Measure Flour for the all-purpose flour in this recipe; no other changes needed.
Ingredients
Pastry cream filling*
2 1/2 cups whole milk
1/2 cup sugar
1/4 teaspoon salt
1/3 cup cornstarch
3 large egg yolks
1 large whole egg
2 teaspoons vanilla extract
1/2 cup heavy cream, whipped; optional
about 1 1/2 to 2 cups fresh raspberries, sliced strawberries, blueberries, or blackberries
*For a simple shortcut filling, see "tips," below.
Cake
1/2 cup (8 tablespoons) butter
1/2 cup sugar
1/4 teaspoon salt
4 large egg yolks (save the whites for the topping)
1 teaspoon vanilla extract
3 tablespoons milk
1 teaspoon baking powder
Topping
4 large egg whites
3/4 cup Baker's Special Sugar or granulated sugar
1/2 cup sliced or slivered almonds
1/2 teaspoon ground cinnamon*
1 tablespoon sugar*
*Substitute prepared cinnamon-sugar, if desired.
Instructions
To make the filling: In a medium-sized saucepan, stir together 2 cups of the milk, the sugar, and the salt. Bring to a simmer over medium heat, stirring to dissolve the sugar.

Meanwhile, whisk the cornstarch, egg yolks, and whole egg with the remaining 1/2 cup milk.

Whisk some of the hot milk mixture into the egg yolks/cornstarch to temper the yolks. This keeps them from turning to scrambled eggs when you add them to the simmering milk.

Pour the egg/milk mixture back into the remaining simmering milk, pouring it through a strainer to capture any bits of egg. Bring to a boil over medium heat (this may happen very quickly), stirring constantly with a whisk. Cook for 2 minutes, stirring constantly; the mixture will thicken significantly.

Remove from the heat, and stir in the vanilla extract.

Transfer the filling to a heatproof storage container, and top it with a piece of buttered plastic wrap (make sure it touches the top of the filling so it doesn't develop a skin). Refrigerate until cool, or for up to several days.

Preheat the oven to 350°F. Lightly grease two 8" round cake pans. Or lightly grease the pans, line with parchment rounds, and lightly grease the parchment as well.

To make the cake: In a medium-sized mixing bowl, beat together the butter, sugar, salt, and egg yolks until well combined. Scrape the bowl, and beat briefly to incorporate any sticky residue.

Beat in the vanilla, milk, baking powder, and flour; the batter will be stiff.

Spread the batter in the prepared pans (it will barely cover the bottom of the pans; that's OK).

Using an electric mixer or stand mixer with a whisk attachment, beat the egg whites until foamy; gradually add the 3/4 cup sugar and continue to beat until the meringue is smooth, glossy, and somewhat stiff (but not stiff enough to form rigid stand-up points).

Spread the meringue on the cake batter. Sprinkle the almonds over the meringue. Mix the cinnamon with the sugar, and dust on top.

Bake the cakes for 30 minutes, until the almonds are lightly browned. The cakes will puff up significantly; don't worry, they'll settle as they cool.

Remove the cakes from the oven, and allow them to cool for 15 minutes. Carefully and thoroughly loosen the edge of each cake, and gently turn it out onto a rack to cool completely. The best way to do this is to place a flat object (a giant spatula, a small baking sheet) atop the pan, and to turn everything over. Lift the cake pan off the cake, then place a cooling rack against the bottom of the cake. Turn everything back over again, so the rack is on the bottom. Some of the almonds will fall off during this process; just sprinkle them back on top.

When you're ready to finish the cake, remove the pastry cream from the refrigerator. Stir it gently, just to loosen it up enough to spread; stirring too vigorously can break it down and turn it watery. It'll probably have a few lumps; that's OK. For slightly richer filling with greater volume, whip 1/2 cup heavy cream to stiff peaks, and gently fold it into the pastry cream. Again, don't beat the pastry cream; it'll be a bit lumpy, but that won't affect the taste.

To assemble the cake: Place one of the cake layers, meringue side up, on a serving plate. Spread with the filling. Add a layer of fresh berries. Top with the second cake layer, meringue-side up.

Serve immediately, or refrigerate until serving time.
Nutrition Information
Serving Size

240g

Servings Per Batch

8
Amount Per Serving:
Calories

560

Calories from Fat

240

Total Fat

27g

Saturated Fat

14g

Trans Fat

0.5g

Cholesterol

240mg
Sodium

290mg

Total Carbohydrate

70g

Dietary Fiber

3g

Sugars

51g

Protein

11g
* The nutrition information provided for this recipe is determined by the ESHA Genesis R&D software program. Substituting any ingredients may change the posted nutrition information.
Tips from our bakers
Here's a tasty pastry cream shortcut: Mix 1 small box instant vanilla pudding mix with 2 teaspoons vanilla extract and 1 3/4 cups light cream (rich) or heavy cream (ultra-rich) until thick. Refrigerate until ready to use. Stir in additional whipped cream as directed in the recipe, if desired.
Can you use 9" round cake pans instead of 8"? Yes, the layers and filling will simply be thinner, and the cake wider and shorter.
Want to make the cake ahead and freeze it? Wrap the baked cake layers in plastic wrap and freeze for up to 1 month. The meringue topping might not be quite as crunchy as when it was fresh, but should still be tasty. Assemble the cake with the filling and berries just before serving.
Our Gluten-Free Measure for Measure Flour makes it easy to make many of your favorite traditional recipes (like this one) gluten-free. Simply substitute Measure for Measure flour 1:1 for the flour called for in your recipe; no additional ingredients or other changes needed.
Reviews
Made this cake for my mom's 87th birthday and it was a hit! It was pretty and delicious! Directions for the recipe were easy to follow. I made the short cut pastry cream and highly recommend folding in the additional whipped cream, otherwise the filling would be very thick and difficult to spread on the cake. I had plenty of filling for the center of cake and used part of it to pipe swirls of the filling onto the top layer, then decorated it with strawberries and blueberries, which I also I used in the filling. I was worried that when the cake was sliced and served it would be a disaster, but found if I didn't "saw" the slices, but used pressure to push the knife through the cake, it sliced beautifully. I made the cake the day it was served and refrigerated the assembled cake most of the afternoon. I did find that the next day, the meringue layer of leftover slices dissolve into the cake layer, therefore I would recommend serving the cake the day it is assembled. Thanks for the recipe, I'm sure I will make this cake again!
my daughter has been requesting this cake for her birthday every year since I found it nearly 4 years ago. this will be my fifth time making it. we love this cake- it looks so much harder to make than it is, so it's worth trying, even if you don't feel like a true baker. and, it's a good thing I have made it for so many years as I remember what KAF forgot, which is to include the vanilla pudding mix in the list of ingredients needed to make it. my first year making it, I had to rush back to the store, which is not a convenient task just to pick up that one important ingredient. you might add it to your list of ingredients needed!!! rhonda

Hi Rhonda, it sounds like you prefer to use the shortcut filling instructions, which can be found in the Baker's Tips. It certainly is an easy way to make a delicious filling in a flash, but we also offer the full instructions for making pastry cream from scratch within this recipe. The ingredients listed under "filling," are what's required to make homemade pastry cream. We hope that providing an asterisk and prompting you to look at the Baker's Tips for the shortcut version, you're reminded to pick up vanilla pudding mix if that's the route you're taking. We hope that helps, and happy baking! Kye@KAF
At my request, my daughter baked this for my birthday. She thought the cake/meringue combination sounded strange, but baked it anyway to please me. It was a hit! Everyone enjoyed it (and we are all foodies!) and commented on the cake and the filling and how nicely all the flavors and textures blended. Years ago I made a Thunder and Lightning cake recipe that also has the cake/meringue combination, and I've wanted to try to recreate it. Your recipe reminded me of this and added to a great celebration! Thanks KAF!
This was a very delicious cake. Don't be put off by the multiple steps. It was very easy.
Not hard or tasking to make. My only complaint was that the pastry cream and the berries flattened the bottom layer. Will try again.

Pam, some flattening of the bottom layer is inevitable because of the light, delicate nature of the meringue. However, you can try baking the bottom layer for just a few minutes longer next time to make a more sturdy base. If you want the top layer to stay soft and tender, you can pull one pan from the oven first. We hope that helps! Kye@KAF
My husband and adult children worked together to make this for my birthday. I requested blueberries and raspberries to work with the 4th of July theme. We all loved the result - so delicious!! We have one question though: how do you keep the cream from squishing out when cutting the cake? The finished cake was beautiful, but then all of the servings were messy because of how much filling squished out and then was added back to each plate when serving. Note that we did not use all of the pastry cream to fill the cake.

Hi Michelle, there's a few things you can try if you're looking to keep the filling inside of the cake. When making the pastry cream, you can increase the thickener slightly or even fold in some cream cheese at the end to make the pastry cream more stable. When you spread the pastry cream onto the bottom layer, try leaving a 1" border around the edges of the cake, and put a ring of berries to help create a barrier for the filling. Lastly, you can always score (partially pre-cut) the top layer of the cake before adding the filling. This way it's easier to get clean slices that look just as beautiful as they taste. Happy baking! Kye@KAF
This is so similar to our family recipe, which has been a hit for generations. We always whipped cream and folded with sugared strawberries instead of pastry cream for the filling. I do like the pastry cream, too, but offer whipped cream as an alternate/shortcut.
Made this for a Memorial Day gathering and everyone could not stop talking about it. Little did they know how little effort it actually took. I made the homemade pudding the night before and added the whipped cream closer to time and highly recommend it! This is a recipe to impress! So excited to try each and every bake along challenge and this one was no different.
As an experienced baker/baking teacher, I was underwhelmed by the result of this recipe. The components, in theory, are good but the combination was "Meh". The pastry cream was not sweet. I think the suggestion to use instant pudding and add whipped cream to it would be a tremendous improvement. This is unusual for me to say as I don't ever use boxed ingredients, but rather make things from scratch. The meringue was gummy and didn't maintain its consistency properly. To me and my husband (my quality control officer), it was definitely second rate. I ended up throwing it away. It is not worthy of being brought to an event as a special ending, which was my intent. It just doesn't measure up to first class standards. While not difficult to make, it was still time consuming and not worth the time spent.

Miriam, we're sorry to hear how far short this cake fell for you. We wonder if there aren't some ways to improve your experience with the recipe and encourage you to give our free Baker's Hotline a call at 855-371-BAKE to troubleshoot. We'd love to help you better enjoy this classic favorite! Mollie@KAF
This is WONDERFUL! I have made it twice and will make it again next weekend. I used heart shaped silicone pans. The first time I used parchment paper, the second time, I just sprayed the pans and they came out easily. What a presentation! Use the shortcut with instant pudding. I have been using that for my creampuff filling for years with chocolate and vanilla instant pudding.