A customized print-friendly version of this recipe is available by clicking the "Print Recipe" button on this page.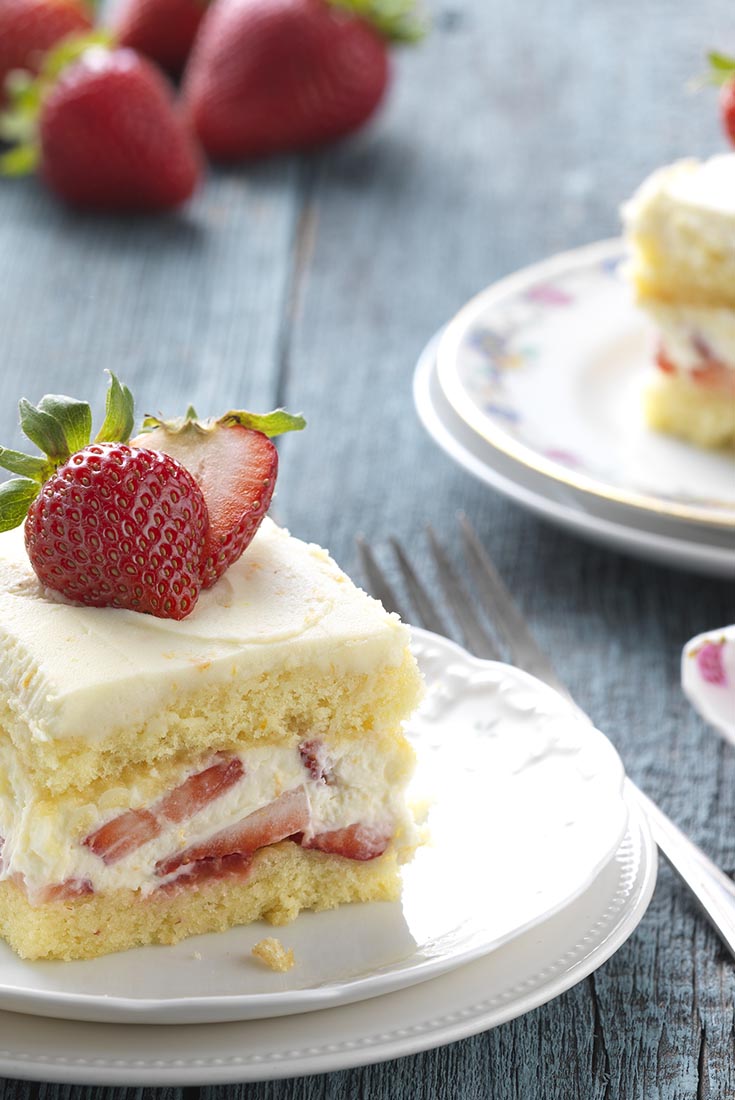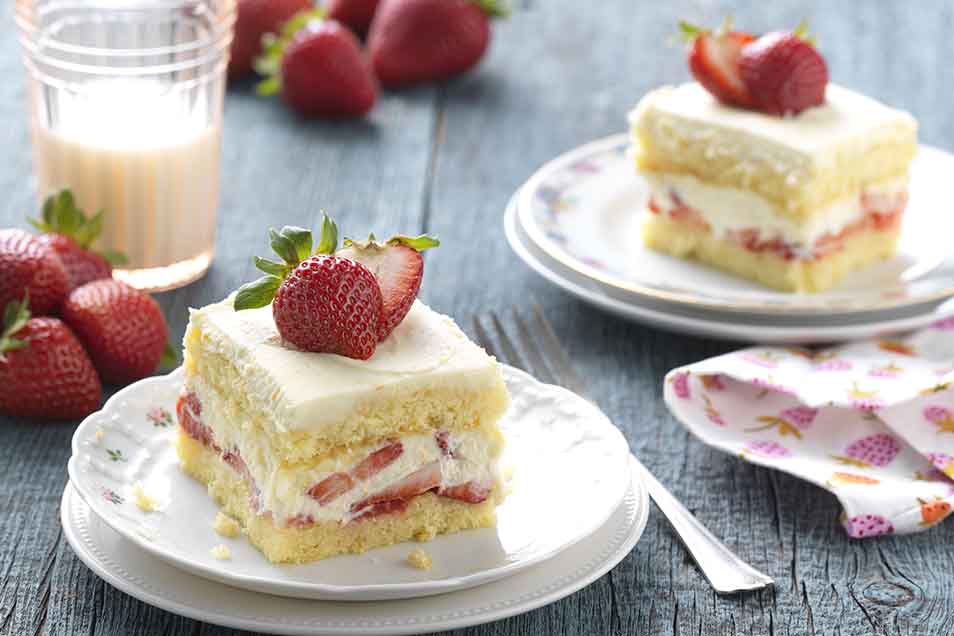 A fresh departure from the classic coffee-infused Italian tiramisu, succulent berries combine with citrus-soaked cake and creamy filling in this elegant dessert. After you've picked your berries, this pick-me-up sweet is just what you deserve.
Ingredients
Sponge cake
6 large eggs
1 cup sugar
1/2 teaspoon almond extract
1 teaspoon baking powder
1/2 teaspoon salt
Citrus soaking syrup
3/4 cup water
3/4 cup sugar
2 tablespoons fresh lemon zest (grated peel of 2 lemons)
1/3 to 1/2 cup lemon juice (juice of 2 lemons)
pinch of ground cloves
3 tablespoons Grand Marnier or other orange liqueur*
Citrus Cream Filling
2 cups mascarpone cheese
2 tablespoons freshly grated orange peel (from 1 orange)
1 cup heavy or whipping cream
1/2 cup confectioners' sugar
2 quarts fresh berries of your choice (strawberries, blueberries, raspberries)
Instructions
Preheat the oven to 350°F. Lightly grease and line with parchment two 9" square pans. For an alternate pan choice, see "tips," below.

To make the cake: Combine the eggs, sugar, and almond extract in a mixing bowl. Beat on high speed until the eggs thicken and lighten in color, about 5 minutes.

In a separate small bowl, whisk together the flour, baking powder, and salt. Sprinkle 1/3 of the dry mixture over the beaten egg and gently stir it in. Repeat twice more, using 1/3 of the flour mixture each time. The batter will begin to look spongy and fluffy.

Pour the batter into the prepared pans. Bake the cake for 20 to 23 minutes, or until the top is lightly browned and the edges begin to pull away from the sides of the pan. Remove from the oven and place on racks to cool in the pan completely.

To make the syrup: Combine all of the syrup ingredients in a small saucepan and bring to a boil over medium heat. Simmer for one minute, or until the sugar dissolves. Remove from the heat, strain, and set aside to cool.

To make the filling: In a small bowl, combine the mascarpone cheese and orange zest. Gradually stir in the heavy cream until the mixture is smooth and thick. Stir in the confectioners' sugar. The syrup and cream can be made up to 3 days ahead of time and held in the refrigerator until the cake is ready to assemble.

To assemble the cake: Place one cake layer on your serving platter and brush it with the syrup. Allow the syrup to soak in, then apply more. You'll use about half of the syrup for the first layer.

Spread half of your sliced berries over the moist cake. Dollop on half of the cream filling, and spread in an even layer. Top with the second layer of cake, repeating the soaking process.

Spread with the remaining cream filling, then top with the last of the berries. If you prefer, individual servings can be topped with whole berries.

Refrigerate the cake for at least an hour (or up to overnight) before serving.

Store any leftover cake in the fridge for up to 2 days. Freezing is not recommended.
Nutrition Information
Serving Size

1 piece (200g)

Servings Per Batch

16
Amount Per Serving:
Calories

490

Calories from Fat

300

Total Fat

34g

Saturated Fat

18g

Trans Fat

0g

Cholesterol

160mg
Sodium

170mg

Total Carbohydrate

40g

Dietary Fiber

2g

Sugars

31g

Protein

8g
* The nutrition information provided for this recipe is determined by the ESHA Genesis R&D software program. Substituting any ingredients may change the posted nutrition information.
Tips from our bakers
*Fresh orange juice can be used to replace the Grand Marnier if desired. Be sure to save the fresh zest for your cream filling.
If you don't have two 9" square pans, you can bake in two 9" round pans. The layers will be slightly thicker, and will take a few extra minutes to bake.
Eating gluten free? Your favorite gluten-free sponge or yellow cake, baked and sliced in thin layers, can replace these cake layers.
The syrup and cream can be made up to 3 days ahead of time and held in the refrigerator until the cake is ready to assemble.
This cake is best enjoyed within 24 hours of making it.
Reviews
This recipe is AWESOME. The flavors intermingle and it just gets better. It can be a bit overwhelming if you are not used to sponge cakes but it had great instructions and was really easy. I did not know what mascarpone cheese was when I found this and it was not available at the grocery. However I did find the recipe to make it and being able to make the ingredients ahead is wonderful. Mascarpone Cheese: 4 cups of heavy whipping cream and 2 TBS of lime juice. Heat the milk until it just starts to boil around the edges, add lime juice and simmer for 3 minutes stirring constantly. Put triple layer of cheese cloth in strainer and strain for 12 hours. Just sit the bowl, strainer and cheese in the frig. It thickens to the consistency of soft cream cheese. For the topping I just put it all in the stand mixer and after a slow start put it on high until it was thick. Thanks for making great and easy recipes. Blessed day pat
Fantastic recipe! This cake was very easy to pull together. I used cream cheese, brown sugar, and heavy whipping cream for the icing, which was amazing. I whipped the cream cheese and brown sugar until it was smooth the slowly added the cream for a beautiful frosting. The cake was wonderfully light and airy. Great recipe. I can't wait to experiment and make tiny modifications.
delicious, everyone loved it! for the filling i used ricotta cheese instead of marscapone and processed it for a min to make it more smooth. make sure to whip the cream and fold it in. for the syrup i used 1 tbsp grand marnier and 2 tbsp fresh orange juice and omitted the cloves. for the cake i used 1/4 tsp almond extract and 1/4 tsp vanilla. i used 1 qt of thinly sliced strawberries and that was plenty. great dessert! we split it among 6 people...
Made it for the 4th of July. Used blueberries and strawberries, The filling was a little runny so had some of KAF signature secrets that I stirred in and it thickened it up perfectly. Split the filling into 4 portions and made a layer of cream filling, then blueberries, more filling, than strawberries, more filling, On the top I spread the remaining filling and arranged the blueberries and strawberries to make the top look like a flag. It was a hit and can't wait for my raspberries and blackberries to get ripe and make it with them. The only suggestion I have is that if you are using berries that are on the tart side increase the sugar in the cream filling.
We were having different guests on two consecutive days, so I made the filling and syrup ahead and then assembled half of a cake on one day and half of a cake on another day -- that way I'd only have to find room in the fridge for half of a cake at a time. This dessert is extraordinary. I followed the instructions to the T and was amply rewarded with a gorgeous, fragrant, delicious dessert. I had also made the KAF berry blitz torte when it was the Bakealong Challenge a few months back. Although that was delicious, too, I prefer the berry tiramisu: the citrus-infused cake and the marscarpone filling will knock your socks off.
Wow! Beautiful and yummy. Made two adjustments to the filling recipe. Read the reviews about filling being runny. Have a recipe for a canolli cream cake that has a very similar filling made with mascarpone and it says to use superfine sugar because confectioners can make it runny. So I used superfine sugar . The second thing was just to add enough heavy cream to get the right consistency. Ended up using about two thirds cup instead of the full cup. Also...if you grease the pan but forget that you need to put parchment paper in BEFORE you've already poured the cake batter in, as I did, you will regret it. Fortunately, I used very shallow pans so was able to work a knife behind the cakes to get them out in one piece...but with battle scars, mostly hidden by the filling. Still tastes great.
This recipe was absolutely amazing, and it looks gorgeous. I saw in other reviews that the filling was too runny, but I had no issues with mine. I actually couldn't find marscapone in my normal grocery store, so I found a recipe for a substitute (16 oz cream cheese, 1/3 c sour cream, 1/4 c heavy cream, mix them all together) and then followed the rest of the recipe for the filling, and it turned out beautifully. I topped it with fresh strawberries and it was delicious. I will definitely have to make this again!
Do to a nut allergy I was wondering if I can substitute the almond extract for vanilla or another flavoring?

Peg, 1/2 teaspoon of vanilla in the sponge cake will be just delicious! No other adjustments are necessary. Happy baking! Kye@KAF
This cake is absolutely delicious! I made this cake as a round double layer birthday cake. I preferred less marscapone (1 8oz container) which was the thickness of cream cheese. (saved a few calories with less marscapone) I just added it to the 1 cup heavy cream and whipped them up together in the mixer till it was like a rich dense whipped cream and then added the remaining ingredients. Worked great. I used a pastry bag to decorate the top instead of covering it completely then decorated it with more fruit. A very pretty cake! The light sponge cake was so moist with the citrus syrup, we wish we had 2 cakes! A very satisfying cake!